Russia steps up fight against terrorist recruiters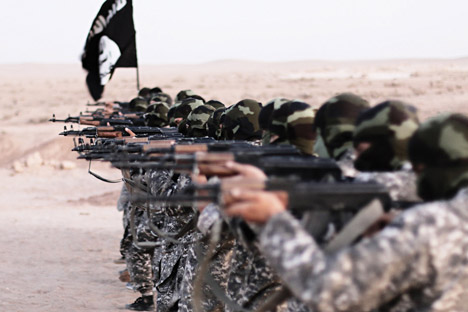 ISIS masked militants firing weapons, Nov. 19, Raqqa, Syria.
Zuma\TASS
On Dec. 8 a court in Yekaterinburg sentenced a recruiter from one of Syria's terrorist groups to three years and three months in prison. The Civic Chamber of the Russian Federation has opened a hotline so that relatives of recruits can call in and help the authorities track down potential terrorists.
As radical Islamist groups become more and more effective at recruiting ordinary Russian citizens to their cause, the state is increasing efforts at identifying those at risk of falling under the influence of recruiters.
A court in Yekaterinburg (around 1,100 miles east of Moscow) has determined that city resident Mohammad Gireyev used social networks to recruit potential supporters for the Jaish al-Muhajireen wal-Ansar group.
Earlier the organization had been linked to the Islamic State jihadist organization and now it is affiliated with another terrorist group, the al-Nusra Front.
Russia actively began looking for terrorist recruiters and recruits after the widely-publicized incident involving Varvara Karaulova, a Moscow student who traveled to Turkey in order to enter Syria and join ISIS after being contacted by recruiters. She was detained near the Syrian border and returned to Russia.
The mass media later started reporting with increasing frequency on children from well-to-do families and regions with no Islamic underground who had set off for the newly-proclaimed caliphate after meeting recruiters on the internet. As ISIS grew it became apparent that recruiters are ready to work not only with Muslims but will target any vulnerable citizens.
Hotline set up
Yelena Sutormina, a member of the Civic Chamber of Russia, has established a hotline for those whose relatives are either planning to go to Syria or are already there. Sutormina said that she has been contacted more than 50 times since the summer.
"The people who call or write are those who suspect their relatives of sympathizing with ISIS and ask to have them returned from Syria," she said.
Having received and verified information on a person who has gone to Syria, Sutormina's colleagues then write to the Interior Ministry and Russia's Federal Security Service (FSB) asking that an international search warrant be put out for the individual. They also ask the government authorities to help look for the relative if he or she has still not left Russian territory.
A recent case involved a car dealership in a Moscow suburb, said Sutormina.
"We were told that one of the employees was becoming more and more aggressive, that he was expressing his support for the extremists, criticizing the Russian bombings. His colleagues were afraid and wrote us and we gave the information to the FSB. Now the man is being questioned," she said.
Sutormina adds that volunteers are trying to fight these recruiters unofficially, since thanks to the internet the geography of alarming signals has expanded.
"I have this feeling that the recruiters are ready to offer the recruits anything they lack. For some it's faith, for some love, for others violence. This is very difficult to detect," said Varvara Karaulova's lawyer Sergei Badamshin.
According to Sutormina, the Russian Security Council has received a petition from several Civic Chamber members suggesting that Roskomnadzor (The Federal Service for Supervision of Communications, Information Technology, and Mass Media) be given more authority in matters of internet resources, since it is there that ISIS carries out its recruitment.
Currently, the service can block sites only if the General Prosecutor's Office orders it. Meanwhile, Russia's parliament, the State Duma, is trying to toughen its anti-terrorism legislation, including reviewing proposals to harshen punishment for recruitment.
Caucasian sources
Russia's North Caucasus region is reportedly now the main supplier of ISIS recruits. The figures constantly differ but the FSB and the National Anti-terrorist Committee say that there are at least 4,000 Russian citizens on the territory controlled by ISIS, who are mostly of North Caucasus origin.
In comparison with previous years, security forces in the North Caucasus republic of Dagestan are seeing a relative lull. Agents admit that this calm is due to the purges of underground groups before the Olympics in Sochi and then to the mass departure of radicalized youths from the republic for Syria.
"Of course, many prefer just to take their family and go to Turkey for starters. From there you can get over the border to Syria. The difference is that you can't take your family into a forest, while ISIS needs not only soldiers but also people with other professions. You can actually live there," said a Moscow-based Salafi preacher, who spoke to RBTH on condition of anonymity.
The law-enforcement agencies are attentively watching the local Muslim population and are taking preventive measures with suspicious citizens.
Based on material published in the magazine Vlast.
All rights reserved by Rossiyskaya Gazeta.