Russian journalist wins recognition for story about Stalingrad soccer match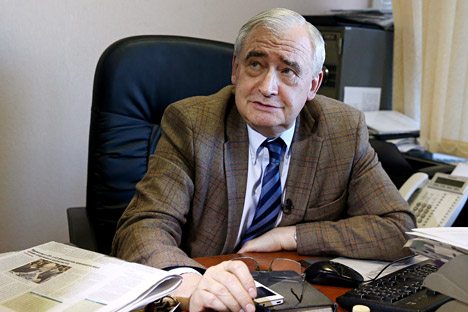 Nikolai Dolgopolov awarded prize at Sport Media Pearl Awards in Abu Dhabi.
Journalist Nikolai Dolgopolov from the Rossiyskaya Gazeta newspaper has taken third place in the Best Color Piece category at the Sport Media Pearl Awards. The prizewinners were announced on Dec. 15 in Abu Dhabi.
Dolgopolov, 66, was awarded the prize for his article "The Football of 1943," an account of the soccer match that took place in Stalingrad (now Volgograd) a few months after the Red Army defeated Hitler's troops in the Battle of Stalingrad.
In the game, which was dubbed the "Match on the Ruins of Stalingrad," the local team Traktor Stalingrad beat Moscow's Spartak.
Dolgopolov is a veteran of Russian sports journalism. In a career spanning over 40 years he has covered 13 Olympics. He is also well-known for his books on the history of Soviet reconnaissance.
Russian photographer Daria Isayeva was also recognized in the Photography category for her work Relax in Heaven, which she did in September in Bilbao, Spain during a cliff-diving competition.
All rights reserved by Rossiyskaya Gazeta.