Moscow airports may start employing therapy dogs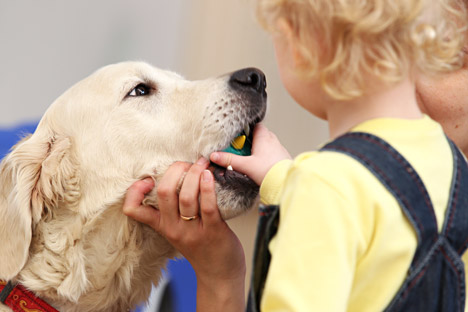 Special dogs can help passengers de-stress before departure.
Evgeny Biyatov/RIA Novosti
Comfort canines may be used to reduce stress levels among passengers.
Moscow's Sheremetyevo airport may start using special dogs to help passengers de-stress before departure. A similar service was launched at seven U.S. airports in the busy week in the run-up to Christmas, Sheremetyevo press secretary Roman Genis said.
"We are ready to study the experience of our American colleagues. If it turns out to be positive, we may launch a similar service to help our passenger relax before departure," he explained.
Genis went on to add that the airport was ready to consider relevant suggestions from dog centers that could provide dogs who have the necessary training.
Moscow's Domodedovo airport does not have special comfort dogs, but their therapeutic function is partly performed by sniffer dogs.
"Our airport employs over 20 sniffer dogs at present, including Malinois, German Shepherds, and passengers' favorites, Cocker Spaniels. The dogs are friendly and are always happy to interact with visitors to the airport," said the Domodedovo press service.
Experts point out that the best breeds for serving as therapy dogs are Retrievers and Labradors.
"However, even within the same breed, dogs may have very different characters. What matters here is individuality. The dog should be psychologically stable, friendly, active, and have a certain degree of childishness," said Vitaly Orlov, head of the Orlov School dog-training center.
First published in Russian in Moscow 24
All rights reserved by Rossiyskaya Gazeta.