Russians recall most important events of 2015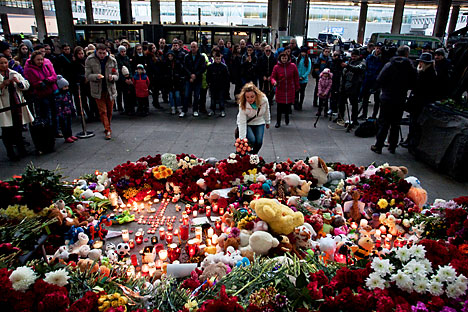 The Pulkovo airport memorial devoted to the 224 passengers who died on the flight from Sharm el-Sheikh, Egypt to St. Petersburg on Oct. 31.
Valya Egorshin / RIA Novosti
Plane crash in Egypt, Su-24 downed by Turkey were most important events
The terror attack perpetrated onboard the Russian Kogalymavia airline's plane in Egypt (39 percent) and the Russian Sukhoi Su-24 bomber downed by Turkey (34 percent) have been called by Russians the most important events of 2015, the Levada Center told Interfax.
Respondents also mentioned the Russian military operation in Syria (28 percent) and terror attacks in Paris (21 percent). The Levada Center polled 1,600 respondents in 137 populated localities in 48 regions on Dec. 18-21. They were invited to choose no more than six options from the list.
Economic events were no less important, among them the ruble fall at the beginning of the year (29 percent), the oil price fall and the soaring dollar at the end of the year (27 percent), the Western sanctions against Russia (22 percent), the countermeasures by the Russian authorities (10 percent) and the destruction of embargoed food (5 percent).
The list of the main events of the year included the 70th anniversary of the victory in the Great Patriotic War of 1941-1945 (27 percent) and the 'Immortal Regiment' campaign (17 percent).
Events related to Ukraine were highlighted, too, among them the hostilities in Donbass (17 percent), the Minsk agreements (9 percent), the pullback of heavy armaments from the contact line in Donbass (6 percent), and the energy and goods blockade of Crimea (9 percent).
Other events included the influx of refugees from the Middle East and Africa into Europe (16 percent), the A320 crash in southern France (9 percent), the terror attack on a Tunisian beach (6 percent), and the sanctions imposed on Turkey (11 percent).
Other important events mentioned by Russians included the Nobel Prize awarded to writer Svetlana Alexievich and the Manezh show pogrom by Orthodox activists (2 percent each), the Vaclav Havel award presented to human rights activist Lyudmila Alexeyeva and international awards received by Andrei Zvyagintsev's Leviathan film (1 percent each).
All rights reserved by Rossiyskaya Gazeta.