'No Pants Subway Ride' participants threatened with 15 days of jail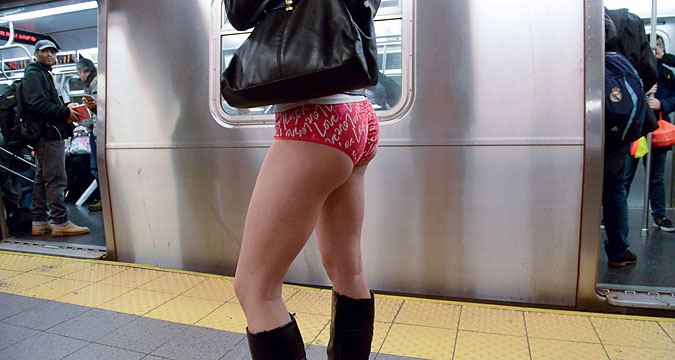 The "No Pants Subway Ride" was held globally for the 15th time. Pictured: "No Pants Subway Ride" in New York subway.
Reuters
Global action held 15th time; Moscow participates for first time.
Organizers and participants of the flash mob "'No Pants Subway Ride" Moscow may be punished by 15 days of incarceration or a 20,000 ruble fine, a law-enforcement source told RIA Novosti.
On Jan. 10 five or six young people went down to the Tverskaya metro station, took their pants off and traveled several stations on the green line while in their underwear. Photos from this action were published on social networks, so the metro police started an investigation under the auspices of an article called, "Violating the established procedure for arranging or conducting a meeting in public places causing a breach of the peace."
Even if the police find that the "half-naked passengers" have broken the law, it nevertheless will be difficult to punish them. "We have to prove that their appearance in the subway disturbed other passengers and in our case there are lots of different opinions concerning this incident," a source said.
The "No Pants Subway Ride" was held globally for the 15th time, although this was the first time that Muscovites took part. One of the indispensable conditions of the action is that all participants have to pretend that nothing unusual is going on.
First published in Russian in RIA Novosti.
All rights reserved by Rossiyskaya Gazeta.