Russian Pastafarian gets driver's license photo with colander on head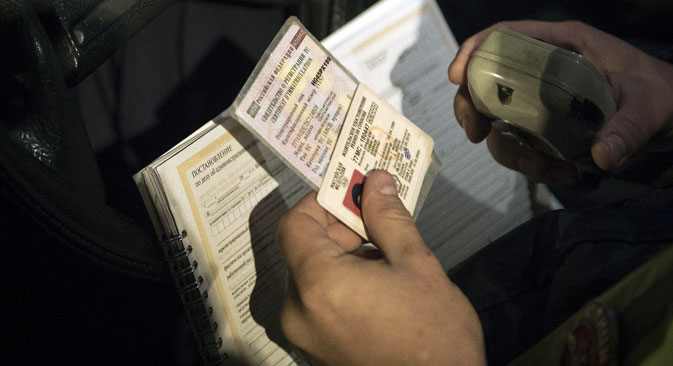 Russian driving license.
Valeriy Melnikov / RIA Novosti
Adherent believed to be Russia's first to achieve movement's goal.
Muscovite Andrei Filin, a follower of the informal Russian Pastafarian Church of the Flying Spaghetti Monster, became the first person in Russia to get his driver's license wearing a knitted colander in the photo, an attribute considered to be indispensable to the community.
Filin discussed his achievement on Twitter. "The first license with a colander in Russia! What a great day!" he wrote.
It is clear from the photo that the driving license was issued by a Main Directorate for Road Traffic Safety office in Moscow on January 9, 2016.
A reliable source from the capital's security agencies confirmed in an interview with RIA Novosti that such a license was actually issued since it is recorded in the official database of Russian drivers.
According to the Pastafarian church's website, the man had to argue with inspectors to get his driving license with this photo.
"Then they started cropping the photo to my ears," Filin said on the website recalling his struggle. "I told them that I needed the colander in the image. This is my religious conviction – that I must wear a colander on the photo of documents. They showed me my passport, insisting that there I did not wear any hat. I answered that at the time I had not yet become a Pastafarian."
According to a RIA Novosti source, officials had to give Filin his license with such an unusual photo because of a gap in Russian legislation, which allows deviation from the common rules for followers of religious movements.
"There is an order of the Ministry of Internal Affairs from 2009 that regulates the issuing of driving licenses," the source said. "It states there that people whose religious convictions do not let them show their uncovered head can wear a covering in the photo."
According to the source, in that document there is no mention that people have to prove their religious affiliation. That is why policemen had to take the photo featuring the colander upon the man's request.
RIA Novosti has not received an official comment from the Main Directorate for Road Traffic Safety.
First published in Russian in RIA Novosti.
All rights reserved by Rossiyskaya Gazeta.