The tiger Amur and goat Timur separated due to a tigress and obesity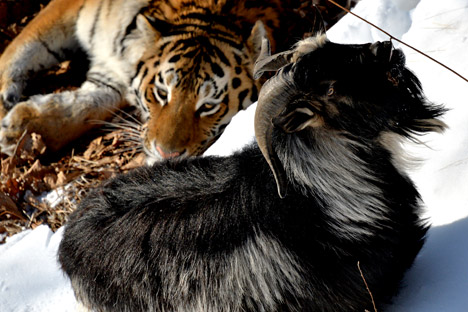 Amur the Siberian tiger and Timur the Goat in an enclosure at the Primorsky Safari Park.
Vitaliy Ankov/RIA Novosti
Timur will live in his own cage until the situation changes.
Amur the tiger and Timur the goat, who had been inseparable for the last two months, have now been temporarily separated. The staff of the safari park where they live has offered two reasons for the separation. First, Timur started to rapidly gain weight: he added several dozen kilograms over a short period of time. The second reason was the possibility of change in the tiger's behavior after Taiga, his sister, entered her mating season. This has the potential to make Amur more aggressive.
"We decided to undertake two tasks: to do a veterinary inspection of Timur and to take measures in case Amur's behavior changed," said Dmitry Mezentsev, director of the Primorye Safari Park on January 26.
"The tigress Taiga has started to show signs of estrus and during this period the behavior of a male tiger can change. The bigger problem for Timur is obesity, which can be harmful to his health," said Mezentsev on the official website of the park.
Timur will live in a separate enclosure until the situation changes.
First published in Russian in TASS.
All rights reserved by Rossiyskaya Gazeta.