'Singing villages' to tackle alcohol abuse in Russia's provinces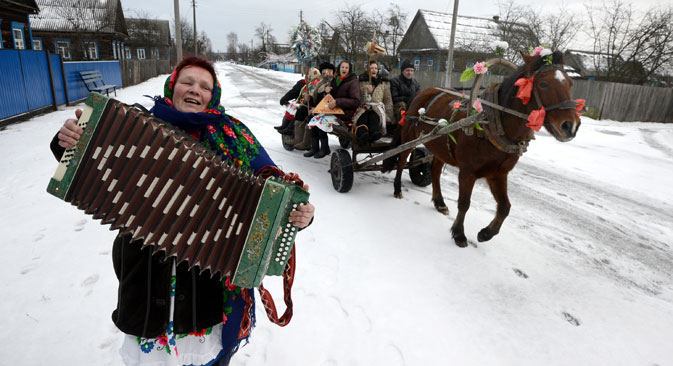 The All-Russian Choral Society will launch a pilot project titled "The Singing Village" in the Ivanovo and Vladimir regions.
Vicktor Drachev / TASS
Choral society launches campaign to revive interest in folk song in regions.
A new initiative is to target the problem of alcoholism in the Russian provinces by cultivating an interest in traditional choral singing among village residents.
In May 2016 the All-Russian Choral Society (VKhO) will launch a pilot project titled "The Singing Village" in the Ivanovo and Vladimir regions.
According to VKhO executive director Pavel Pozhigailo, the objectives of the initiative are to restore Russian folk singing in villages as well as to organize leisure activities for the population in order to help solve the problem of alcoholism. After the folk choir concerts, which shall inspire local people to get involved with music, professional choirmasters will allow the audience members to arrange their own musical bands.
"Siberia, in central Russia, has lost its folk music culture, but it can be restored. Before Euromaidan we had two Ukrainian choirmasters come to our events," said Pozhigailo. "They said that alcoholism in Ukraine is much lower than in Russia because they have kept the singing culture in the villages: They sit at the table and, once the vodka has been drunk, they sing for 10 minutes. Then they will have another shot of vodka and sing for a further 10 minutes. A funny example but it is actually true," he said.
According to Anatoly Antonov, head of the Department of Sociology at Moscow State University, binge drinking "is associated with a person who has no strong obligations or loyalties, either at work or within the family."
"These people should be able to stand firmly on their own two feet and not feel like drinking if they are occupied with something. Creativity, including choral singing, can also heal addiction. People do not feel like drinking when they are immersed in creative activities," said Antonov.
The schemes in the villages will be directed by choirmasters from the VKhO (who are based in practically all areas of the country). One of the pilot areas for the project will be the village of Vvedenskoye in the Ivanovo Region.
First published in Russian in Izvestia.
All rights reserved by Rossiyskaya Gazeta.