Putin outlines conditions for privatization of state assets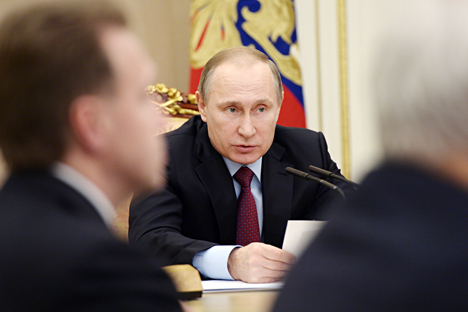 Russia's President Vladimir Putin holds a meeting on the privatization plan, Feb. 1, 2016.
Alexei Nikolsky/Russian Presidential Press and Information Office/TASS
Russia's president has said that 'big' privatization should not lead to the sale of assets for a pittance or at the expense of the state, investors must seek their own resources, and the authorities must prevent assets from being taken offshore.
Russian President Vladimir Putin has outlined the key points that need to be followed during the sale of state-owned companies, the most important of which he said is maintaining the unconditional transparency of privatization transactions.
"All privatization deals must strictly comply with the standards and requirements of the law, of course. We need to ensure the maximum transparency of these transactions both for their participants and the public," said Putin during a meeting with the government on Feb. 1.
With oil prices at record lows and Russia's economy continuing to suffer from the effects of the global financial crisis and Western sanctions, the depleted state coffers are in urgent need of capital and the Kremlin has identified the sale of state assets as a way of raising much-needed funds.

Among the key points in his comments on privatization, Putin also noted the economic feasibility of the sale of state assets and stressed that there should be no fire sale of shares.
"It will not bring much benefit for the budget, moreover, such practice is fraught with hostile takeovers of rival companies, and this ultimately is also not the best for the market. This, of course, should be avoided," he said.

Putin also noted that "privatization is not only a fiscal component," but also "the way to structural changes in the economy," and therefore it is fundamentally important that the state has a "clear understanding of what and to whom it is selling, and what consequences it will have for the development of entire industries and the entire economy."

In this regard, Putin pointed to the need to pay more attention to "the quality of investors." According to him, the transfer of shares from the state to private investors is only possible if they have clear development plans, as well as their own resources.

He also noted that the state should retain control over the strategically important enterprises and block privatized assets from being taken out of the country.
"The new owners of privatized assets should be in Russian jurisdiction. Grey schemes, the withdrawal of assets to offshore accounts, [and the] concealment of owners of the shares are unacceptable.
"We have been talking about de-offshorization, and in these circumstances, to go toward a new privatization, allowing the further offshoring of the Russian economy, is wrong," said Putin.
First published in Russian in RBC Daily.
All rights reserved by Rossiyskaya Gazeta.