Russia may ban all Ukrainian vehicles from entering the country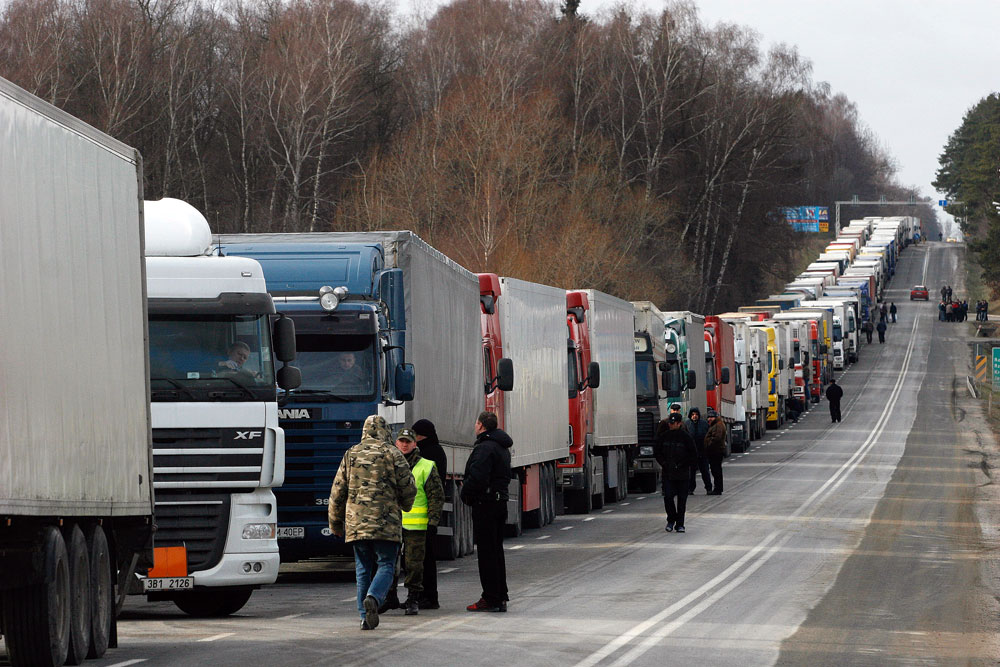 Russia may ban all vehicles from Ukraine.
AGENCJA SE / EAST NEWS / RIA Novosti
The latest flashpoint in relations between Russia and Ukraine has seen the imposition of tit-for-tat suspensions on road freight between the two countries, with Russian Prime Minister Dmitry Medvedev now hinting that Russia may ban all Ukrainian vehicles.
Russia may act to extend a ban on transit traffic of trucks registered in Ukraine across Russian territory to all Ukrainian vehicles, after Kiev blocked Russian trucks from passing through Ukraine in the latest escalation of a fresh dispute between the two countries.
The Ukrainian government officially banned Russian trucks from crossing the country on Monday, Feb.15, a day after the Russian Transport Ministry announced that it was closing the country's borders to Ukrainian haulers in retaliation for an ongoing blockade of Russian trucks in Western Ukraine.
Prime Minister Dmitry Medvedev did not rule out that, in response to the actions of the Ukrainian authorities, Russia may ban all types of transport belonging to its neighbor from crossing Russia.
Responding in kind
Activists from Ukrainian nationalist groups launched a campaign on Feb. 11 to block Russian cargo trucks from entering Ukraine. The campaign started in the Western Ukrainian region of Transcarpathia, and was later joined by the Volyn, Lvov and Zhytomyr regions.
The situation was brought before the Ukrainian Cabinet of Ministers, which was to decide on the issue of Russian trucks on Monday, Feb. 15.
However, on Sunday, Feb. 14, Russia responded to the blockade with tit-for-tat measures, blocking Ukrainian trucks from crossing the country.
According to the Russian Ministry of Transport, as of Monday, Feb. 15, more than 100 Russian trucks were blocked in Ukraine and more than 500 could not enter Ukraine from neighboring European Union countries.
In response, by Feb. 16 Russia had detained 324 Ukrainian vehicles that were heading to Ukraine, said the Russian freight transport oversight body Rostransnadzor.
A 'mess' that cannot be tolerated
"Ukraine is temporarily suspending transit permits, which entails the halting of the transit of Russian cargo trucks through Ukraine, until it receives an explanation and resolution of this dispute," Ukrainian Prime Minister Arseniy Yatsenyuk said on Feb. 16.
"We demand that Russia immediately fulfill the World Trade Organization's requirements and reinstate the transit of Ukrainian road transport."
Earlier, on Feb. 15, Medvedev described the situation as a "mess" that "cannot be tolerated."
According to him, the tit-for-tat measures were taken by the Russian government to encourage the Ukrainian side to take steps to deal with the situation.
The blockade of Russian cargo trucks violates all international transport regulations and requires an adequate response, said Medvedev.
The situation is being compounded by a Polish ban on Russian road freight, which is forcing Russian haulers to find alternate routes to Europe.
Based on material from Kommersant, Gazeta.ru.
All rights reserved by Rossiyskaya Gazeta.