Receive, recycle, redistribute: Vintage charity, Petersburg-style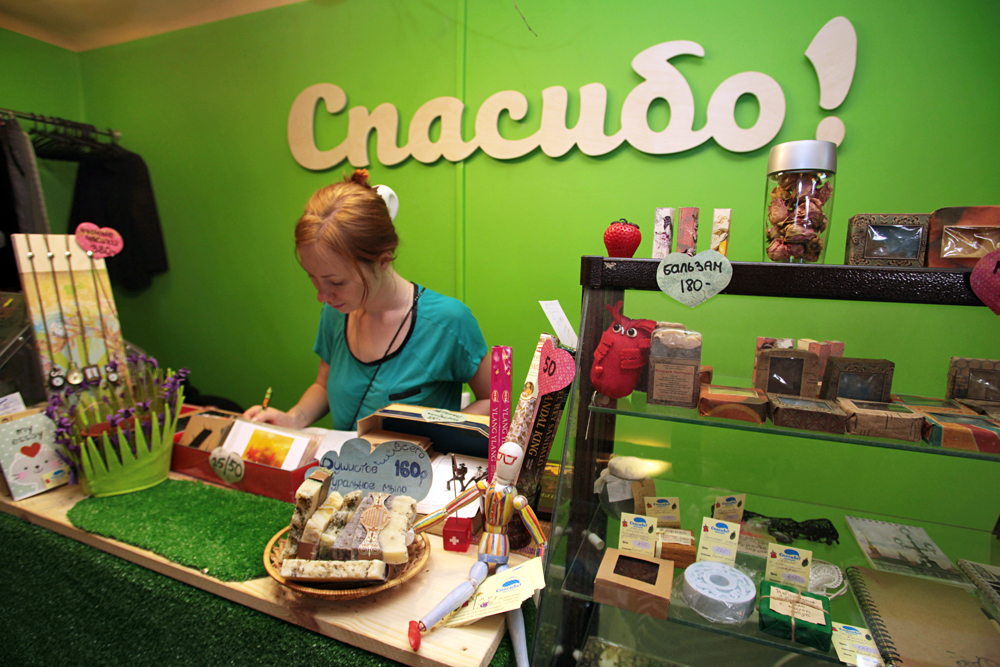 Spasibo charity shop opened in 2010.
Daria Ivanova/Interpress/TASS
At first glance, the shop in St. Petersburg's Gorokhovaya Street, with its old-fashioned sign that reads "Spasibo" ("Thank You"), looks like a typical antiques and vintage clothes store of the kind that are so common in Europe: old books, vinyl records, Soviet-era dresses, funny fur hats, handmade accessories.
The place is popular with fashion-conscious students in search of inexpensive but unusual things, ordinary housewives looking for something new but reasonably-priced to wear, and film directors researching a period for their next film.
"Here you can find anything you want, like in a curiosity store. Maybe not today, but tomorrow or in a week's time, but it's bound to happen," the sales assistant assures me.
A young man is trying on a 1980s tweed coat with shoulder pads and a rabbit-fur collar. A middle-aged woman nearby is pensively browsing through a rack with office wear trousers. They all cost 500-600 rubles ($6-7).
Not just second-hand
In fact, the unusual store forms part of a creative charity project. The woman behind it, Yulia Titova, came up with the idea when she herself was faced with the problem of what to do with things and clothes she no longer needed.
Spasibo's achievements:
Four second-hand stores;
Over 30 clothing tanks;
Own facility for recycling old clothes;
230 tons of things donated to people in need and to charity organizations;
5,201,400 rubles ($68,500) transferred to charity organizations.
"Hard-up people need simple and warm clothes that are in good condition, they do not need high-heeled shoes or cocktail dresses," said Titova.
"Besides, in order to donate a couple of things, you have to go somewhere specially, which is not always convenient. So I thought: Why don't I create a system whereby people could easily give away things they no longer need, while others could find what they need free of charge or for very little money?"
At the same time, Titova knew that she did not want to open yet another second-hand clothes store where customers have to plough through heaps of rags in basement rooms smelling of mildew. She was inspired by the vintage charity stores that she had seen in London that cater for people of different means and needs.
Her first Spasibo store opened in 2010 and now there are already four of them. The chain also includes a free clothes closet, where four days a week people in need can come and pick up some clothes free of charge. The only requirement is that they have to register in advance.
Second and third life
Yet, the essence of Titova's project is not so much the cozy interior of her stores but the effective system of collecting unwanted clothes and items from St. Petersburg residents and redistributing them.
These days, any person can get rid of things they no longer need by bringing them on a designated day to one of the four stores. In addition, people can leave unwanted items in Spasibo clothing banks installed in shopping malls and other public places all over St. Petersburg.
After careful processing, about 17 percent of collected items end up in the stores, 52 percent are distributed free of charge to individuals and legal entities, with the rest (31 percent) recycled.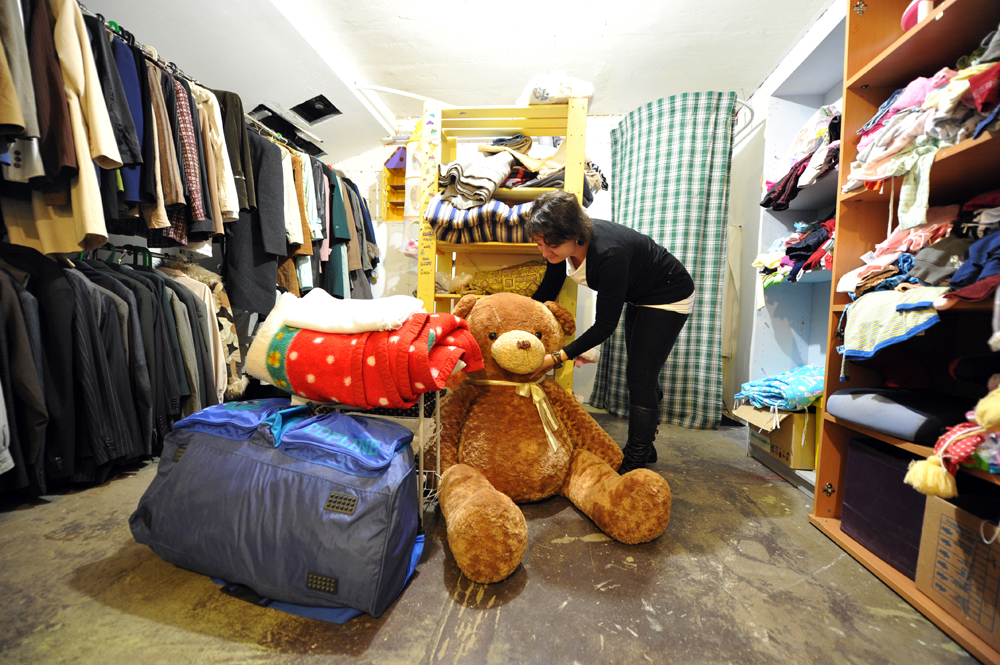 The Spasibo chain has over 30 clothing tanks. Source: Yuri Belinsky/TASS
To begin with, Titova's team came up against a serious problem: what to do with things that are in poor condition and can no longer be either donated or sold.
"At some point, we accumulated many items with holes, stains, broken zippers, etc.," said Andrei Anatolyevich, the business manager. "This prompted us toward the idea of setting up our own recycling."
Ruined items no longer end their days on a rubbish heap but are turned into a regenerated fiber that is later used as a filler for matresses, furniture, and blankets.
Aid prepared in advance
An important part of Spasibo's operations is charity work. From the clothes they receive, they tend to select simple and good-quality items that are of most use to people who – for whatever reason – have found themselves without money and a place to stay.
Charity organizations can come to pick up items they need at any time, making life considerably easier for Spasibo as there is no need to assemble and sort out things themselves.
Spasibo also sends clothes as humanitarian aid to people affected by natural disasters or conflicts.
"Last year we sent large batches of things to Khakassia [the Republic of Khakassia in southern Siberia – RBTH], where many people became victims of floods," said Titova. "Several times we sent things to the residents of southeast Ukraine."
Subscribe to get the hand picked best stories every week
All rights reserved by Rossiyskaya Gazeta.