When Yulia Kachalova fled the small eastern Ukrainian town of Horlivka (in the Donetsk Region) for St. Petersburg 18 months ago with her husband and a small child, they found themselves alone in a city where they knew no-one.
They had decided to leave Horlivka after their house was shelled during the conflict between Ukrainian government troops and Russian-backed rebels that erupted in the region in 2014.
Once in Russia, Kachalova's husband found work as a builder. However, since he did not have all the relevant papers, he could not be hired officially and the employer paid him a pittance. The situation was complicated by the fact that there was an oversupply of refugees who were prepared to work for very little.
In order to help support her family, Kachalova began cooking "Donbass-style pizza" and Ukrainian borscht for take-away delivery. That was what the young refugee family lived on.
Escape from Donbass
When the conflict in southeast Ukraine was in a "hot" phase, the Russian authorities made a lot of effort to help refugees from the region, who are overwhelmingly ethnic Russians: They provided them with housing and dispatched humanitarian convoys to the Donbass region on a regular basis.
However, since early 2015, these Ukrainian citizens have been living in Russia on the same terms as other foreigners: They are allowed to remain in the country for no more than 90 days out of every 180.
Furthermore, the refugees have been evicted from the flats that they were temporarily provided with upon their arrival. Now, in order to extend their stay, a Ukrainian national needs to apply for official status within their first three months in Russia.
"Getting official status in Russia is very difficult. We spent ages in the waiting lines," Kachalova recalls. "We even had to stay the night there in order not to lose our place in the queue. As a result, practically everyone has to go back to Ukraine once every three months in order to get a new migration card on the border and not exceed the 90-day limit."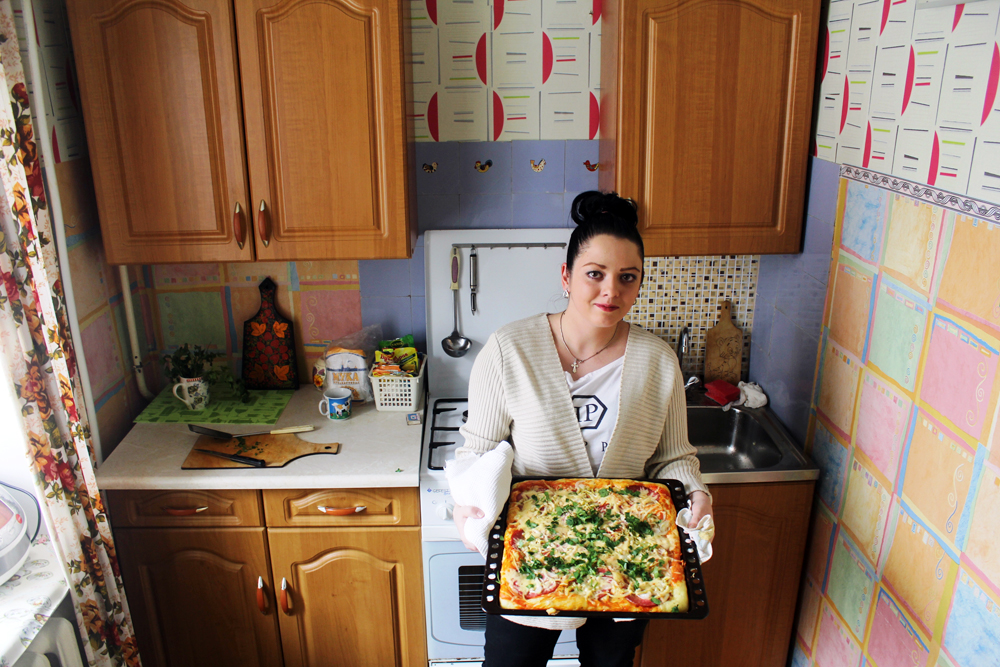 Kachalova began cooking "Donbass-style pizza" and Ukrainian borscht for take-away delivery.
It should be noted that this problem exists only in the two capital cities, which have long ago exhausted their migrant quotas.
According to Valentina Zheleznaya, an activist with the Mirnogo Neba ("Peaceful Sky") association for helping refugees, in other cities, apart from Moscow and St. Petersburg, it is possible to get temporary asylum even now that the active phase of the conflict is over; and there are no waiting lines there.
The armed conflict in the Donbass region (southeast Ukraine) broke out in the spring of 2014 and involved parts of the Donetsk and Lugansk regions, where Russian-backed self-proclaimed republics emerged, refusing to be subordinated to the new authorities in Kiev following the ouster of President Viktor Yanukovych.
The area is Ukraine's industrial heartland, which has traditionally been considered pro-Russian. The Ukrainian army was fighting rebels and Russian "volunteers" there, with tanks and heavy arms used by both sides.
The Kremlin, which is widely suspected of having supplied arms and troops to the rebels despite insisting that it is not a party to the conflict, described it as a Ukrainian civil war, whereas Kiev saw it as a war to preserve its national integrity.
Because of heavy shelling, many ethnically Russian local residents lost their homes and moved to Russia. According to the Federal Migration Service's official data, nearly two million Ukrainian citizens have moved to Russia. In 2014-2015, the Russian authorities allocated 18 billion rubles ($260 million) to help Ukrainian refugees settle in.
According to data published by the receiving countries in a UN report, in 2014-2015 some 900,000 people left Ukraine. Of them, nearly 750,000 went to Russia. About 80,000 people left for Belarus. Some 5,000 people went to other European countries. By March 2016, the Ukrainian authorities had registered some 1.6 million internally displaced individuals, according to the Ukrainian Migration Service.
Figures released by the Russian Federal Migration Service (FMS) are different from those of their Ukrainian counterparts. This is because many Ukrainians entering Russia stated "tourism" as the aim of their visit, and so were not recorded as temporarily displaced people. The FMS identified them as such once they were already inside the country.
Refuge refused
However, the status of a refugee – the most favorable and secure in this situation – is in fact available to very few people. It has been granted to just 325 Ukrainian citizens, with a further 369,580 people receiving temporary asylum in Russia.
However, the Federal Migration Service may simply refuse to extend temporary asylum status, if the state decides that the conflict in Ukraine has been resolved. For this reason, those Ukrainian nationals who want to remain in Russia are applying for permanent residency and obtaining official registration.
Anton Pogodayev, from Lugansk, left his hometown when the war arrived there in September 2014.
"I learnt that there was a refugee camp in Rostov [Rostov-on-Don – RBTH] and went there. From there I was sent to Tolyatti, in the Samara Region. I received my temporary asylum for a year and went to St. Petersburg in search of work," he said.
When the year expired, Pogodayev went to the local directorate of the Federal Migration Service, but they were unable to help. He was then detained by the police and on March 9, 2016, a court ruled that he should be deported from Russia.
"I have till March 25 to leave but I don't even have money to buy a ticket," said Pogodayev. "Here I was working at a construction site illegally and I have not been paid anything. If I do not leave till March 25, I'll be put in custody to wait till the state allocates money to buy me a ticket. My house in Lugansk was shelled. I have nowhere to go."
For their part, activists with Mirnogo Neba insist that the state has made many exceptions in the law to accommodate the needs of migrants from the Donbass.
"A migration card can be extended even if the person has not filed the documents to apply for an official status," Valentina Zheleznaya explained.
"It depends on the grounds cited when filing the papers. Usually, all those who do not break laws and are planning to apply for Russian citizenship have their migration cards extended. It is only those who are in gross breach of the law, who do not even bother to do anything to obtain official status in Russia that get deported."
There are dedicated online forums where Ukrainian citizens in Russia share their troubles. They are offered clothes and children's things. At first, when refugees just started arriving, city residents put them up at their empty dachas or even shared their flats with them. The Mirnogo Neba group of civil activists focus on those Ukrainian citizens who are in need of special assistance (like families with many children or disabled people).
The struggle goes on
By now, the majority of those who have fled from Ukraine have found a job and a place to live. The Russian Emergencies Ministry continues to send humanitarian convoys to the Donbass. On March 23, the 50th column of trucks loaded with humanitarian aid set off for eastern Ukraine (see box below).
Back in St. Petersburg, Yulia Kachalova and her husband are now divorced. She has to work a lot to support herself and her child, and still does not have permanent residency in Russia – she has no time to collect the necessary documents. So far Kachalova has been granted temporary asylum.
For a while her family lived on the modest income generated by her illegal food delivery business. At the time, they lived in an eight-room communal flat in St. Petersburg. Kachalova delivered the meals she cooked herself, attaching the pizza boxes to the pram because there was no-one else to look after her child.
"I had wonderful customers. I got so much nice feedback!" Kachalova recalls. "Everybody tried to help. But it was hard to move around with a child. I earned hardly enough to cover the travel costs, let alone the rent. Once we were left in the street, literally."
Humanitarian aid
The first three convoys with humanitarian aid set off for southeast Ukraine in August 2014. They delivered 6,000 tons of humanitarian cargo: food, medicines, electric generators, warm clothes, drinking water.
In total, the Russian Emergencies Ministry has dispatched 49 convoys to southeast Ukraine, delivering over 59,000 tons of humanitarian aid, mostly some 43,000 tons of foodstuffs.
All rights reserved by Rossiyskaya Gazeta.