On March 31, something unusual happened at the Moscow City Court: a line of people formed beside the building several hours before a hearing. By the time the session began, there were so many people waiting to get in that they could not fit in either the courtroom or the room for live video streaming.
The court was due to hear an appeal challenging the verdict against Ildar Dadin, Russia's first (and so far only) person sentenced to three years in prison (the prosecutor asked for two) for the vaguely-worded charge of "repeated violation of the rules of holding a public event."
The verdict is a precedent in the Russian justice system; previously, protesters accused of "bad" behavior at public rallies received administrative punishments of up to 30 days in custody and fines.
A criminal law for systematic violators was introduced in July 2014, imposing up to five years in prison. The same sentence is handed out in Russia for incitement to suicide or the use of slave labor, and less – up to three years in prison – for torture and sexual abuse of a child under 16.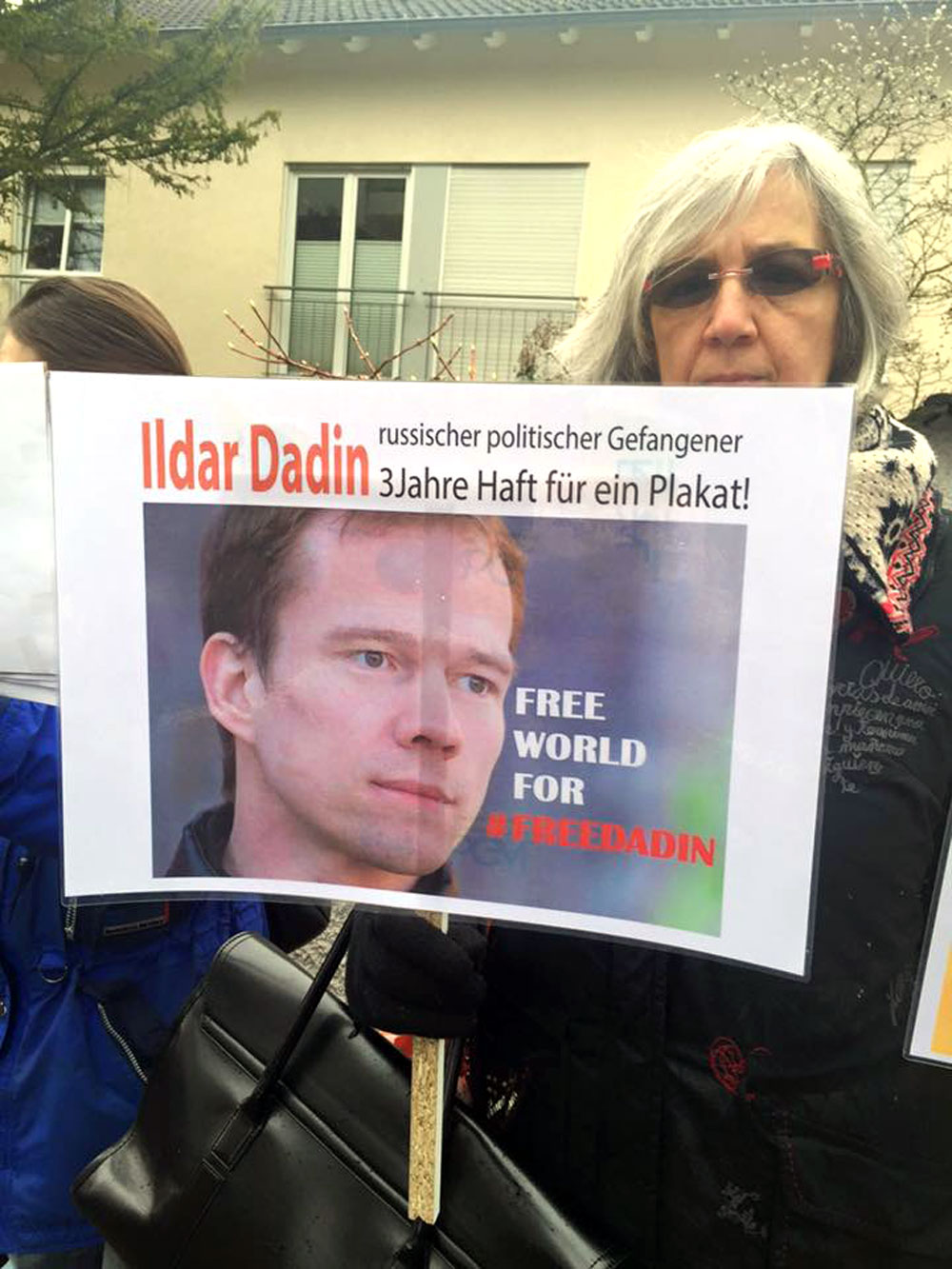 '3 years for only one placard', the poster says. Photo from personal archive
After Dadin received three years, his case was taken over by one of Russia's most famous lawyers, Genri Reznik, who once defended Russia's first president Boris Yeltsin – a lawsuit against him was filed in 1997 by a former aide seeking judicial review of his dismissal from the armed forces.
"A human rights duty," said Reznik when asked about his involvement in Dadin's case.
Amnesty International named Dadin a "prisoner of conscience" and the Memorial Human Rights Center has recognized him as a political prisoner. On the day of the appeal, Amnesty activists released 212 balloons into the sky (212.1 is the number of the article in Russia's Criminal Code under which he was convicted) "for Ildar Dadin to be released."
However, it seems, nobody really believed that Dadin's sentence would be quashed – neither Ildar, nor his family, who believe that he had been seeking this conviction. As a result of the appeal hearing on March 31, the prison sentence was reduced by six months – to two and a half years.
Prisoner of conscience?
A long-term opposition activist, Dadin has attended rallies in support of the LGBT community and opposition figurehead Alexei Navalny, has been seen holding a banner saying "Putin is an enemy of the people" at anti-government protests and has also taken part in an anti-war event, the Peace March.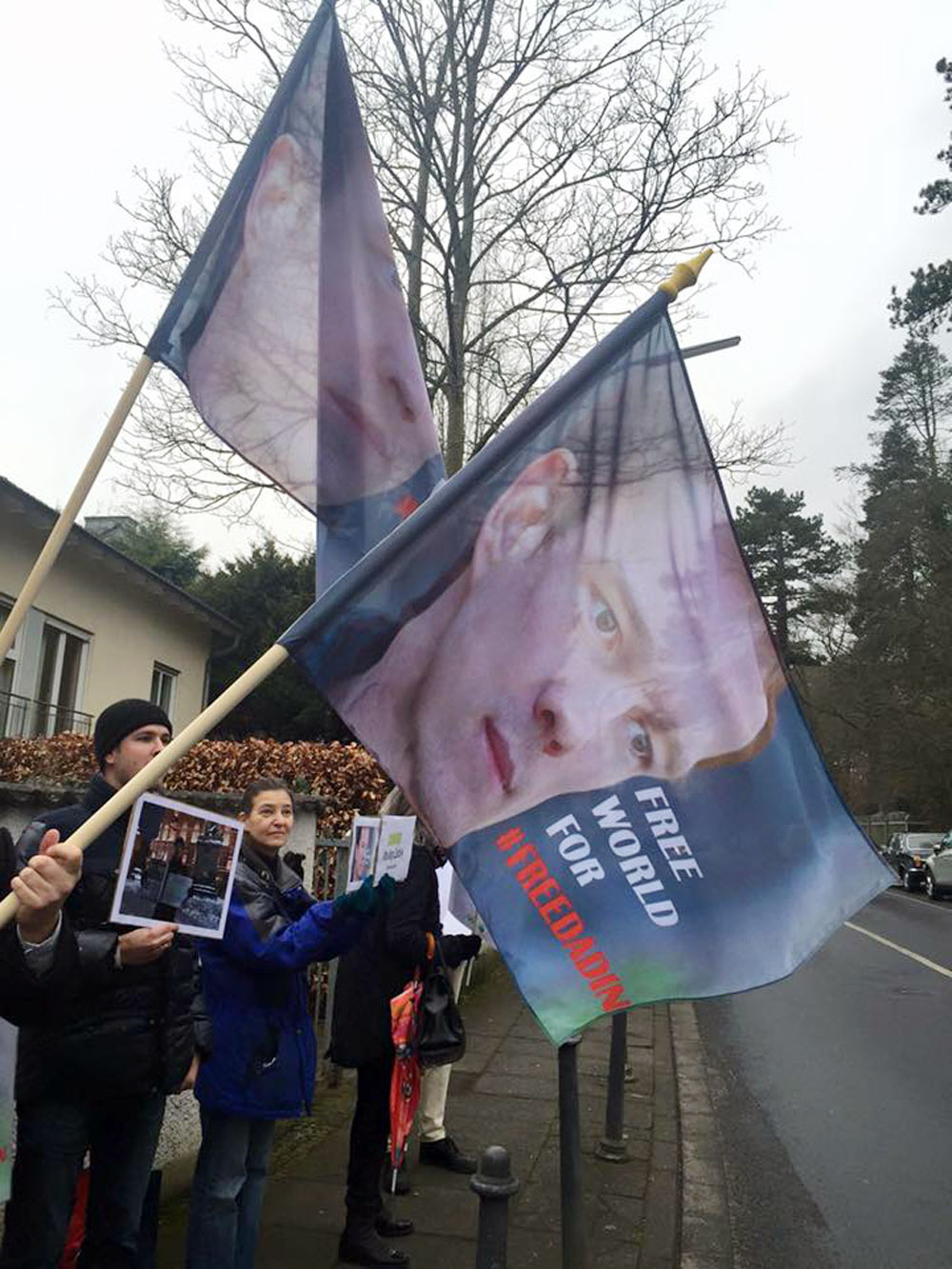 Pickets supporting Ildar Dadin held in Germany. Photo from personal archive
Finally, in December 2014, he and like-minded people blocked Myasnitskaya Street in central Moscow, lit flares, chanted "Yesterday – Kiev, tomorrow – Moscow," referring to the Euromaidan protests that led in early 2014 to a popular uprising and change of power in Ukraine.
Dadin then moved towards Lubyanka Square, where the headquarters of the Russian security services, the FSB, is located. Apparently, this incident was the last straw and it was decided to apply the new law to Dadin, taking into account his three previous administrative detentions.
The pro-Kremlin media refer to Dadin not as a "prisoner of conscience" but a provocateur and an imitator of nationalists from Ukraine's right wing organization Right Sector. He was on Independence Square (the Maidan) in Kiev during the protests that led to the ousting of President Viktor Yanukovych in early 2014 and allegedly wanted to foment a "Maidan" in Russia.
"Yes, he was on the Maidan," Nadezhda, Dadin's mother, told RBTH. "When he came [back to Russia], he was shocked. He said, 'Mom, have you seen how brains fly across the pavement, it's like strawberries.' He believed that all this was connected with Russia, that it was [the Russians] who shot. His father and I understand that it was a provocation, but it seemed to him differently because he was in that crowd," she said.
After returning from Ukraine, Dadin started posting sharp remarks against Russians on his social network pages, as well as calls to capture and/or destroy ruling party members, FSB officers, supporters of the authorities, and representatives of other ethnicities.
'You're a 33-year-oldman, you work!'
Dadin claims that during the three years of protest activities his actions were "exclusively peaceful and non-violent." However, the Russian media claimed the activist was testified against even by his own father Ildus.
"This is not true – what does 'against' mean?" said Ildus Dadin in an interview with RBTH.
"Yes, we quarreled. His mother and I turned on the TV [a Russian media news report], and he turned it off. If his mother does not agree with him, then Mother is [in his words] a cowardly fascist. We do not go to demonstrations – we are all cowardly fascists. But these are our family matters, I would never talk about it in court," he said.
According to Ildus Dadin, he went in for questioning in his son's case and revealed everything he knew in order that his son could be at home and not in jail ahead of the trial.
He was asked there about the Maidan and Bolotnaya Square (clashes with police that took place in Moscow in 2012 during anti-government protests the day before Vladimir Putin's inauguration as president for a third term; those accused of rioting received either suspended sentences or jail terms).
"I said that he was there once, but I do not remember the exact year... And they used it," said Ildus, confessing that he was dissatisfied with what his son was doing.
"A person may have his beliefs, go to demonstrations, but, at the same time, you're a 33-year-old man, you work!" he said.
"He worked as a security guard, then at warehouses, but after Bolotnaya, he was no longer working, it all became his main activity."
A new martyr
Dadin's case was handled by the same investigators and the judge who prosecuted the defendants in the controversial Bolotnaya Case, in which a number of protesters were accused of violence against police in charges widely seen as politicized.
However, there was little else to link Dadin to these activists, according to lawyer Dmitry Agranovsky, who represented the Bolotnaya Case defendants. They were accused of clashes with the police, and the article was different.
"I know Ildar Dadin, and his views are deeply repellent to me," said Agranovsky. "He approved of the burning of people [opposed to the Maidan movement who perished in a fire] in Odessa [on May 2, 2014], it's simply fascism. But I believe that a prison sentence for words until they turn into deeds is excessive and unacceptable."
Incidentally, Russia's human rights ombudsman Ella Pamfilova has already criticized the excessive severity of the punishment, promising to send a request to the Constitutional Court.
The Presidential Human Rights Council has even demanded the withdrawal of the article used to imprison Dadin from the Criminal Code.
But now the verdict will come into force, and the protest movement will have a new "martyr," according to Dadin's father.
"He defiantly wore a T-shirt with Ukrainian symbols in the courtroom, shouted 'Glory to Ukraine,' insulted the court," he said.
"He will be in prison, and they will put him on a pedestal as innocently convicted... At some point, it seemed to me that he wanted it. "
Subscribe to get the hand picked best stories every week
All rights reserved by Rossiyskaya Gazeta.