Russian President Vladimir Putin arrives at his annual call-in show in Moscow, Russia, April 14, 2016.
AP
Russian President Vladimir Putin recently made an inaccurate remark about the German daily Sueddeutsche Zeitung. The paper had published data on Panamanian offshore companies and Putin said the newspaper was part of a U.S. media holding company owned by Goldman Sachs, which turned out not to be true. RBTH decided to take a look at other gaffes made by the politician.
Presidential Press Secretary Dmitry Peskov admitted that he received a scolding from his boss for incorrect information linking the German edition Sueddeutsche Zeitung to the U.S. investment banking firm Goldman Sachs. The information was given to the president during the call-in show, the Russian online newspaper Gazeta.ru reported.
Peskov admitted as much during the program "Sunday Night with Vladimir Solovyov" on the Rossiya-1 television channel. The host asked Peskov if there was some sort of punishment for the error.
"I got it bad," Peskov said.
When asked by Solovyov, whether it was a reprimand, Peskov said: "I do not know yet. I would not wish anyone to be criticized by the president."
When Putin is wrong
Russian President Vladimir Putin said that Goldman Sachs was connected to the publication of the Panama Papers during his call-in show. He also noted that the German newspaper Sueddeutsche Zeitung, which published data on the Panamanian offshore companies is part of the U.S. media holding owned by Goldman Sachs.
"The first information on the offshore companies appeared in Sueddeutsche Zeitung," Putin said.
"And it is part of the Goldman Sachs Corporation. And this is a U.S. company. Those behind this stick out, but they never blush."
This information is not true and has been refuted by the newspaper. The Kremlin later apologized for its mistake.
It is well known that Putin is able to store huge figures in his mind and recall them at will. He was taught to train his memory in such a way by the KGB and often amazes his interlocutors with this talent. However, the above incident is not the first factual error made by him in recent years.
During his annual press conference in December 2015, the president said that freight and passenger transport pay the same vehicle tax, but in fact they have different rates.
He also cited incorrect statistics regarding the adoption of Russian children by foreigners. He stated that they "were not eager to adopt sick children," which has not always turned out to be the case.
Shawl for the Chinese president's wife
Putin has made not only factual errors, but has also found himself in unusual behavioral situations. For example, the Russian president's gesture of chivalry during the opening ceremony of the APEC summit at a Beijing stadium in November 2014 evoked an enormous public response.
The Russian leader, who apparently decided that the Chinese president's wife was cold, slipped a shawl over her shoulders. President Xi Jinping was discussing something with his American counterpart at that moment.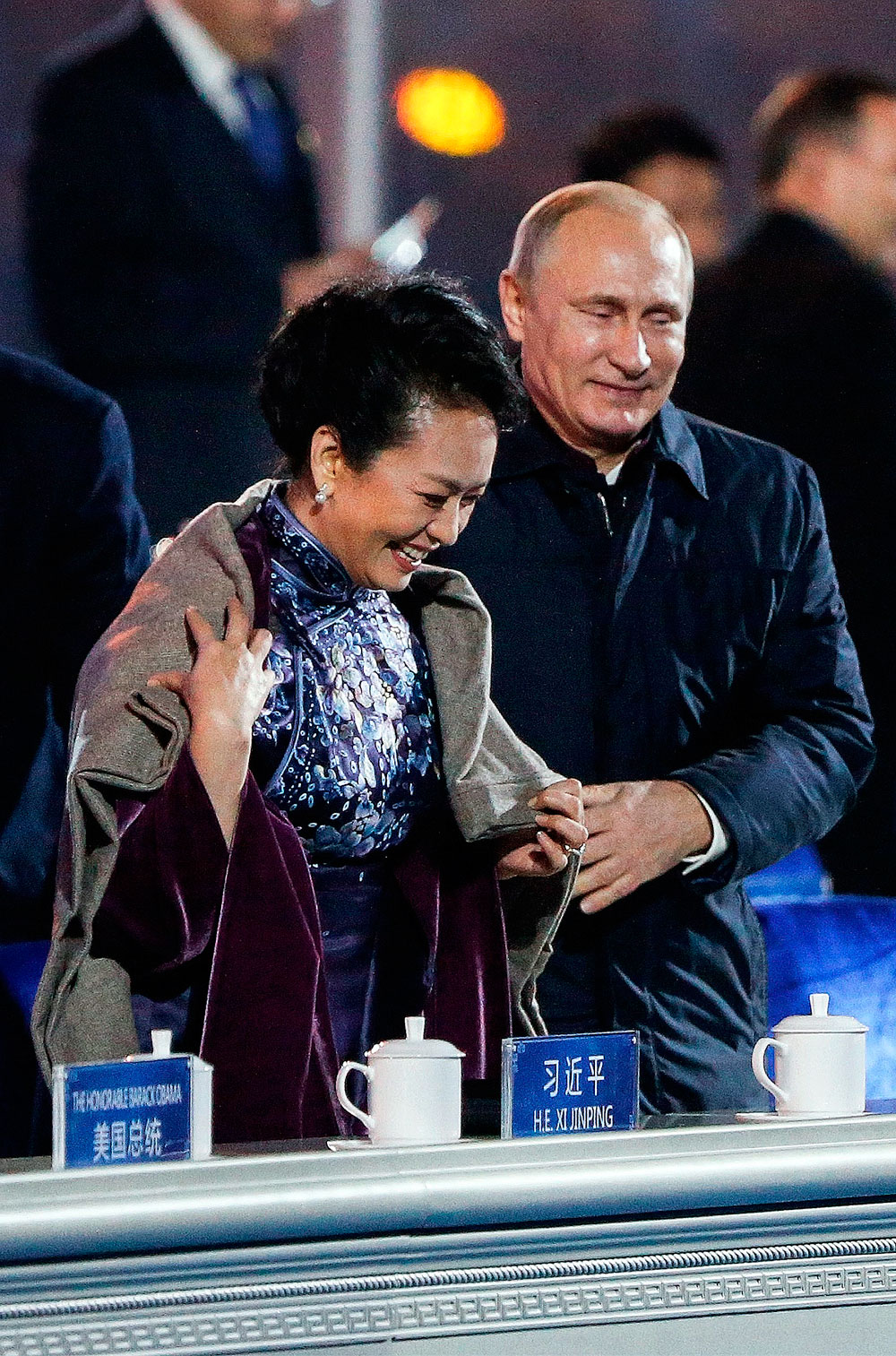 Vladimir Putin helps put a blanket on Peng Liyuan. Source: Reuters
Peng Liyuan thanked Putin, but almost immediately slipped the shawl into the arms of a guard and put on her coat. The incident received significant press coverage in both China and around the world. There were numerous articles saying that women in China believe that these kinds of tactile contacts with men, and especially foreigners, are unacceptable. The media dubbed the incident "Coatgate."
The Kremlin responded to this by a statement from Putin's press secretary, who suggested that everyone would have done the same in place of the Russian president.
"No matter the tradition or not, woman or not – everybody feels cold all the same," said Peskov, dismissing the criticism of Putin for this gesture of politeness as ridiculous. "The fact that he gave a shawl is a normal urge, a normal act, which would have been made, probably, by absolutely everyone."
Putin and a frightened Merkel
Not so long ago, the details of another case involving the Russian president became known. This case concerns a meeting with German Chancellor Angela Merkel in Sochi in 2007, where Putin took his Labrador Koni.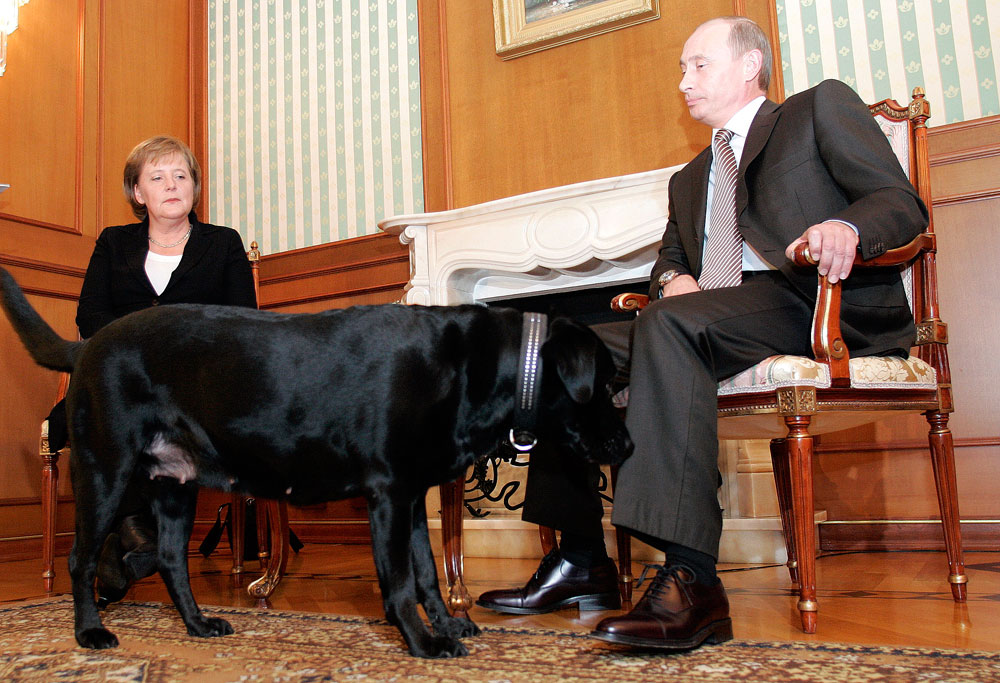 Vladimir Putin and Angela Merkel look at his dog Koni before their talks at the presidential residence near the Black Sea resort of Sochi. Source: Reuters
Merkel, who is afraid of dogs, was visibly disturbed whenever Koni approached her. Putin tried to reassure his guest, saying that the dog does not bite. Eventually, he had to put the dog on a leash and even reprimand it.
The Western media reported that Putin could not have been unaware of Merkel's fear of dogs. However, in an interview with Germany's Bild newspaper in January 2016, he said he did not know about Merkel's phobia and later apologized to the chancellor.
All rights reserved by Rossiyskaya Gazeta.