Why is a love-struck American girl about to be deported from Russia?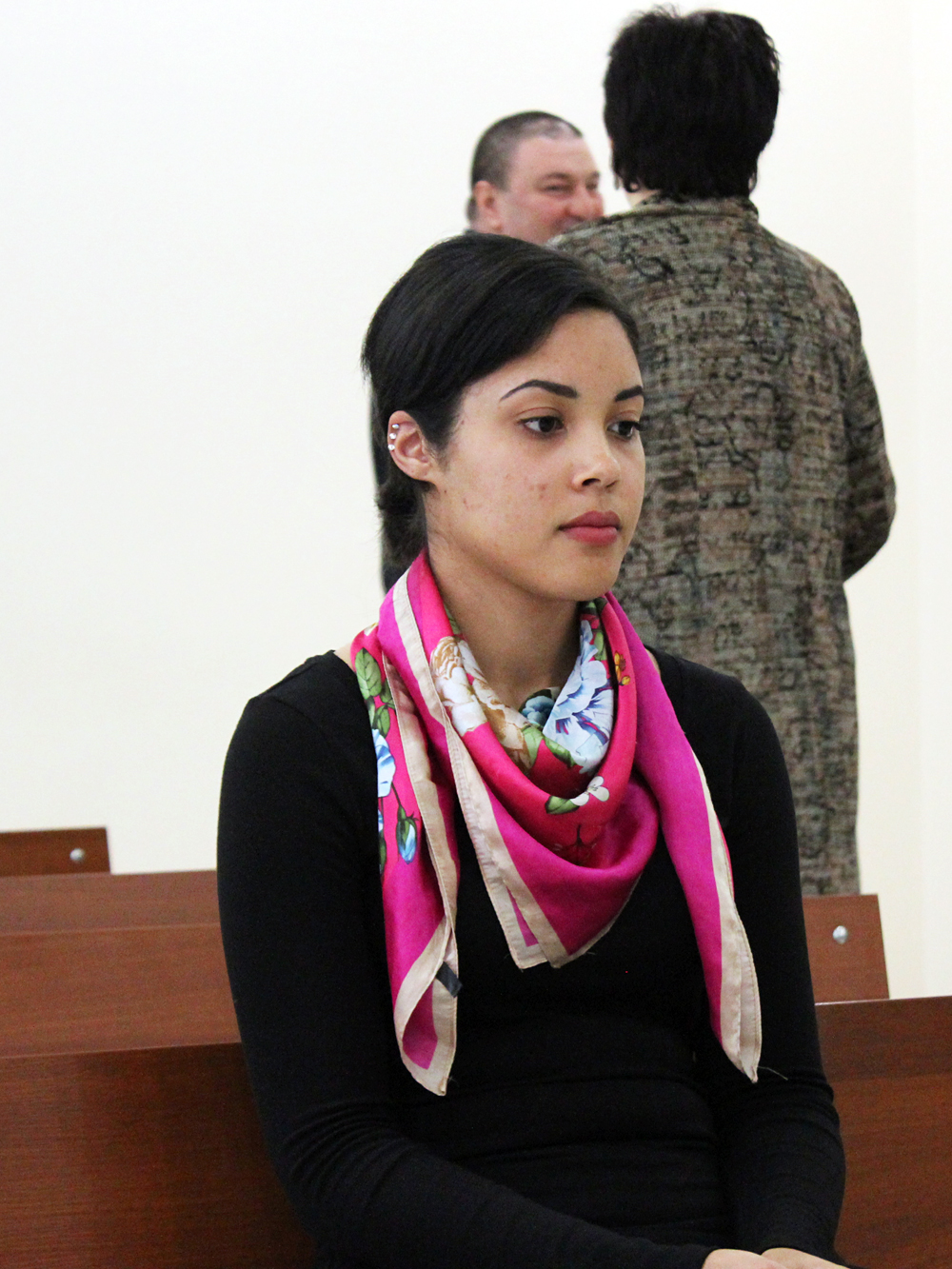 Aubrey Michelle Allen at the court in North Ossetia.
Dzerassa Biazarti/RIA Novosti
Aubrey Michelle Allen, who illegally entered the Republic of North Ossetia in order to meet her fiancé Alan Khachirov, is about to be deported for administrative violations. She was betrayed by her poor knowledge of Russian and faulty translation by Google Translate.
A girl from the U.S. state of Pennsylvania is to be deported from Russia after falling foul of administrative regulations due to a misunderstanding after traveling to the country to meet a Russian man whom she had befriended on the internet.
Aubrey Michelle Allen, who was born in a small village, first developed an interest in Russia as a child during Sunday visits to the local émigré Orthodox church, where Russian immigrants would teach her songs in Russian. When she grew up she became interested in Russian culture and decided to learn the language.
Allen eventually registered on a language site to practice Russian, where she met a young man called Alan Khachirov from Mozdok (a city in Russia's North Ossetia republic), who wanted to learn English.
After two years of intense correspondence Allen received a six-month Russian tourist visa, in which she had indicated the cities she planned to visit (Moscow, Vladikavkaz, Mozdok). She then flew to Russia, having told the Russian Embassy that the purpose of her trip was to marry her fiancé.
Khachirov met Allen in Moscow and they understood that they liked each other in reality even more than online. However, their problem was that the language barrier had not been overcome. In order to understand each other they use Google Translate.
Illegal double entry
When the couple arrived in Mozdok, they immediately went to register the young American lady's presence in the city at the North Ossetia office of the Federal Migration Service (FMS). It turned out that Mozdok, the location of a military airport with Russian troops, is one of the territories to which foreigners have limited access.
Allen's registration was successful but then she learned that this district is also one of the territories to which foreigners have limited access. Due to her second administrative violation, the authorities not only fined Allen but also, through a court, demanded she be deported.
According to the Sputnik news agency, an employee at the Prigorodny District FMS office told the court that he had been obliged to register the foreign citizen regardless of the fact that her stay was of limited length.
'I want to live in Russia'
Khachirov's parents supported Allen and defended her right to remain in Russia. Sputnik reports that they spent all the money they had saved for their son's wedding on legal fees.
"We were immediately fond of her, all the members of the family liked her, even our cows let her get close to them," said Khachirov's father Taimuraz.
Allen's lawyer insists that the law-abiding American citizen had violated Russia's laws twice because she did not know them and because the translation was inaccurate.
The young lady wishes to remain in Russia and live with Khachirov and his parents.
"I didn't understand that I was violating the laws. My only desire is that we remain together and get married officially after receiving the certificate and going through all the procedures," said Allen during the trial.
"I don't want to go to America, I don't like America, I want to live in Russia."
According to Sputnik, Allen even signed a note declaring her readiness to renounce her U.S. citizenship if this helps her remain in Russia.
But for now the court's decision has not changed: deportation without the right to return in the next five years. Khachirov is a policeman, so he will also not be able to visit his fiancée, even if he saves up for the ticket to the U.S.
Based on special material from the TASS news agency (Eto Kavkaz special project) and Sputnik North Ossetia.
All rights reserved by Rossiyskaya Gazeta.