Moscow swaps Nadiya Savchenko for Russians captured in Ukraine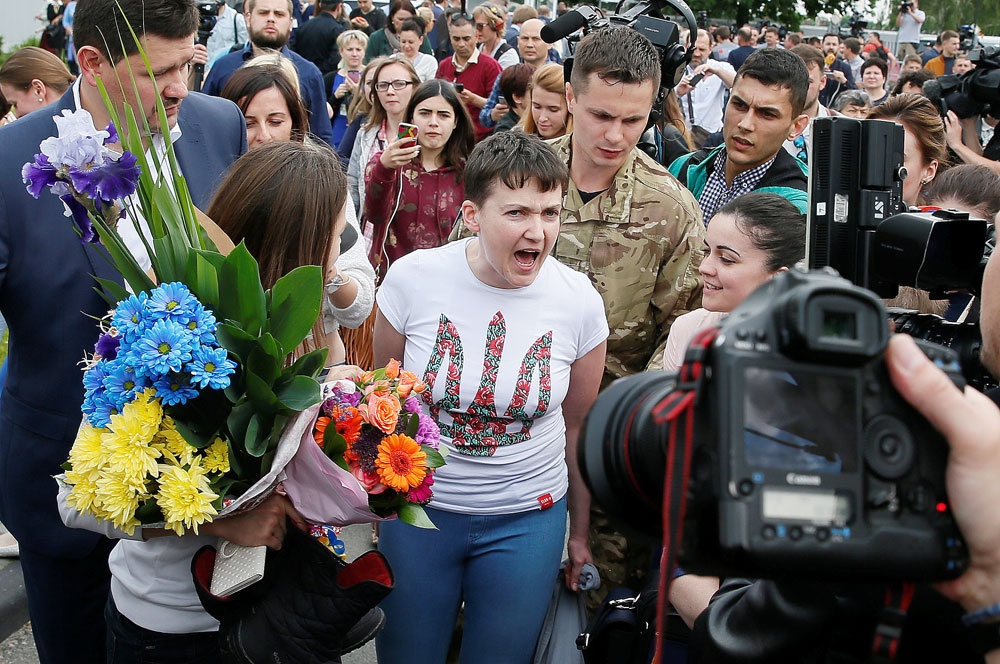 Ukrainian pilot Nadiya Savchenko talks to the media at Boryspil International airport outside Kiev, Ukraine, May 25, 2016.
Reuters
Russia has exchanged Ukrainian pilot Nadiya Savchenko for two suspected Russian servicemen imprisoned in Ukraine and convicted of terrorism.
Jailed Ukrainian pilot Nadiya Savchenko has been released by Russia as part of an unexpected prisoner exchange between the two countries, with two suspected Russian servicemen captured in Ukraine sent back to Moscow in return.
Savchenko, sentenced to 22 years in prison in March 2016 for the alleged killing of two Russian journalists in eastern Ukraine in a case widely seen outside Russia as fabricated, was exchanged for Yevgeny Yerofeyev and Alexander Alexandrov, whom the Ukrainian media called "soldiers from Russia's Main Intelligence Directorate."
Video by YouTube
The Russian presidential decree pardoning Savchenko has been published on the official Kremlin website.
"Pardon convict Nadiya Viktorovna Savchenko, who was born in Kyiv on May 11, 1981, exempting her from further serving her term in prison. The decree takes effect on the day it is signed," reads the document. The decree is dated May 25.
Early-morning exchange
Early in the morning of May 25 the Ukrainian presidential plane arrived in Rostov-on-Don (700 miles south of Moscow) in order to pick up First Lieutenant Savchenko, who was imprisoned in a Russian jail.
Meanwhile, a Russian An-148 plane arrived in Kiev. Its registration number RA-61716 says that it is part of the Rossiya special aviation unit, which transports Russia's top brass, including high-ranking FSB officials.
According to the agreement between the two countries, the planes departed from the airports at the same time and flew home.
According to the official accounts of Ukrainian President Petro Poroshenko later published a message on Twitter and Facebook confirming that Savchenko had landed in Ukraine.
Convictions for murder and terrorism
A Russian court convicted Savchenko in March of involvement in the deaths of two Russian journalists from the VGTRK television company – Igor Kornelyuk and Anton Voloshin – in eastern Ukraine in 2014 as the conflict between government troops and pro-Russian rebels intensified. Investigators accused Savchenko of directing shelling onto a rebel checkpoint where Kornelyuk and Voloshin were located.
She was also charged with crossing the Russian-Ukrainian border without papers, which the prosecution claimed she had done disguised as a refugee in order to escape the militia of the Lugansk People's Republic. Savchenko was detained in Russia's Voronezh Region in July 2014.
In turn, Russian citizens Yevgeny Yerofeyev and Alexander Alexandrov were given a 14-year prison term in Kiev in April on charges of "terrorism." Kiev says that the two men, captured in the Donbass region in eastern Ukraine in May 2015 while allegedly trying to seize a strategic bridge, are Russian servicemen – while Moscow says that at the time Yerofeyev and Alexandrov were detained they were no longer part of Russia's armed forces.
Russian Defense Ministry Spokesman Major General Igor Konashenkov stated that Alexandrov and Yerofeyev had indeed "served at one of the military branches and have military preparation." However, the young men were no longer part of Russia's armed forces at the time combat operations in southeast Ukraine began, he claimed.
Why May 25?
The business newspaper Kommersant writes that the agreement to exchange Savchenko for the two Russians was reached during a night-time conversation between the leaders of Germany, France, Russia and Ukraine.
In an interview with the Vesti newspaper, Ukrainian political scientist Viktor Nebozhenko said that the exchange had to take place on May 25, the date of Ukrainian President Petro Poroshenko's second inauguration ceremony.
Nebozhenko added that this would help the government silence criticism from its opponents, who intended to use this day to protest against its policies.
Subscribe to get the hand picked best stories every week
All rights reserved by Rossiyskaya Gazeta.