"And then a fiery ladle flies across the sky, having grabbed someone's happiness," Nikita exclaims in a dramatic tone. He is a dark-haired man of 30, an Izhorian born and bred.
Nikita is being listened to, humbly, by a stuffed forest spirit standing next to him, a doll in an Izhorian national costume and a dozen school students. Classes at the Izhora museum in the village of Vistino (65 miles west of St. Petersburg) are not exactly what you might expect.
The Izhorians are a small Finno-Ugric people, the original indigenous population of the section of Baltic coast between Narva in Estonia and St. Petersburg. Only a few hundred people now remain of this once powerful tribe, the harsh disposition of which the Pope wrote in a papal bull in the 12th century, when several Latin missionaries who tried to convert these pagans to their faith were brutally murdered.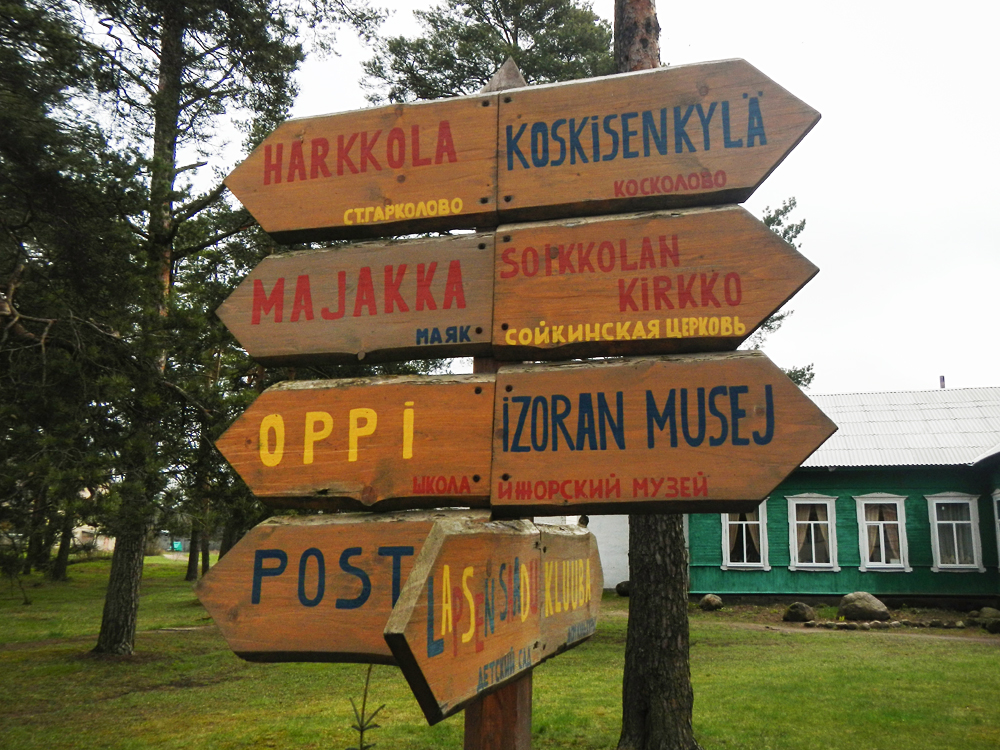 A bilingual sign in the center of Vistino. Source: Oleg Skripnik
However, numerous wars and the political upheavals of more recent times have put the Izhorian culture on the brink of extinction – like a number of Russia's 50 small indigenous peoples. But the Izhorians have no time for stories about their plight.
A race of proud fishermen
Vistino, the center of the Izhorian culture, is a clean village with paved roads, neat wooden houses with carved wooden architraves and small fruit orchards. Several typical urban high-rise buildings have wooden wells in their courtyards.
"But a couple of years ago, there wasn't even one fence in the village," says Zinaida, who has lived here since 1935.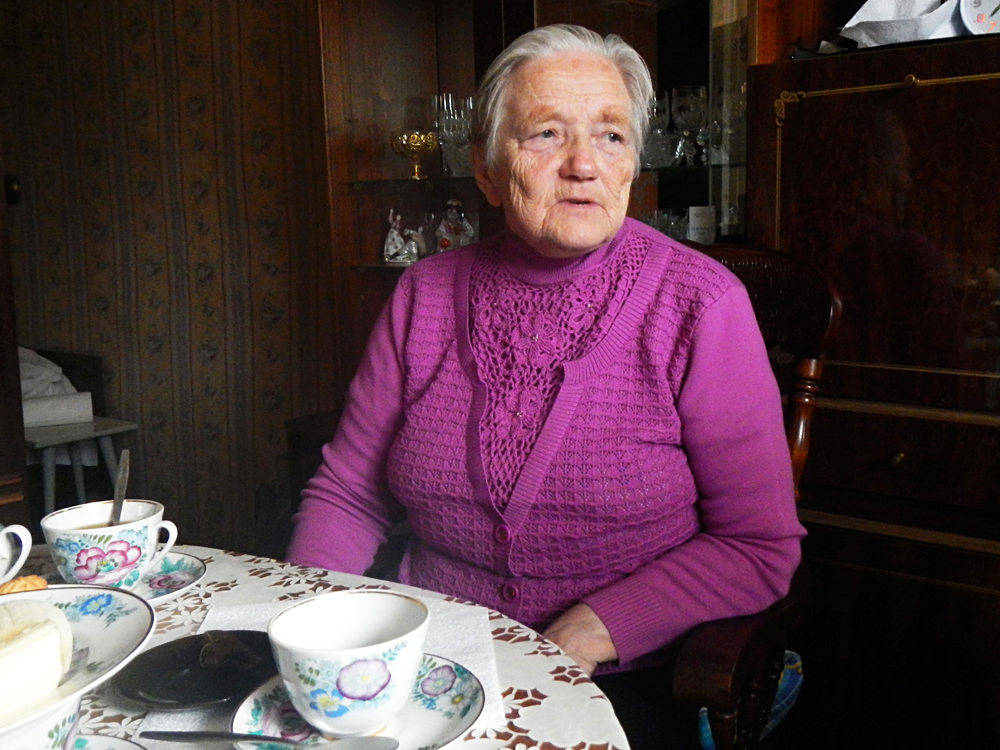 Zinaida was born into an Izhorian family. She experienced the war as a child, having survived the horrors of the German occupation and concentration camps. For a long time, she worked as a fisherman, often risking her life in storms. Source: Oleg Skripnik
Fencing themselves off from one another is not in the Izhorian tradition, but their proximity to a developing major port – Ust-Luga – is encouraging them to take safety more seriously.
But don't be misled by the asphalt road – the settlement is surrounded by a dark and dense forest. Last year, the inhabitants of Vistino even had to take up arms and fight against an insolent pack of wolves that attacked the village.
In fact, an Izhorian with a gun is a rarity – they are not hunters. But fishing is another story – it has always been their main, almost sacred occupation. People composed songs and proverbs about the sea, and women went out on boats on a par with men. Even the kannel (a national stringed plucked instrument), according to legend, was supposed to calm the raging Baltic Sea with its sounds.
But the construction of the major commercial port of Ust-Luga on these lands has seriously hampered small boats navigating in the Gulf of Finland.
"There was no one to celebrate Fisherman's Day for two years," one of the old women complains. "It was replaced with Izhorian Culture Day. But how can the Izhorian culture be without fishermen?"
Recently, Izhorian young people started to form fishing cooperatives, which gives hope for the revival of fishing. Now the majority of Vistino residents work in the port, and almost all have small farms.
When they have spare time, they go to the club or stadium. Only 33-year-old fisherman Alexei follows the precepts of his ancestors: He provides for his family with subsistence farming, and the only modern technology he uses is a mobile phone.
Culture and religion
As the saying goes, an Izhorian talks three times in his life – he cries at birth, agrees at his wedding, and groans before death. They are a closed and self-absorbed people, who continue to largely adhere to pagan traditions.
"Do we believe in spirits? We ... do not deny them," smiles local historian Nikita. "Our priest severely fights against it, but can you get rid of the tradition so easily?"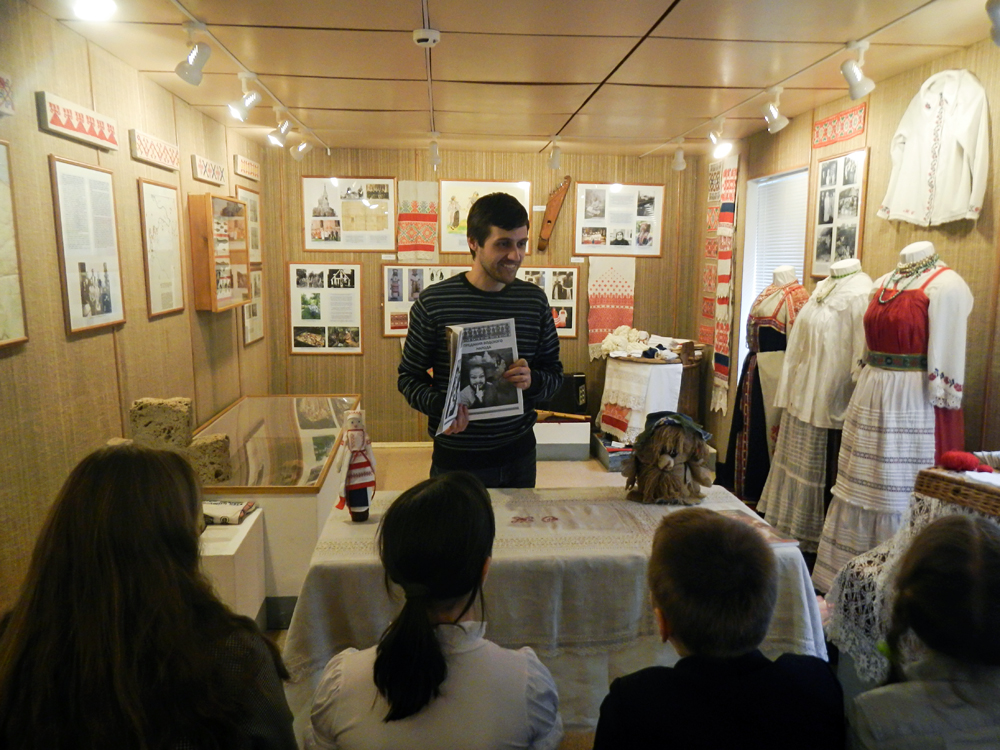 Nikita has perfectly mastered the Izhorian language, which he taught himself as an adult. Now he teaches the language to children and works as a guide at the museum. He sings in a folk ensemble. Source: Oleg Skripnik
The Izhorians are certainly persistent in their attempts to preserve their cultural heritage. Enthusiasts teach Izhorian language courses in St. Petersburg, and the state helps with the publication of textbooks and finances the only regional museum in Vistino, where Izhorian school students study their native language.
There are a few pots in a corner of the museum – they are left from a children's master class on the art of pottery. The museum also teaches embroidery, cooking, wood carving, weaving, and even building.
Even now, when the area inhabited by the Izhorians has shrunk to a couple of villages, the old rites and wisdoms play an important role. In fact, locals were christened as early as the Middle Ages, but the pagan customs are still going strong.
For example, for weddings they dress up a fir tree and suspend it from the ceiling. They also use fir trees when seeing people off on their final journey, littering the road to the hearse with its branches. Relatives of the deceased keep these branches for 40 days and then burn them.
"They write that we have almost been assimilated," says Yelena Kostrova, the museum's director. "[In fact,] we do not expose our traditions, it's too personal. Of course, you can't see it from the city, you have to live with us a little longer. "
Subscribe to get the hand picked best stories every week
All rights reserved by Rossiyskaya Gazeta.