The weaker sex? First female biker in predominantly Muslim region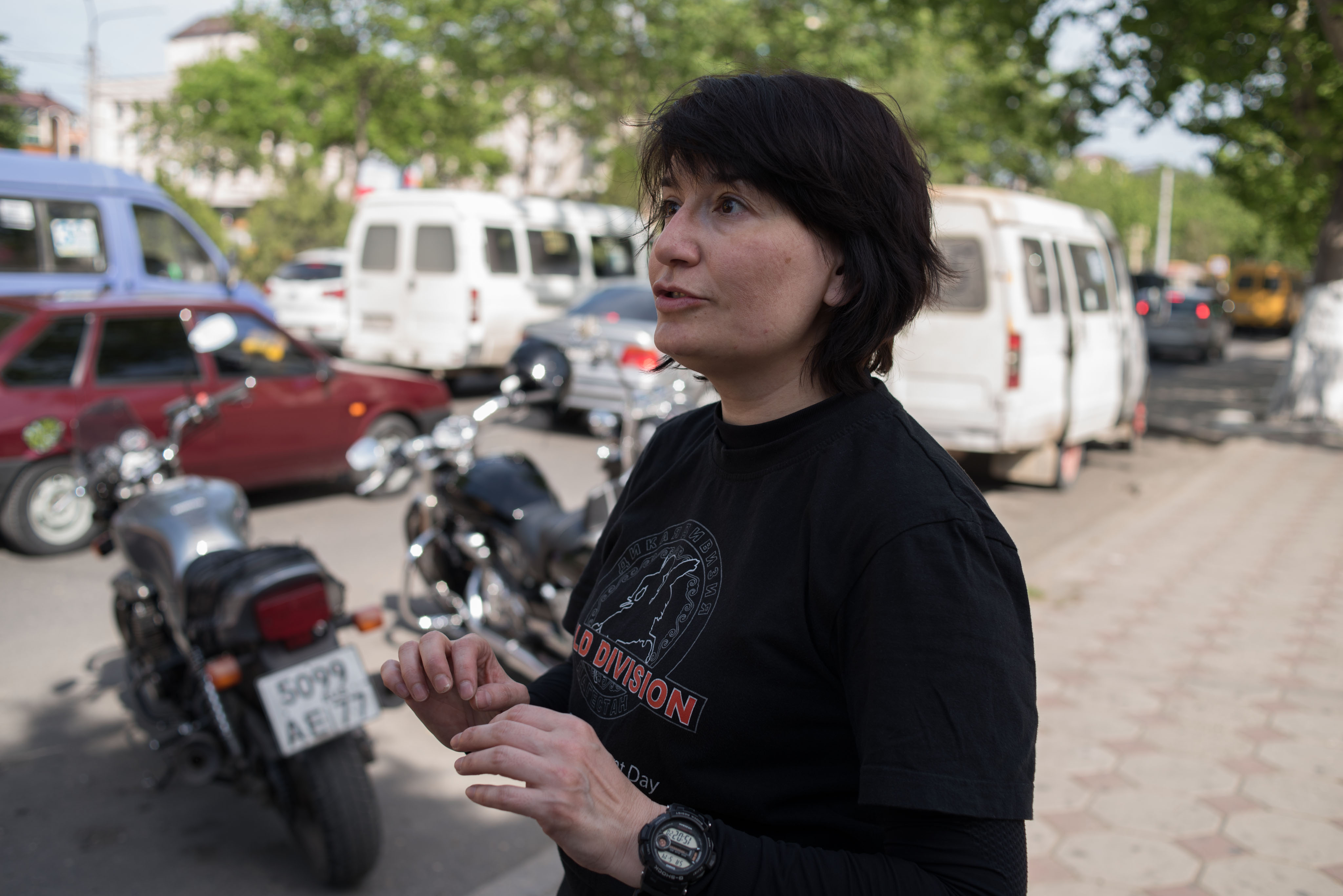 Madina Magomedova: "I was madly in love with motorcycles and constantly admired the ones I saw on the street."
Anton Podgaiko
Madina Magomedova, the first 'biker chick' in Dagestan, where women wear hijabs, has won the respect of a male-dominated motorcycle community.
At weekends motorcycle enthusiasts gather near Makhachkala's Russian Drama Theater, in Dagestan's capital city, 1,120 miles southeast of Moscow. Honda sports bikes, Harley-Davidson choppers and restored Soviet-era models such as the Izh or Jawa, line the roadside.
The motorcycles' owners, burly, leather-clad bearded men, circulate nearby, comparing bikes and recounting tales of epic rides. If you look carefully, you'll see there is also a girl: Madina Magomedova. A firecracker of a woman, who is known as Vzhik (zipper), she's lithe and nimble. Her nickname comes from her ringing voice and short stature of just 5 ft 2 in.
For years she was the only female biker in Dagestan, though two others have since joined her. Even now Madina is the only woman who travels long distances outside the city. She regularly rides more than 90 miles from Makhachkala to Grozny, the capital of Chechnya.
Long and winding road
"The story begins seven years ago," says Madina. "I was madly in love with motorcycles and constantly admired the ones I saw on the street. Back then, when I was a tiny girl with long hair, it was hard to imagine myself on a bike. When I told a biker friend of mine that I wanted to ride he dismissed the idea entirely, telling me 'you will fail.'"
Although hearing these words was upsetting, Madina painstakingly researched where to take classes and what bike to buy. A childhood friend helped guide her, finding her a private instructor who taught her to ride a rickety old Jawa in just four sessions.
Source: Personal archive
Although Madina's parents, who were born in Makhachkala, do not force her to wear a headscarf or a long skirt, they were nonetheless concerned about their daughter's newfound and dangerous hobby. "My dad, who rode a motorcycle when he was young, supported me. My brother objected: 'How can an unmarried girl associate with a group of men? It's a stain on the honor of our family! My dad retorted 'It's not a shame, let her have fun!'"
As my brother got to know the local bikers, he stopped worrying so much. But another obstacle remained: Madina's mother was dead-set against her riding, and so she had to keep it secret for five long years.
Male reaction
The male bikers were initially suspicious of this girl in their midst. Some claimed she came to marry a biker. They expected her to be a weak rider and did not invite her on their expeditions. It was not until Rustam "Kamikaze", a biker well known in Dagestan, came to her aid that she found her footing. He helped Madina buy a motorcycle and accompanied her on rides around the city, teaching her how to ride defensively and protecting her from wayward cars.
Source: Anton Podgaiko
Madina joined a main motorcycle group several months after the first trip from Makhachkala to Grozny. "It was pouring with rain on the road and many bikers with serious 'hogs' turned back. But not me: I made it to Grozny on my 250cc Kawasaki Ninja. I didn't complain and kept up with the group," she declares.
Addictive hobby
Madina is sure that gender does not matter when you are on the road. Nevertheless, it is impossible to confuse her with a man when she rides. Even donning rough boots and full biker gear, it is clear that the driver is a slight girl.
"When I ride a motorcycle, drivers try to pick me up. They joke: 'Can you take me for a ride? I'll answer: 'My husband does not allow me!' They immediately leave me alone," she says with a smile.
Source: Anton Podgaiko
Many residents of Makhachkala admire her courage, but others criticize. "Religious guys proclaim my hobby to be against Islam. I spend time with men and attract too much attention. But most people do not see a conflict with Caucasian traditions. That said, I know that if I get into trouble, people will say: 'You got what you deserved. A motorcycle? Get married and stay at home!'"
Despite the fact that her motorcycle gives her a shot of adrenaline, she does not consider herself to be a thrill-seeker. When not riding, she works as an accountant. She wears suits and glasses. Motorcycling, she notes, is her hobby. Her very addictive hobby.
Subscribe to get the hand picked best stories every week
All rights reserved by Rossiyskaya Gazeta.