Acknowledging autism: Moscow foundation provides comfort through film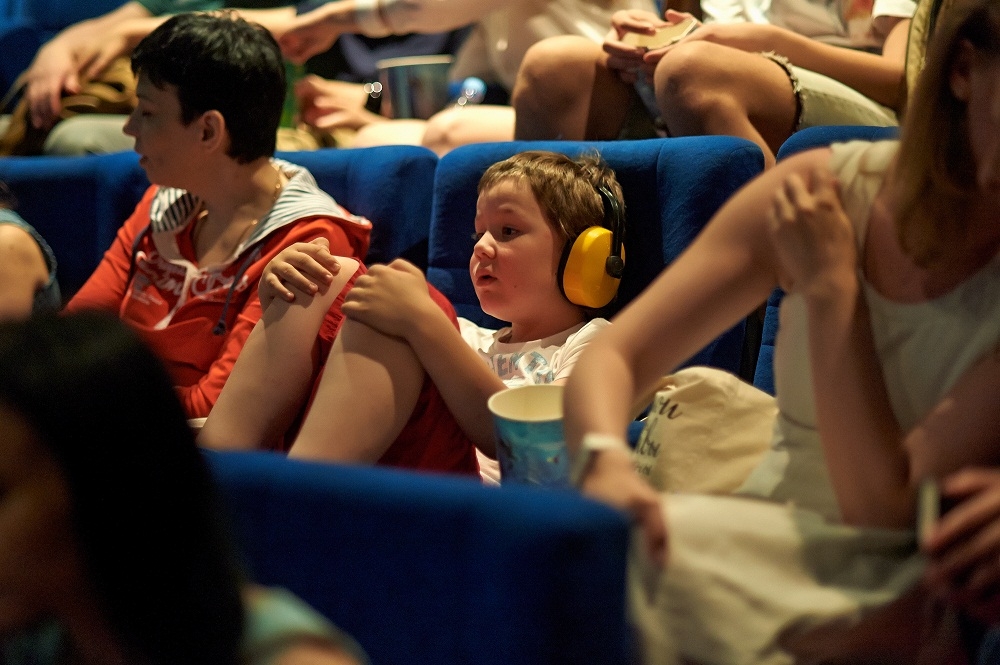 Opportunities for people with mental handicaps, including autism, are appearing in Russia in various places but society in general is still intolerant towards people with autism.
KARO Theater Chain
People with autism and their families often feel like outcasts in Russia: They are not very welcome in public places and going to the theater or cinema can become a big ordeal. However, the first movie theater for children with autism and their families recently started operating in Moscow.
Right in the middle of the film, Alisa, a little 4- or 5-year-old girl in a pink jacket with two ponytails, jumps up and begins running in joy between the rows. She keeps running around the seats, tirelessly crying out something incomprehensible. Her father manages to catch up but does not try to have her sit down. He just says, "Alisa, let's watch the film!" Alisa doesn't respond – it's more fun running around than sitting still.
The KARO 11 Oktyabr movie theater in the center of Moscow is showing the animation Finding Dory. There are 20-30 people in the auditorium and many of them are children. Some, like Alisa, occasionally get up and start shouting and running around. Others prefer to sit still and attentively follow the adventures of the little fish searching for its parents. The children's parents are watching the film with them; they are always near. Almost all the children suffer from autism.
Rejected by society
"Usually, when we go to the cinema we always have a Plan B," says Natalya. She has two children: Vitya, who suffers from autism, and Elya, who is neurotypical. Plan B means that Natalya and Vitya leave the theater if he starts behaving abnormally, while Elya continues watching the film alone.
Such Plan Bs are familiar to all parents who have autistic children. A person with autism lives in his own fragile world and is sensitive to any violation of that habitual way of life.
"When a child with behavioral problems finds himself in a social context he is usually received poorly," says Maria Bozhovich, director of the information service at Vykhod ("Exit"), a foundation dedicated to solving autism problems in Russia. "From the outside this is a normal child, but he or she can act strangely."
Not understanding this, people begin blaming parents for not raising the child in the right manner. In the end the entire family avoids leaving the home as much as possible and remains locked behind four walls.
Cinema for everyone
The inclusive film screenings organized by Vykhod together with Disney and the KARO cinema chain are an exception from this sad routine. Here no one kicks autistic children out of the auditorium if they shout and run around. On the contrary, the atmosphere is very comfortable: the sound is muted, the lights are not completely turned off. The doors to the auditorium are left open so that if the children get tired, they can step outside.
For parents of children with autism, an outing to the cinema, even to a theater, can be an unpleasant experience. Since it is very difficult for people with autism to avoid doing what is the usual and daily norm, before going to the cinema the parents go over the "social scenario" with their autistic children: "First we will get into the subway, then we'll arrive at the theater, we'll sit down. They'll turn off the lights but we won't be afraid…." And so on.
The Oktyabr movie theater organizes film screenings as part of the "Autism, a Friendly Atmosphere" program twice a month.
"When our key partner Disney and the Vykhod foundation came to us with the initiative of providing such shows in one of our key theaters, Oktyabr, we 100 percent supported this idea," says Nick Hluszko, CEO of КАRО cinema chain. "We are grateful to them for what they are doing in society: We do believe that this is a very important step for our culture and we are glad to be part of it."
According to Hluszko, KARO and its partners plan to launch the same program in other Russian cities.
Still a long way from inclusion
Maria Bozhovich explains that the inclusion's main objective is to create a friendly atmosphere where everyone is comfortable – people with autism and those who are neurotypical. That is why the screenings at Oktyabr are open to everyone. But for now only children with autism and their parents come to the theater.
"We will see real inclusion when other (neurotypical) people also start coming to the theater," said Bozhovich. "At least now they have the opportunity. This is not the 'solely for people with autism' event that we organized before."
In her words, opportunities for people with mental handicaps, including autism, are appearing in Russia in various places but society in general is still intolerant towards people with autism. The only progress is represented by the fact that some movie theaters, museums and other platforms are ready to join the "Autism, a Friendly Environment" program and provide comfortable conditions for moviegoers, including those with autism.
"Very slowly, but we are moving ahead," says Bozhovich.
What is autism?
- Autism is a disease related to the underdevelopment of the brain and manifests itself in difficulties communicating (people with autism can hardly make contact with the outside world), speech defects and drastic reactions to changes in routines;- Disorders of the autism spectrum (various forms of autism) are diagnosed in early childhood;- According to the World Health Organization, one in 160 children around the world suffers from autism and the percentage is growing annually. For example, in the U.S. 30 percent more children suffer from autism in 2016 than they did in 2012;- In Russia there are no official statistics on people with autism. Judging by indicators in other countries, at least 200,000 people suffer from autism in Russia.
Subscribe to get the hand picked best stories every week
All rights reserved by Rossiyskaya Gazeta.