Standing behind a tall fence, the mansion looks like an elite house typical of those in a prestigious suburban neighborhood near Moscow. There is a fleet of expensive cars in the courtyard. The camera moves inside: stucco, carved gilded decor, lavish crystal chandeliers, Louis XIV-style armchairs and sofas, icons. Daylight seeps through heavy, fringed curtains.
This is how a museum or theater prop warehouse would probably look. But this is neither of those things; this is the home of a "thief-in-law," a king of the Russian underworld, Zakhary Kalashov, known by the nickname Shakro the Young, and the scene is being shot by a SWAT team.
Kalashov was detained in an extortion case involving dead bodies, former security officers and dirty cops. He's calm; this is not his first arrest. The Baku-born successor to the mob boss known under the nickname Ded Khasan or Grandpa Khasan, who was killed in 2013, has been convicted at least three times.
In Europe, he was in charge of the financial flows of Russia's criminal world. A Spanish court found Shakro guilty of money laundering and forming a criminal gang. After nine years in prison, he was deported in October 2014 to Russia, where he found himself again at liberty.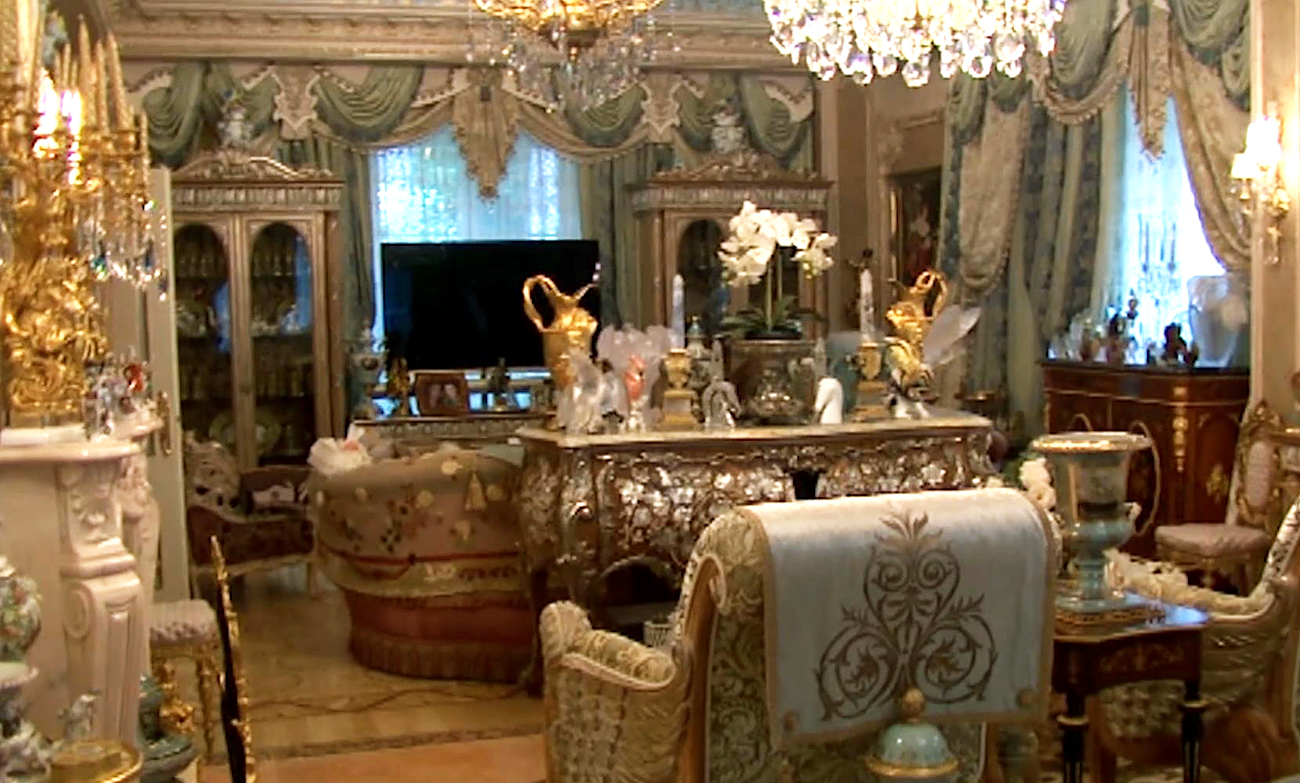 Inside the house of Zakhary Kalashov, known by the nickname Shakro the Young. Source: TASS
Honor among thieves
Vory v zakone, or "thieves-in-law," are originally a Soviet phenomenon. They first appeared in the 1930s – people who did not accept the Soviet regime and went into the criminal underground. "Thief" is not a profession, but a title backed by the thieves' "law," or code of conduct.
According to these rules, you cannot marry, have a residence permit, job, property, any contacts with the government and, most importantly, commit "unworthy" acts. Unworthy, of course, according to the thieves' own morality: to not rat on others, to repay debts, to not be associated with sports teams, etc. But the title gave them the right to act as arbitrators in the criminal world.
However, in truth these "thieves" disappeared back in the early 1960s, when the death penalty was introduced for the involvement in gangs, said Mikhail Pashkin, chairman of the coordinating council of the Moscow and Moscow Region police trade union.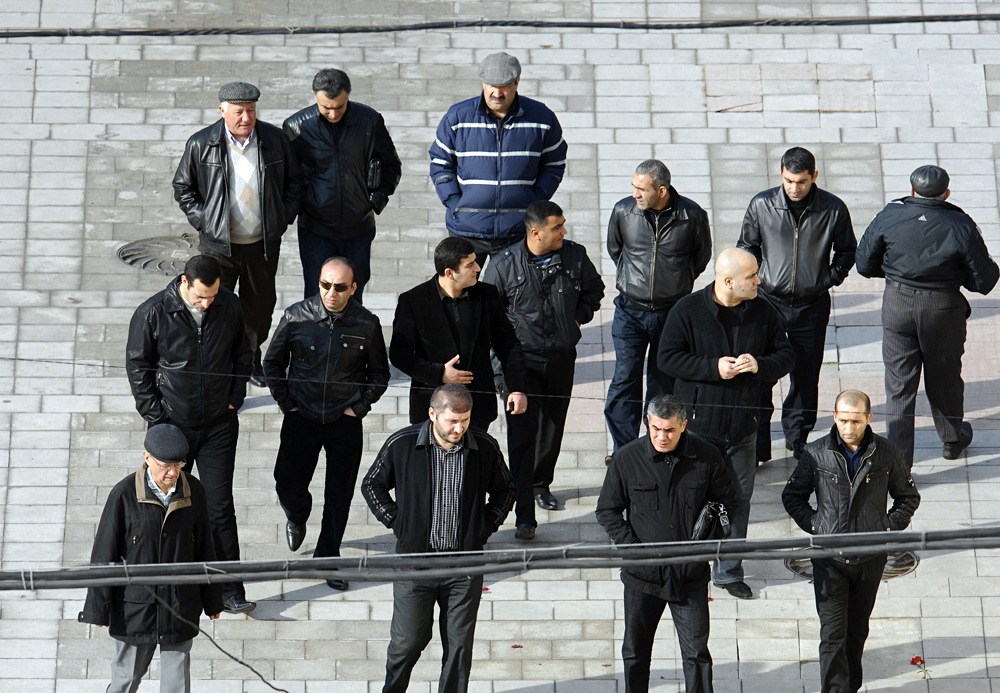 People attend the burial service for Russian mafia boss Vyacheslav Ivankov, nicknamed Yaponchik (or Little Japanese), at Moscow's Vagankovskoye cemetery on October 13, 2009.
These days, a "thief-in-law" is just the leader of a criminal gang, with the exception of a few traditions that have been preserved: the ceremony of "crowning" (the awarding of this title), and the thieves' cashbox – the so-called obshchak (common fund), which is held by the "thieves."
Mob bosses share their recommendations at a skhodka, or a general assembly, then a decision is made. All this happens at calm and not crowded places: They sit in a hotel or an expensive restaurant (an outsider will not even understand what is going on), on a ship or at a graveyard. Today, the status of "thief-in-law" can be bought, but it is something that is not discussed.
"This is too vulgar," a source from Prime Crime, a news agency specializing in the criminal world, told RBTH on condition of anonymity. "The status can be earned. Most of all, large financial investments are welcome."
The price is different for each person. One who is not worthy of becoming a "thief" cannot buy this status even for a million rubles ($15,830), while others may get it for a few hundred thousand.
"If they really need the money, they can crown even an unsuitable person for a million," said the Prime Crime source. "In five minutes, they will uncrown him for the very first mistake, but keep the money to themselves."
The common fund is used to buy prison warders and the heads of penal colonies. "There is a phone in the cell, food from restaurants, girls are brought there," said Mikhail Pashkin. "One 'thief,' who was in prison in Smolensk, was taken to Moscow every weekend, allegedly for investigative procedures. He paid for the hotel rooms for his convoy officers and flew to the Canary Islands."
'They buy courts, prosecutors, investigators'
In 2015, Prime Crime counted 485 "thieves-in-law" around the world. Of these, only a quarter – 118 people – were then behind bars. According to Pashkin, a great many cooperate with law enforcers.
In 2008, one of the "thieves" leaked information about a planned assembly to operatives. As a result, a scene worthy of a film adaptation in Hollywood took place: a rented boat with mob bosses, helicopters with special forces, a descent on ropes onto the deck, the capture of the deck-house. Thirty-nine "thieves" were arrested then. However, most of them were released just a day later.
"They detain them, take down their data, sometimes plant drugs or weapons on them and then let them go, because they have nothing to charge them with," say members of the police trade union. Cases over the organization of or participation in a criminal group often fall apart for alleged lack of evidence, though senior police and government officials are widely suspected of having links to organized crime.
"Today, the thieves are spreading their influence far beyond the borders of the former USSR," said the Prime Crime source. "This is an entire corporation." In Russia, they have their representatives in every town and even village.
"Now, they control large cash flows, companies, entire industries," said Pashkin. "They buy courts, prosecutors, investigators."
Video by Ринат Сафин/YouTube
When there was a shooting incident at a restaurant involving Shakro's men, police responded to the call, but not only did they not interfere with the conflict, they "settled down in their Gazel van like in a movie theater. One of the policemen even grabbed a plate of snacks from the restaurant," a witness told the Kommersant business daily.
Now, after the arrest of the "king of thieves," there will be a new divvying-up in the criminal world. "A thief, however influential and authoritative he may be, cannot run things while behind bars. Shakro's place will be taken by someone else in the near future," said the Prime Crime source.
Subscribe to get the hand picked best stories every week
All rights reserved by Rossiyskaya Gazeta.