Former Yaroslavl mayor sentenced to 12.5 years imprisonment for bribes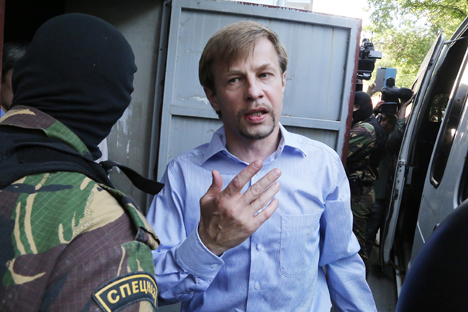 Yaroslavl Mayor Yevgeny Urlashov was detained on July 3, 2013.
RIA Novosti
Urlashov demanded a bribe of $269,000 from director of Radostroi company
Yevgeny Urlashov, former mayor of the city of Yaroslavl, Central Russia, has been found guilty of taking major bribes and sentenced to 12.5 years in a tight security colony and a fine of 60 million rubles ($896,460). The sentence was passed by the Yaroslavl Regional Court on August 3.
The former mayor's deputy Dmitry Donskov, has been declared not guilty. Urlashov's adviser Alexei Lopatin was sentenced to 7 years' imprisonment.
In his last statement, Urlashov pleaded not guilty and called the process against him politically motivated. The public prosecution requested for him 15 years in a tight security colony and a fine of 500 million rubles ($7.47 million).
Urlashov's case
Popularly elected in 2012, mayor of Yaroslavl Yevgeny Urlashov was arrested on the night to July 3, 2013. According to investigators, the mayor, his deputy Dmitry Donskov and advisor Alexei Lopatin demanded a bribe of 18 million rubles ($268,938) from director of the Radostroi road maintenance company Sergei Shmelev. The company carried out the city maintenance work in the first half of 2013. The defendants threatened with non-payment for the works under the municipal contact if they are not given this sum.
According to investigators, another bribe of 17 million rubles (253,997) was taken by Urlashov from CEO of Yardostroi company Eduard Avdalyan. The money was demanded for getting through the decision on the transfer of the controlling stake in the City Road Authority to the company.
Trial
The trial of Urlashov began in the Kirov district court of Yaroslavl on September 28, 2015. There are more than 60 volumes in the criminal case. At the request of the injured party, process has been repeatedly transferred to the closed-door regime, as it was necessary to listen to audio recordings of telephone conversations of the case witnesses and defendants. Some 100 witnesses and experts, including former governor of the Yaroslavl region Sergey Yastrebov and chairman of the regional government Alexander Knyazkov were questioned during the trial.
Source: Tass.com
All rights reserved by Rossiyskaya Gazeta.