Businessman takes hostages in Moscow bank in desperate plea to Putin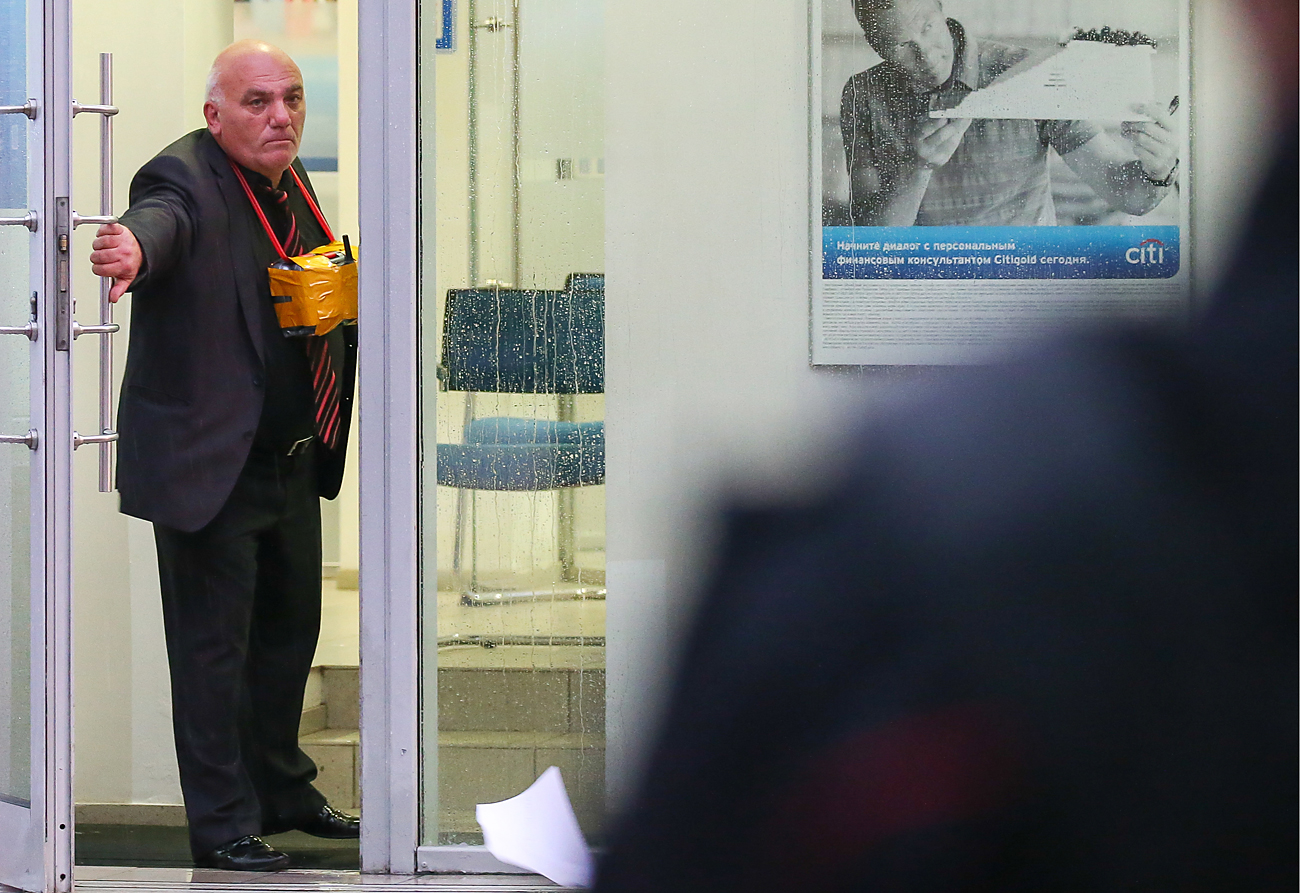 Entrepreneur Aram Petrosyan threatens to blow up a Citibank office in Bolshaya Nikitskaya Street, Aug. 24, 2016.
Artyom Geodakyan/TASS
On Aug. 24, a bankrupt businessman took the staff and customers of a bank in downtown Moscow hostage in a bid to attract the attention of Russian President Vladimir Putin to the plight of those in his position.
When a middle-aged man entered a Citibank branch on Bolshaya Nikitskaya Street in central Moscow in the evening of Aug. 24, none of the six people inside the bank at the time – two staff members, three customers and a security guard – paid much attention.
However, the man suddenly demonstrated an "explosive device" on his neck, announced that he had seized the bank, which is located less than a mile from the Kremlin, and that he was taking all those present hostage, though he swiftly released one of the bank employees, a pregnant woman.
The man, soon identified by police as Aram Petrosyan, a 55-year-old businessman from Moscow, threatened to blow himself up along with the hostages and demanded talks with the police. Petrosyan said flat out that he was not interested in the bank's money.
"He did not look like a criminal, he looked more like a desperate man," one of the hostages said. Over the course of several hours of negotiations with police, Petrosyan gradually released all the hostages and then surrendered to the authorities. The box with wires that he had passed off as a bomb turned out to be a replica.
Until recently, Petrosyan's company produced first aid kits and medicines, but went bankrupt during the economic crisis. Five copyrights and 32 patents are registered in Petrosyan's name. According to the Interfax news agency, he had repeatedly appealed to the authorities with proposals to create an initiative to support entrepreneurs, but received no response.
'Nothing to lose'
According to him, this was his last chance to draw the authorities' attention to the problems he was suffering. Earlier, on the afternoon of Aug. 24, he recorded and posted on YouTube an appeal to the Russian president. "I will commit a blatant, high-profile violation of the Criminal Code," said Petrosyan. "There's no other way left to convey to you that there is a huge problem."
Petrosyan's main demand is to create an institution on the state level that would deal with the problems of the bankruptcy of individuals and entities. According to him, the existing mechanism of bankruptcy infringes people's rights. "If a person has become bankrupt, what's waiting for him?" he said. "[He turns into] waste material." Petrosyan said that he has a scheme to create a "hospital for business," which will help solve the problem of bankruptcies.
"Believe me, I have nothing to lose. I had already lost what I had," Petrosyan said, addressing Putin, and asked the president to become his advocate if he survives. During interrogation, he said that he was not going to kill anyone, but only wanted to draw attention.
Mental breakdown?
Moscow investigators have initiated a criminal investigation into the hostage-taking (Russia's Criminal Code mandates up to 15 years in prison), but due to the fact that he voluntarily released all the hostages, the charges may be reclassified, with a milder punishment (up to two years in prison), sources close to the investigation told the TASS news agency.
In addition, Petrosyan will have to undergo a psychiatric examination, which will determine whether he is able to answer for his actions. According to forensic psychiatrist Mikhail Vinogradov, Petrosyan may well have mental problems. Petrosyan's illegal actions could be due to a breakdown, Vinogradov told the Izvestiya newspaper.
Subscribe to get the hand picked best stories every week
All rights reserved by Rossiyskaya Gazeta.