School expenses grow for Russian parents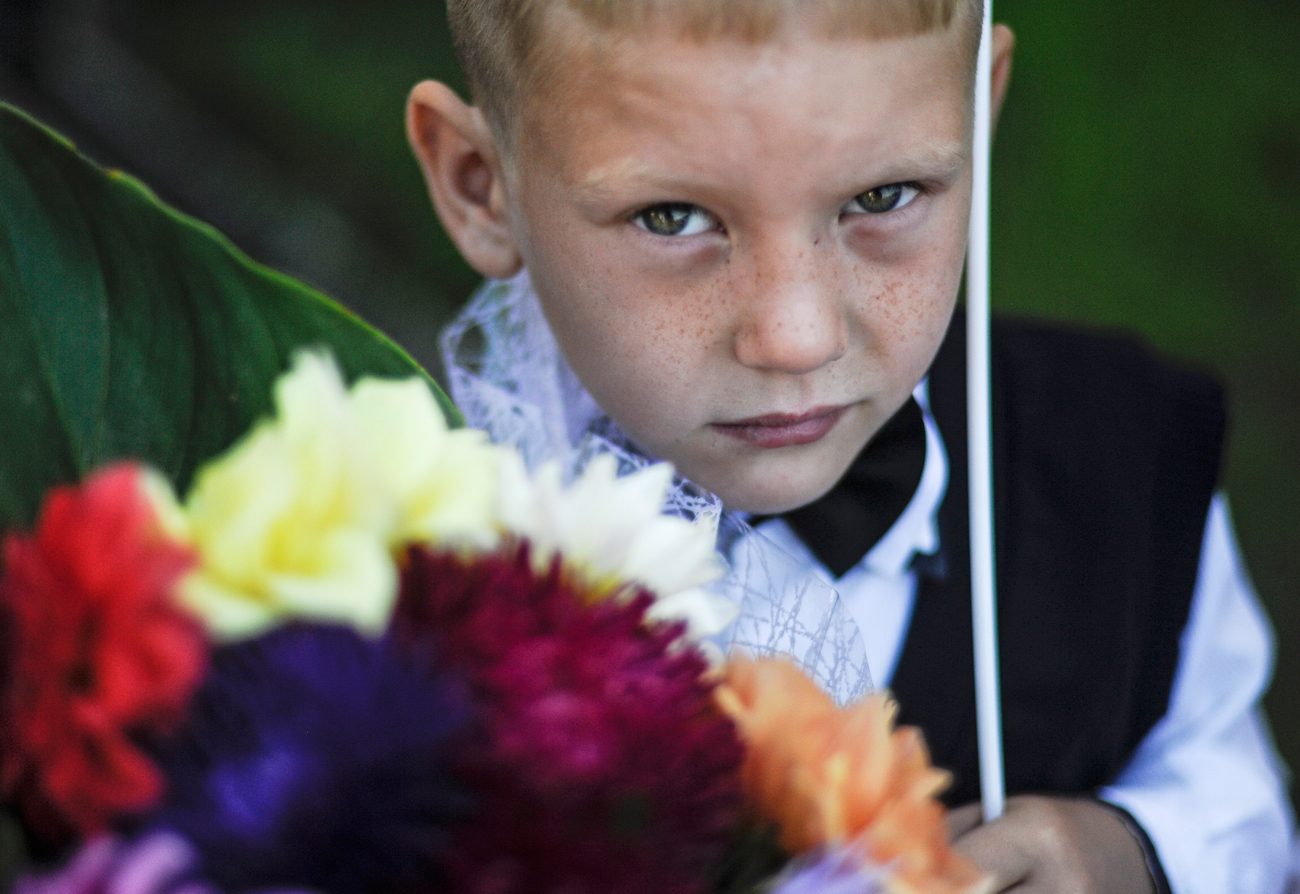 A boy attends a ceremony marking Knowledge Day at the 57th school in the village of Novolugovoye, Novosibirsk Region.
Yevgeny Kurskov/TASS
The new school year requires new clothes, backpacks and notebooks along with the obligatory bouquet for the teacher. How much will these expenses set Russian parents back?
As Russian children prepare to head back to school on Sept. 1, families face the additional expense of uniforms and school supplies. Over the past two years, the cost of sending a child to school has doubled, according to parents. The expenses are particularly acute for parents of elementary school children, who are constantly outgrowing their clothes.
The fees for a first grader
Ironically, it costs the most to send a child to first grade. Evgenia Dashevskaya from St. Petersburg spent 35,000 rubles ($540) to prepare her daughter for first grade. "I spent almost my entire salary - 35,000 rubles," said Dashevskaya. "All this, even though the textbooks are free." She said that most of the money went towards winter clothes, clothes for physical education and stationery items.
The amount parents are required to spend depends a lot on the school.
The school Dashevskaya's daughter will attend has a strict uniform code and the school administration tells parents not only what type of clothes to buy, but also where to buy them. "I spent 7,200 rubles ($111) on the clothes - on a couple of blouses, a pinafore, trousers and a jacket. But besides the pinafore, the girls need ribbons and tights," Dashevskaya said.
Customers in the school uniform section of a Smena store. / Sergei Fadeichev/TASS
In big cities, where private schools are appearing, uniform codes are even more strict. At the Morozko private school in Moscow, uniforms must be bought at one particular store in which a girl's blouse costs 3,500 rubles ($53). But an ordinary child's blouse can be bought for 1,000 rubles ($15) in other stores.
According to the Russian Statistics Agency, the average individual monthly income in Russia in the first quarter of 2016 was 26,340.5 rubles ($406) while in the fourth quarter of 2015 it rose to: 35,561.8 rubles ($548).
Boys are cheaper
Irina Myakhkaya from Saratov also spent her family's entire August income on preparing her son to start fourth grade. "All our money went towards our son. The money left is only for food, so we live rather modestly now," she said. Myakhkaya said that although she spent about 25,000 rubles ($385), she feels fortunate to have a son since buying clothes for girls is more expensive.
Shoes are a particular concern.
"The footwear must be good for the street, for the school, for athletics," Myakhkaya said. "Orthopedically correct footwear must be bought for a child and they cost more." Additionally, children are likely to outgrow shoes and need more than one pair.
Special stationary items are also required: a good backpack costs 3,000 rubles ($46) and the required notebooks altogether on average cost 2,500 rubles ($35).
Subscribe to get the hand picked best stories every week
All rights reserved by Rossiyskaya Gazeta.