'They'll kill and bury me': Russian dissident reveals prison colony torture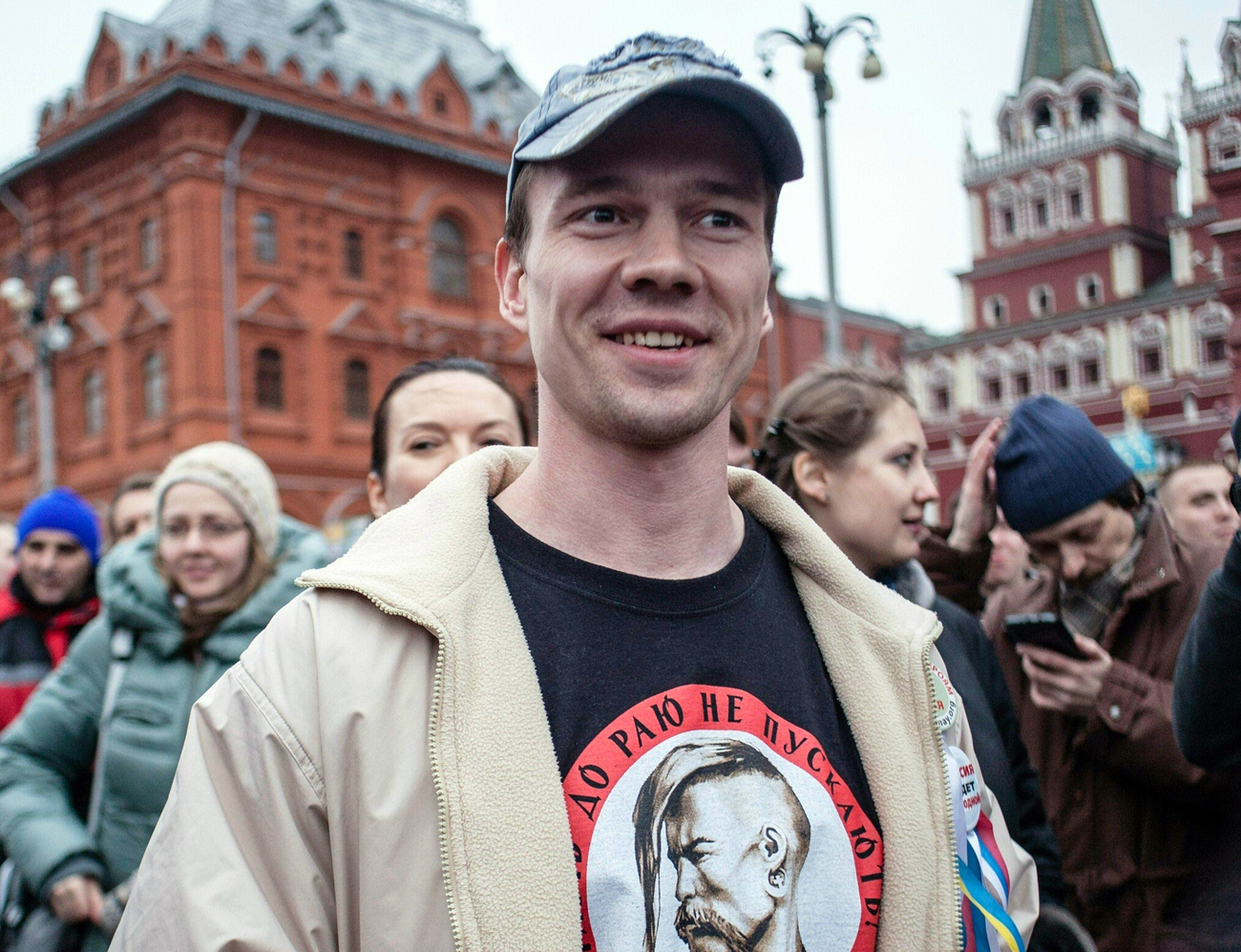 A picture taken on April 6, 2014 at Manezhnaya Square shows Ildar Dadin participating in a rally in support of anti-government activists detained in Moscow's Bolotnaya Square on May 6, 2012.
AFP / East News
Oppositionist Ildar Dadin, the first person in Russia to be sentenced to a jail term for violating rules on public demonstrations, has sparked a nationwide outcry after writing his wife a letter detailing the systematic torture and beatings he has been forced to endure in jail.
Hung by the handcuffs, beaten, threatened with rape. "They'll kill and bury me behind the fence," wrote opposition activist Ildar Dadin from a penal colony in Segezh, 800 miles north of Moscow in the Republic of Karelia, in a letter that horrified Russian society on Nov. 1.
"September 11, 2016…. I was beaten four times on that day. Ten to 12 people were kicking me simultaneously. After the third beating my head was lowered into a toilet bowl right in the prison cell."
"September 12, 2016… My hands were cuffed behind my back and I was hung by the handcuffs… Then they took my underwear off and said that they'd get an inmate to come and rape me."
The first person in Russia to be convicted for repeatedly violating rules for holding demonstrations, 34-year-old Dadin was convicted in December 2015 and sentenced to two and a half years in jail in a verdict seen as sensational.
While Dadin had the support of those who saw in him a "prisoner of freedom" and many of those who did not sympathize with him also considered the punishment too severe and even unconstitutional, he had faded from public view since his imprisonment, with only brief mentions of his name in connection with complaints to the European Court of Human Rights.
But the letter, written to his wife via his lawyer with a request to make the details public, has ignited a heated social debate about the harsh conditions in Russia's prison colonies.
Commenting on Dadin's harsh experiences, Kremlin spokesman Dmitry Peskov said that the situation deserved the closest of scrutiny. The same day, human rights activists were storming the colony, demonstrations were held by the Federal Penitentiary Service and officials were trying to understand what was going on. Such a quick, almost instantaneous reaction to a public complaint, as scandalous as it was (given the fact that NGOs regularly report on torture in Russian prisons), is unheard of in Russia.
Irrefutable evidence?
According to Dadin, everything began on the first day of his arrival to the Karelia penal colony. First someone planted a blade in his cell, then it was "discovered" and he was fined by being sent to the isolation ward. "Here this is common practice… so that they (the prisoners) immediately understand the hell they've landed in." As a response Dadin announced he would go on a hunger strike. The following events were the administration's attempts at "pacifying" him.
Russia's Commissioner for Human Rights Tatyana Moskalkova responded to the publication of Dadin's letter about the tortures in the Segezh colony, saying that she was in control of the situation and Dmitry Peskov had informed Russian President Vladimir Putin about the incident.
In turn, the Federal Penitentiary Service first admitted to the Novaya Gazeta newspaper that it had used "physical force" on Dadin because "he refused to come out of his cell in a disrespectful manner" and allegedly grabbed staff by the clothes, but then changed its story and denied using force.
Later the service said it had a video recording in which Dadin refuted his words about the torture, and claimed that a medical exam had also not found "a trace of injury on Dadin." At the same time several mass media sources close to the government showed photos of the prisoner in what appeared to be good health. However, this did not convince society since the video was not published and there were questions about the date of the photographs.
The new Magnitsky
Mikhail Khodorkovsky, former head of now-defunct oil company YUKOS and now a leading critic of the Kremlin, also served a sentence in the same Karelia colony. Human rights activists say that there have previously been complaints about the colony but they were unrelated to violence.
Igor Kalyapin, head of the Committee against Torture human rights society, stressed that since Dadin's case is of particular public interest it should be taken into account that he is not a typical prisoner and that "anything could have happened."
Russia's leading bloggers responded swiftly to the publication of Dadin's letter and by midday photographs of the colony's director, Major Kossiyev, who Dadin said had taken part in the beatings, had been reposted by thousands of people. Dadin was dubbed the "new Magnitsky" (in a reference to the lawyer who was beaten and died in custody in Moscow in 2009 after exposing a vast fraud involving state officials) and a petition was launched to have the incident investigated and his sentence reviewed (in just two days the petition garnered 18,000 votes out of the 25,000 necessary).
Kommersant FM observer Stanislav Kucher wrote that the affair demonstrated that a growing number of people in the country were no longer prepared to stand by and tolerate such abuses of power, and this is precisely what has made possible what was unthinkable even 10 years ago – an immediate reaction from the government.
As journalist Anton Orekh writes, perhaps "evil has become more difficult to hide," or maybe, society now understands that any person can land in jail, even if they are completely innocent, and "this is precisely why Ildar Dadin's story is important to all of us, without exception."
Subscribe to get the hand picked best stories every week
All rights reserved by Rossiyskaya Gazeta.