Even if you visited Moscow a couple of years ago, were you to come back now, you would not recognize it. In a matter of just several months in 2016, over 50 streets were revamped, pedestrian areas expanded, and a new type of public transport, the Moscow Central Ring, launched, with high-speed trains connecting parts of the city.
In addition, the city rid itself of dozens of unlawfully built ugly kiosks, stalls and shopping outlets, its squares have once again become welcoming open-space areas, while the huge industrial estates around now defunct plants and factories are being transformed into public areas and residential developments.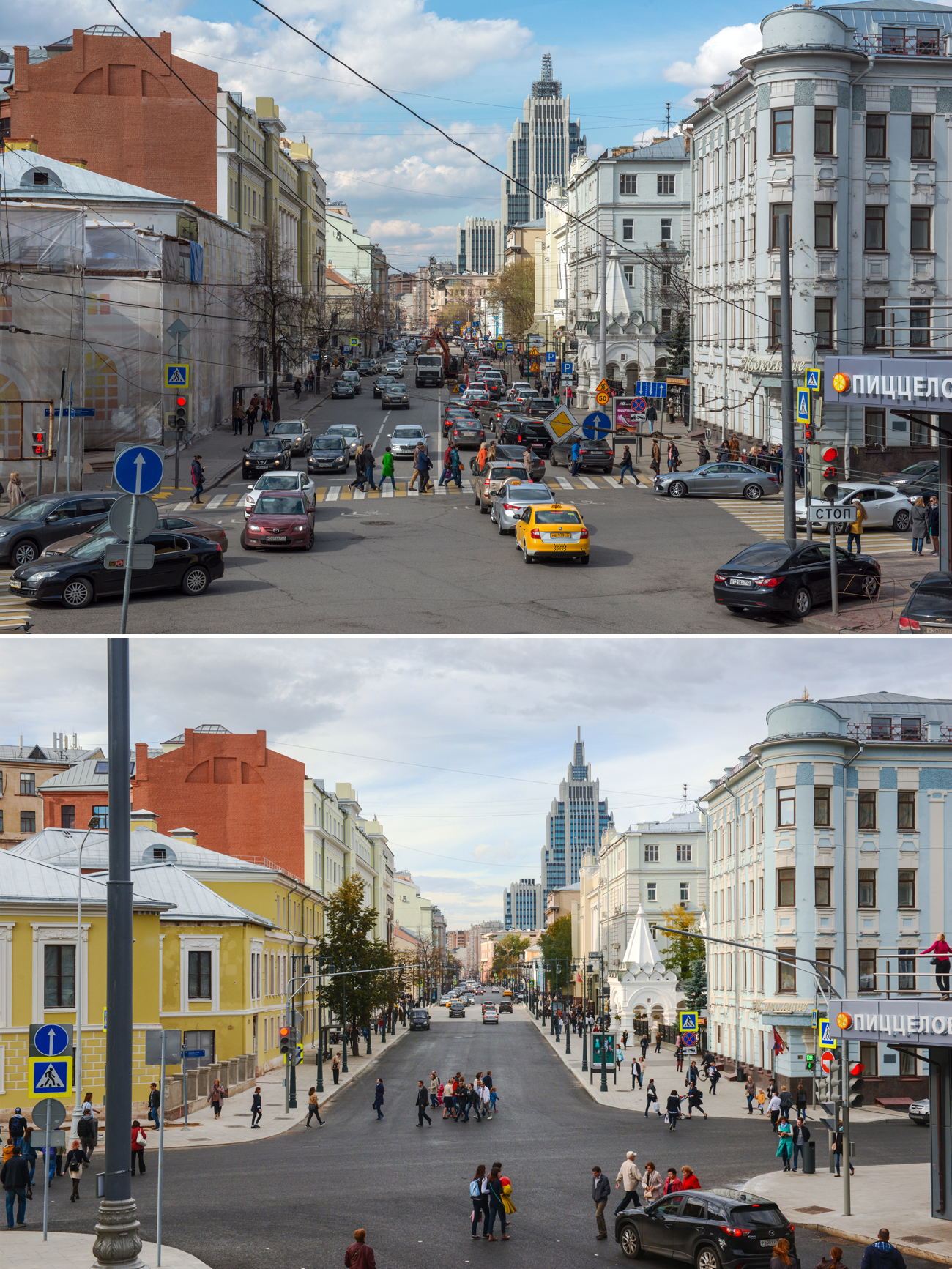 Street renovation in Moscow: Malaya Dmitrovka before and after renovation / Source: Nikolay Galkin/TASS
It is hard to say whether the city has become greener because the newly planted trees have not yet grown, but the number of birds and squirrels in its parks have definitely increased. That said, these changes have not been free from controversy, and experts and Moscow residents differ in the assessment of the transformation of the city over the past several years.
Pedestrians vs. vehicles
The main conflict underlying the program of improvements to the city consists in the struggle for breathing space between vehicles and pedestrians. To make sure that the city with a population of over 12 million people does not grind to a halt in one huge traffic jam, the Moscow authorities had to expand major roads outside the city center, often at the expense of century-old trees and lawns.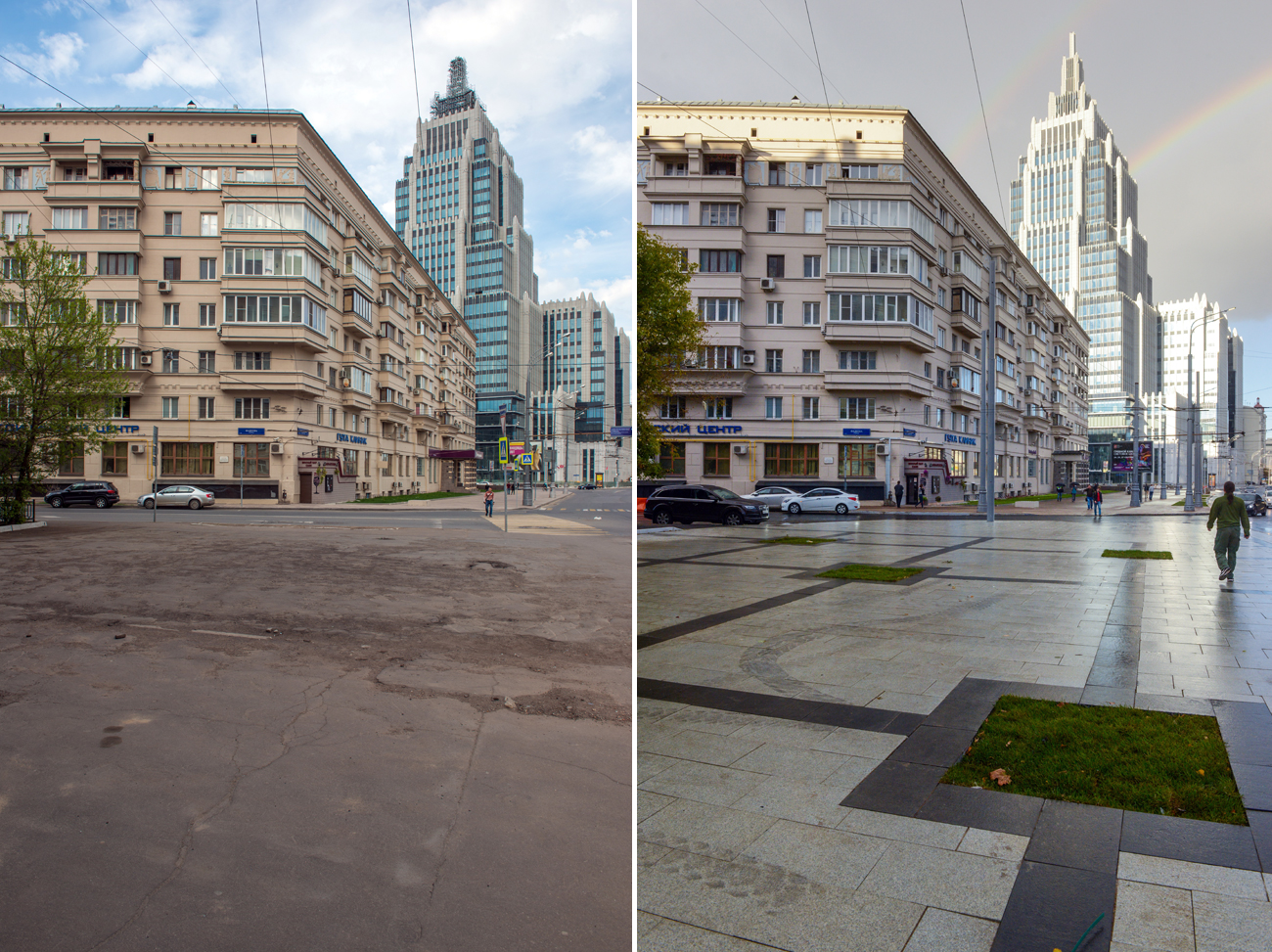 Street renovation in Moscow: Oruzheiny lane before and after renovation / Source: Nikolay Galkin/TASS
"I still cannot forgive them for what they did to our street! Previously, the pavement was separated from the road by a row of 60-year-old lime-trees. But in order to ease the traffic, they destroyed everything… Now cars are happy," says Moscow resident Antonina Belova.
In the meantime, in the eastern part of the city, local residents are campaigning against plans to build a road through the forest park on the territory of the 18th century Kuskovo estate, which has the status of a cultural heritage site.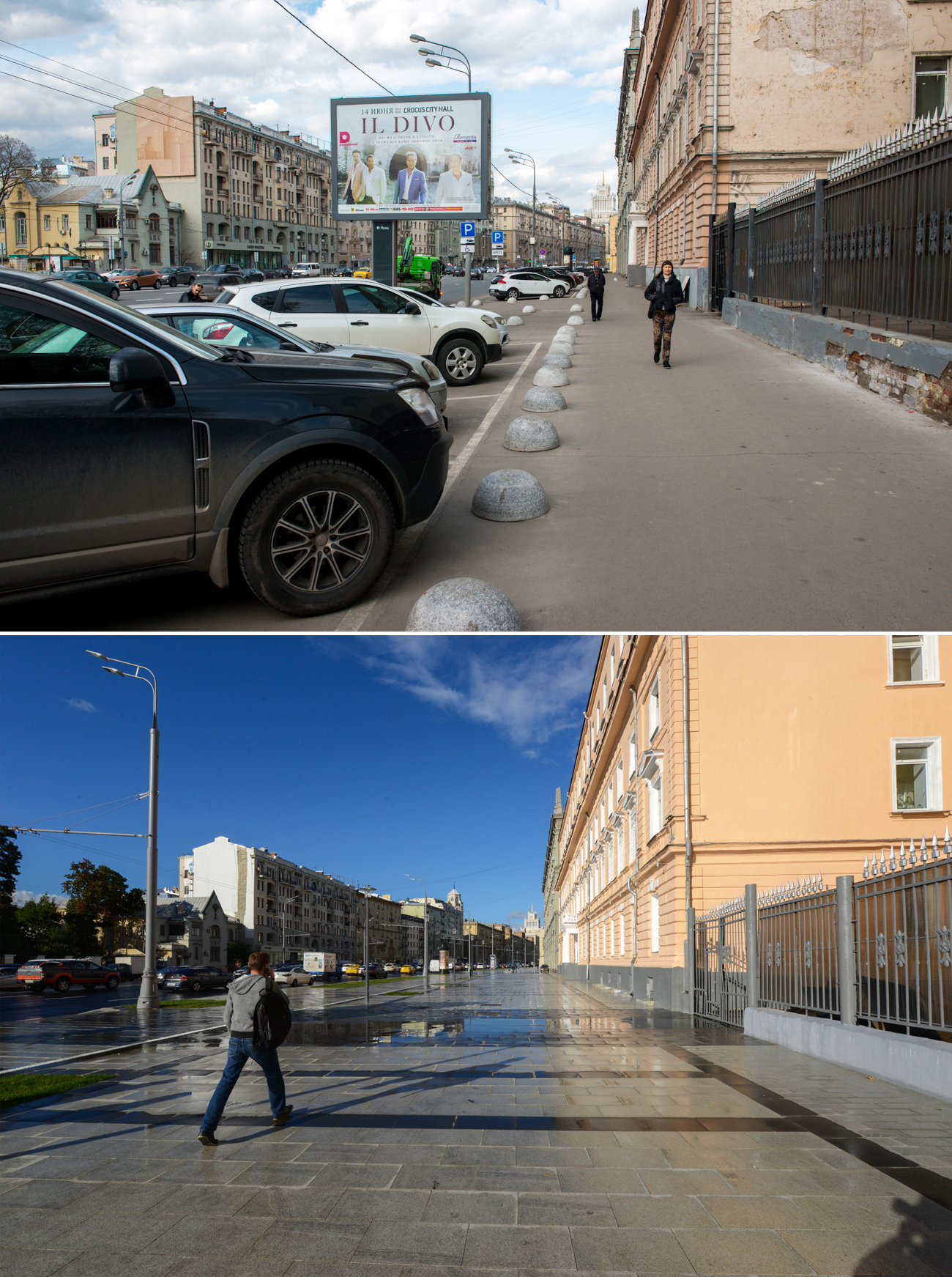 Street renovation in Moscow: Sadovo-Kudrinskaya before and after renovation / Source: Nikolay Galkin/TASS
As the head of the Pokrovsky Studio architecture and design bureau, a member of the Union of Architects, Alexander Pokrovsky, points out, there is a permanent conflict between nature and city. His conclusion is simple: "Before you cut down a forest, learn how to plant a new one first."
At the same time, one could not say that the city authorities are not doing anything in that regard. The city is indeed becoming greener: Over the past several years, many parks have undergone refurbishment and over 160 new ones have been created. Right next to the Kremlin, a new park called Zaryadye is being built, to be opened next year, when Moscow celebrates its 870th anniversary.
At the very heart of the capital, close to historical buildings, there will be a modern park with a no less modern concert hall. It is variety like this that becomes a city's calling card.
According to Pavel Sonin, the head of the Union of Moscow Architects youth association, Moscow can be summed up in one word: "variegated." Anybody can feel comfortable in this city because anybody can find a place to their liking: "Moscow is varied and one should value it."
Furthermore, the Moscow authorities have recently begun to consistently repurpose the city center for use by pedestrians rather than cars: New paid parking areas have been set up, pavements have been expanded at the expense of roads, and there are even tentative plans to introduce a congestion charge.
Architect Alexander Ayrapetov explains that Moscow is now busy freeing itself of vehicles, whereas previously it seemed that "one could expand the roads indefinitely." However, these initiatives have met with serious resistance from locals who are unwilling to change their habits.
History or pragmatism?
Another topic that Moscow residents cannot agree on is what the city should look like: Should its historical look be restored and new buildings be built if old ones have all been long destroyed? The city authorities are actively repairing facades, restoring historical buildings, and trying to recreate the look of lampposts from old photographs and designs.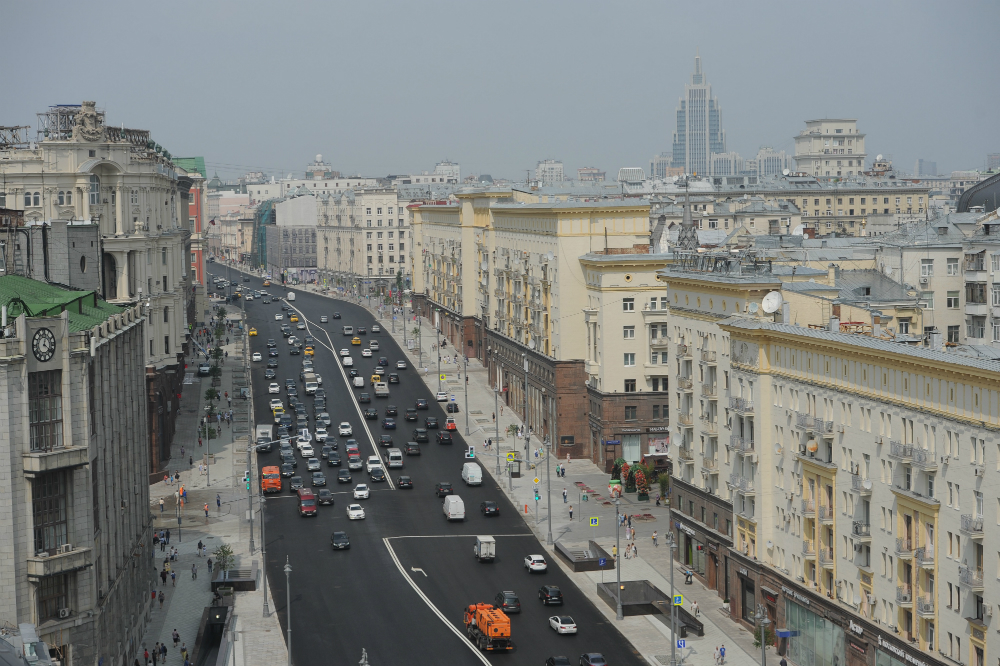 Andrei Lubimov / Moskva Agency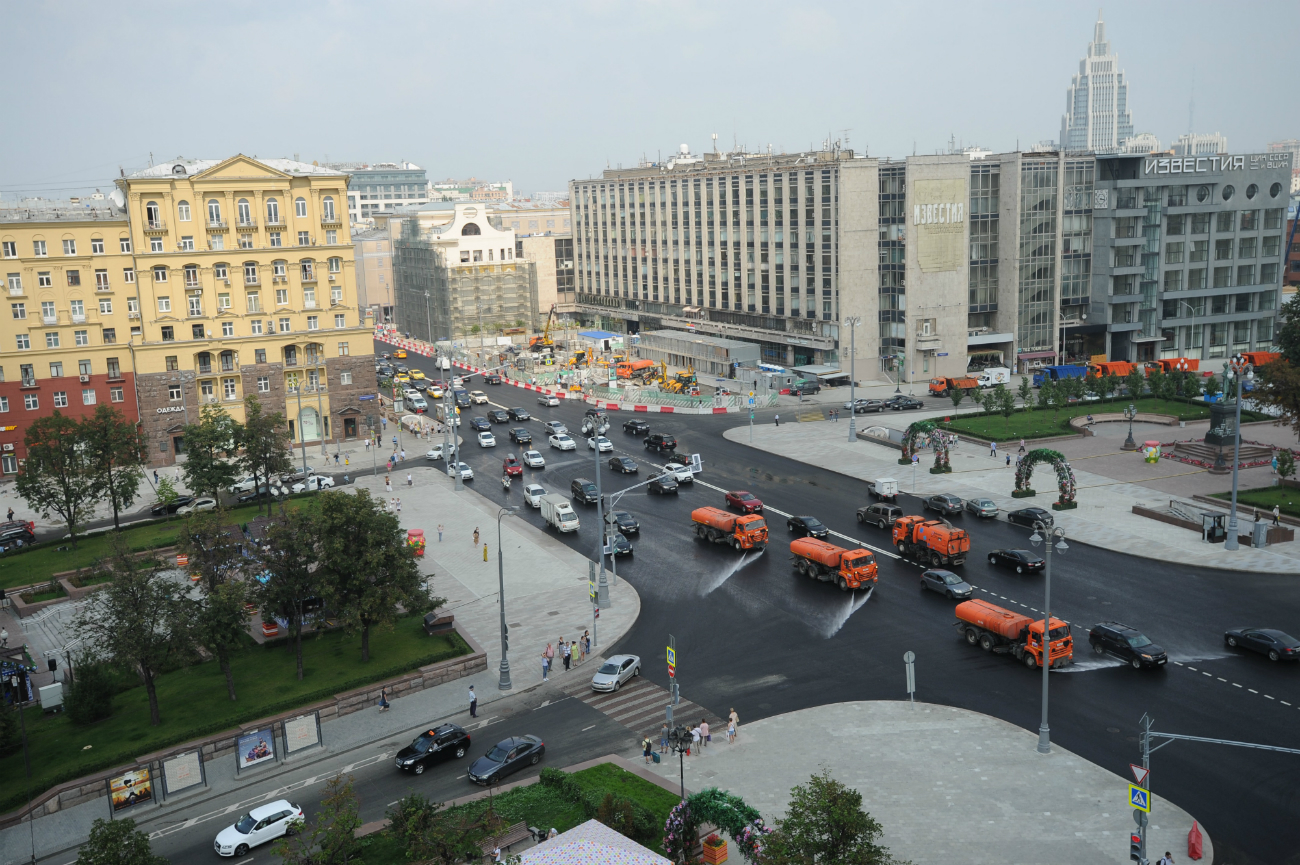 Andrei Lubimov / Moskva Agency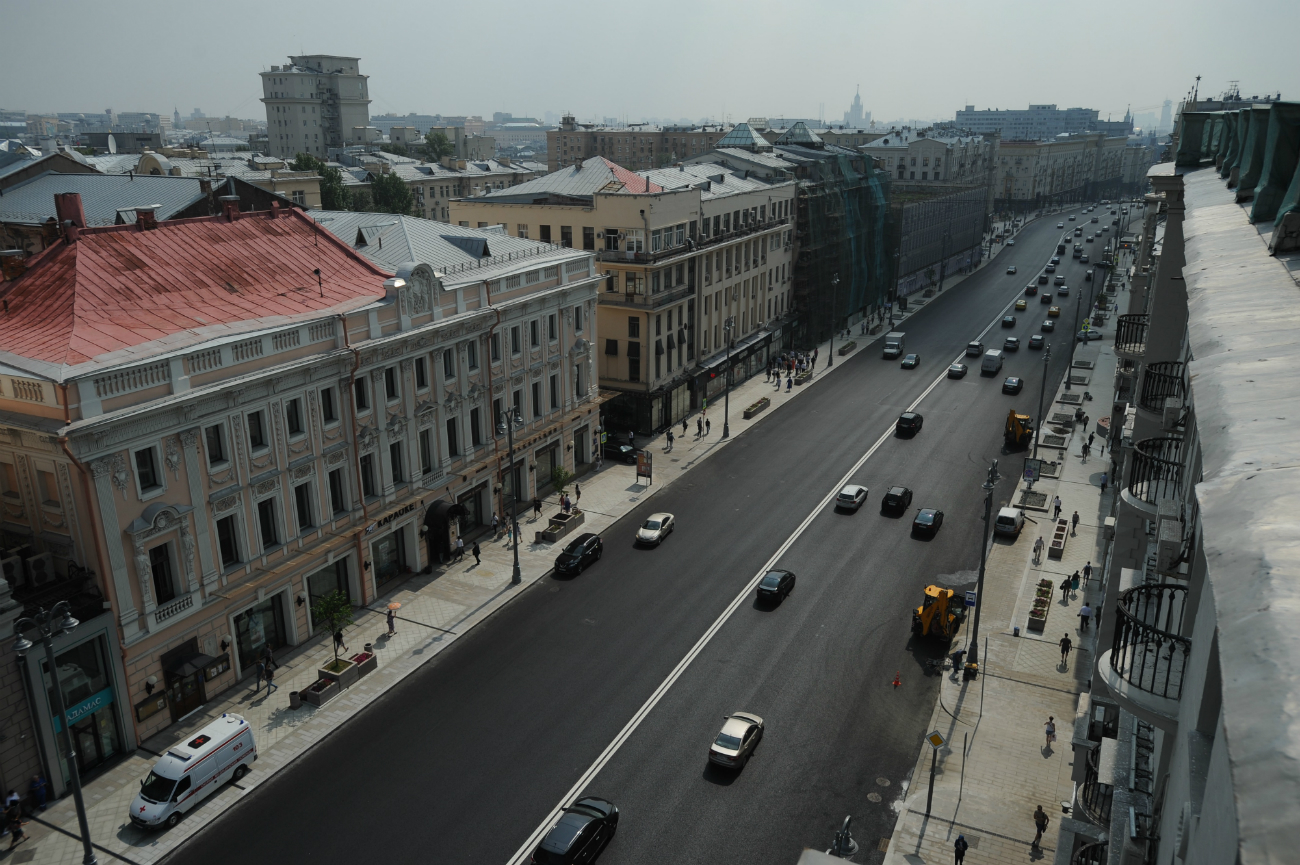 Andrei Lubimov / Moskva Agency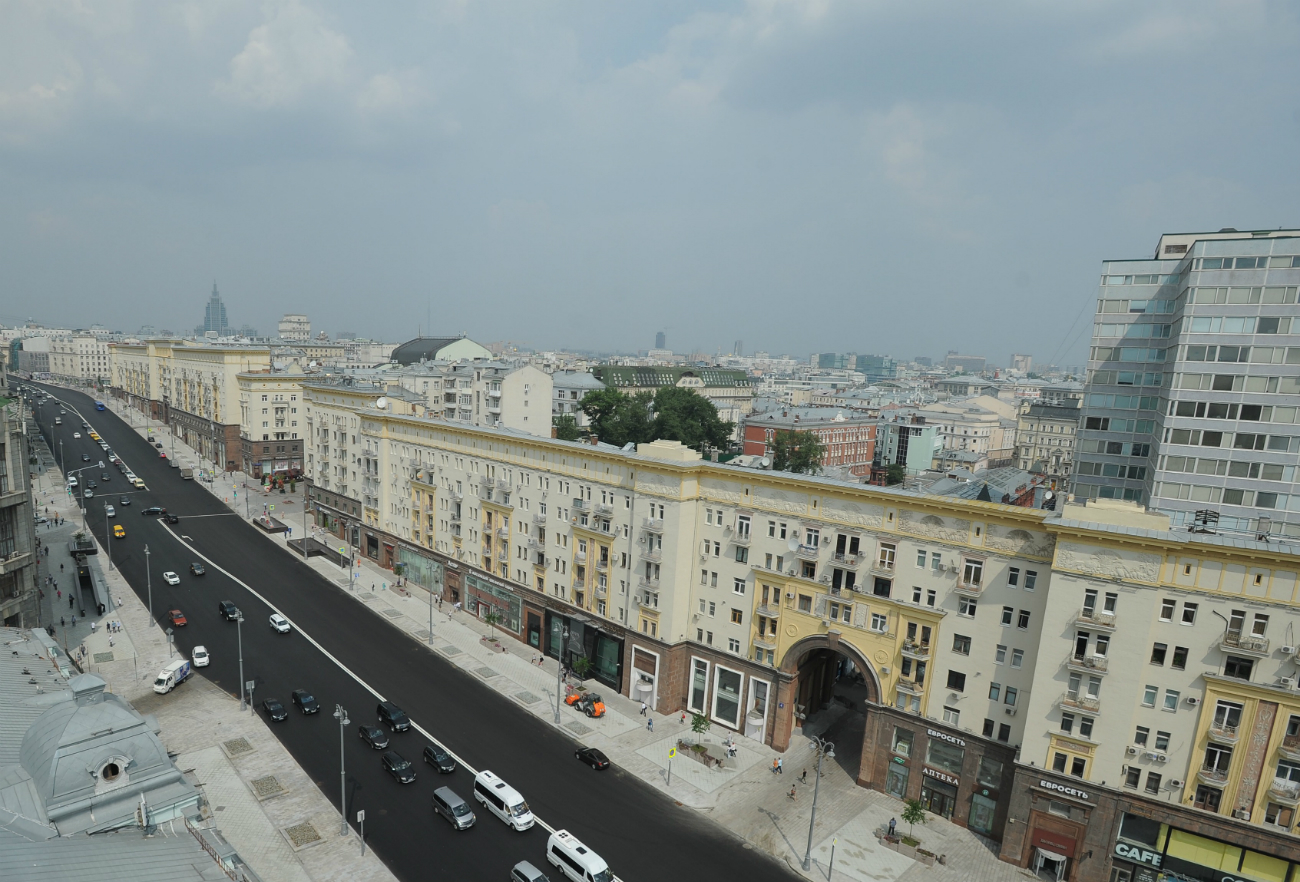 Andrei Lubimov / Moskva Agency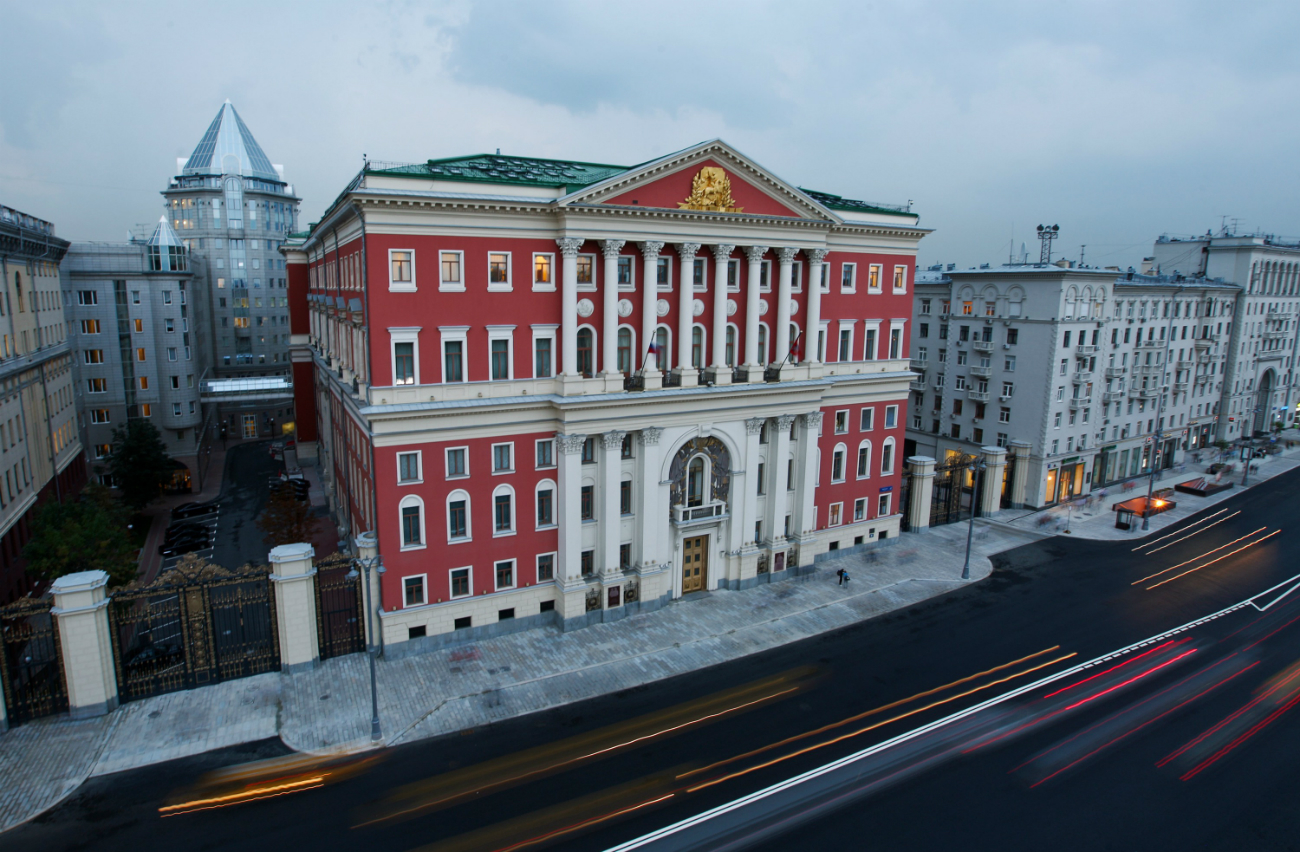 Andrei Lubimov / Moskva Agency
Ruben Arakelyan, the co-founder and head of the WALL architecture bureau, is not convinced that one should seek to restore Moscow's historical appearance no matter what. In his opinion, it is more important to think of quality, which is suffering today, rather than of the visual component: "It is better to invest money, say, in resolving the problem with storm drains than spend it on restoring the authentic look of lampposts."
That said, the majority of city residents and experts agree that the city should create more public areas where people find it pleasant and convenient to spend their time.
Ruben Arakelyan says that the current boost in the development of the city's public areas, be it parks or revamped former industrial estates, has to do with the fact that the amount of time people spend out is increasing, so there is a demand for a good-quality urban environment.
Moscow resident Olga Voronova agrees. She admits that she used to dislike Moscow, whereas now she is enjoying living in the capital: "I like the way the city is decorated, I like the new interesting arts areas. Generally speaking, even compared to many European cities, Moscow is now quite cool."
Subscribe to get the hand picked best stories every week
All rights reserved by Rossiyskaya Gazeta.