Russians think their country should have global influence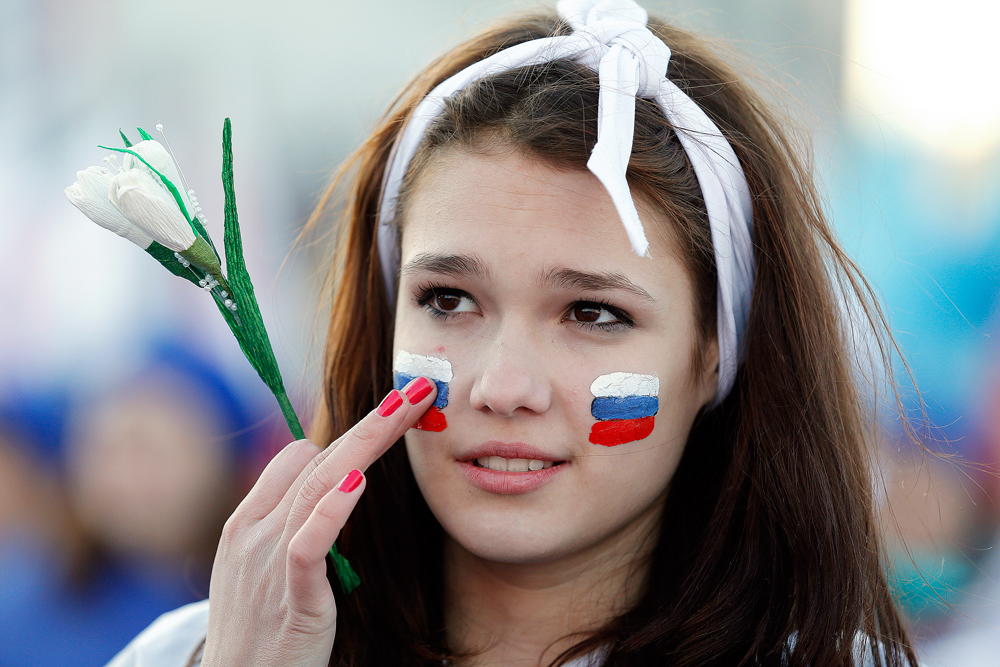 The study noted not only fleeting reactions to specific events, but also fundamental changes in the population's value system, says the Institute director Mikhail Gorshkov.
Reuters
The majority of Russians want the country to wield global influence in the future and are ready to accept hardline policies for the sake of order in the country, according to a survey by the Institute of Sociology of the Russian Academy of Sciences. Most people are more concerned about personal problems than those of the state, however.
The Institute of Sociology at the Russian Academy of Sciences (ISRAS) published a report on Nov. 21 presenting the results of an extensive study on Russians' behavior under crisis conditions. The research was conducted starting in October 2014, with 4,000 people from different regions of Russia interviewed.
The study noted not only fleeting reactions to specific events, but also fundamental changes in the population's value system, says the Institute director Mikhail Gorshkov.
Completely "de-ideologized"
Vladimir Petukhov, head of the Center for Complex Social Research, reports that a complete "de-ideologization" of society has taken place during the past few years. Most Russians do not acknowledge ideological doctrines anymore, such as communism, liberalism, social democracy or nationalism.
"Altogether, these ideologies matter, at most, to 30% of the population," says Petukhov. However, society has not lost its general set of values, they are just not related to domestic policies any longer.
External factors and Russia's current and future position in the world play a key role today. 35 percent of survey respondents consider modern Russia "to be a great power, on par with the U.S. and China." 28 percent include Russia among the list of economically developed countries, along with Germany, France and Japan.
One-fifth of Russians are convinced that their country "is not one of the most influential states in the world," and 17 percent cannot assess the position of their country on an international scale.
As for the future, 51 percent of respondents want Russia to be among the "most economically-developed and politically-influential countries." A "USSR-styled superpower" is attractive to only 28 percent of Russians, with "superpower" referring to the "competitiveness of Russia, not an expansionist policy."
Personal vs. collective
According to the survey, two-thirds of Russians prefer conservative policies. 66 percent of respondents believe that Russia needs "a steady hand that will impose order in the country." However, that does not mean a "conservative revolution" has occurred in Russia, Petukhov notes. 35 percent of respondents say that the current path "is leading Russia to a dead end."
The sociologist clarifies that "values of 'a great power' and 'a steady hand'" are largely ceremonial and declarative. 60 percent of respondents say that their "personal interests are more important that the state's interests." The survey shows that 34 percent of the respondents are convinced that "under no circumstances should political freedoms be abandoned."
The number of "self-sufficient people" focusing on personal success and thus "trying to distance themselves from the government" has risen. Petukhov says that these "are not only rich people, there are also civil servants."
Don't make it worse
The proportion of Russians who consider the country to be in crisis has shrunk to 56 percent in October, as compared to 65 percent in March. The number of people considering the state of affairs "calm and normal" increased from 18 to 29 percent.
Nevertheless, people started spending less on food, clothes, holidays and education. 52 percent of the population will continue to cut back on expenses, and 48 percent will look for additional sources of income. At the same time, 20 percent of respondents plan to use their gardens to grow their own food, up from 10 percent of respondents two years ago.
Despite a sense of crisis, only 39 percent of respondents acknowledge a need for profound changes in the country. 42 percent oppose the idea of changes; based on previous experiences, they fear changes could lead to unpredictable consequences. And only 19 percent of Russians do not see any need for changes because "they are content with the current political course, as led by the president."
First published in Russian by Kommersant
Subscribe to get the hand picked best stories every week
All rights reserved by Rossiyskaya Gazeta.