Moscow to test facial recognition system for second time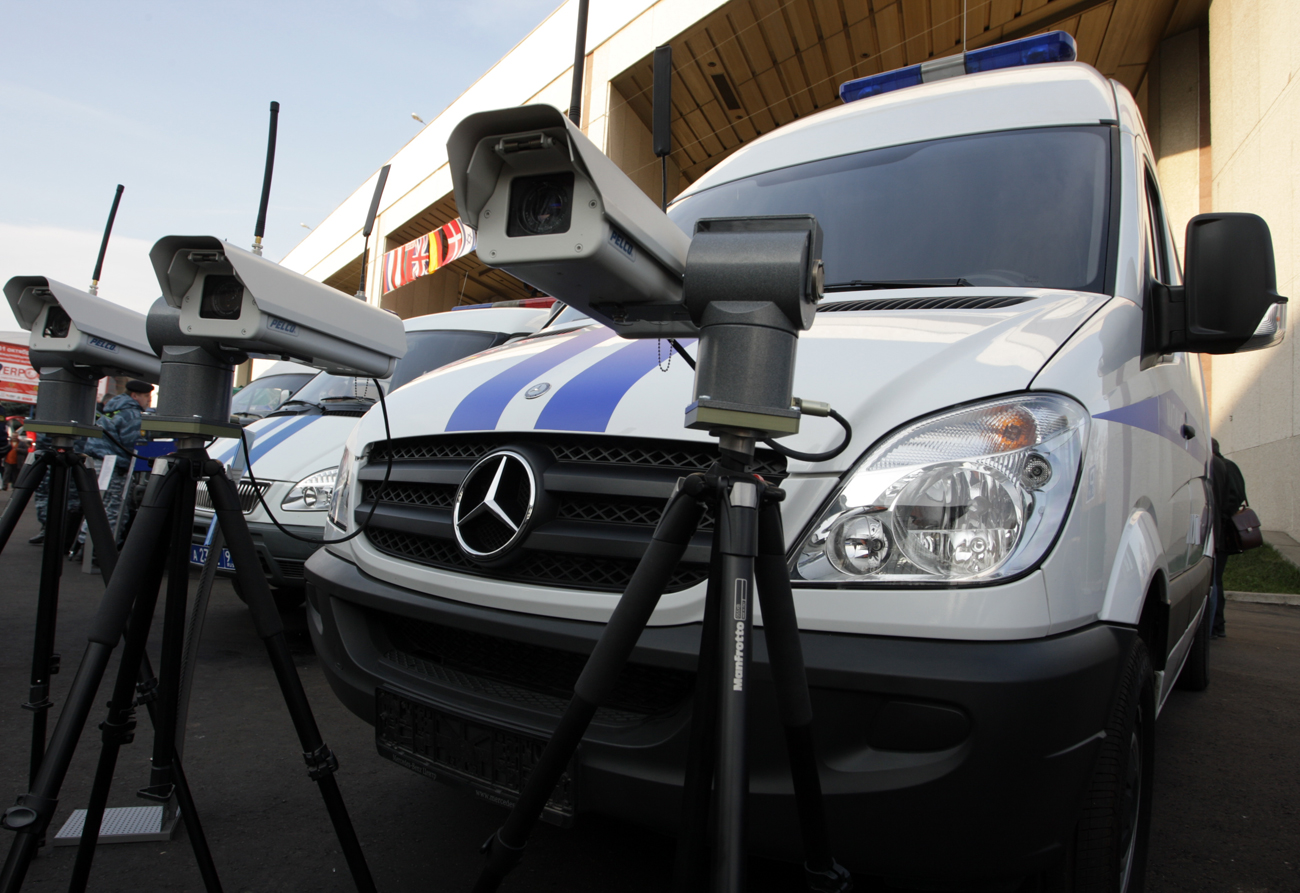 Moscow has 140,000 video surveillance cameras, 100,000 of which are located in building entrances. Photo: Mercedes Benz minivans turned into special purpose police vehicles.
Marina Lystseva/TASS
Moscow is to launch the second stage of a facial recognition experiment that will work on the identification of individuals using street cameras. For now the technologies that Russia's capital is testing, and which cost billions of rubles, are not especially effective.
In 2017 Moscow's authorities will launch the second stage of testing the facial recognition system for the city's video surveillance cameras, according to head of the Moscow city administration's department of information technologies Artyom Yermolayev. The results of the experiment's first stage showed that for now it is too costly to use such technology.
"If we introduce this solution throughout the city, it will require a tenfold increase in video surveillance expenses. The technology will cost several billion rubles, which is completely unacceptable for us," explained Yermolayev, though he did not give an exact figure. The department hopes to reduce the cost of recognizing faces several times over.
'Obtaining recognition of even 60-70 percent of the images is extremely difficult'
However, there are problems not only with the price but also with the quality of the recognition technology itself.
"City video surveillance cameras are dynamic: They move left-right, zoom in and zoom out. In such conditions obtaining recognition of even 60-70 percent of the images is extremely difficult. A 30-percent result is already cosmic," said Yermolayev, who explained that Moscow is trying to solve the problem with two methods.
"Firstly, we are looking for technologies that will help us obtain the best result for moving cameras. Secondly, we are studying ways in which we can change the parameters of the video cameras. They can be made more stationary. On the one hand this will narrow the surveillance, on the other it will help obtain more effective analysis of video streams," he said.
Several companies, including Russian ones, are participating in the experiments.
What are video surveillance systems needed for?
The facial recognition system can be used for criminals and missing persons. Moscow has 140,000 video surveillance cameras, 100,000 of which are located in building entrances. Only law-enforcement agents and city officials have access to the video archive. City residents can request a copy of a video if they were victims of an offense such as a car theft, a robbery or an assault.
In the course of five days they have to call a hotline and ask for the video to be preserved in the archive. They will receive an inquiry number, with which they then go to the police. Law-enforcement agents are obliged to present the copy to the applicant or to his or her lawyer. It is possible to watch the "film" taken with city cameras in a special center at the VDNKh exhibition complex in north-eastern Moscow.
According to the department of information technologies, last year with the help of the cameras 1,700 offenses were uncovered and city residents made 8,000 requests to use material from the archive.
Intrusion into private life?
Ivan Begtin, director of the non-profit Informational Culture Organization, believes that the facial recognition system will start functioning in Moscow in the near future. In part, this is already the case.
"When there have been resonant incidents, the offenders have been caught in several hours thanks to the chain of cameras," said Begtin.
Mikhail Zyuzin, an IT expert at the Academy of Information Systems, believes the facial recognition system can increase the number of crimes solved but cautions that it could also be used for hostile purposes.
"If the system is broken into by third parties, they may receive an enormous quantity of information on a person: where they live, which places they go to, which routes they take. This is involvement in a citizen's private life," said Zyuzin.
First published in Russian by RBC
Subscribe to get the hand picked best stories every week
All rights reserved by Rossiyskaya Gazeta.