For life and against war: How Russia will remember Yelizaveta Glinka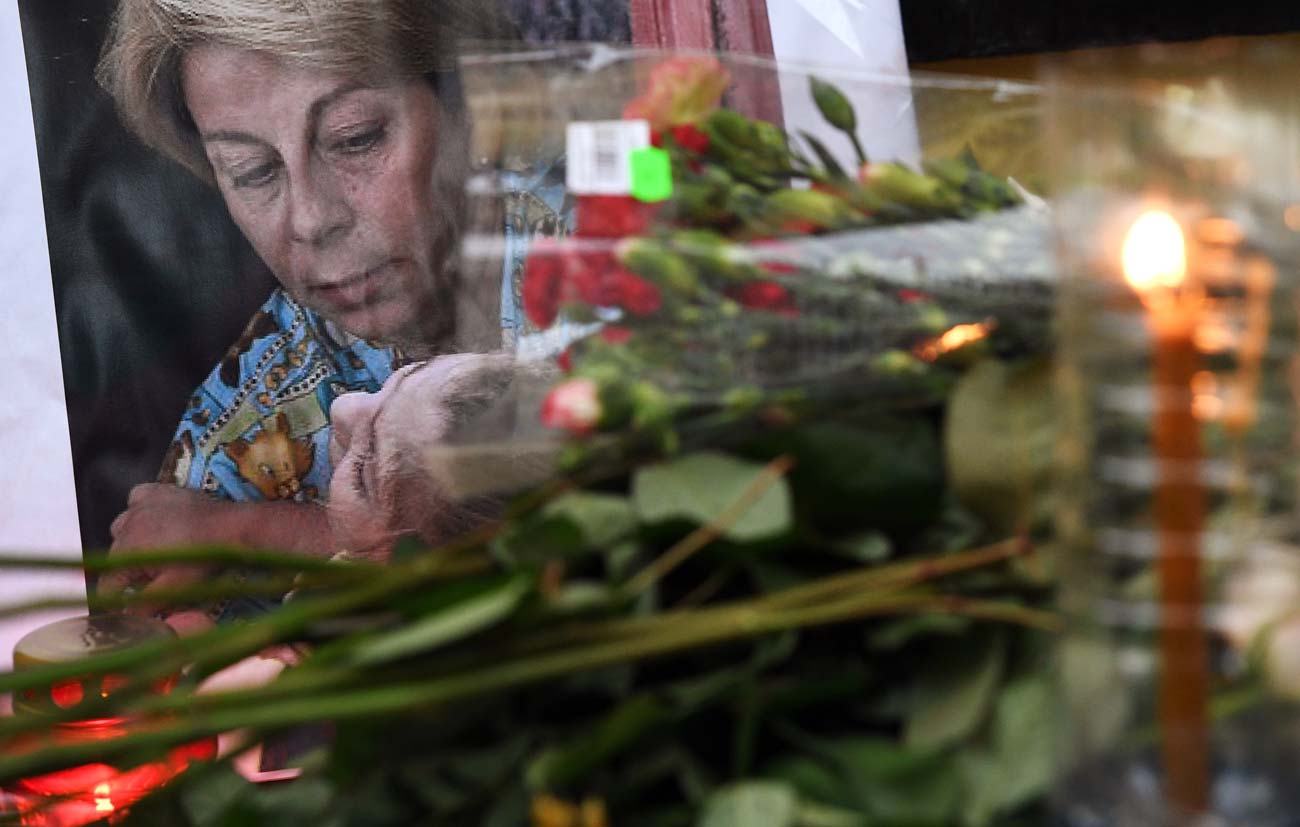 Flowers outside the Fair Aid International Public Organization in memory of Yelizaveta Glinka (Doctor Liza), who died in the Russian Defense Ministry's Tu-154 aircraft crash off the Black Sea coast near Sochi.
Mikhail Voskresenskiy / RIA Novosti
One of the 92 people killed in the Tu-154 crash over the Black Sea on Dec. 25 was Yelizaveta Glinka (also known as Doctor Liza), a well-known Russian physician, charity worker and human rights activist. Homeless people, terminally ill patients, children of war – throughout her life Doctor Liza sought to help all those in need, devoting all her time and energy to it. And while her activities in the Donbass and Syria were sometimes seen as controversial abroad, "Doctor Liza" was cherished by many Russians.
When, on Dec. 8, Russian President Vladimir Putin presented Yelizaveta Glinka, also known as Doctor Liza, with one of the highest government awards – the State Prize in the field of human rights activities – Glinka's acceptance speech was not triumphant. "Tomorrow I'm flying to Donetsk, and from there to Syria," the doctor said, adding that war was "hell on earth." "We are never sure if we shall come back alive," she said.
And this time she did not. The Tu-154 aircraft carrying Doctor Liza to Syria's Latakia to deliver medicine to a university hospital crashed into the Black Sea early on Dec. 25. There were no survivors.
The doctor's story
Glinka's death has sent shockwaves across the Russian public and media space: Charity activists, colleagues and acquaintances of Doctor Liza have written posts expressing their sorrow and deep respect.
"She was a miracle, a divine message about virtue," wrote Mikhail Fedotov, head of the Russian Human Rights Council. Glinka has been called a saint and compared to Mother Teresa by people of different views – from officials to vociferous critics of the authorities.
Yelizaveta Glinka helps a woman with a child to board a special flight of the Emergencies Ministry which will take Donbas children to Moscow's hospitals for treatment. / Source: Sergey Pivovarov / RIA Novosti
Having graduated from a medical school with intensive care as her specialization, in the 1980s Glinka moved with her husband to the United States, where she first came across the work of hospices. At the time, in the former Soviet Union, the system of care for the terminally ill was in its infancy. Having returned from the U.S., Glinka participated in the work of Moscow hospices and founded the first hospice in Kiev. "Every person should be guaranteed the right to a dignified death – in time and without pain," she told the Russky Reporter publication in 2007.
In 2007, Glinka founded the charitable organization Fair Aid. The fund still operates, helping terminally ill patients, lonely old people, disabled and homeless people. Every Wednesday, Fair Aid staff visit Moscow railroad stations, where they provide free-of-charge medical aid and food to vagrants, people who have been forgotten by the state and society.
In times of war
"According to Glinka, fair aid is aid that could be provided to everyone in need," wrote journalist Katerina Gordeyeva, who knew the doctor well. Glinka and her foundation really did try to help everybody. In 2010, they collected aid for victims of forest fires and in 2012, for those who lost their homes after floods in the Krasnodar Territory city of Krymsk (around 750 miles south of Moscow). When in 2014 war broke out in the east of Ukraine, Glinka could not stay away.
Workers of Fair Help charity organization treat homeless persons at Moscow's Paveletsky railroad station. / Source: Iliya Pitalev / RIA Novosti
More than 20 times she traveled to areas under bombardment, risking her life in order to save sick children who were trapped in hospitals that found themselves in the midst of hostilities. With help from Glinka and her staff, those children were evacuated – but controversially, sometimes across the state border to Moscow, without the permission of the Ukrainian government.
Yet Glinka herself categorically rejected any politics. "I'm not on anyone's side. I'm on the side of weak and sick children, who for some reason have been left without assistance," the doctor said in an interview with the Kommersant FM radio station.
Commitment to the cause
Yelizaveta Glinka made no distinction between patients dying in hospices and homeless people, between the children she treated in the Donbass and Syria – she wanted to help everyone, to try to keep everything under personal control.
"She, a successful doctor, a loved and loving wife, a happy mother of three sons, did not have to fly to Syria a week before the New Year," wrote Katerina Gordeyeva. But for Glinka it was important to be "where people are suffering the most, where one could and should help." That is why, on the morning of Dec. 25, she was on board the Tu-154 plane heading for Syria.
Subscribe to get the hand picked best stories every week
All rights reserved by Rossiyskaya Gazeta.