Why has a Moscow restaurant been named after Stalin's secret service?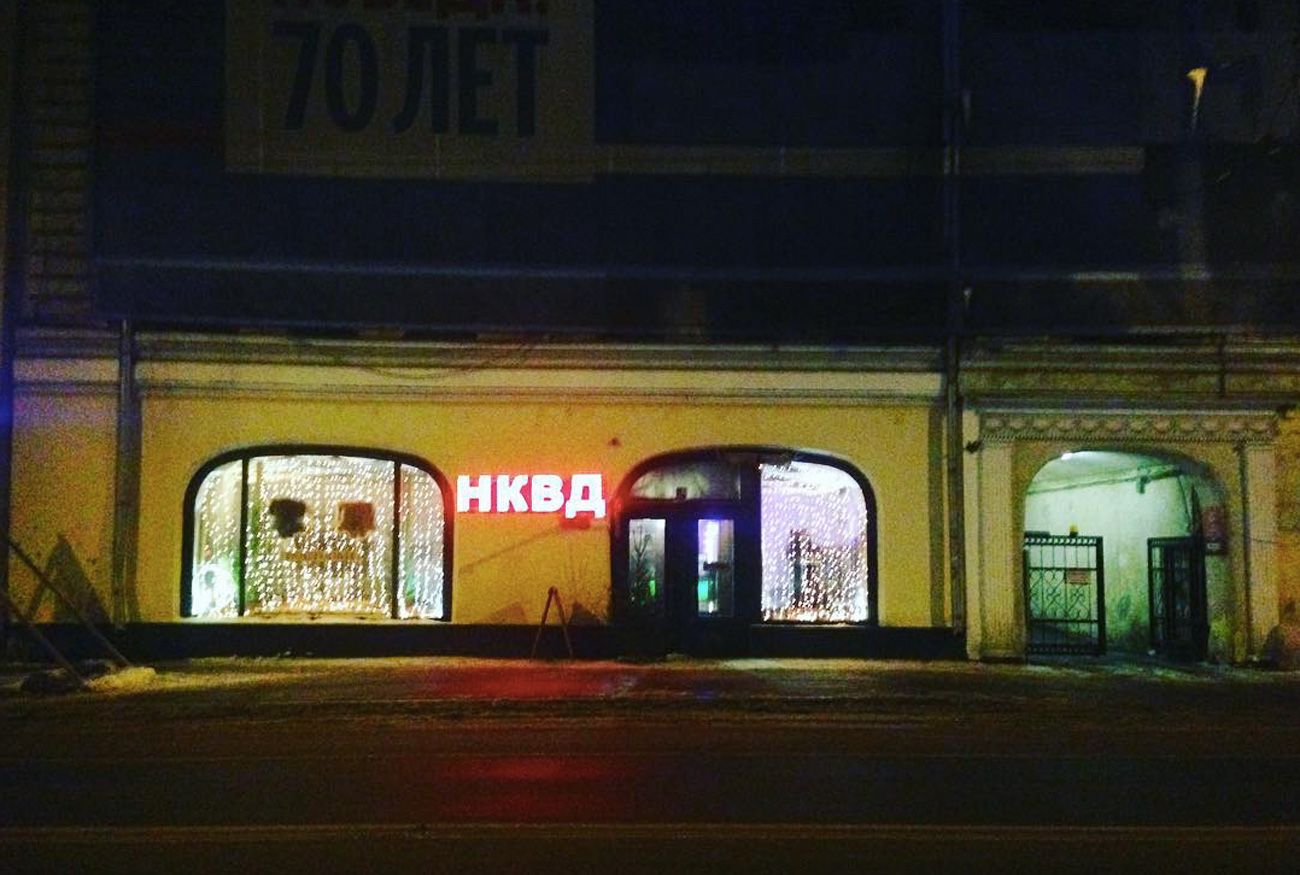 The NKVD restaurant, located just over a mile from the Kremlin, looks like it has just started its transformation into a Stalinist sanctuary.
Anastasia Salyaeva
In December 2016, a restaurant in central Moscow changed its name to NKVD, an abbreviation closely associated with the bloody period of Stalin's Terror of the 1930s. Human rights activists are outraged, Stalin supporters are rejoicing, while experts point out that the proprietors have just come up with a cynical way of making money through provocation.
There is a portrait of Stalin in dress uniform hanging above the electric fireplace. The menus are decorated with a hammer and sickle and the name of the place, NKVD. A waiter, dressed in a soldier's shirt, insists that the abbreviation stands for "national cuisine of a great power," yet the association is clearly with the NKVD, The People's Commissariat for Internal Affairs, the Soviet secret service of 1934-1946, the bloodthirsty precursor of the KGB.
The NKVD restaurant, located just over a mile from the Kremlin, looks like it has just started its transformation into a Stalinist sanctuary. There are two Stalin portraits on the walls, the menu features a picture of a smiling Felix Dzerzhinsky (the first people's commissar of internal affairs) and "Zakuski po-Stalinski" ("Stalin Snacks"), and that's about it. Apart from that, it is a typical central Moscow restaurant: antlers on the walls, massive wooden furniture, and a Caesar salad at 400 rubles ($6.40). The bill still carries the previous name of the place, Zemlya i Morye.
Aimed 'at everybody'
The waiter in his military tunic says that the restaurant's transformation is just beginning and in future there will be more Soviet symbols. Asked whom this is aimed at, he confidently replies: "At everybody." Yet on a Sunday evening NKVD is nearly empty: There are just four people in its big hall.
The waiter is unfazed by NKVD's troubled associations. "Were there only bad things, only executions?" he asks rhetorically. But he is not in a mood for a history debate and invites us to order.
Former home of victims of Stalin purges
The first person to draw attention to the restaurant's provocative name was prominent lawyer Mark Feigin, who on Dec. 9 took a picture of the restaurant sign and posted it on Twitter. "Maybe it would have been cooler to call it 'The Five Executions Char Grill'," he tweeted (in Russian).
One particularly poignant element of this controversy is that during the years of the Stalin Purges, four residents of the building which now houses the NKVD restaurant, at 8 Ostozhenka Street, were executed. Their names were posted (in Russian) on Facebook by user "Therese Philosophe." Those four are just a fraction of the number of people who perished in the years of Stalin's Terror: According to historian Alexei Litvin, during Stalin's rule over 700,000 people were executed. The NKVD, as the agency responsible for homeland security, was directly involved in those deaths.
Internet furor
The controversy sparked a lively reaction online. "Muscovites, have you lost your mind?" wondered (in Russian) the founder of the popular Lurkmore website, David Khomak, while author Yelena Chudinova suggested (in Russian) that a restaurant under a name like this should have human meat on its menu. There were numerous other dark jokes: That instead of candlelight, NKVD patrons have lamps shining bright light into their faces, that for the sake of the atmosphere the restaurant should be serving blood and tie up its customers.
Having said that, not all Moscow residents are outraged by the restaurant sign carrying the name of Stalin's secret service. Those who are sympathetic to Stalin or the Soviet period in general are quite relaxed about the marketing ploy and some have even welcomed it. For example, Facebook user Ivan Rakhmetov wrote (in Russian): "I am not a Stalinist. But I will visit NKVD out of principle."
A cynical commercial ploy
The name NKVD is not about a genuine desire to commemorate Stalin-era executioners but is about making money, says TV journalist and historian Nikolai Svanidze. "Had they called their restaurant 'At Uncle Vasya's,' that would have been ordinary. Whereas with NKVD, I think, their motivation was that people would visit, even if only out of curiosity," Svanidze told RBTH.
At the same time, Svanidze continued, those who came up with this name do not care what emotions it provokes: "The interest may be negative, caused by an outrage; it may be neutral, driven by curiosity; or it may be positive, from those who love Stalin." In any event, in his opinion, the decision to name a restaurant in central Moscow after the NKVD is a commercial rather than a political move.
Kommersant journalist Stanislav Kucher agrees. "What they are doing is nothing but business, an ugly – in my opinion – but a natural reaction to the revival of the popularity of Soviet mythology," Kucher said (in Russian) on the Kommersant FM radio station. He went on to add that cynical moneymakers do not care which period in history to glorify if there is demand for it: the Soviet Union, the 1990s, or Putin's rule.
Subscribe to get the hand picked best stories every week
All rights reserved by Rossiyskaya Gazeta.