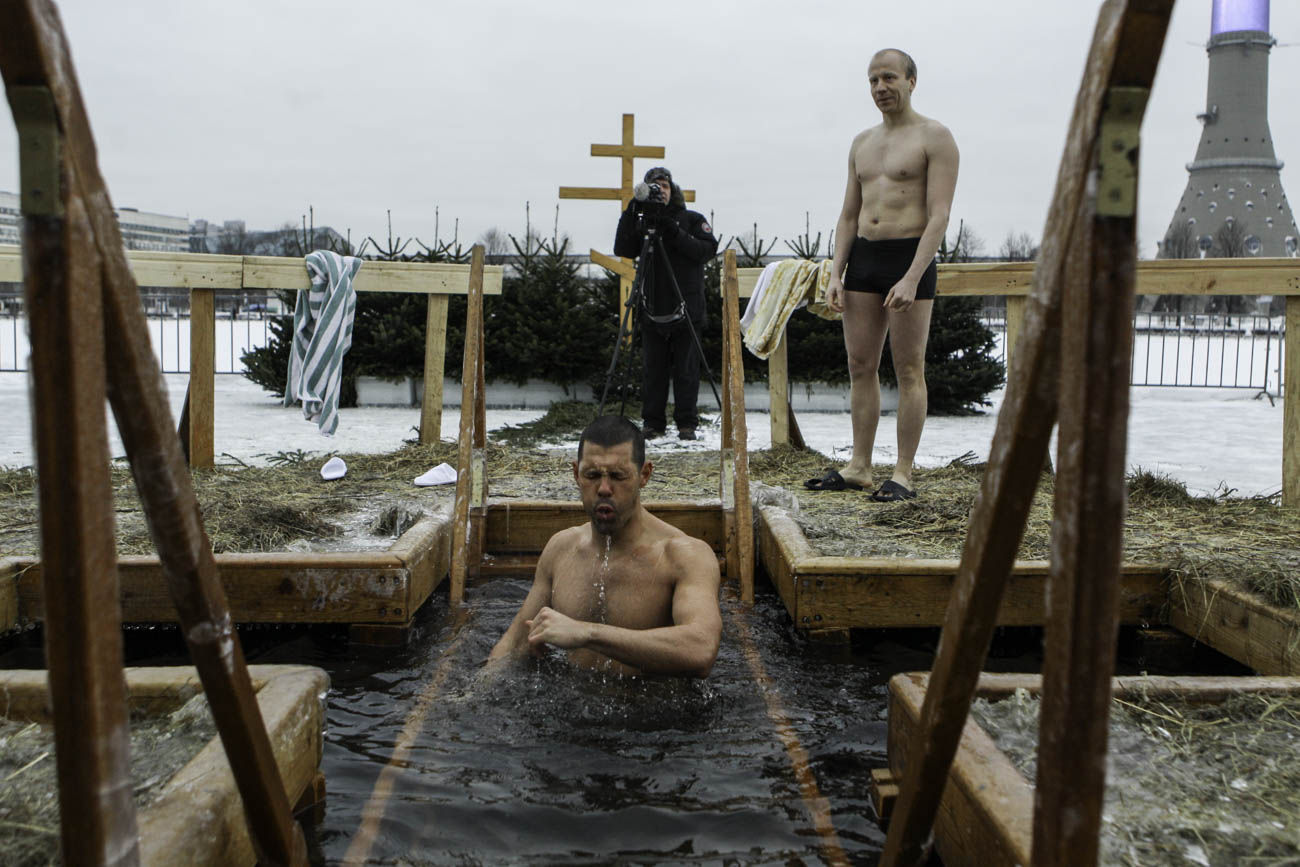 Eric Groza(California, Hawaii), Ostankino. / Source: Asya Cho
A wooden ladder is placed into a hole cut in the form of a cross. Behind the ladder is a half-mile line of people waiting their turn. They'll wait for an hour or two, or even more, and they won't leave until they have immersed themselves three times in the icy water.
"Do they actually believe that this water has miraculous power?" rhetorically asks a stout man in bewilderment, who lights a cigarette. "Diving, really? The fools. How can they be such fools?"
He is separated from the "fools" by a temporary fence, rescue vehicles, riot police vans and ambulances. All these are now obligatory accessories of any public festival in Russia.
On the night of Jan. 18/19, Orthodox Christians celebrate Epiphany, one of the church's most important feasts. People believe that on this night water becomes holy, and bathing in it washes away all of one's sins. In addition, the Epiphany bathing ritual is now a synonym for a public festival, and this is perhaps why some people here speak mainly about the Lord or about fools.
"Such a huge queue, and this means that people are seeking God," says a skinny youth to his friends. They are standing on the other side of the improvised fence, where those who dare not bathe are looking on. "But I'm really not sure if we should take a dip. So, how about taking a selfie instead?"
The TV tower in front of the Ostankino Pond in north Moscow pierces the sky and changes color in the night. Two people rush past the line towards the exit. "They'll think we couldn't handle it, that we're defectors!" hissed a girl. The air temperature is -5 Celsius, and one's feet quickly numbs.
For some unknown reason, those who dare not to bathe don't leave either. Taking a selfie with the Ostankino tower in the background sounds like a better idea.
There is a less painful way to withstand the test of the cold - many drink hard alcohol, although this is not recommended. At first, some of the onlookers loiter at a distance by the toilet cabins, with a traditional bottle of vodka, watching the more courageous ones who are dressed only in their underwear and slippers shifting from foot to foot as they wait by the pond. Then suddenly, they decide to get on line and continue to drink, but with greater seriousness.
"This is the road to God," says an outwardly confident man. "It will wash away all our sins. The main thing is not to falter at the sight of the crowd. Here, take a glass."
More than 102,000 people participated in the Epiphany swim in Moscow, according to the Moscow office of the Emergency Situations Ministry. The number of law-enforcement officers guaranteeing public safety at the Epiphany swim numbered about 2,400.
California guy
"But are these people really that religious?" asks a perplexed Eric Groza, who avoided the evening fuss and instead came here in the morning, having heard there is a small crowd of Russians wanting to take a dip. About 25 people wait their turn at the Ostankino Pond.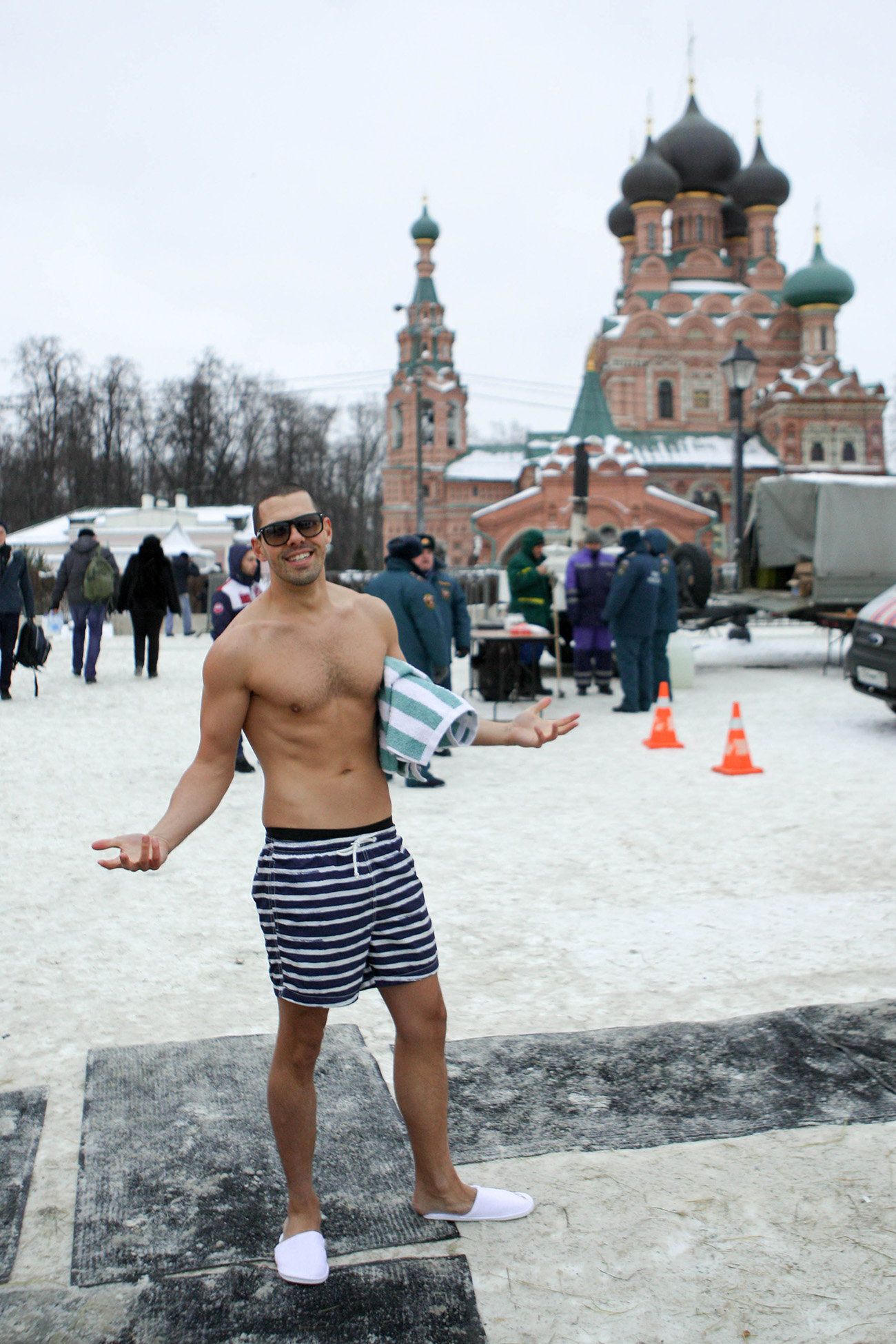 Eric Groza. / Source: Asya Cho
Eric was born in warm California and grew up in tropical Hawaii. He came to Russia four years ago, and now he is creative director at the TBWA\Moscow advertising agency.
"I know it happens every year, and every year I should do it but I can't, " said Groza. ``This year, however, I finally just said to myself, 'I have to do it because it's an interesting opportunity.' I like crazy wild things and this is one of them. For me it's like skydiving; it's not a religious matter."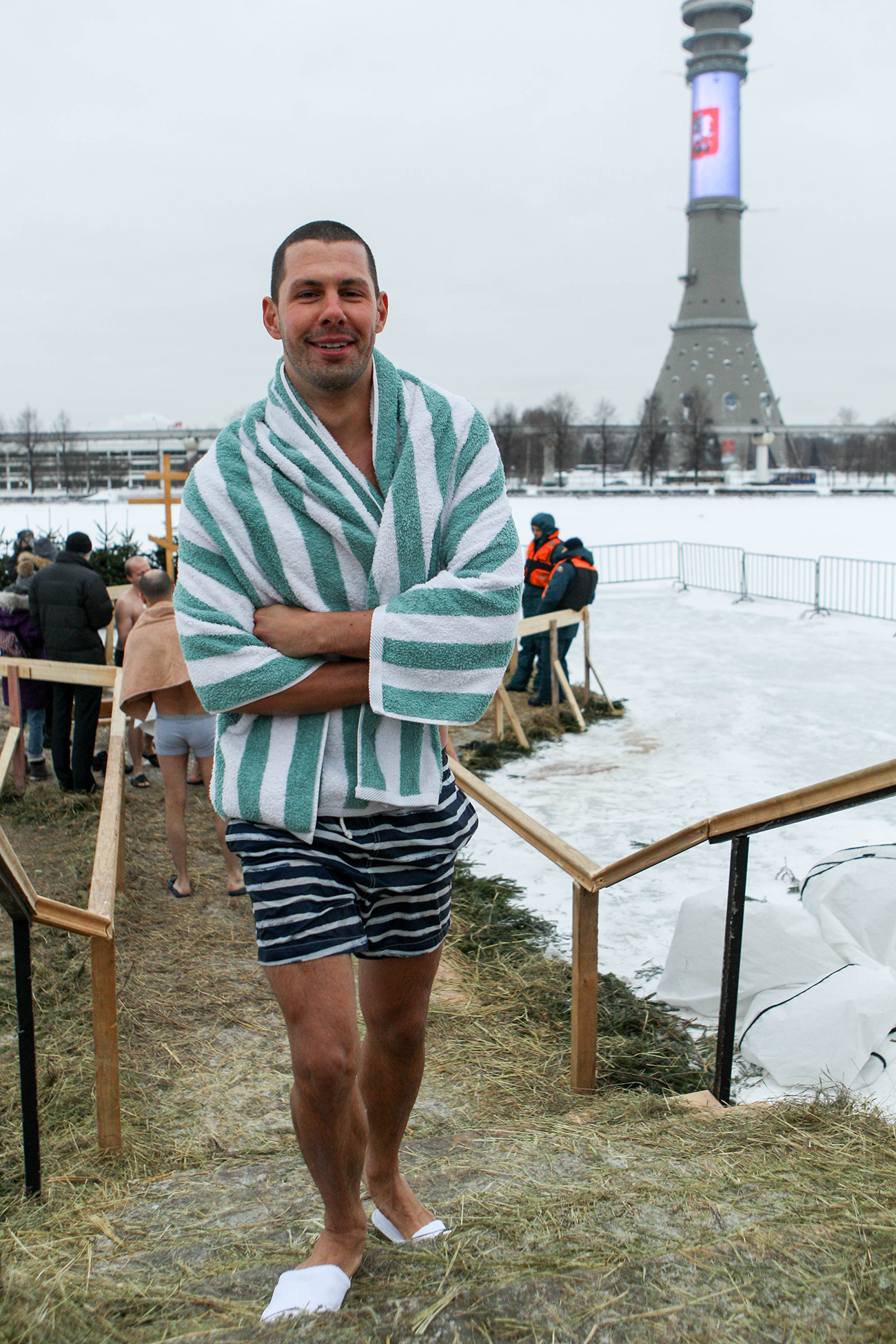 Eric Groza. / Source: Asya Cho
The bathing event resembles a conveyor belt: people undress, take a short dip and surface, only to be followed by a long line of others.
As we speak a large man, who had just jumped in the water, suddenly darts out of the ice hole with a five-year old child crying in his arms.
"I can't stand it anymore, Dad!!!" screams the child, who now has everyone's attention.
"But how are you going to serve in the army?" scolds the stern father. They go inside a warm tent where tea is offered.
After Eric takes his first plunge in the icy waters he admits, "I've lived here four years and I didn't understand how Russians do it. Now, I understand it's a lot easier than you might think.'"
Remember Buddha
The most frightening thing, ironically, is fear itself.
"I thought I could survive because other people had done it and they didn't die, so I felt relieved," said Guisse Kalidou, who is from Senegal in western Africa where there is no winter.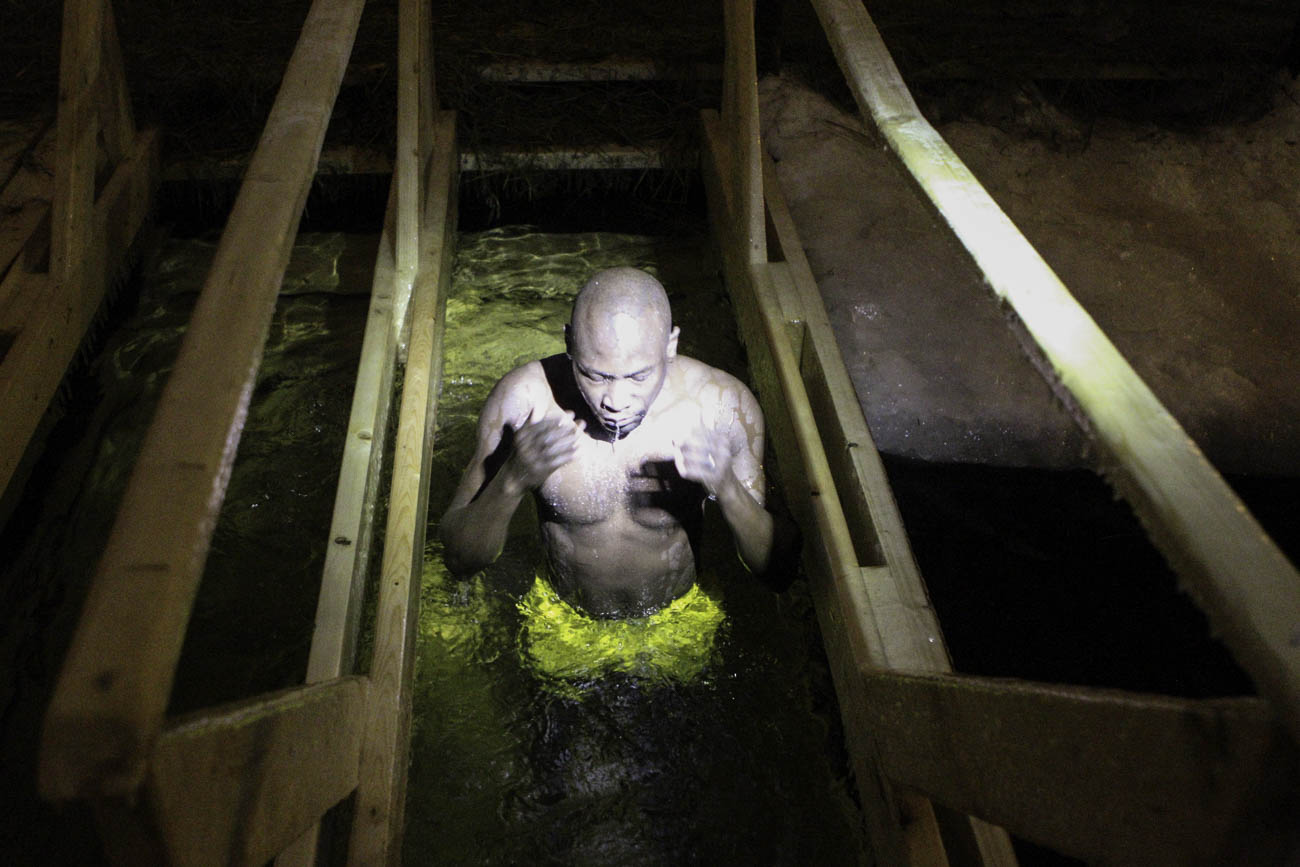 Guisse Kalidou, Troparevsky Forest, Moscow. / Source: Asya Cho
Rev Kadigamuwe Anuruddha Thero came to Russia from Sri Lanka, where people often walk barefoot. Both he and Kalidou study philology at the People's Friendship University of Russia. Near the university, in the Troparevsky Forest on Moscow's periphery, it's 5 a.m. and there's no one around except for four lifeguards, a man pulling himself up on a bar and a brave woman in a swimsuit.
"I used to think that only a madman could swim in such cold, but Sadu and I are interested in extreme things and love the Russian bath," said Kalidou. The two men approach the ice hole without slippers because "slippers won't help you walk on snow." Instead, they're only carrying towels.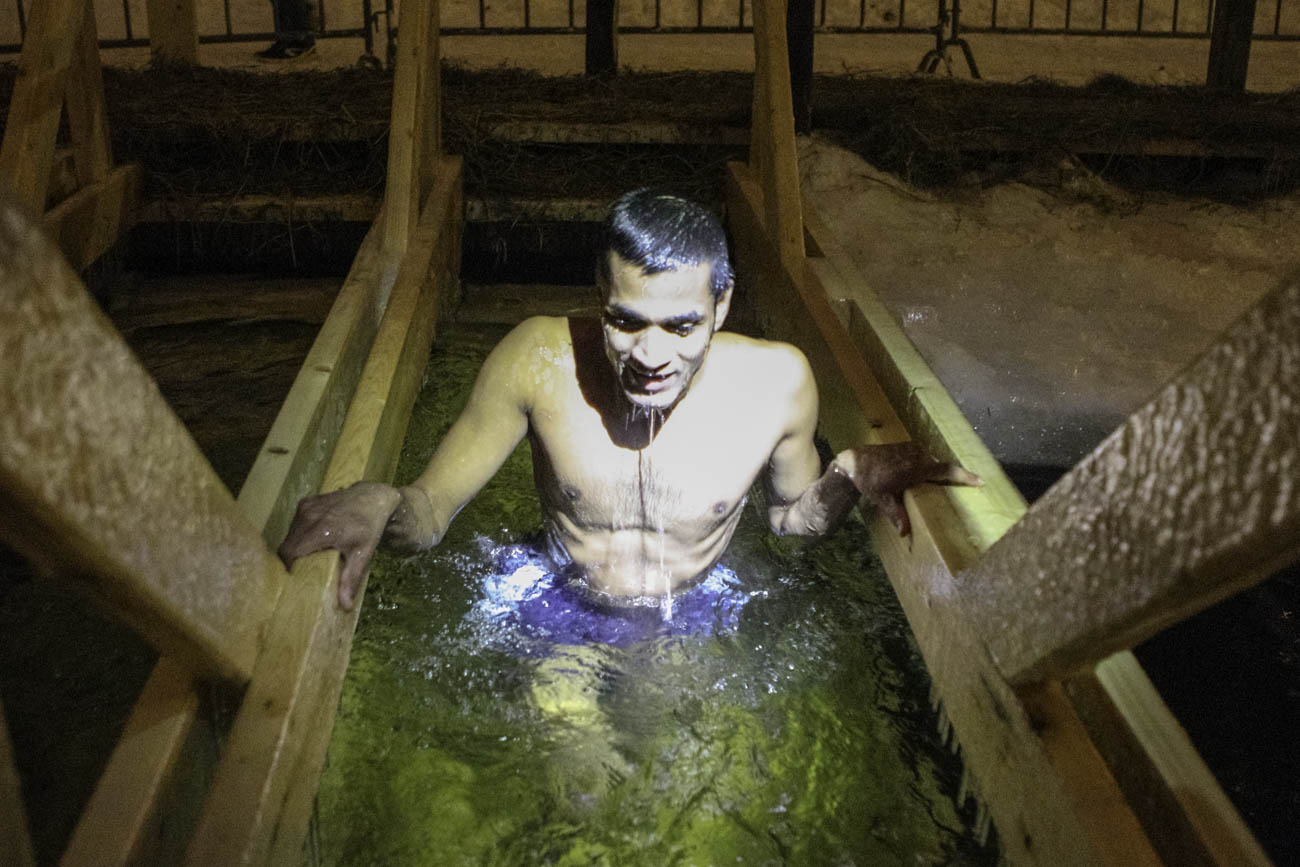 Rev Kadigamuwe Anuruddha Thero, Troparevsky Forest, Moscow. / Source: Asya Cho
"Kalidou, you can't be seen at night!" laugh fellow students. Kalidou's yellow swimming trunks are the only colored spot in the winter landscape.
Kalidou's Russian classmates mischievously admit they like to test foreigners with this tradition. The first was a Palestinian who was thrown into the water with the words, "Hey Buddhist, when you dive in, remember Buddha."
Jumping into the water passes in a flash, and when you come out you are more relaxed. Your whole body emits thick vapors, like stones in a hot bath. By the way, it is very simple to become obsessed with this activity. Kalidou said that you feel as if you had a Thai massage. There is a certain euphoria and lightness that makes you want to do it all over again.
"Hey Sri Lanka, come over, have some tea!" the guys shout from the dressing room.
Oddly enough, the most difficult thing in Russia for Sadu is the large number of clothes that people wear. He just shrugs it off and wears light pants even in the frost. His hands are shivering as he takes the herbal tea. But he is happy and says, "It would be good to do it again."
If using any of Russia Beyond's content, partly or in full, always provide an active hyperlink to the original material.