The number of churches, priests and seminaries in Russia is growing rapidly. According to VCIOM, about 20,000 Orthodox churches opened in the past 15 years. In the Moscow Diocese alone, the number of churches and chapels increased from 837 in 2010 to 1,056 in 2014. In addition, in 2014 a program was launched to build 200 more churches in the Moscow Region.
The number of clergymen also increased substantially, doubling since the early 2000s. In August 2000 Patriarch Alexy spoke at the Bishop's Council Jubilee of the Russian Orthodox Church, and said Russia had about 17,500 priests at that time. Today, the figure is more than 35,000. The size of the ecclesiastical class, however, is not limited to priests, and includes a large number of junior clergymen, as well as their families.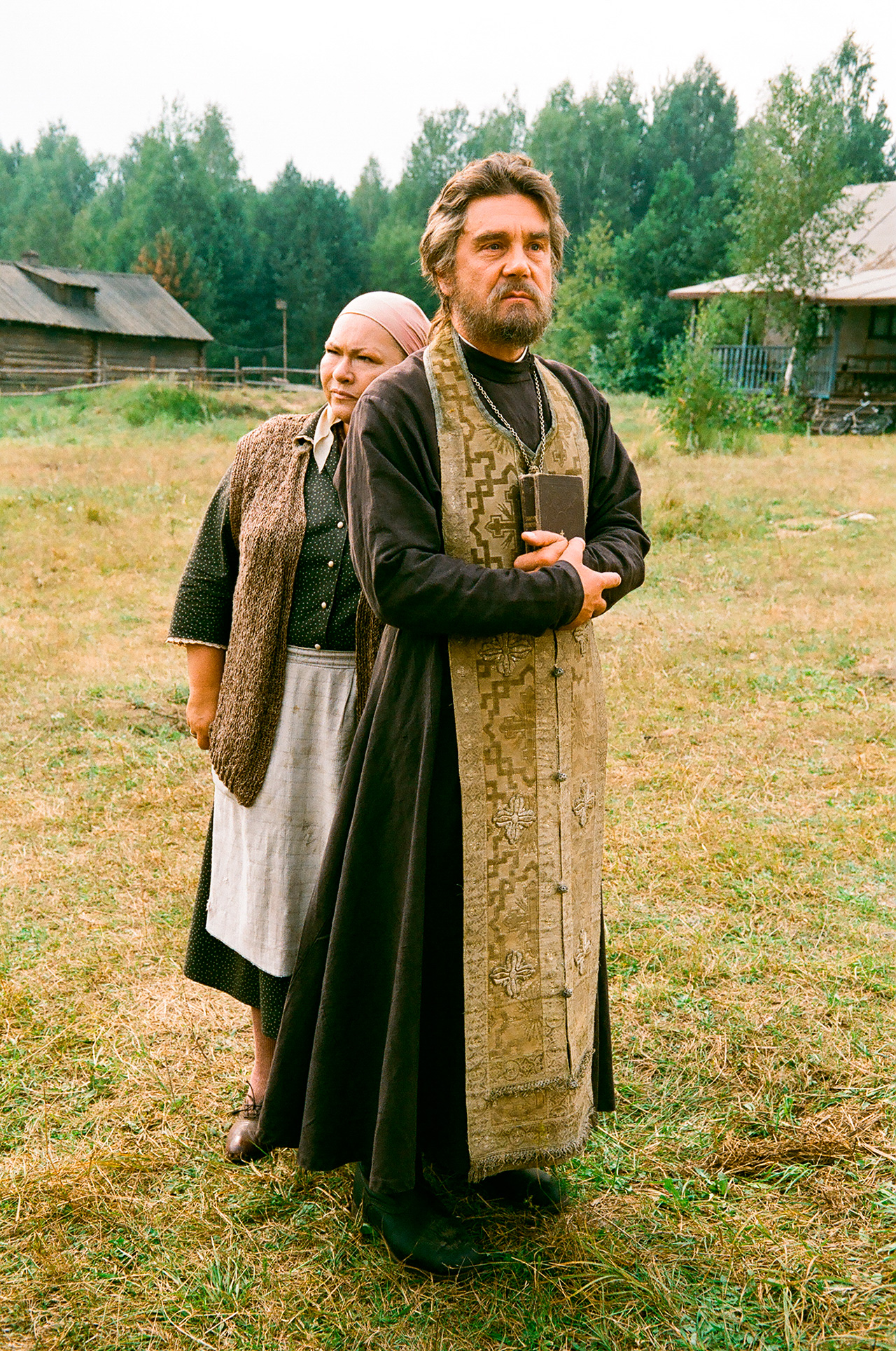 Nina Usatova as Mother Alevtina and Actor Sergei Makovetsky as Father Alexander appear in a scene from "Priest" movie directed by Vladimir Khotinenko, Pskov Region, 2010. / Photo: TASS
While 15 years ago it was rather unusual to meet a person wearing a cassock on the street, today this social group is increasingly visible in the urban landscape. You can often see priests on public transportation or walking around cities.
Patriarch's initiative
Roman Lunkin, director of the Center for Religious and Social Studies at the RAS Institute of Europe, said the growth in the number of clergymen in Russia is primarily related to Patriarch Kirill's administrative reform that began in 2009. It consists of providing education for the metropolitans in the regions of the Russian Federation, which are divided into several small dioceses headed by a bishop.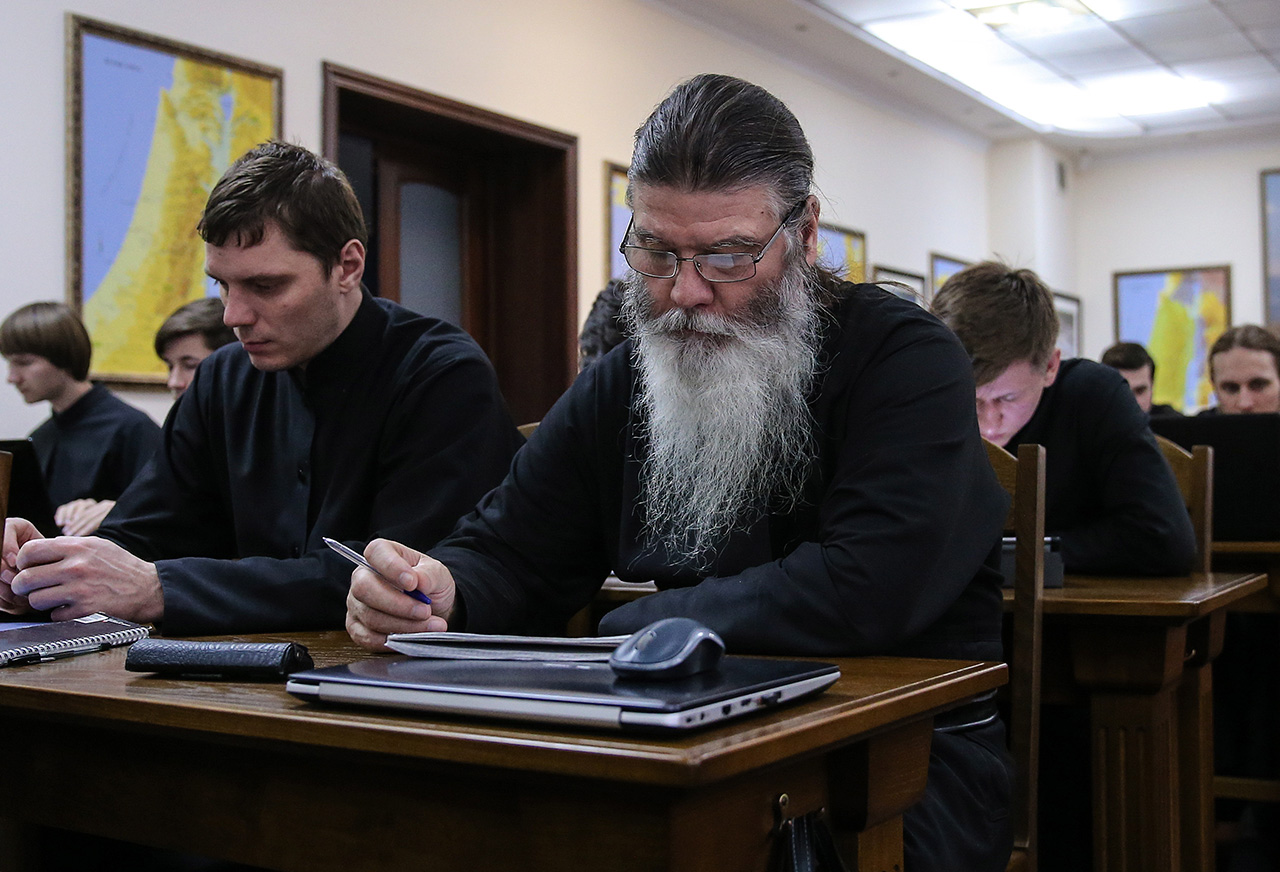 Students of the Moscow Sretensky Theological Seminary, July 7, 2016. / Photo: Valery Sharifulin/TASS
The number of bishops is also on the rise. Each tries to expand their diocese's influence by establishing more and more parishes that need personnel. Patriarch Kirill conducts an ordination ceremony at almost at every service, conferring holy orders on priests, or appointing bishops. Local bishops also ordain priests as required.
There has also been an increase in priests' remuneration. It primarily depends on the bishop, who decides where the priest will serve - in a large church in the city that might have a large number of well-to-do churchgoers and a big demand for his services; or in a remote village where often the priest has to seek additional income in order to subsist.
"Orthodoxy has become a social norm, a comfortable one, and a mandatory one for the authorities," said Lunkin, adding that the demand for the profession will continue growing.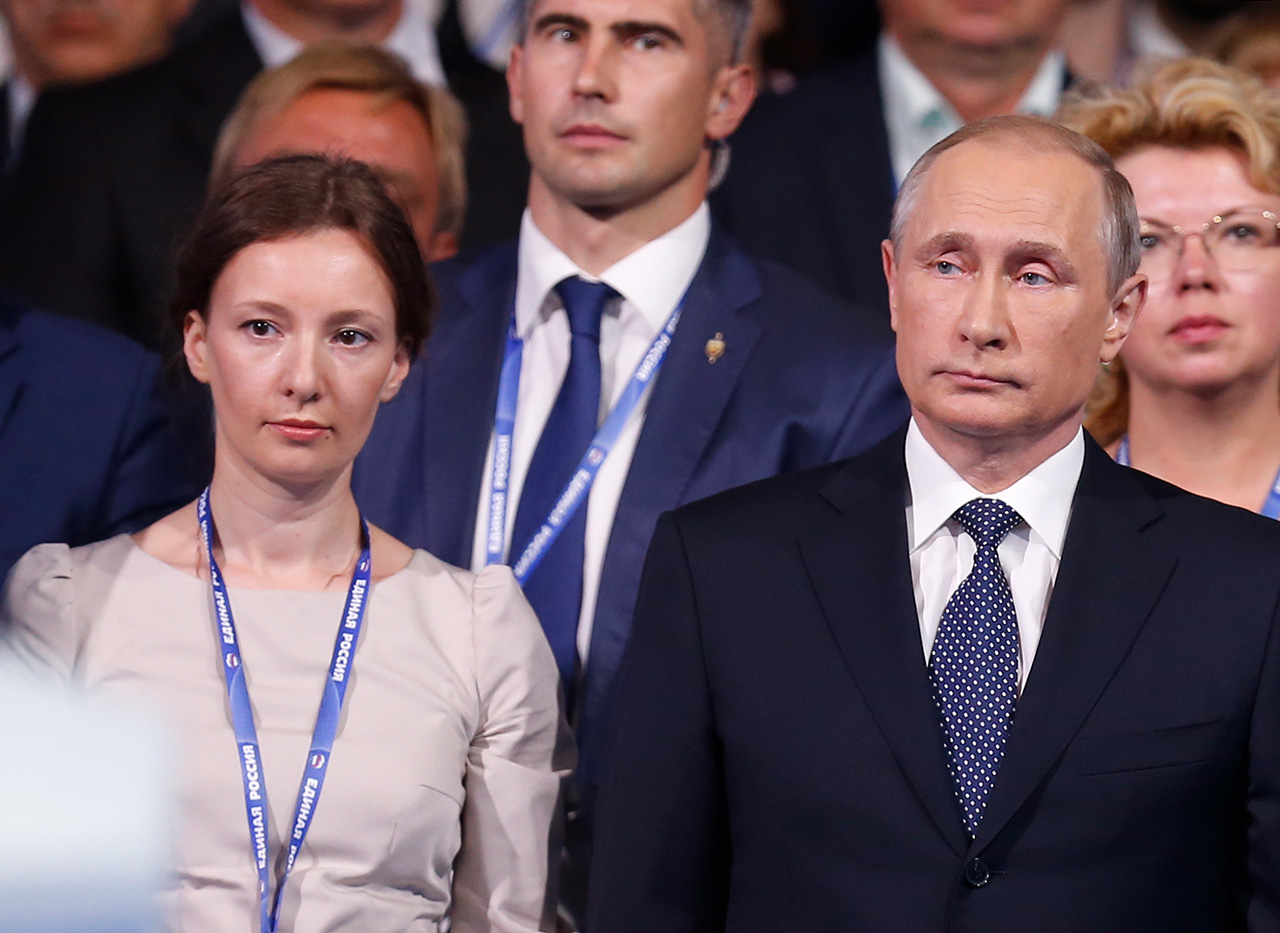 Head of the Pokrov charity foundation supporting family, motherhood and childhood Anna Kuznetsova and Russian President Vladimir Putin at United Russia party congress in Moscow, June 27, 2016. / Photo: Mikhail Japaridze/TASS
How educated are priests?
The social class of priests has not only grown in numbers, but has also significantly advanced in terms of education quality. In the early 2000s a person without education could be ordained, as long as he had spiritual zeal for Orthodoxy. The situation began to change radically after 2009 when the Orthodox Church said theology would be part of the subjects listed in the Higher Attestation Commission. This means that dissertations can be defended on theological works.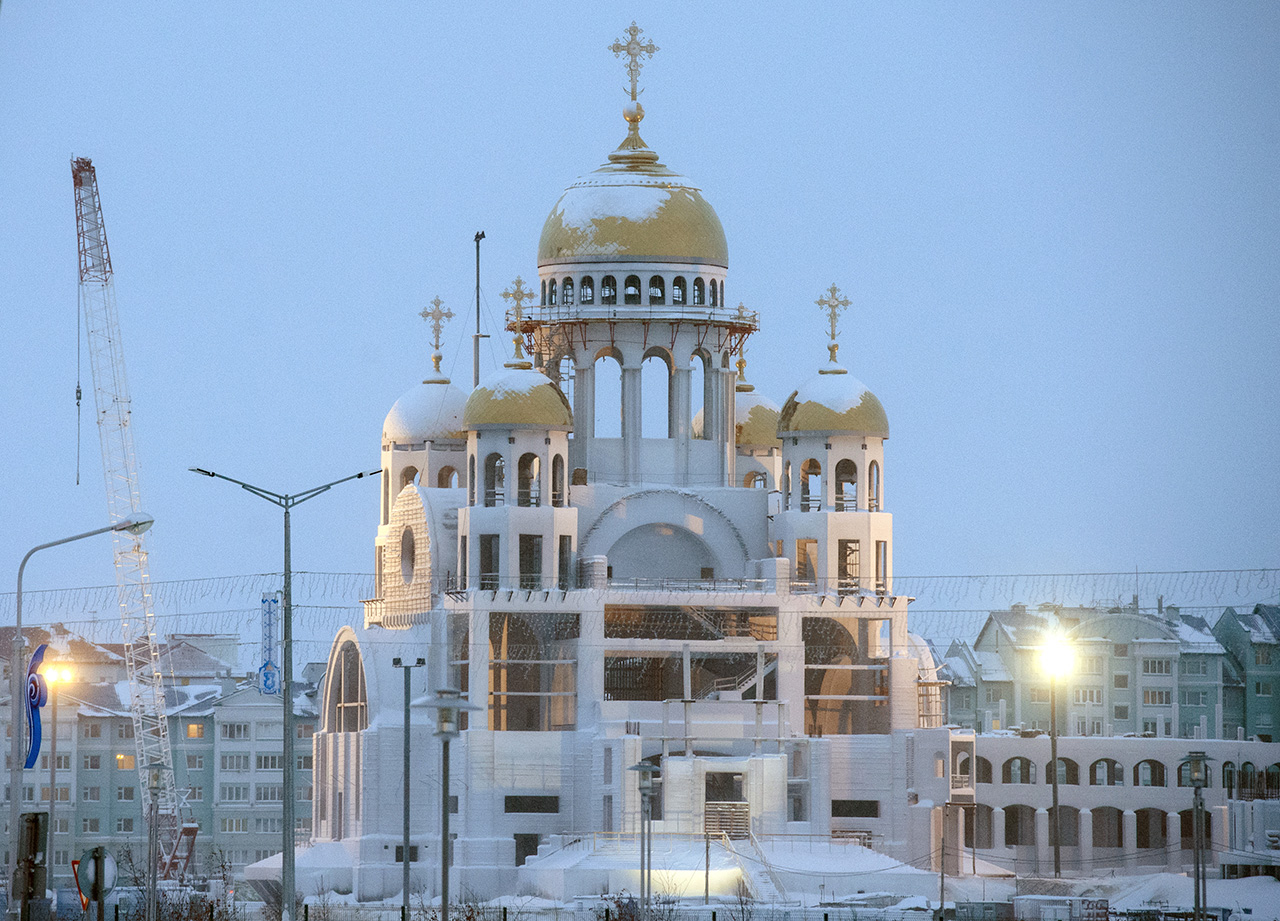 The Transfiguration Cathedral under construction in Salekhard, Jan. 26, 2017. / Photo: Donat Sorokin/TASS
"Currently, priests without education are ordained, especially in remote Russian regions, but subsequently they are urged to receive an education, which is necessary not only from a spiritual but also a cultural point of view," said Father Alexander Voroshilov, a young priest at the Parish of St. Nicholas the Wonderworker in Naberezhnye Chelny.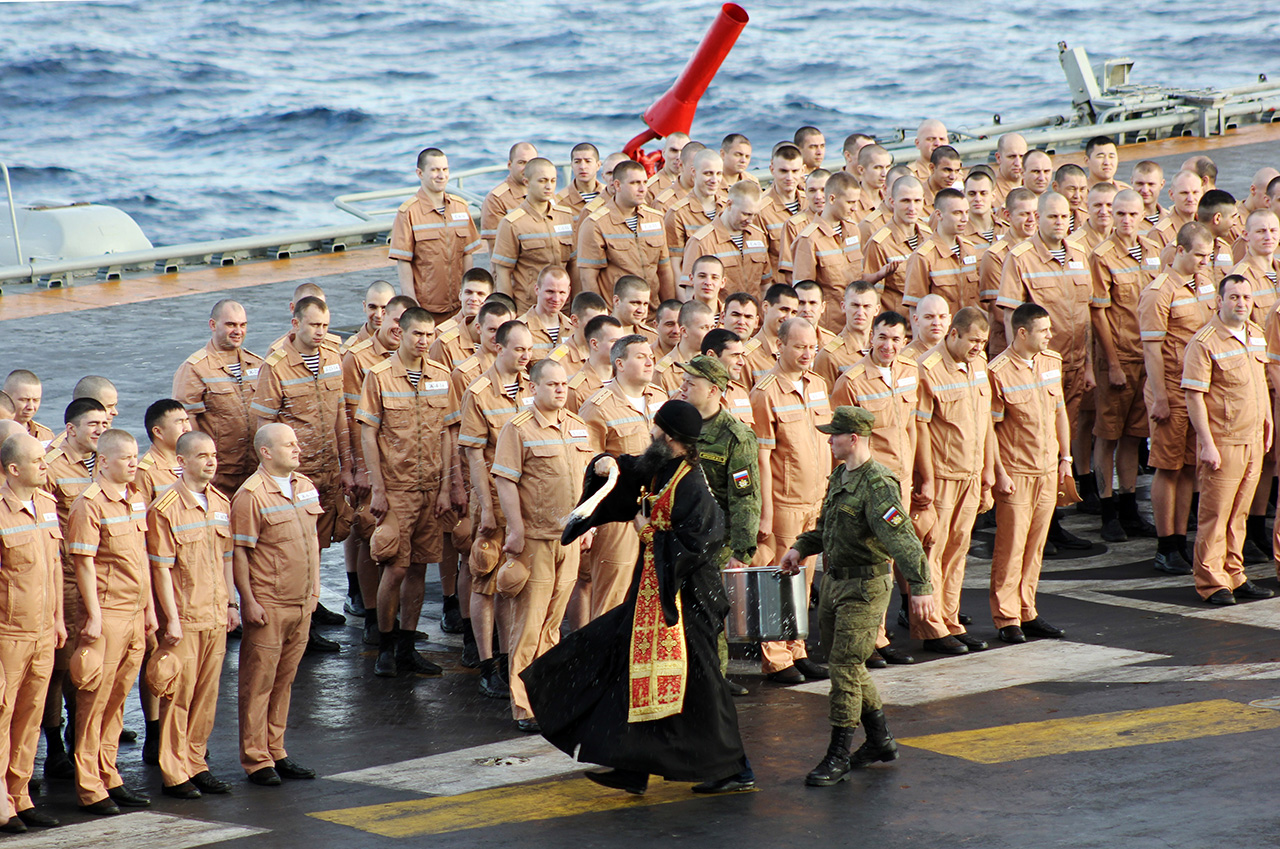 Russian Orthodox priest and Russian servicemen on the Admiral Kuznetsov aircraft carrier going to the Mediterranean Sea, Oct. 20, 2016. / Photo: Andrei Luzik/TASS
In his youth, having understood his longing for priesthood, Father Alexander entered a religious school and then a seminary, from which he graduated with honors. Later, he defended a Master's dissertation and today is continuing his self-education.
"Education gives you a correct perspective of the general picture of the Christian worldview, while an uneducated priest might think heretically," said Father Alexander. Education helps him in arguments with schismatics, as well as to attract young churchgoers who have a higher cultural level than the past generation. "We try to go to schools and universities; we speak on the streets, even in gyms. I am young and try to attract the youth. With God's help we do our work."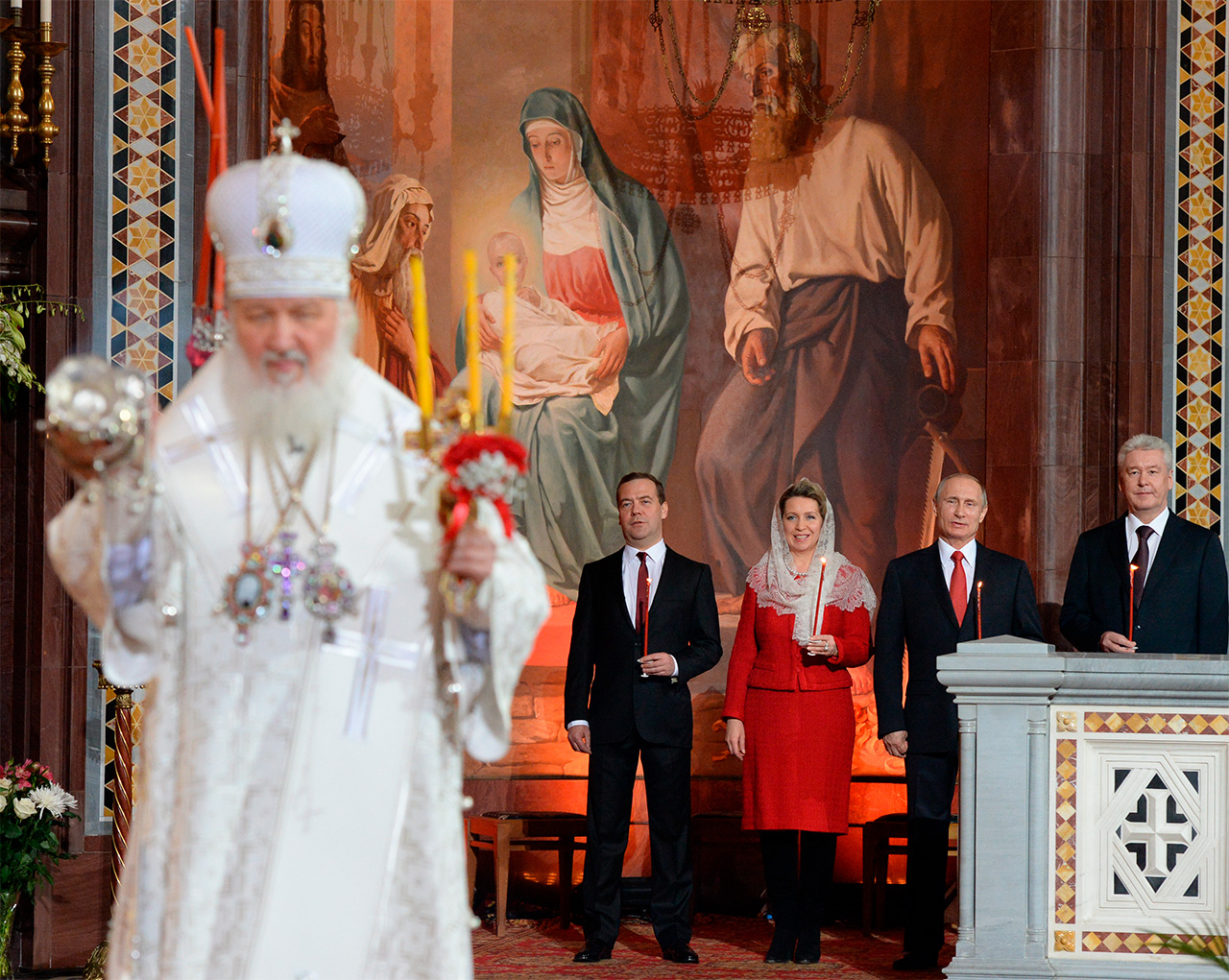 President Vladimir Putin, Prime Minister Dmitry Medvedev with wife Svetlana and Moscow Mayor Sergei Sobyanin attends the Easter service at the Cathedral of Christ the Saviour in Moscow. Foreground, left: Patriarch of Moscow and All Russia Kirill, April 12, 2015. / Photo: Sergey Pyatakov/RIA Novosti
Learning for the ages
Today there are 51 seminaries in Russia, compared to 38 in 2007. Patriarch Kirill said that in the 2016-2017 scholastic year 4,030 students will receive higher education from five Moscow seminaries. By far not all of them will become priests. Many will be educated in missionary work, catechesis, social work; while young ladies can study in regency departments. The list of subjects is vast. Besides theology and liturgy, much attention is given to modern and ancient languages, history and law.
Priests and bishops who want a higher education study in absentia, but on the church-wide level there are advanced training courses for priests. The Orthodox Church's department of social service offers specialized courses. The Church Graduate School, which is the highest level of spiritual education, offers courses for bishops.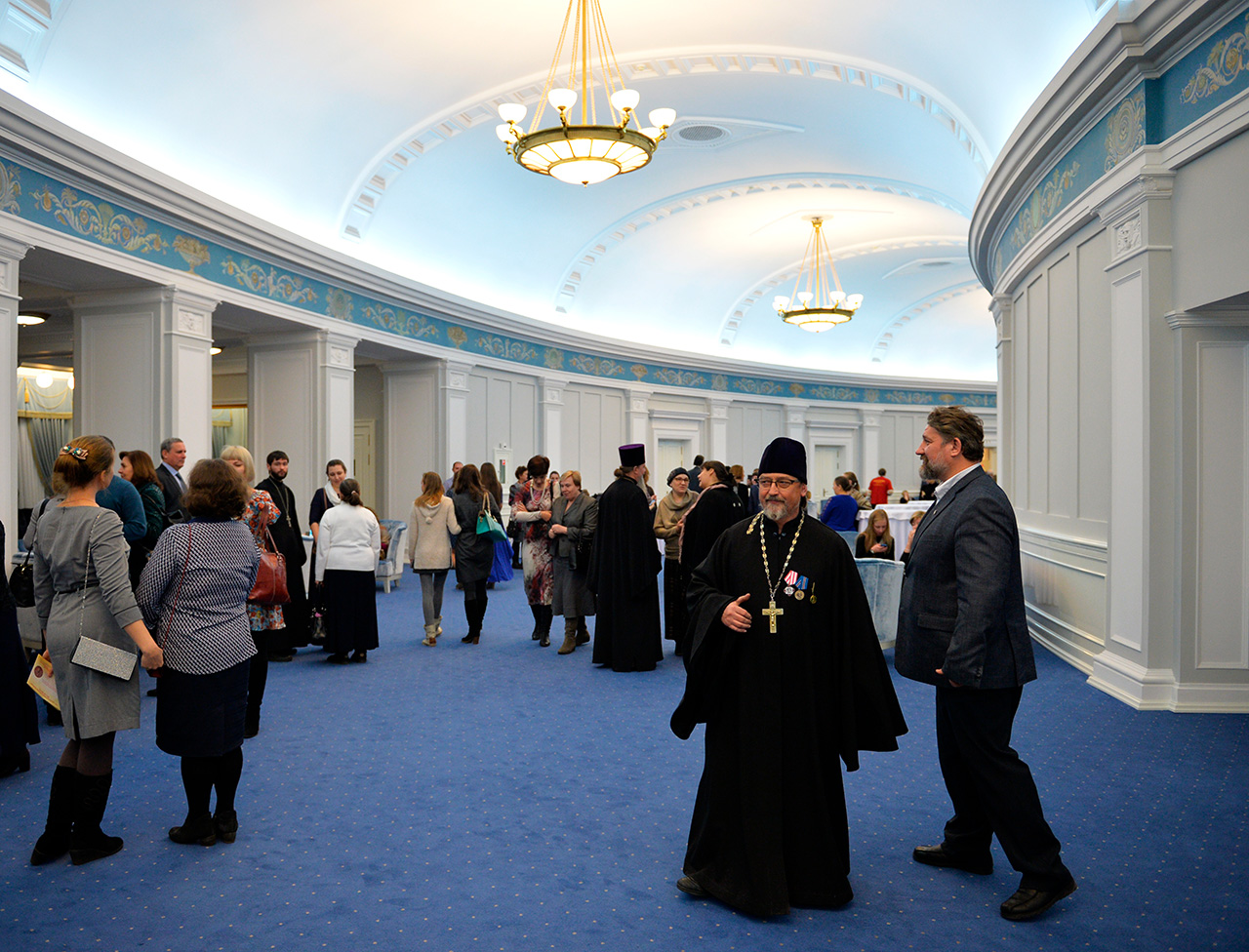 People at the Novosibirsk Theater of Opera and Ballet, Nov. 11, 2015. / Photo: Alexandr Kryazhev/RIA Novosti
Thanks to the developing system of education, parishes are established that have an appealing presence, and able priests can attract churchgoers and satisfy their cultural expectations. The remote regions, however, remain an acute problem. Financing and education are slow to arrive there.
If using any of Russia Beyond's content, partly or in full, always provide an active hyperlink to the original material.