St. Patrick's Day in Russia: Why the Orthodox Church recognizes it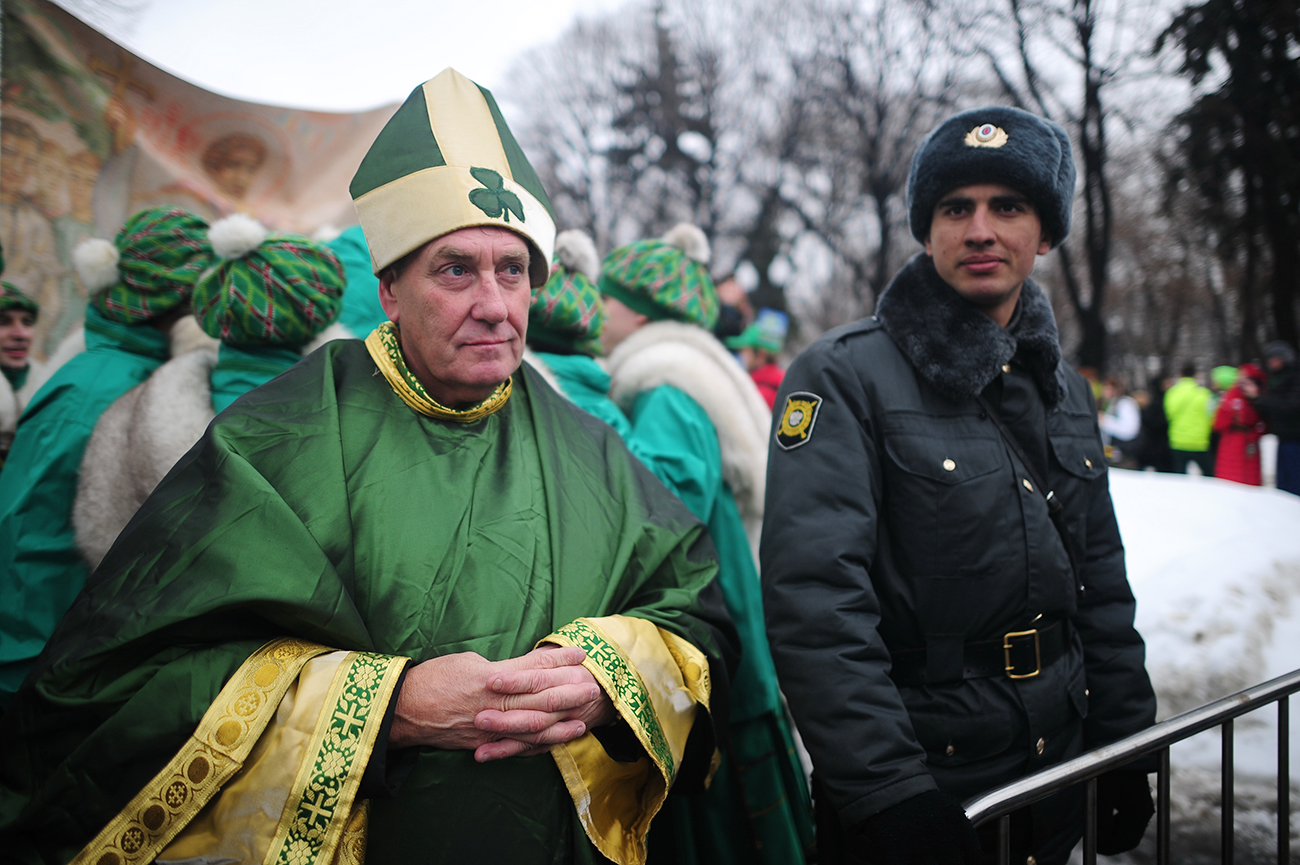 A man in a green costume takes part in a parade to celebrate St. Patrick's Day, in Moscow's Gorky Park.
Zurab Dzhavakhadze/TASS
A cartload of beer from the Patriarch's press secretary, "as long as it's not Halloween" and impeccable saints: How St. Patrick's Day officially came to Russia and why it has only happened now.
The Russian Orthodox Church (ROC) has recognized Ireland's St. Patrick and will now officially celebrate his day in Russia - but not with the rest of the world. In Catholic and Protestant churches St. Patrick's Day is celebrated on March 17 while in Russia it will be celebrated on March 30 (which is also effectively March 17 as the ROC observes Russia's pre-revolutionary Julian calendar that is two weeks behind the Gregorian calendar used in most Western countries today).
Some Russians had already suspected that Patrick was also "Russian" before the Holy Synod communicated the results of its session. Patriarch Kirill's Press Secretary Alexander Volkov decided to raffle off a cartload of Guinness on his Facebook page: "A pint of Guinness has only 198 kilocalories, which is less than orange juice or skim milk. You will understand why I am saying this and how this is related to the decision the Holy Synod made today after a short break. Do not sign off from the official site."
"Have you been transferred to Ireland?" some users asked. Later it became clear: The ROC included the "Apostle of Ireland" (and a dozen of other Western European saints) in its menology - the Orthodox calendar that indicates the days of the saints. And the beer? It was sent to the raffle's winner in Yakutia (2,700 miles east of Moscow).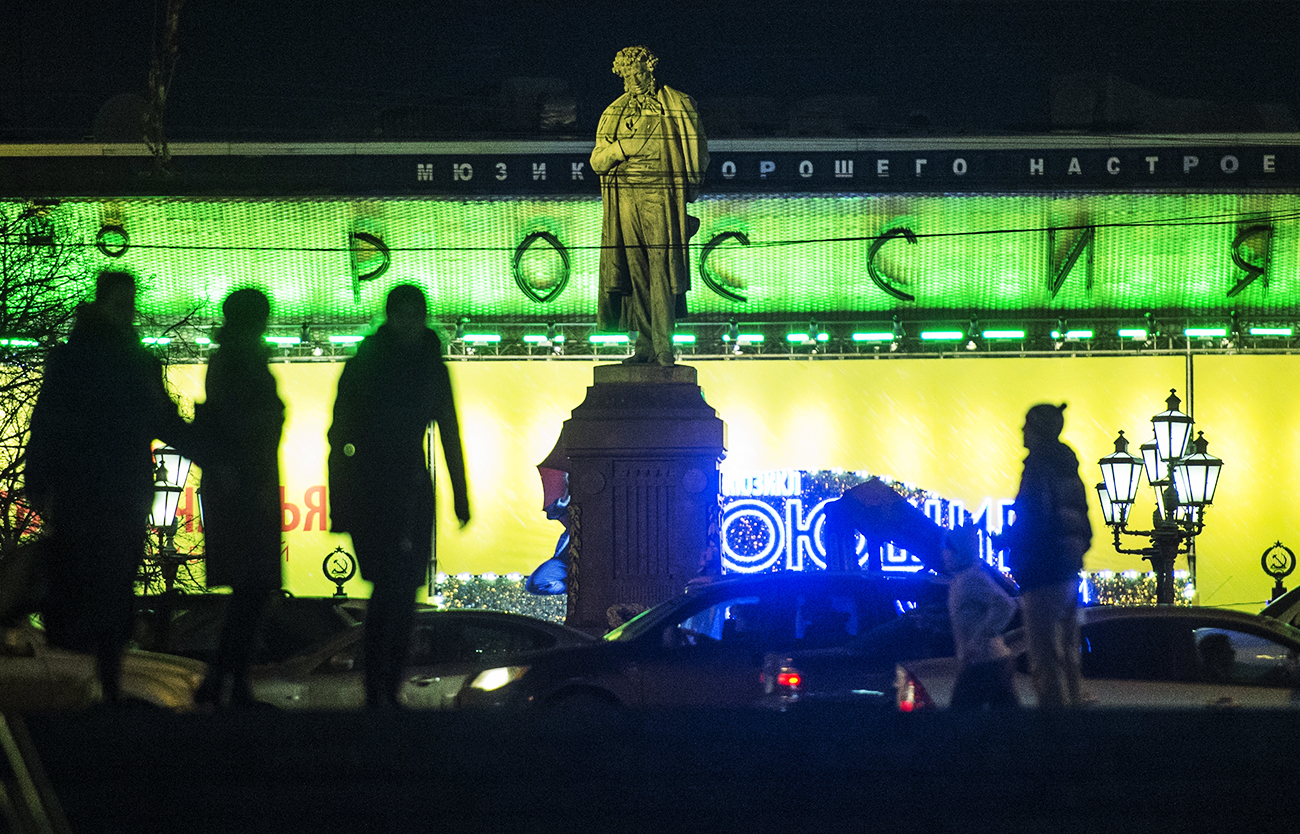 The front of the Rossiya moveie theater in Moscow is illuminated green for St. Patrick's Day. / Photo: Evgeny Biyatov/RIA Novosti
Impeccable Patrick
St. Patrick, St. Genevieve of Paris, St. Alban the British martyr, St. Vincent of Lérins and other saints have met the criteria of the ROC. The main criterion is having been canonized before the division of Christendom into the Western and Eastern churches - before the Great Schism of 1054.
Among the other "criteria" for being recognized as a saint by the ROC are: They must be venerated by orthodox believers in foreign ROC dioceses; their names must not be mentioned in polemical works related to the Great Schism; and they must be distinguished by an impeccable profession of the Orthodox faith.
Among the renewed list of feast days, St. Patrick's Day stands out for its vivid celebration: On this day the main landmarks of the world turn green - from the statue of Christ the Redeemer in Rio de Janeiro to the Sydney Opera Theatre; people hold parades and festivals with Celtic music and dance; and some heads of state even go to the pub for a pint of beer.
Since the beginning of the 1990s Russia has not been an exception, but the festivals and merry-making here do not have an Orthodox overtone and the day was simply considered a tribute to Irish culture. ROC representatives said that St. Patrick's Day is one of a series of celebrations that have come to Russia from the West and turned into "only a reason for revelry for the public and profits for businessmen. To put it bluntly: A marketing ploy and nothing else.
Our Patrick
Although some Orthodox believers in Russia suspected the hand of lobbyists for brewers in the Synod's unexpected decision, they still gave their support to the new feast with joyous comments such as: "I've always known that St. Patrick was ours," "St. Patrick is in Russia. Now it's official. Hurray" or with jokes on lawful leprechauns (probably according to God's Law) who are now no strangers to Orthodoxy. Less lenient believers said: "Fine, St. Patrick, nice. As long as it's not Halloween."
Archdeacon and church scholar Andrei Kuraev told RBTH that the Orthodox Church "has basically always" recognized Patrick because in the saint's days Ireland professed the same faith that the Orthodox Church professes today. "Orthodoxy's attitude to him was stable both in the 1990s and the 2000s when the borders opened and he became more or less known," Kuraev said. In the past, when there was no Internet, saints who were venerated in one part of the world may have been unknown in other countries.
This is how it was with Patrick. "This is not the canonization of a foreign saint, but only the synchronization of the church calendar. I think the reason it happened so late is that the Russian Orthodox parish in Ireland has started functioning only recently and we had to clearly and officially express our attitude to St. Patrick's Day," Kuraev added.
If using any of Russia Beyond's content, partly or in full, always provide an active hyperlink to the original material.