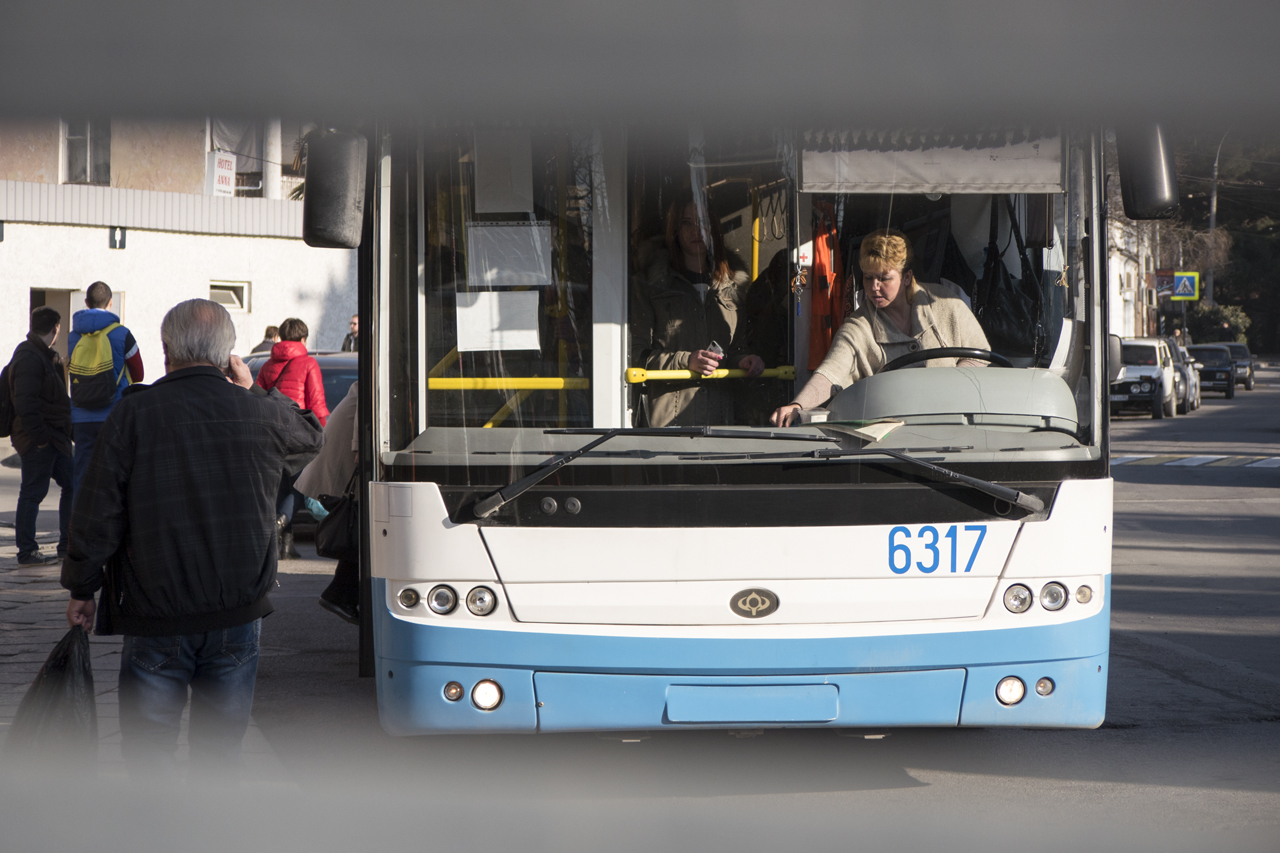 The city trolleybus takes two and a half hours to reach the resort of Yalta on Crimea's southern coast./ Photo: Sergey Melikhov
The airport in Simferopol, a city 700 miles south of Moscow, is currently the only direct connection in and out of Crimea, and planes land every 10-15 minutes. Practically all planes are packed, including mine, which touches down smoothly.
Given this parlous state of transportation affairs, it's not surprising that infrastructure construction is booming in Crimea. Moscow is keen to strengthen the region's connection to the mainland, and efficient transportation is a crucial part of that strategy. A railroad is under construction and will begin running in September 2017, and the Kerch Bridge, when finished in late 2018, will allow cars to enter into Crimea.
But for now, the airport is the only gateway for visitors wishing to travel directly from mainland Russia to Crimea. As I depart the arrivals area, taxi drivers crowd around me offering their services. When I decline, they maliciously hiss behind me. Competition is apparently stiff, and demand is low in winter when tourists are few.
The taxi drivers' main competitor from the airport is the city trolleybus, which takes two and a half hours to reach the resort of Yalta on Crimea's southern coast. The ticket costs 129 rubles ($2.1), a bargain compared to taxis that want 1,000 rubles ($16.9). In both cases, driving time is the same, and they share the same bumpy road clogged with traffic.
As my trolleybus slowly makes its way to the center of Simferopol, I see mountains of rubbish lining the curbs. My fellow traveller, Russian language teacher Yulia Minaeva, jokes that the garbage hasn't been picked up since our trolleybus was built in 1959.
"Ukraine never took care of it, but Russia is also not taking caring of it. How do you get all the garbage out? On a ferryboat? At least they started repairing the road that connects the airport with the city," says Yulia.
Happy because….
I reach the center of Simferopol, with its 336,460 inhabitants, making it Crimea's second most populated city after Sevastopol. Located in the central part of the peninsula, Simferopol is the region's administrative center.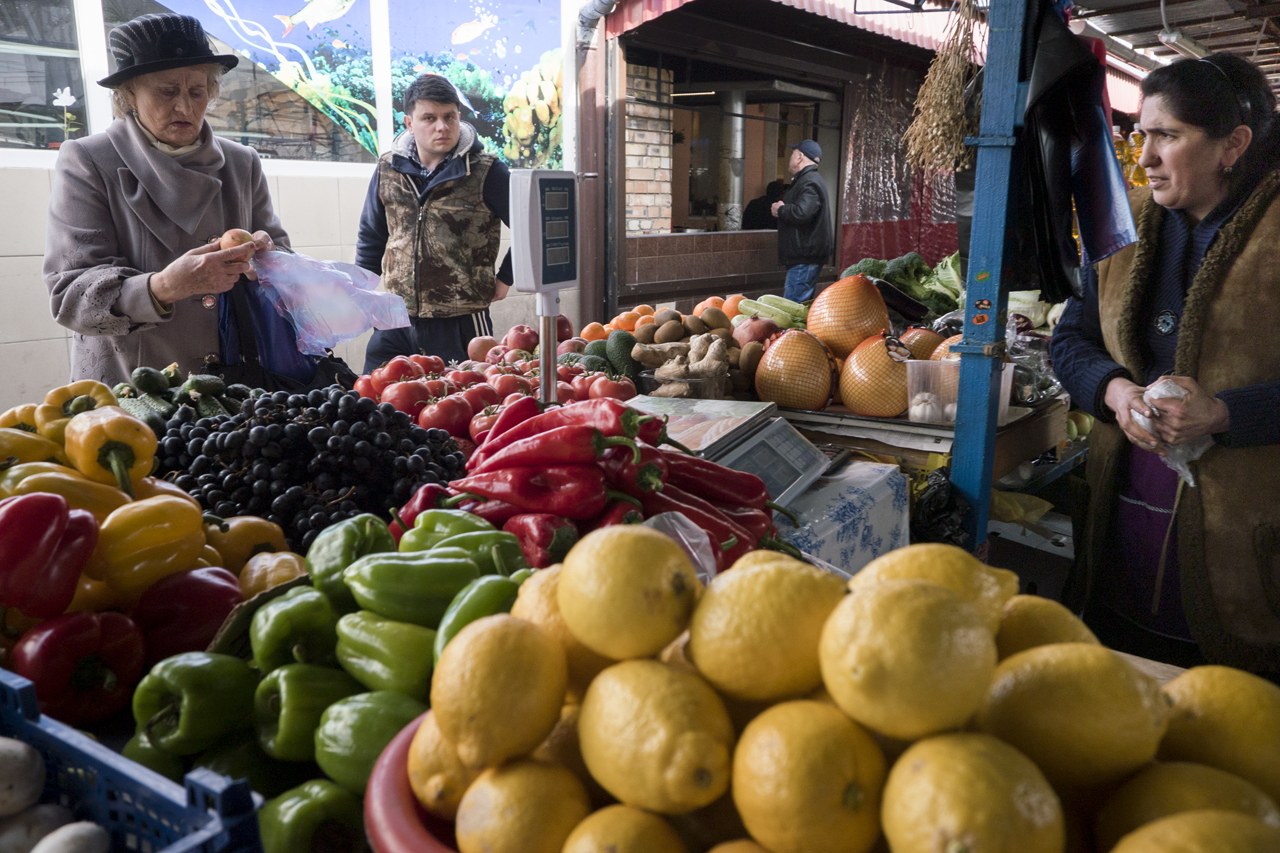 The local market./ Photo: Sergey Melikhov
In the context of recent Crimean history, Simferopol is the most problematic city. Besides its Russian majority, it has many Ukrainians (12.07 percent of the total population), and Crimean Tartars (8.31 percent), who the West considers to be major advocates for Crimea's return to Ukraine.
A very non-holiday atmosphere weighs heavy here, and the center is dense with dilapidated Soviet-era buildings, pawnshops, credit agencies offering money without applications in 15 minutes, as well as cafes with Middle Eastern-style meat wraps.
I walk inside a café for a cup of morning coffee but the waitress, a 40-year-old wearing high heel boots, leggings and a transparent fishnet blouse, doesn't want to serve me right away. According to mysterious rules, the minimum order must be 100 rubles ($1.6), and since the coffee costs 80 rubles ($1.3) I must also order hot dogs.
A group of four women drinks at a nearby table. I sit next to them and say that the last time I was in Simferopol was in my youth, and that I still don't see many changes - not after the peninsula joined Russia, but after Ukraine left the USSR.
"It's enough to look at us," replies one woman. "We're happy! We've returned home, we're again in Russia. Our children are growing up without war. That's enough to make us smile!"
"Don't listen to this fool. Nothing has changed," interrupts her friend. "Only the prices are now like they are in Moscow."
I go back to my table as they continue arguing. They argue without saying anything specific. Many people behave like this in Crimea. When they want to say that after Crimea reunited with Russia life became better or worse, usually they can't explain exactly why. Everything is on the level of emotions and personal perceptions, and often because of disappointment with the former Ukrainian government or the new Russian one.
Laws are more severe
Next to the café is the Russian Interior Ministry Crimean Transportation Administration. I go there just in case, concerned that without permission from the authorities and an official paper from Moscow no one will answer my questions. I'm pleasantly surprised, however, by their friendly candor.
"Now, there's much more work," said Elena, an employee at the investigative department, without even asking for my press card. "Russian laws are very different from Ukrainian, especially those concerning administrative violations. Everything is now much more severe. And Moscow makes sure that everything is made uniform."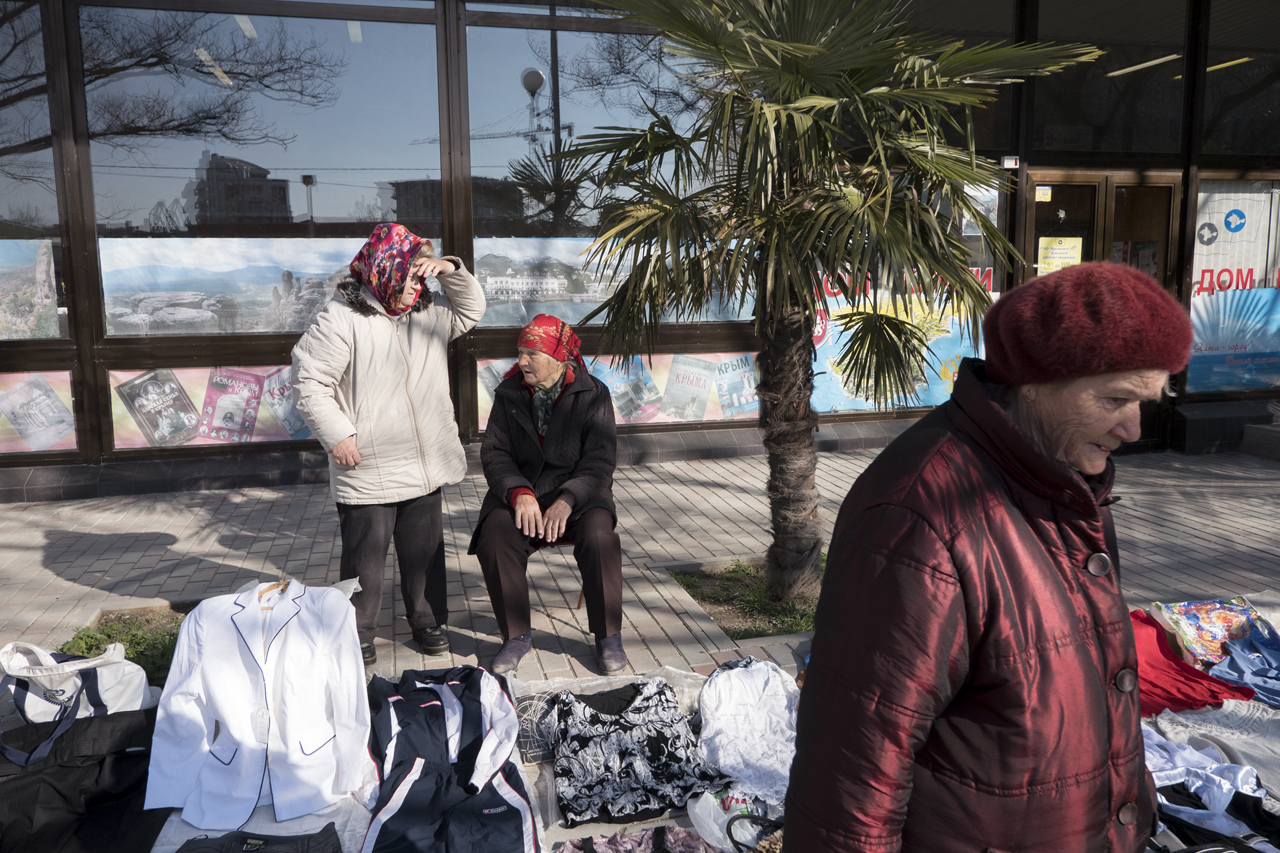 The local market./ Photo: Sergey Melikhov
Elena was born in Crimea, in the city of Feodosia. She began her public service in the Ukrainian police, which three years ago became the Russian police. At the time all employees were given a month to decide whether to resign or join the Russian police.
I ask if anyone in her unit refused to join the Russian police. "No one. Everyone was happy that they became a part of Russia. Most people here didn't even speak Ukrainian but they served Ukraine. How can that be?"
"And what about the oath," I asked.
"We swore allegiance to the people and we continue serving the people. There's no difference," answered Elena, adding that she doesn't notice any practical changes, except that sometimes she comes home late in the evening, or not at all. But as she said, new roads are being built.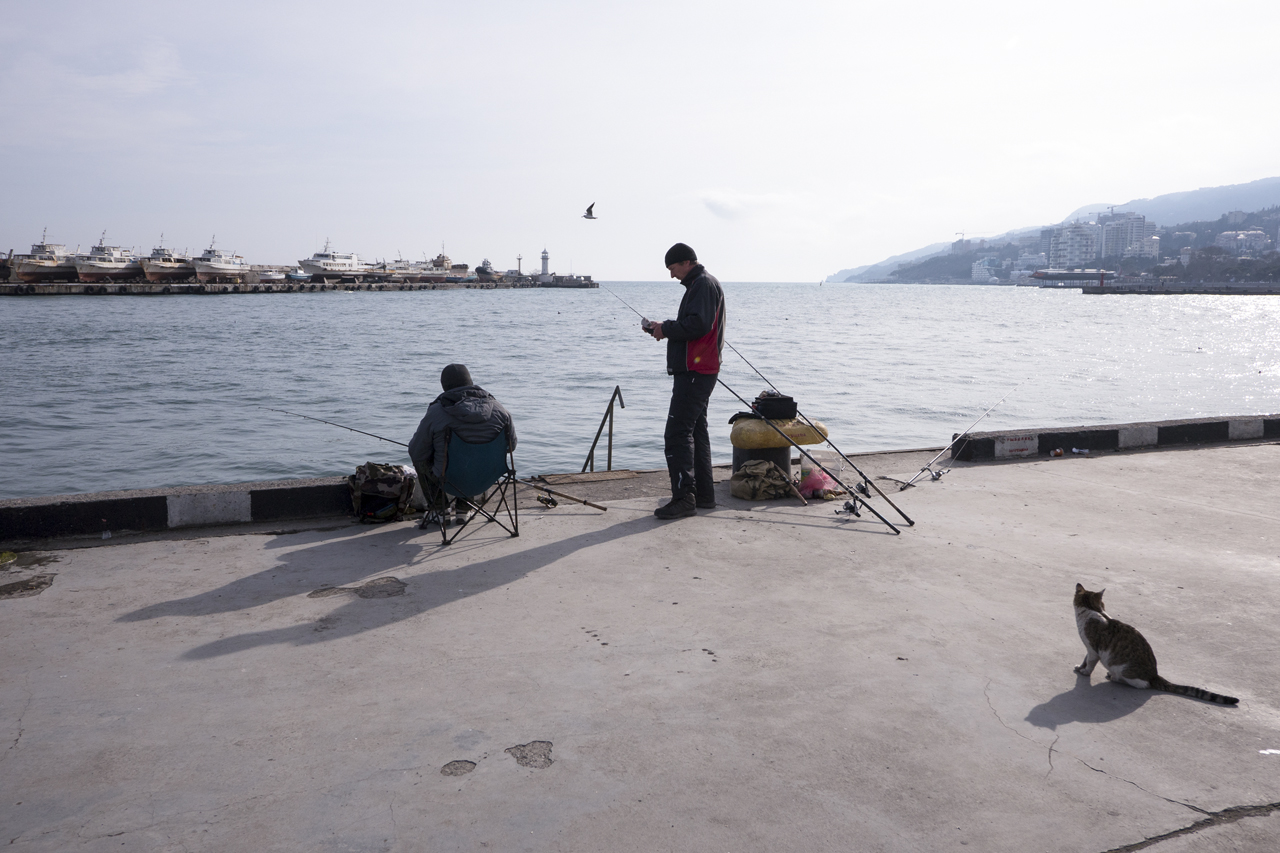 At the embankment./ Photo: Sergey Melikhov
In general, there are many policemen and army personnel in Simferopol. This is due to the large number of security officials, and the transition to the more severe Russian laws. Most people despise the old Ukrainian government, but positive sentiment toward the Russian government has dissipated.
Many of the disenchanted are small shopkeepers, whose stands and stalls were dismantled throughout the peninsula by the new government.
"Before, we'd just make deals with bandits, but now it's with bandits, with the new police and with the officials in Moscow," said the owner of one of the last remaining stands on Kirov Prospect. "Thus, everything is three times as expensive, that's the difference."
Thank God we have no war
I head to the outskirts of town to meet Rifat Bekirov, owner of the famous Simferopol restaurant, Krymski Dvorik (The Crimean Courtyard). Crimean Tatars primarily dine there, and Rifat is one of them. Treating me to dinner, Rifat tells me that in the beginning he was wary of Crimea joining Russia, but now he's happy about it.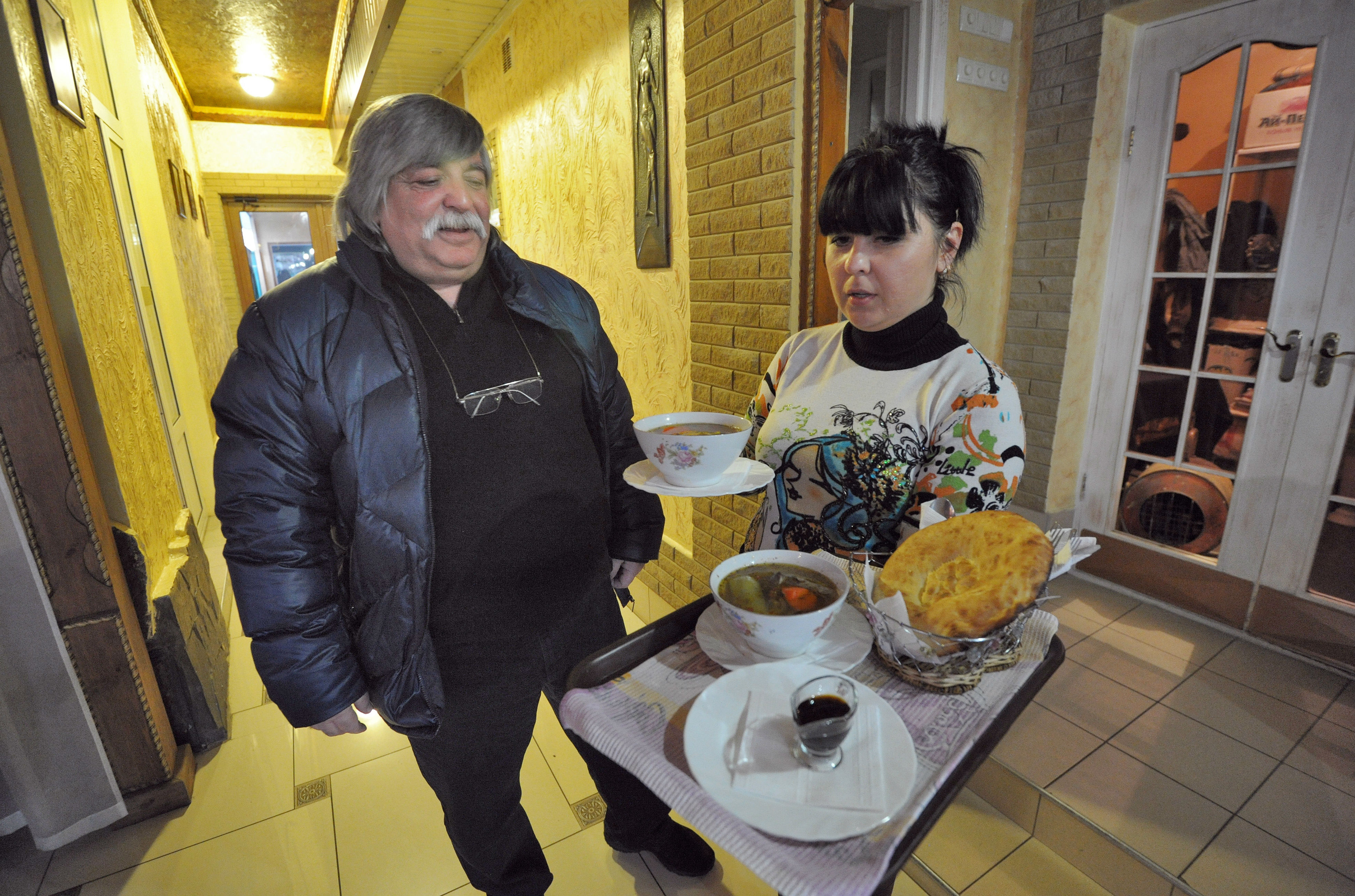 Rifat Bekirov, owner of the Krymski Dvorik restaurant./ Photo: Legion Media
"There are many positive changes. For example, take the new school in the district inhabited mostly by Tatars. For 10 years the Ukrainians weren't able to build it, but the Russians did it in one year. The school is equipped just as well as any European one, with computer classes and gyms. Also, the Kerch Bridge is being built, a new airport terminal is being built, a new mosque is being built. It's rather difficult with work but pensions have increased.
"Those Crimean Tatars with a certificate proving deportation [during the Stalin era] get a 500-ruble monthly supplement ($8.4). And all this has been done by the Russian government. Not bad. Our people want everything and right away. But how can you do it right away if for decades nothing was done?"
Rifat is also happy about running his business under Russian legislation. "Sure, in the beginning it was difficult for all entrepreneurs: re-registration, new documents, different laws… But in the end it's easier to work. Before, the tax agency could come 10 times a year and make an audit. Now, there's less pressure from the state."
I ask about the myth of the dissatisfied Crimean Tatars, which western media like to point to. Rifat responds philosophically: "You can always find dissatisfied people, under any government. Especially since our people have gone through so much - they basically distrust any government. My grandfather was deported in 1937. He had his own chocolate factory here. He and my grandmother were sent to Central Asia, but now I don't see these problems. Just pay taxes, don't violate Russian laws, don't promote extremist forms of Islam and there won't be any problems."
I don't settle for that reply and inquire about the proportion of satisfied and dissatisfied people, at least according to Rifat's observations. And he has many, starting from observations of leaders of the Mejlis, which is banned in Russia, to the Tatars who work as top officials in the new city administration. He responds with unexpected figures: 70 percent are satisfied, and 30 percent are dissatisfied.
There is still no 2017 sociological data on Crimea, but according to a 2016 public opinion poll the proportion of satisfied to dissatisfied Crimeans was 78 percent to 12 percent, with 10 percent undecided.
I hear these figures many times all over Crimea, except in Sevastopol, where even people who are pro-Ukrainian admit that the vast majority of residents support the Russian government. As I depart, Rifat says another phrase that can be heard everywhere in Crimea, even from people dissatisfied with the new order, "Thank God there's no war."
City of happiness
My next stop is Yalta, one of Crimea's main resorts, also known as "the city of happiness," as a poster says upon entry to the city. There's just slightly less dirt and garbage here than in Simferopol. The roads are just as bad, however, and the level of service is still Soviet style, that is, practically non-existent. Even buying food after 10 p.m. is a huge problem, and while the summer tents haven't gone up on the waterfront, there are only two cafes and restaurants in the whole city.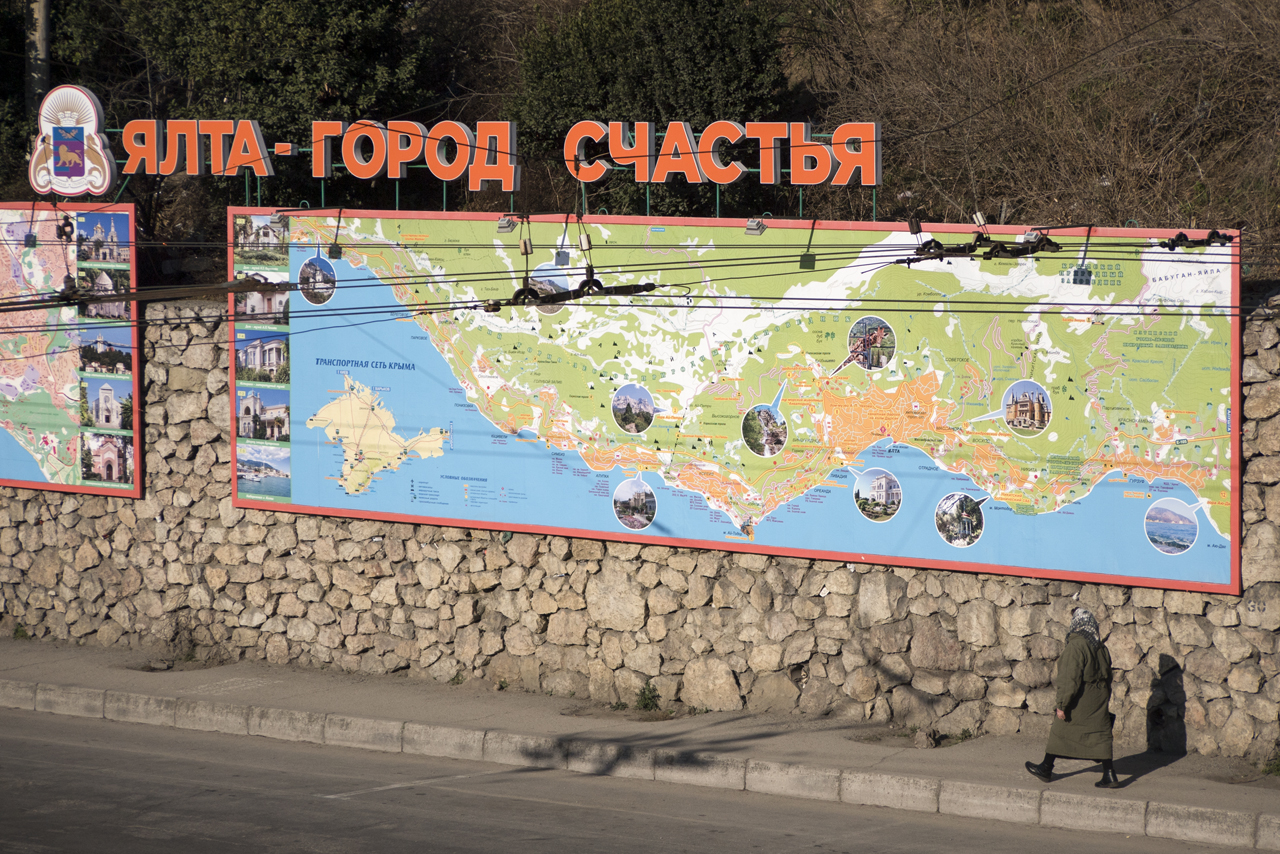 Yalta, the city of happiness. / Photo: Sergey Melikhov
People who are satisfied and dissatisfied about Crimea joining Russia can be divided according to their professions. For example, taxi drivers do not hide their unhappiness. Driving through the entire city costs 150 rubles ($2.5) and absolutely all the drivers that in 2014 voted in the referendum to join Russia - I spoke with more than 20 - are now complaining about the drastic decline in income due to the price increase.
"The number of tourists is the same, but their purchasing power is almost zero," says one driver, Vladimir. "Russia sends a huge number of social welfare beneficiaries and public sector workers on state-sponsored holidays, basically freeloaders who don't buy anything. But we have to make a living."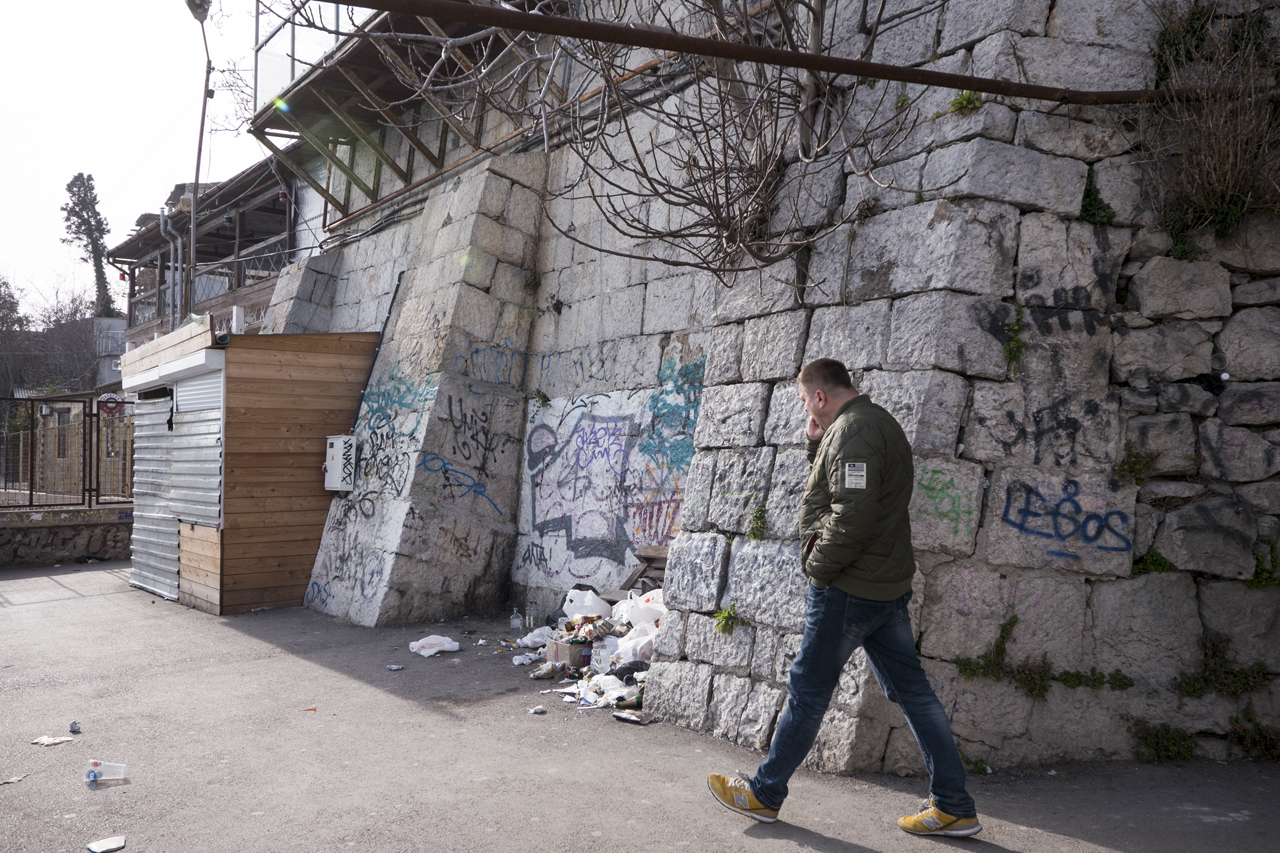 Yalta. / Photo: Sergey Melikhov
Andrei, who is a member of the Yalta People's Militia and a veteran of the Afghan War, was one of those people who in 2014 guarded government buildings and hoisted Russian flags. He admits, as he turns the steering wheel, that, "the waterfront was done well. Thank you. But who will stroll on it? The Russians have really disappointed us. Everyone was shouting, `Crimea is ours, we'll only come here now!' But in reality they still go to Turkey."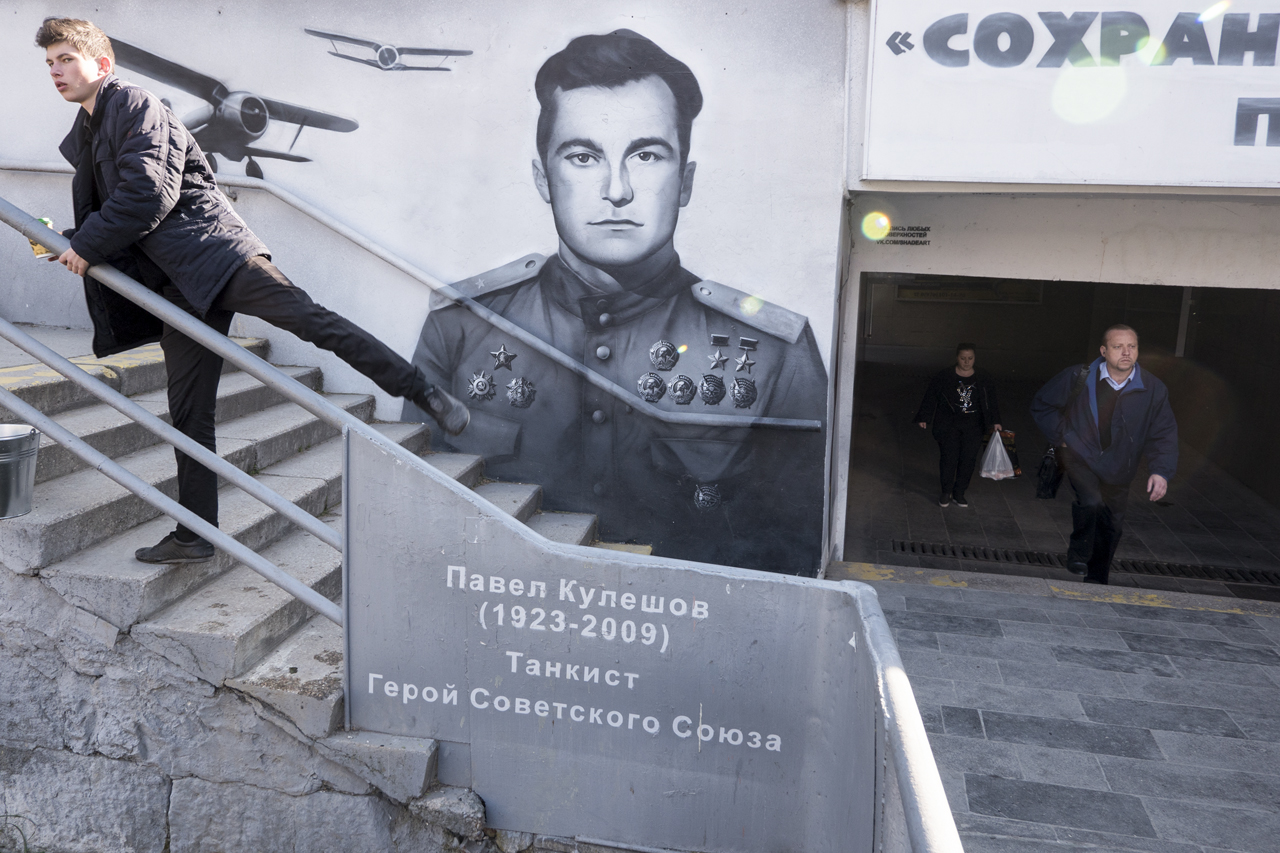 Yalta. Background: a graffiti devoted to Soviet pilot Amet-khan Sultan, twice Hero of USSR. Foreground: a part of graffiti devoted to tanker Pavel Kuleshov, a Hero of USSR. / Photo: Sergey Melikhov
I point out that the Crimeans themselves are to blame for this, because they sit on a gold mine but can't even collect the garbage and are often rude to visitors - something that is common in the service sector. Andrei sighs: "This is true… You can change the government in one day. But it will take decades to change the people."
'Ukraine spat on us for 20 years'
People working in sectors in which Russia invested billions of rubles have a completely different opinion.
According to Crimean Finance Minister Irina Kiviko, total investment from the federal budget in 2016 was 79.7 billion rubles, or $1.37 billion. In 2017, this figure will increase about 15 percent, by another 12 billion rubles.
The former Artek pioneer camp, which was hardly any different from a typical Soviet sanatorium, is now a shining, world-class international children's center with athletic facilities and clean beaches. It hosts more than 5,000 children a year, and with all the run-down buildings it looks like something from out of space.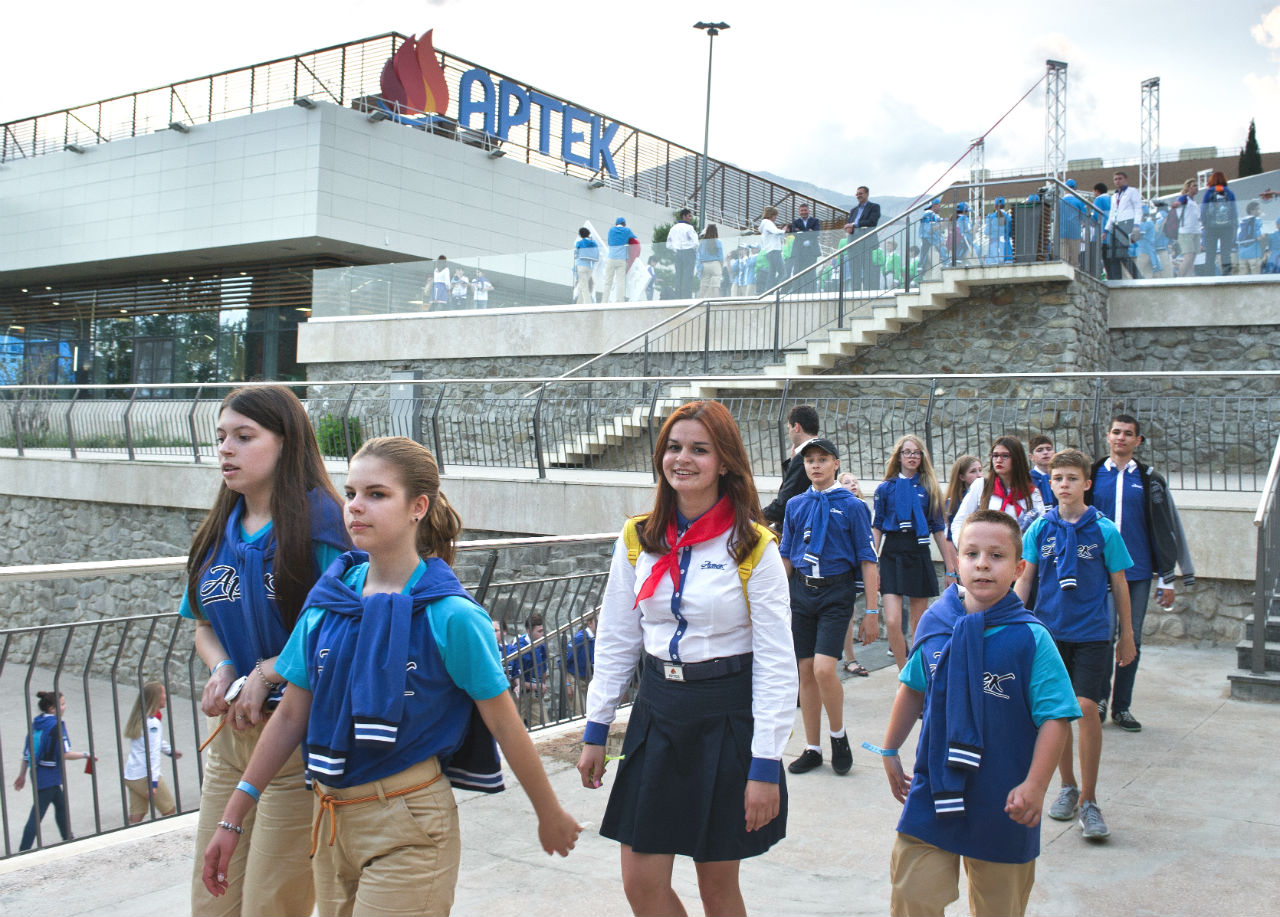 Children on a walk at the Artek International Children's Center. / Photo: Sergey Malgavko/RIA Novosti
Elina Lutskaya, deputy director of the education department, earns 50,000 rubles ($847) a month and beams with happiness. "Putin is a darling! Give him a kiss for me. In three years he has been able to do what Ukraine couldn't do in 20 years. They were just spitting on us."
Irina Belozerova, a native of Yalta, has worked in the city administration for more than 15 years. She was one of the 2014 referendum organizers and is irritated by the thought of disillusionment with the Russian government.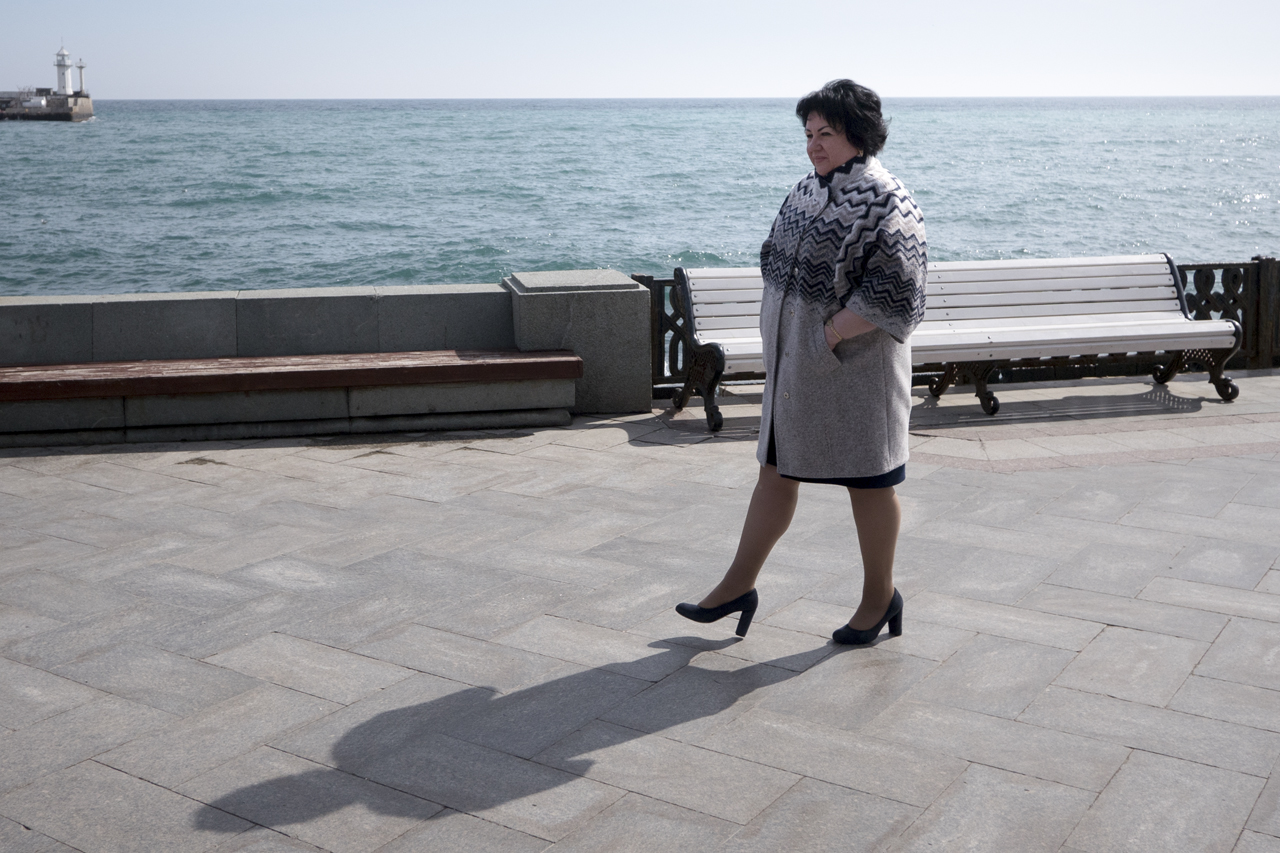 Irina Belozerova, a native of Yalta./ Photo: Sergey Melikhov
"People who are dissatisfied are those who don't want to work! Or those who previously bribed officials and were able to do what they wanted in Yalta. Just a few years ago, right on our waterfront, they built an ugly shopping mall that completely blocked the view of the sea. People were unhappy and protested," said Belozerova. "But no one could do anything. One of the local bandits wanted this, whether you liked it or not. Last year, however, the shopping mall was demolished. There's more law and order now under the Russian government."
Irina speaks about the referendum with excitement. "I don't remember the city being so joyous in my whole life. My friends and I were crying from happiness. You know, when Crimea was Ukrainian, and I'd see a Russian passport, I'd always think: when will I have one like this? My daughter used to call the Ukrainian currency hryvna - rubles, although no one ever taught her to do that. We just felt Russian, in everything. But we lived by foreign laws, we filled out documents in a foreign language."
Rare pro-Ukraine sentiment
Sevastopol, the final destination of my journey, is a different planet compared to the rest of Crimea. It's clean, the building facades are restored and painted white, the waterfront is immaculate, there are many well-dressed people, as well as young people no different from European youth (at least externally), and one sees skateboards, bicycles, scooters and good food.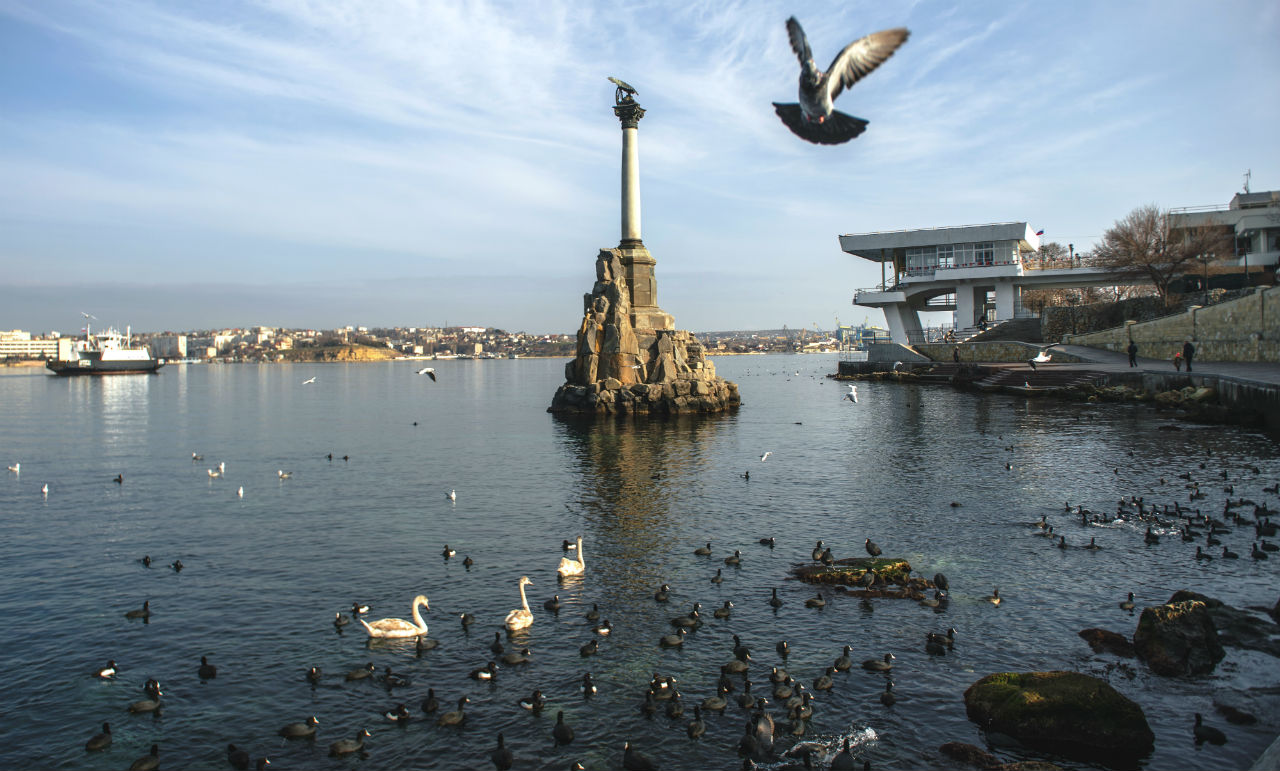 View of the Monument to Sunken Ships in Sevastopol./ Photo: Vladimir Astapkovich/RIA Novosti
Life here resembles life in a small town in southern France. Here in Sevastopol the massive pro-Russian demonstrations in 2014 set off Crimea's secession campaign. Traces can still be found: a piece of the improvised barricades; a balcony painted with the Russian tricolor; a red Soviet flag hanging from a window; a St. George ribbon; and an entire wall portrait of Putin as the protector of Sevastopol.
"You should have seen the hysteria that once reigned here, but it's gone now," said my guide Yulia, one of the few locals who in 2014 renounced Russian citizenship in protest. Now, she only has a permit of stay, which she must renew each year and with which she cannot be officially hired. "I considered and still consider myself Ukrainian, although I was born in Orenburg and lived in Sevastopol for 39 years."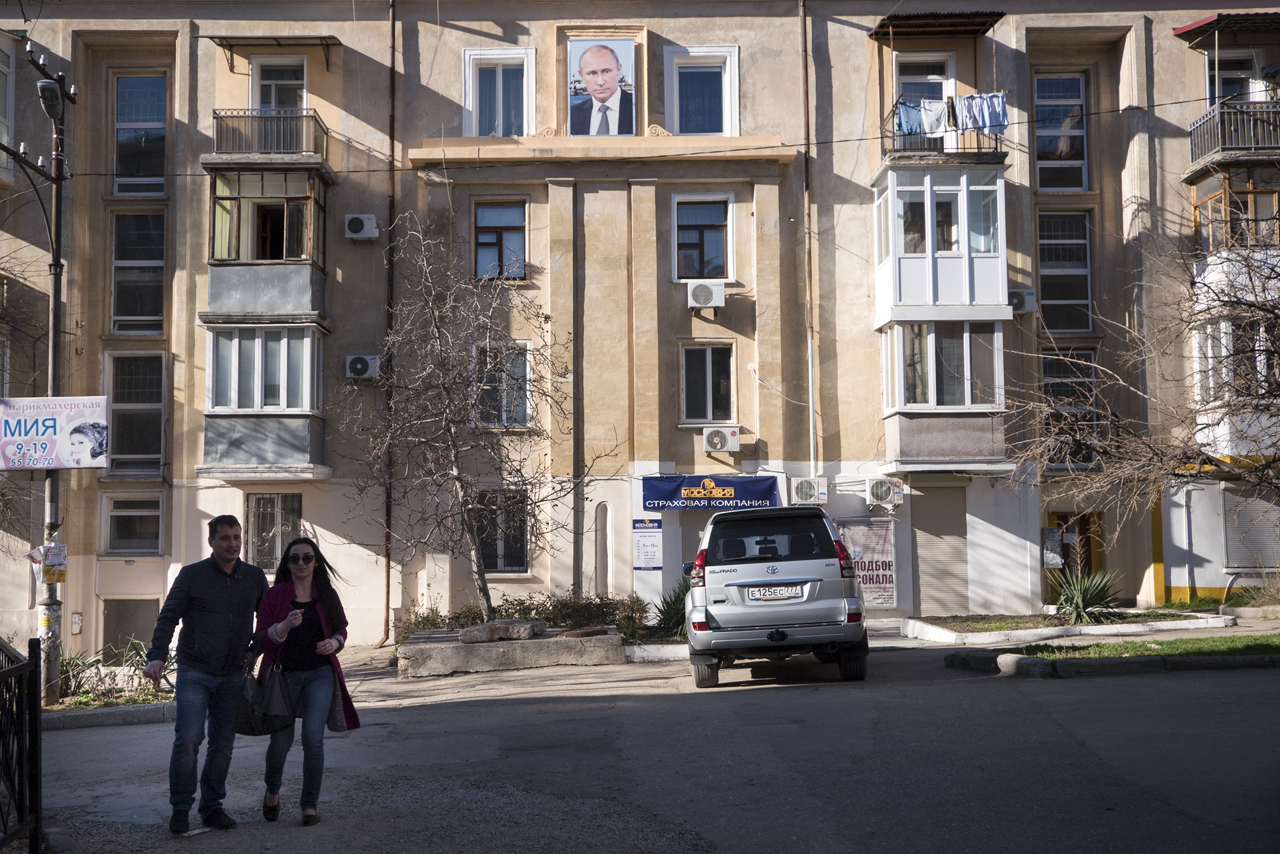 Sevastopol. / Photo: Sergey Melikhov
I chose Yulia as a guide because of her dissenting opinion. We walk along Admiral Nakhimov Square on which in 2014 the pro-Russian forces created the first defense units. Despite the fact that locals call her a traitor, she admits that after unification there is more order in the city, and there's always electricity and water, which was not the case when Crimea was Ukrainian. Squares, buildings and roads are undergoing renovation and generally speaking, there could not have been any other scenario than the return of Sevastopol to Russia.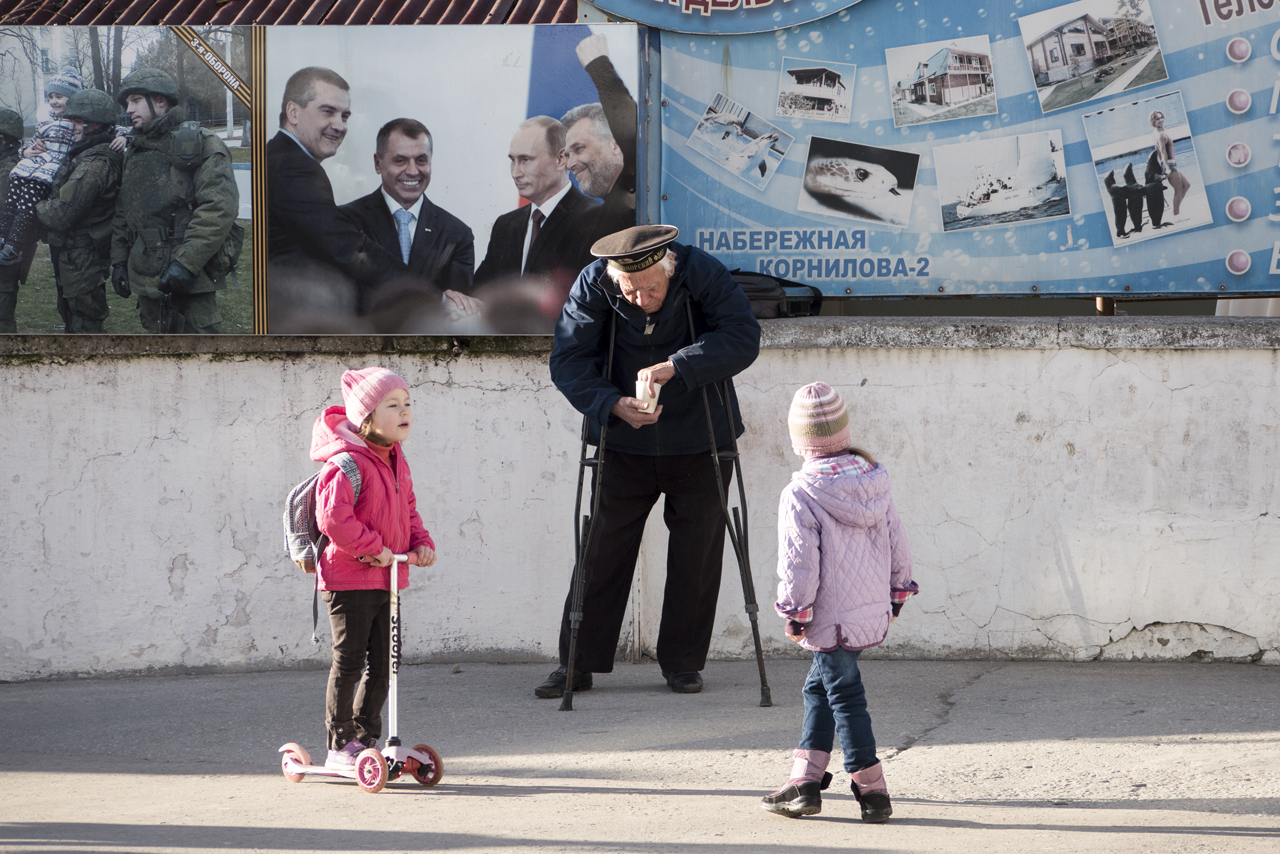 Sevastopol. / Photo: Sergey Melikhov
"People love blaming Ukraine for not paying enough attention to Crimea, for not understanding its problems. This is true. Kiev paid no attention to Sevastopol," said Yulia. "And this is the most Russian-patriotic city in Crimea, and it has always been so. 'Come, Russia!' 'Take us, Putin!' 'We want to return home!' I remember these slogans all my life."
I try to find out how many rare birds there are like Yulia. "There were about 1,000 such people in Crimea. Half left already. But 1,000 out of 400,000, that's a drop in the ocean. I was not even surprised that the 'Russian spring' finally came."
Important to be called Russian
Viktor Evdokimov, a Muscovite, has a completely different story. He left everything in the capital and came to Crimea to develop it. "Yes, I am an `occupier'," he laughs.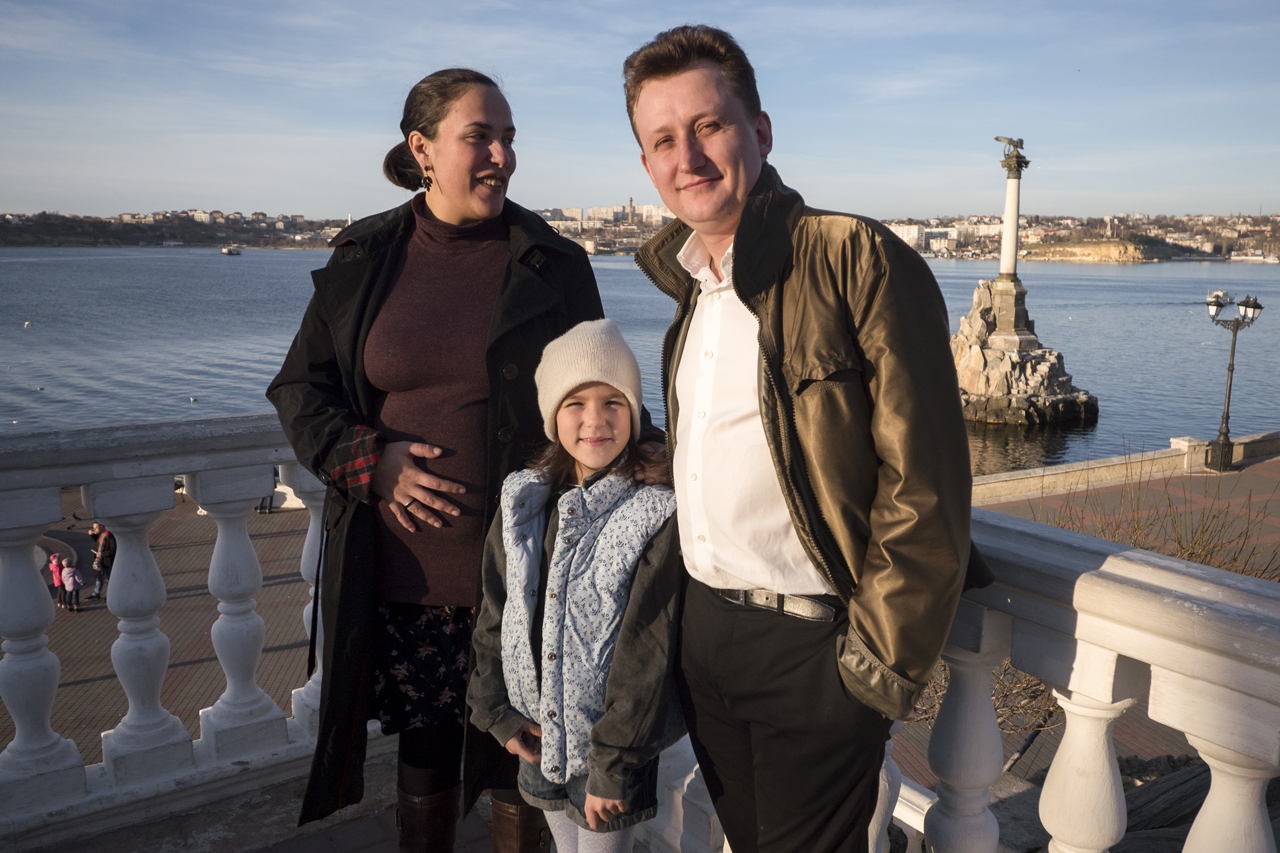 Viktor Evdokimov with his wife Ksenya and daughter Dana./ Photo: Sergey Melikhov
We stroll along the waterfront with his wife, Ksenya, and 11-year-old daughter, Dana, who will soon have a sister. In Moscow, Ksenya belonged to a different political camp. She was the Zavtra Club's art director, and in 2011 during the Bolotnaya Square protests, the anti-Putin opposition gathered at Zavtra, with Ksenya's permission, of course.
"The first time I came to Sevastopol I was really worried," she says. "At home, my Russian patriot husband and I had big fights about which country Crimea belongs to. But when I finally came here I understood that Sevastopol is indeed a fully Russian city or as it's called, "the city of Russian sailors." And to say that reunification is an occupation is foolish, to say the least. The people are happy, the city is full of fantastic energy and in this union, as strange as it's for me to say, there's a certain thrill. And the sailors are really cute."
Viktor, who was a successful urologist in Moscow, found a job as a waiter in Sevastopol, thus practically beginning life anew. He says that "Russianness" is very important for him, although he's rather sarcastic when it comes to excessive patriotism. Viktor is talkative and gives valuable insight into Crimea's mood and atmosphere.
"Actually, there's no longer much of that patriotism here. It's now calmer, the euphoria has disappeared, there's no more of that expectation of a miracle that was supposed to come out of thin air: salaries will increase, food will cheapen and streets will be paved with gold. Everyone understands that they'll have to pay for all the fun.
`The prices are now like in Moscow, and many small businesses closed because of the sanctions and Russian laws. There are fewer tourists. In 2014, on the wave of reunification, everyone from Russia came here, got scared and then went back because the level service is rather awful. Still, Sevastopol residents remain grateful to Russia.
"For many people, language was the big issue. The Ukrainian language was imposed in schools, and radio stations were forced to broadcast in Ukrainian. The people, however, had always considered themselves Russian and wanted to speak only Russian. Today, there's only one store in the whole city with a sign in Ukrainian: Сільпо (Silpo). But it still operates, no one bothers them."
Ksenya and Viktor plan to sell their apartment in Moscow, and buy a home in Sevastopol - for now they're renting one - and open a bar that will become the most popular tourist hangout in the city. "There are not many things that I know how to do in life," laughs Ksenya.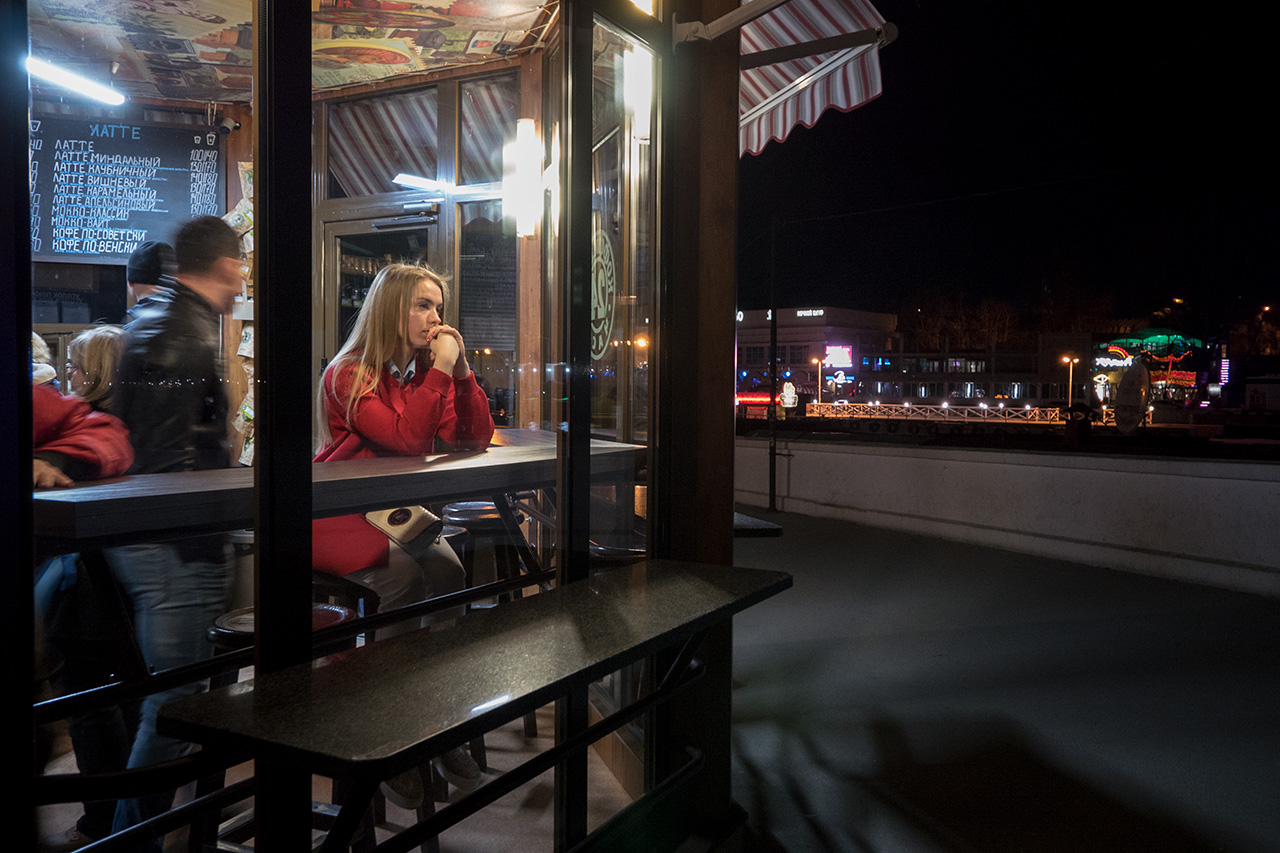 Sevastopol. / Photo: Sergey Melikhov
It's getting dark on the waterfront and the accordion player, who is dressed as a Black Sea Fleet sailor, starts playing a legendary Russian war song: Dark is the Night, and then Victory Day. It's March and not May, when Victory Day is celebrated. But the old ladies surrounding the musician sing along passionately.
If using any of Russia Beyond's content, partly or in full, always provide an active hyperlink to the original material.