Attack in St. Petersburg: 'We can't put a tank outside every kindergarten'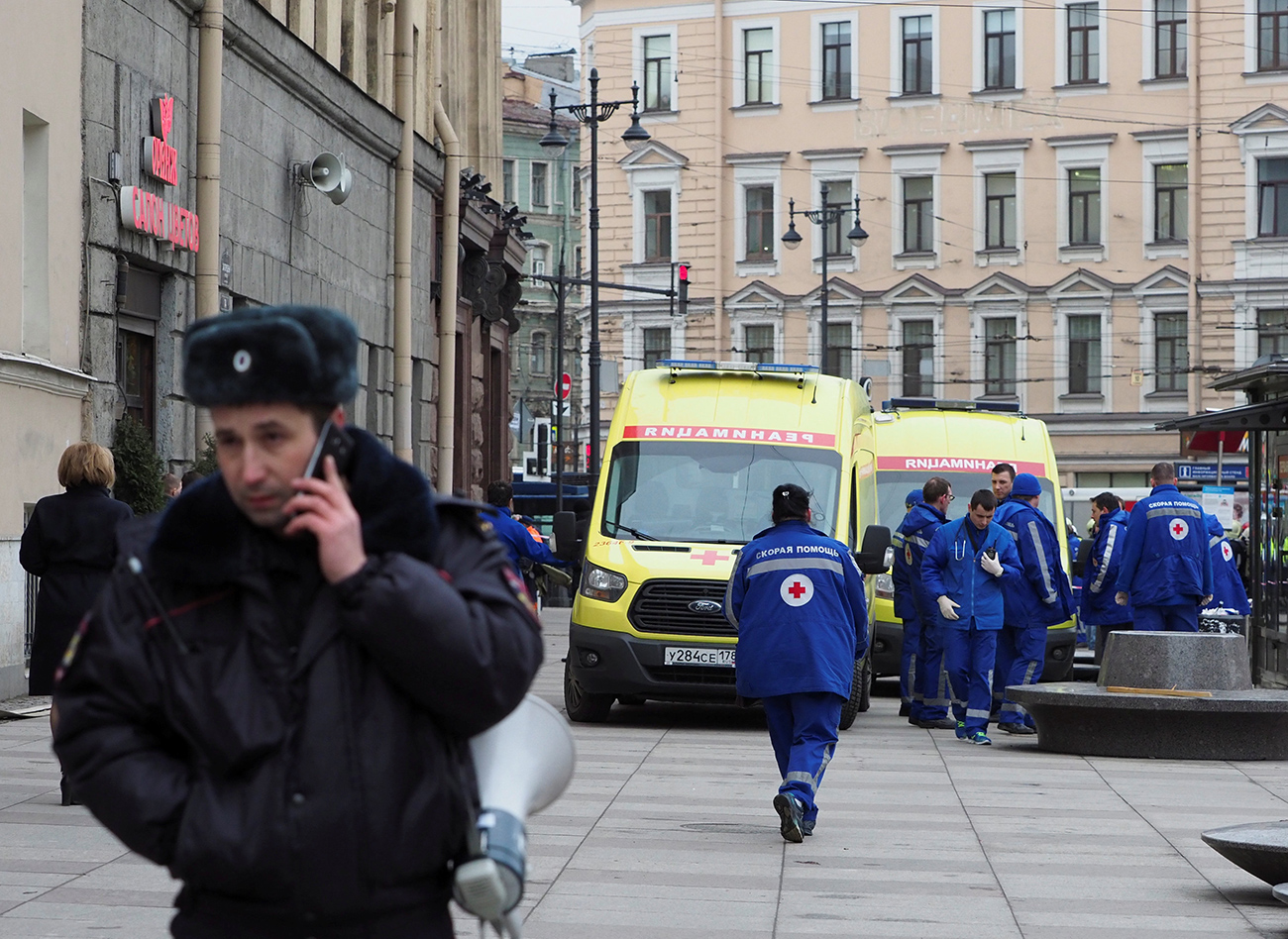 A police officer and members of the Emergency services are seen outside Tekhnologicheskiy Institut metro station in St. Petersburg, Russia, April 3, 2017.
Reuters
Russian security services do everything possible but they're not omnipotent.
An explosive device went off at around 2.40 p.m. local time in a train car traveling between the Sennaya Ploshchad and Tekhnologichesky Institut metro stations in St. Petersburg. Seven people died at the scene of the blast, and one person died in an ambulance on the way to the hospital. Two died in the hospital's emergency room. Officials added that 47 people have been injured, of which 39 were taken to the hospital. In all, more than 1,200 passengers were evacuated from the metro.
FSB reserve colonel and former head of the KGB's anti-terrorist unit, Vladimir Lutsenko, talked to Kommersant FM radio about the blast that rocked St. Petersburg's metro.
If the blast turns out to have been a terrorist attack, then many groups will want to claim responsibility, said Lutsenko. These could be Islamist radicals or Ukrainian nationalists, who recently tried to smuggle anti-personnel mines to Crimea. This will become clear quite soon because the metro has a large number of CCTVs, and judging by the twisted doors the explosion was quite powerful.
"Since the beginning of the year our security services prevented over 40 terrorist attacks, and several hundred potential terrorists have been arrested. There's a war going on, and we're part of the general effort fighting this scourge, and also a part of the general system of tragic events taking place in the world. Hence, everything is very complex and tragic at the moment. It's a fact that every successful terrorist attack is replicated throughout the world, and not only in our country. They learn from each other all the time, and if terrorists succeed, then others immediately - God forbid - copy them. This is a global disease; what more can be said?" Lutsenko commented.
No matter how effectively the security services labor, they're not omnipotent. "We can't put a tank outside every kindergarten and we can't turn our society into a fortress under siege. We can't go beyond what's reasonable. The Russian security services perform their duties quite effectively, judging by the fact that we haven't had attacks for a long time - unlike what is happening in Europe and the world at large. Look in Iraq and Pakistan, where mass murders happen on a daily basis. The security services are not omnipotent; they're not God Almighty," said Lutsenko.
In the very near future it's most probable that security checks on the metro and other public transport will be more common and police patrols will increase, added Lutsenko. All security services will now work day and night to find and punish those responsible. This is a global problem, however, and the security services won't be able to tackle it alone. Politicians in all countries should think about this problem and try to solve it.
If using any of Russia Beyond's content, partly or in full, always provide an active hyperlink to the original material.