A man lays flowers during a memorial service for victims of a blast in St.Petersburg metro, at a memorial by the Kremlin walls in Moscow, Russia April 3, 2017.
Reuters
The April 3 bomb blast on the St. Petersburg metro, which took the lives of 14 people and hospitalized about 50 more, has been labelled a terrorist attack by Russia's Investigative Committee (IC). While President Vladimir Putin said that, "all lines of inquiry are being pursued," the theory that it was a terrorist attack was the main one from the beginning.
Several hours after the blast, media outlets published a photo of a man who allegedly left a backpack with a bomb in a metro car - a man with a beard, dressed in dark clothes. According to REN TV, he calmly left the metro, and after that his trail was lost. Anyone with information about this man is asked to contact police.
Anger and sorrow
"This was a horrendous act of terror, and those who organized and carried it out should be identified and suffer the most severe punishment," Chechen leader Ramzan Kadyrov wrote on Instagram, attaching to his post a photograph with a quote from Putin saying it could be a terrorist attack.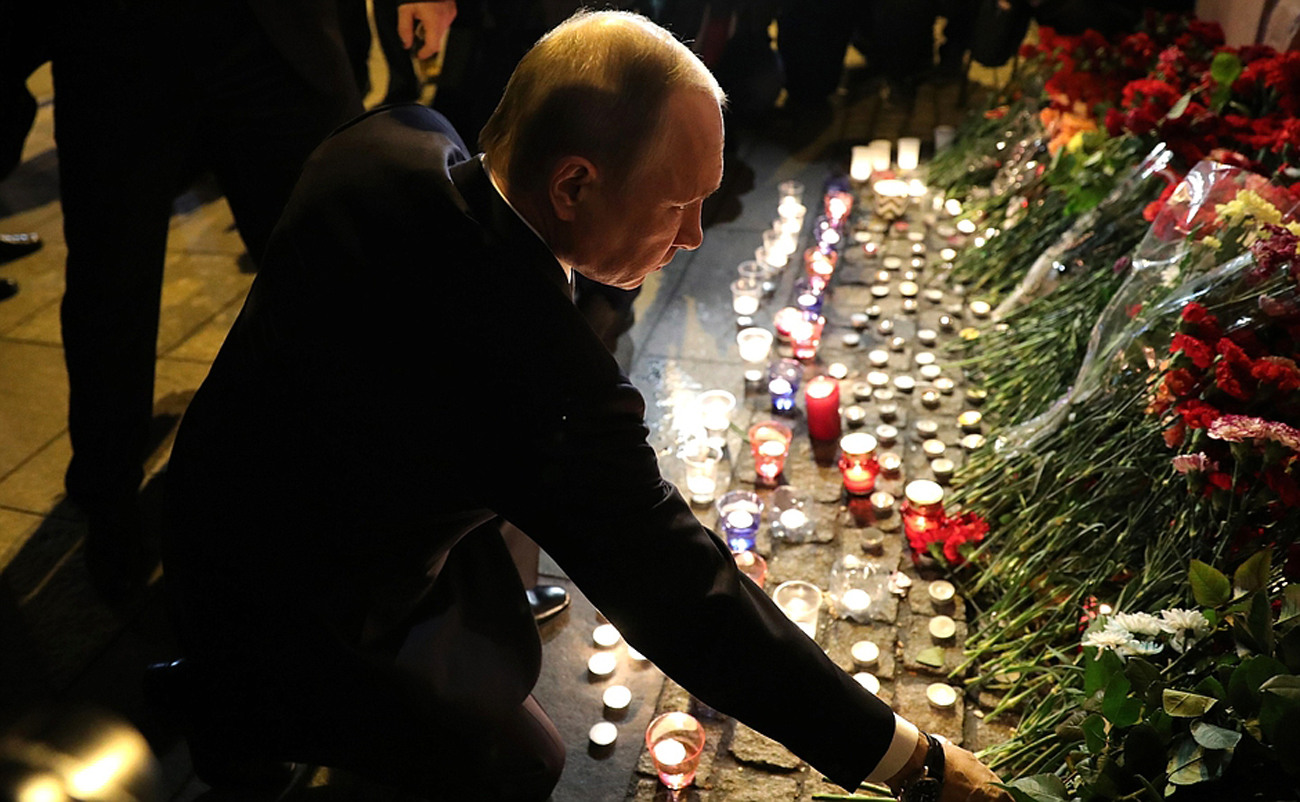 Russian president Vladimir Putin puts flowers down outside Tekhnologicheskiy Institut metro station in St. Petersburg, April 3, 2017. / Photo: Kremlin.ru
Kadyrov described the attack's organizers as "criminals," and said the response should be "not just severe, but merciless" because such people only understand force. Other Russian politicians were more careful, limiting themselves to expressing condolences to the families and friends of those killed or injured.
"This is our common sorrow," wrote Prime Minister Dmitry Medvedev on Facebook. St. Petersburg Governor Georgy Poltavchenko called it a "terrible tragedy," and urged city residents to be vigilant and careful.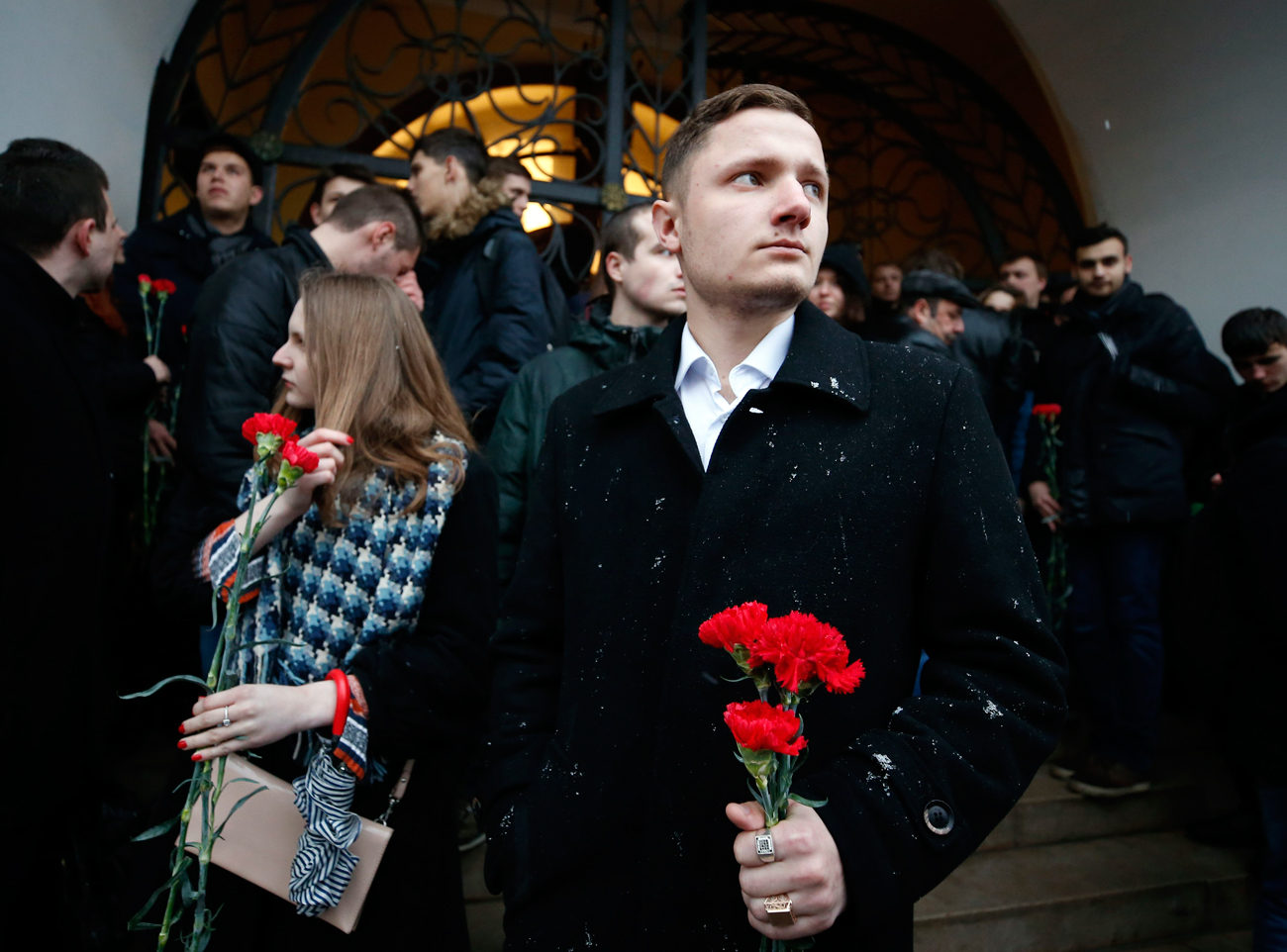 People attend a memorial service for victims of a blast in St.Petersburg metro, by the Kremlin walls in Moscow, April 3, 2017. / Photo: Reuters
The Federal Agency for Tourism (Rostourism) appealed to St. Petersburg visitors to stay calm. According to the most recent information, no tourists were among the casualties.
Voices of sympathy
The international reaction to the terrorist attack has been characteristic of what happens when any city is victimized: politicians and officials voiced their sorrow, as well as expressed their solidarity with Russia.
"Horrified by news of the explosion in St. Petersburg," British Foreign Secretary Boris Johnson wrote on Twitter. "My sympathies are with the victims and their families." UN Secretary-General António Guterres condemned the explosion and declared that those responsible for the appalling act must be held accountable.
Some foreigners who expressed their sympathy did so in Russian. For example, condolences in Cyrillic were written by the U.S. embassy in Moscow, as well as by Apple CEO Tim Cook. The latter wrote, "Искренние соболезнования всем, кого коснулась трагедия в Санкт-Петербурге" [Sincere sympathies to all those affected by the tragedy in St. Petersburg], and he added an emoji with the Russian flag.
Transportation chaos
While officials were expressing sympathy with the people of St. Petersburg, the latter had to contend with the consequences of the blast. All the city's metro stations were closed and streets were gridlocked as people tried to get home after work. City authorities declared free use of overground public transport, and St. Petersburg's taxi services also lent a helping hand by waiving fares out of the center.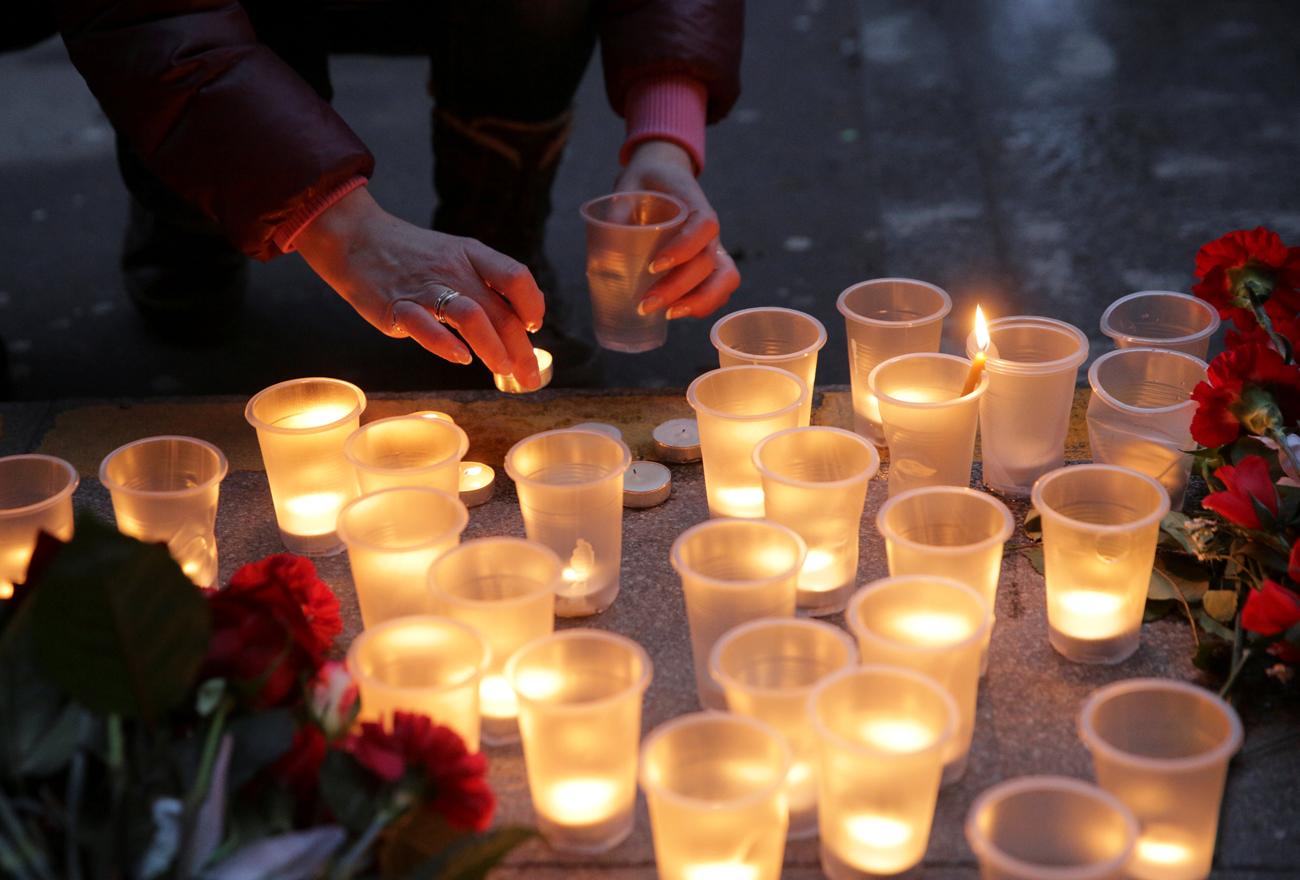 A woman leaves a candle during a memorial service for victims of a blast in St.Petersburg metro, outside Spasskaya metro station in St. Petersburg, April 3, 2017. / Photo: Reuters
There were not enough taxis for everyone, and drivers who had space in their cars launched a hashtag on social media, #home, in order to find and pick up anyone who needed a lift. At the same time, a noticeboard appeared on the Internet to help people get a lift home. "During such times people should be closer to one another," someone wrote.
Despite the fact that some drivers decided to hike their prices, there were substantially more people sincerely wanting to help. "People remembered that they're people," local residents wrote on social media.
Solidarity between cities
Three days of mourning have been declared in St. Petersburg, and people are showing their respects by bringing flowers to the Tekhnologichesky Institut station, where the terrorist attack took place. Moscow residents are laying flowers at the stone stele dedicated to the Hero City of Leningrad on the Avenue of the Hero Cities of the Great Fatherland War.
One man bringing flowers explained to TASS news agency that the stone stele in honor of the Hero City of Leningrad, which held out for 872 days against the Nazi siege, was the most appropriate place for an expression of solidarity.
Later in the evening, even fans of Moscow soccer club Spartak, who don't usually show warm feelings towards St. Petersburg, expressed their solidarity. During a match against Orenburg they unfurled a banner with the words: "Our hearts are breaking with immense grief. St. Petersburg, we mourn with you."
If using any of Russia Beyond's content, partly or in full, always provide an active hyperlink to the original material.