Researchers define the borders of Generation Z differently. Some draw the line for all those born after 1995; some say after 2000. In any case, today these are adolescents between the ages of 14 and 20, school students and university freshmen and sophomores, all yesterday's children. But they are growing up and their role in the economy is becoming more important. According to Universum and MIT specialists, by 2020 a fifth of the world's work force will consist of people from Generation Z.
Russia's Generation Z - known as the Tsentennials (or Centennials) is also important because it is larger than previous new generations from the 1990s. In the 2000s Russia's birth rate gradually began to increase compared with earlier decades. But how do the young people of this generation, that will soon define Russia, view the world?
Insular capitalists
"These people were born and grew up in a society in which basic needs are satisfied," writes Anna Kanakova, commercial director of Wowworks.ru, in business daily RBK. "Food, clothes, a roof over their heads, a warm apartment, medical services, education, whatever the quality." That is why people who grew up in the 2000s, according to Kanakova, are more accustomed to the comforts of civilization than the previous generations that remember the everyday problems of the USSR or the severe economic crisis of the 1990s.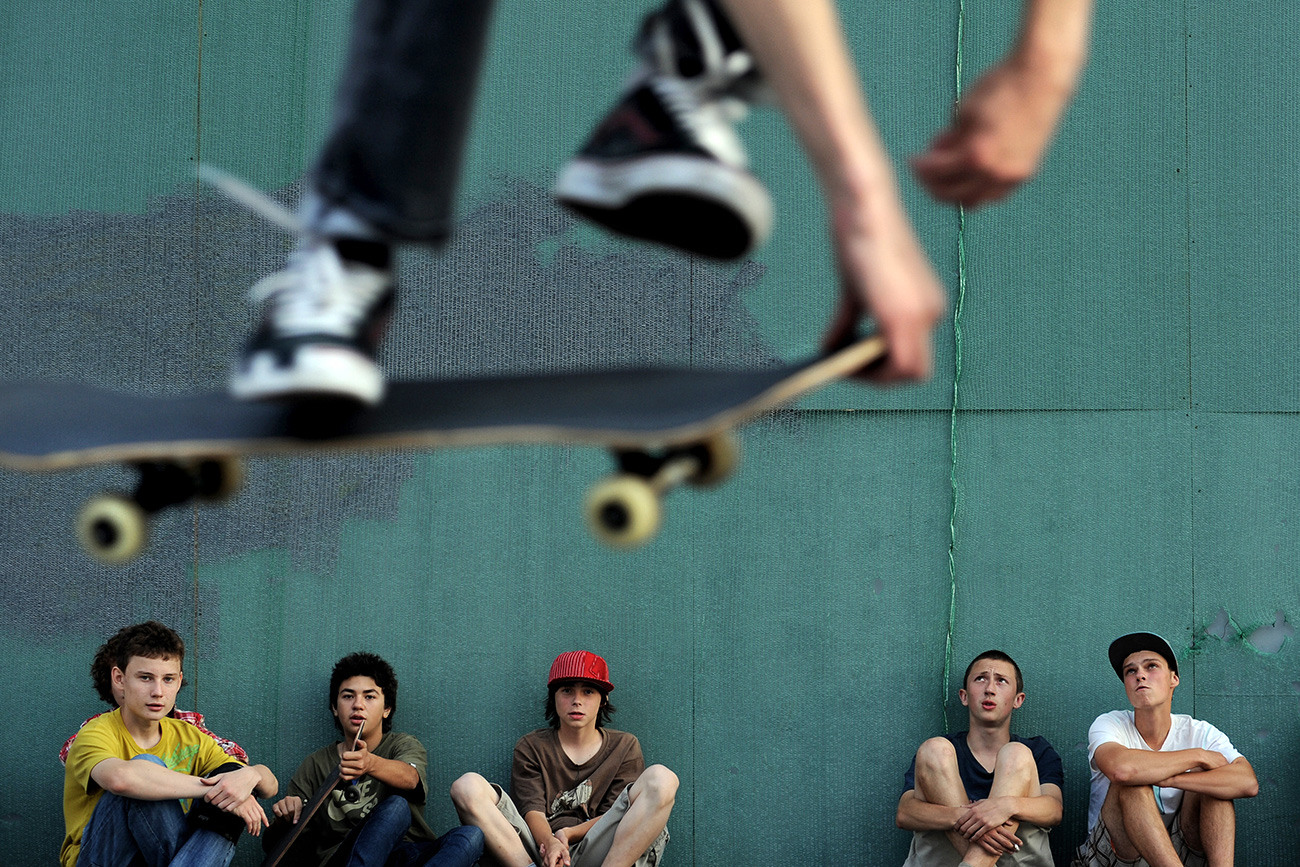 Russian skateboarders watch one of their friends perform a trick in central Moscow. / Photo: AFP
The other side of the Centennials is that they are insular. While Soviet children spent much time walking around by themselves, running around in the yards and socializing with their peers, in the 1990s and 2000s parents were very protective and rarely let children out of their sight. "The environment outside the family was perceived as aggressive and unfriendly," notes Kanakova. As a result, Generation Z is more "domestic" and warier of outsiders.
Although Generation Z was born after the collapse of the USSR, the Soviet past plays a certain role in their perception of life, said Arina Khodyreva from the PBN H+K communication agency. "Because of the Soviet system, in which everything was "public," the first post-Soviet generation in general are capitalists in the traditional meaning of the word: they actively consume, want to have their own apartment, car and so on," explains Khodyreva. And the sharing economy, which is built on giving and exchanging and which is now popular among the Western youth, is still not very developed in Russia.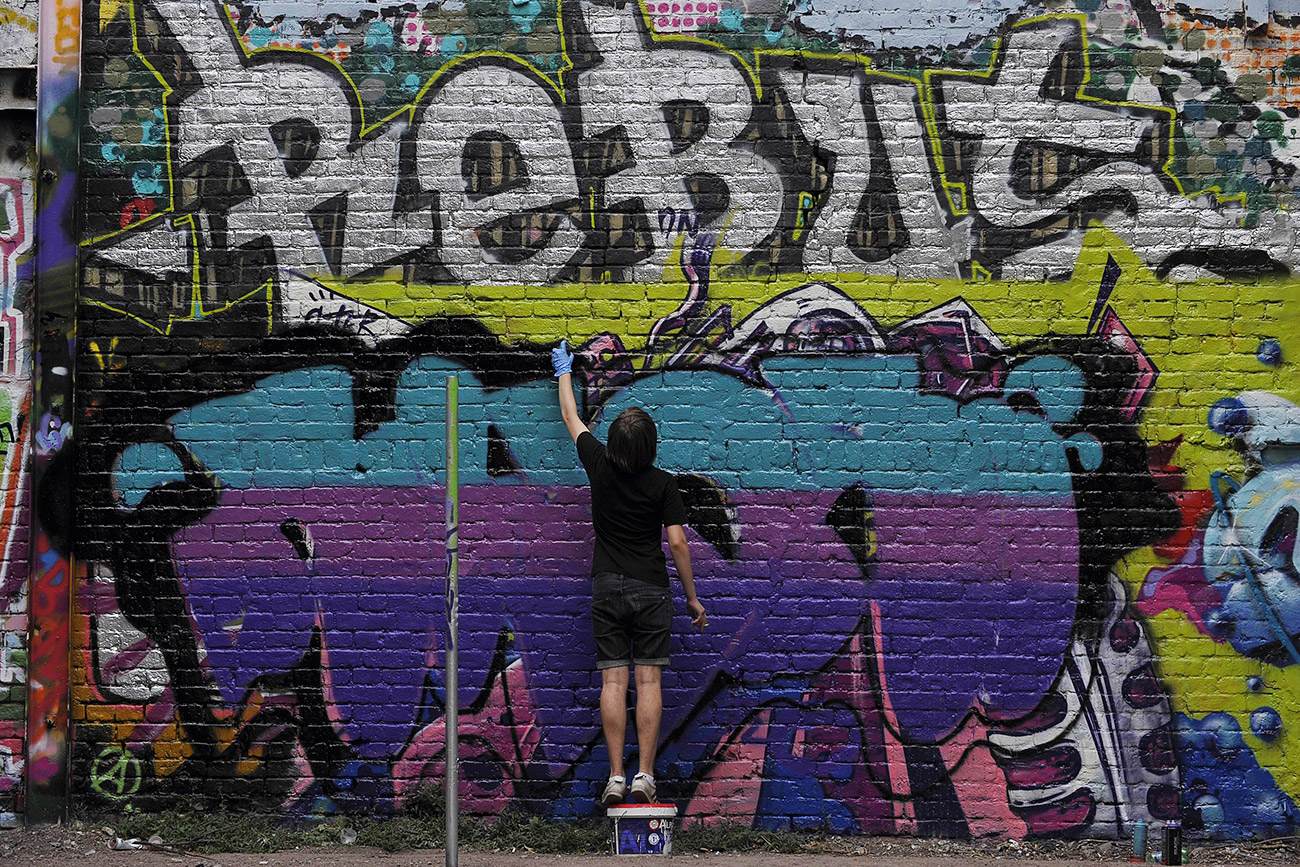 Russian teenager paints a graffiti on the wall in Moscow. / Photo: AFP
Smartphone people
The Centennials is the first generation that "grew up on the Internet." They have used sophisticated technologies since childhood. Their favorite gadget is the mobile phone, according to the "Younger and Younger" study prepared by PBN H+K and MAGRAM Market Research agencies and seen by RBTH. While representatives of the previous Generation Y or the Millennials (18-35-year olds, according to PBN H+K and MAGRAM Market Research) actively use tablets and notebooks, 14-17-old teenagers prefer to do everything on the phone: Communicating, listening to music and watching videos.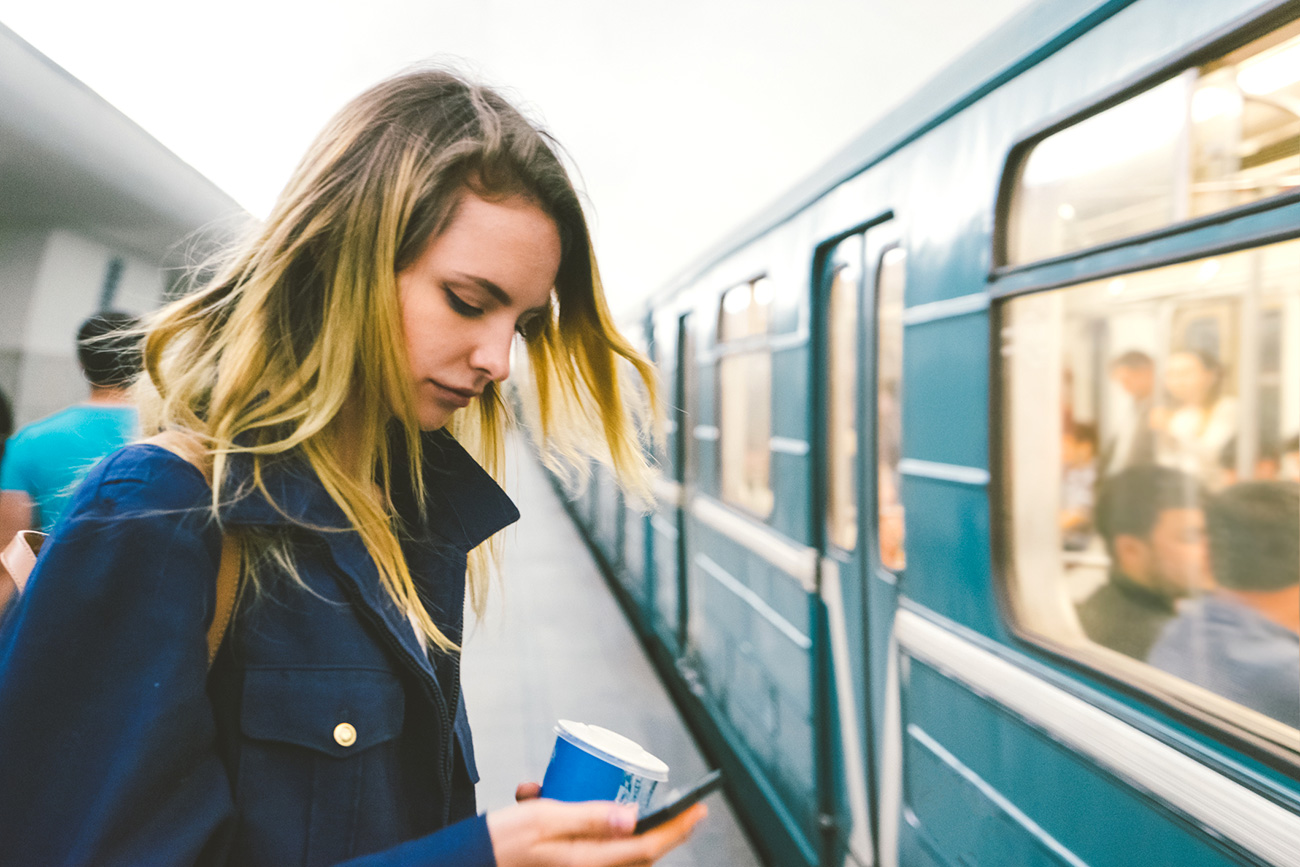 A woman waiting for the subway train, Moscow. / Photo: Getty Images
Generation Z in Russia really loves videos, and YouTube has become the main platform for watching them. More than half (55 percent) of the adolescents surveyed use it for films and videos, preferring it to television and other platforms. Moreover, for them YouTube is also a search resource. "While Generation Y continues looking for information in the usual Internet search engines, Generation Z has moved to YouTube," says the study.
Internet idols
YouTube buffs also choose their own heroes. According to the PBN H+K and MAGRAM survey, Russian adolescents consider video bloggers to be opinion leaders in the social networks. They tell jokes (stand-up comedian Danila Poperechny), criticize bad films (Evgeny Bazhanov, also known as badcomedian) or just babble about everything possible (Kate Clapp, a pseudonym for Ekaterina Trofimova). Essentially, the researchers note, video bloggers have replaced TV stars for Generation Z.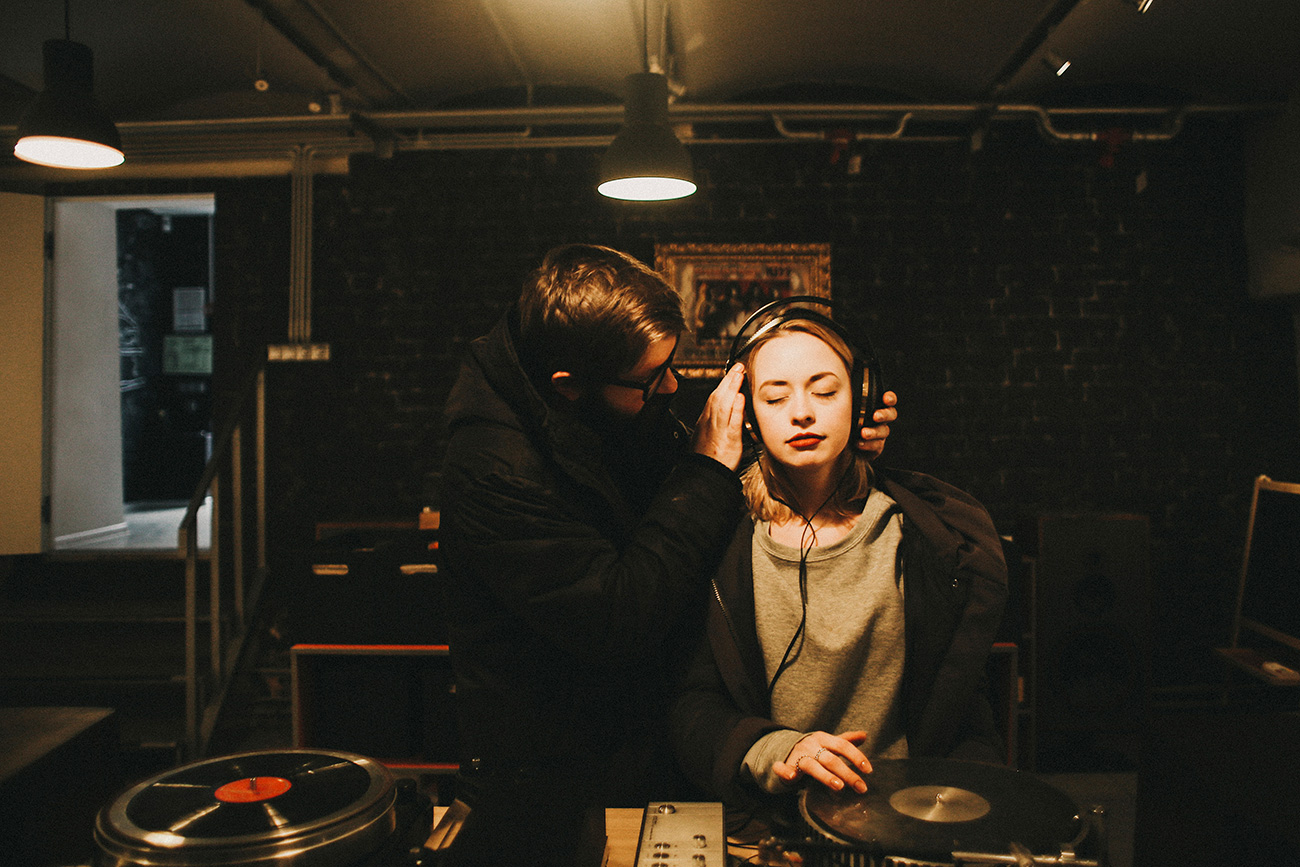 A DJ holding headphones on woman, Russia. / Photo: Getty Images
Concerning music, Generation Z surely agrees with Kanye West's remark that "Rap is the new Rock and Roll." Their favorite musicians are Russian rappers Egor Kreed, Basta and Timati. Their predecessors from Generation Y enjoy Rock music and even name Metallica as one of their favorite bands. "The Generation Y and Z conflict is basically rock versus rap," remarks Arina Khodyreva.
Protest ready
At the end of March 2017 Generation Z, which earlier was considered apolitical, surprised political analysts. On March 26, 14-20-year-old school and university students took to the streets en-masse to participate in protests organized by opposition figure Alexei Navalny. According to the police, seven percent of those detained at the demonstration were under 18. This had never before happened in Russia.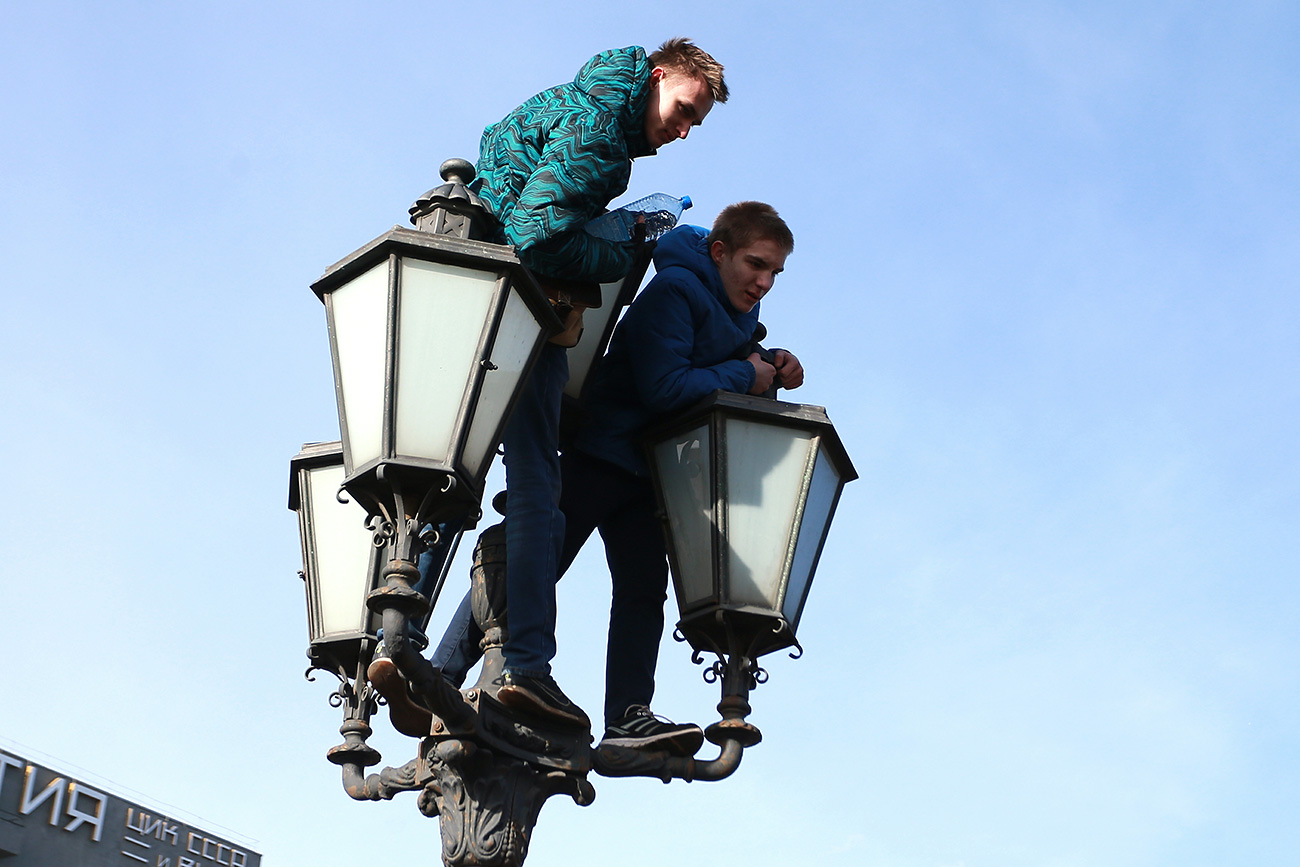 March 26, 2017. Moscow. An unauthorized anti-corruption rally on Pushkinskaya Square. / Photo: Dmitry Golubovich/Global Look Press
Director of the HSE Center for Youth Studies, Elena Omelchenko believes that youth in Russia has become a new political subject. "They have renounced politics in its official, officious format, but politically they are involved," said Omelchenko in an interview with Kommersant daily. Adolescents, without going too deeply into the nuances of political programs and political statements, aspire to justice and this is why Navalny's anti-corruption rhetoric is important for them, she was quoted as saying. They also identify with the format that Navalny uses to communicate with his audience: Essentially, also a video blog, but about politics, not music or clothes.
Political analyst and MGIMO Professor Valery Solovey believes that, despite Generation Z's mass participation, Centennials cannot be called more politicized than their older relatives. "Most likely, this is an age issue. As everywhere, children in Russia are more active than their parents, they are ready to protest, simply because they are more reckless, they are less worried about the consequences." With time, he believes, Generation Z will follow their parents' footsteps: They will become more cautious and conservative.
If using any of Russia Beyond's content, partly or in full, always provide an active hyperlink to the original material.