Direct Line with Vladimir Putin: 5 of the president's best retorts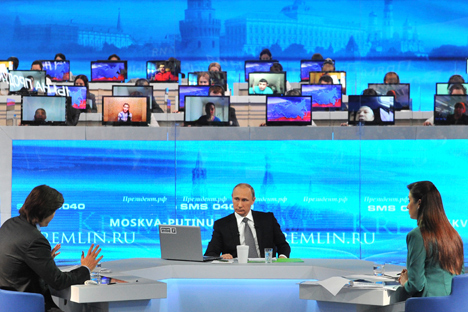 In 2015, a record number of people - about 3.25 million - tuned into the Direct Line.
EPA
On June 15, the annual Direct Line with President Vladimir Putin will be broadcast live on television, during which he will answer questions from the Russian public. Putin's "direct lines" have become a well-established tradition throughout the years of his reign, since 2001.
Those wanting to ask Putin a question will have an opportunity to contact the president via Facebook and local social networks, as well as by SMS, MMS, and telephone.
A list of popular topics remains practically unchanged over the past five years: Public utility (15 percent), people's fundamental rights (13 percent), and domestic policy (8.5 percent). Russians are also concerned about the current labor market situation, manufacture and infrastructure development, healthcare, and corruption.
In 2013, Direct Line lasted a record breaking four hours and 47 minutes. And in 2015, a record number of people - about 3.25 million - tuned into the show.
2014
1. Albina, six-years-old: "Do you think Obama would have saved you if you were drowning?"
Vladimir Putin: "I don't want to be drowning! In addition to intergovernmental relations, there are some personal relations. I don't think I have close personal relationship with Obama. I think Obama is a courageous and good person and he would for sure save me."
2. Pensioner Faina Ivanovna: "Are there any plans to annex Alaska to Russia? We would be very happy [about that]. Thank you."
Vladimir Putin: "Faina Ivanovna, my dear, why do you want Alaska? We are a northern country. Seventy percent of our territory is the North and Far North. Is Alaska in the southern hemisphere? It's cold there, too. Let's not get hot-headed."
2015
3. Timofey, four-years-old: "My name is Timofey and I am from Nalchik. My childhood dream is to become the president. Is it difficult to become the president? How much hours do you sleep usually? I like to sleep very much. Thank you."
Vladimir Putin: "You can do it if you really want it taken into account your character and attitude. It is very good that you like to sleep. It means that you will be a healthy president."
4. K.Kleimenov: "Did you notice that your friends are exploiting your kindness?"
Vladimir Putin: "Why only friends? Everybody exploits my kindness."
2016
5. Anastasia Zaytseva, nine-years-old: "What's your attitude to porridge for breakfast? Did you like all sorts of porridge during childhood and what did you do when you were made to eat porridge you didn't like?"
Vladimir Putin: "I was never made to do something I didn't want. As for porridge, I eat it with pleasure every morning. Today I ate pearled barley porridge."
V.Korableva: "Did you change your attitude to porridge with age?"
Vladimir Putin: ""Yes, it changed for the better. The less teeth you have the more you like porridge." (laughter and applause)
If using any of Russia Beyond's content, partly or in full, always provide an active hyperlink to the original material.