How would Russia have voted in Brexit referendum?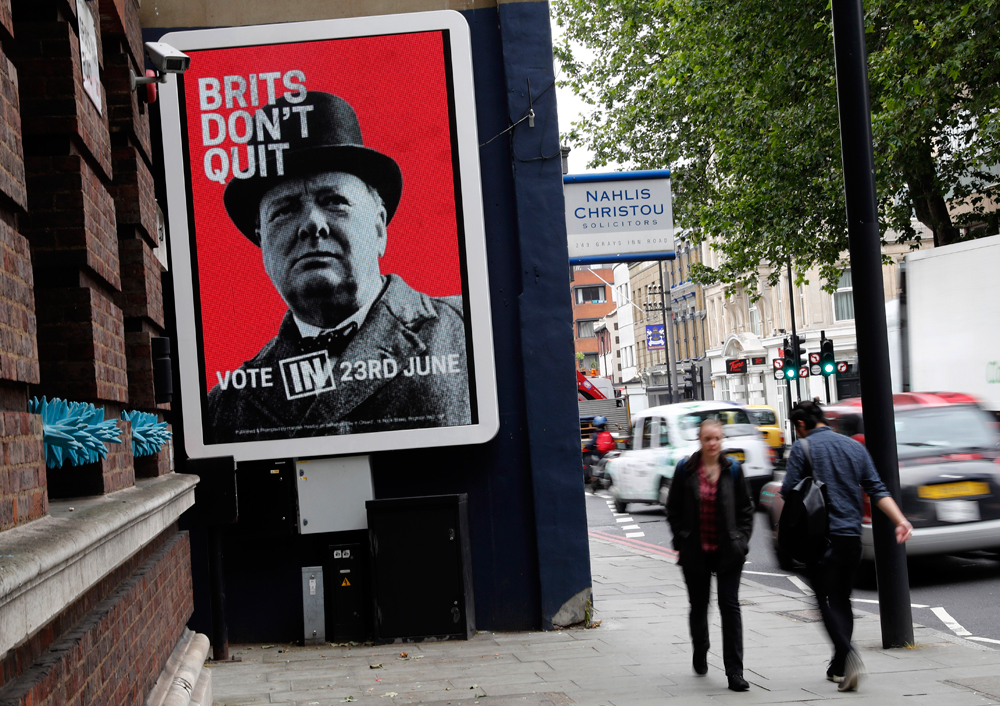 "There is a sense in the Kremlin that Brexit would ultimately be good for Russia's overall geopolitical positioning." Photo: Pedestrians walk past a "Vote Remain" campaign electronic billboard in London, June 22, 2016
Reuters
As Britain prepares to decide whether to leave the EU, experts weigh in on what Russia has to gain and lose from Brexit.
As the British people prepare to cast their votes in the most fateful vote in a generation – a ballot that has the potential to change the European project as we know it today – Moscow is closely following all ins and outs of the Brexit process. This is despite the complaint made recently by the Russian Embassy in the U.K. about being dragged into the British domestic debate on Brexit. While Moscow recognizes the referendum as Britain's internal affair, it is not hiding Russia's interest in the future of the EU. We asked experts what is at stake for Russia in Great Britain's EU referendum to be held tomorrow, June 23.
Sean Guillory, PhD, Managing Editor at Carl Beck Papers in Russian and East European Studies, Pittsburg University. He hosts Sean's Russia Blog Podcast
I do not think Great Britain leaving the EU will have an immediate impact on British-Russia relations. There does not seem to be a desire among the segment of the British elite that supports Brexit to improve relations with Russia.
But I do believe that there is a sense in the Kremlin that Brexit would ultimately be good for Russia's overall geopolitical positioning. Russia would like to see the EU fracture, or at least turn its attention to internal EU issues enough to allow for a relaxation of relations with Russia, in particular the lifting of sanctions. The Kremlin would much rather deal with states individually rather than as a unified bloc.
Brexit might send political shockwaves that could embolden Eurosceptic political forces within EU countries that see that leaving the EU is possible. This is particularly important when it comes to Germany. The German elite is fairly fractured on how to approach Russia and the removal of Britain as a countervailing force in the EU might allow for Germany to take more independent action as well.
Maxim Suchkov, PhD, Expert of the Russian International Affairs Council, columnist at Al-Monitor
One word that defines Brexit is "uncertainty." If Great Britain stays – it will be a different Europe for sure. If it leaves – the big-picture question is whether the idea of a united Europe can survive at all. In any case it looks like it's going to be one of the milestone questions that defines the future of the world affairs for many decades to come.
For Russia, Brexit would entail well known financial loses which is not particularly exciting given the state of the national economy. In the long term, however, there are strong opinions that Russia may profit from a more robust bilateral cooperation with individual European states as opposed to collective institutions.
James Nixey, Head of the Russia and Eurasia Program at Chatham House
A 'Brexit' would, in all probability, strengthen the disintegrative forces already underway in the EU, erode unity, and thus give Russia a louder voice – more elbow room –­ with which to convey its arguments on arms treaties, security architecture, and the former Soviet space. Destabilization is a Russian tactic, which we have seen in Ukraine, but this destabilization is entirely European/home grown. Russia is not behind it, but it will seek opportunities arising from it, according to what it perceives to be in the country's national interests.
Boris Stremlin, PhD, Senior Research Associate at CASC
Brexit may hurt Russia's economy: the possibility of Britain's exit is already making markets jittery, and jittery markets mean lower oil prices.
Geopolitically, Brexit will likely fatally damage the European project as currently constituted, and it will increase cooperation with those countries that are skeptical of EU policies toward Russia. It will also increase Russia's weight in Europe, simply because the declining importance of the EU will inevitably strengthen a large neighbor that was excluded from the EU project.
Elena Ananieva, PhD, Head of the Center for UK Studies at the Institute of Europe of the Russian Academy of Sciences
On the one hand, Britain's possible exit from the EU will lead to some softening of the EU position with regard to Russia, because it is Britain that has a tough anti-Russian position in the EU, along with Poland, Sweden and the Baltic states.
On the other hand, Brexit can have a negative impact on the euro, on the value of Russian government bonds and on shares of Russian companies.
Thus, it does not make sense for Russia to take a certain position towards vote. The Russian leadership is doing the right thing keeping quiet about the referendum.
Subscribe to get the hand picked best stories every week
All rights reserved by Rossiyskaya Gazeta.