How Russians react to BBC's War and Peace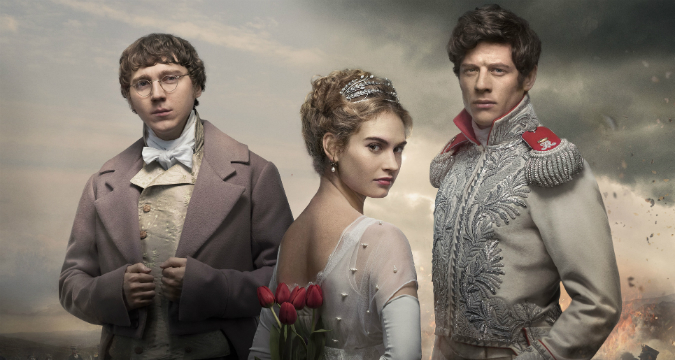 RBTH's pick of the best comments made by Tolstoy's compatriots.
Although BBC's new War and Peace adaptation hasn't aired on Russian television yet, the most curious Russians have found a way to check it out on the internet. Any foreign attempt to adapt what is considered to be the archetypal Russian novel is a serious test for a Russian viewer's soul, as well as an assessment of the filmmaker's ability to understand it. RBTH tries to ascertain if the British succeeded in comprehending one of the "sacred texts" of Russian culture.
'A solid British series'
"Their Pierre is really cool, but the rest of the protagonists are less distinctive. It looks like a nice, solid British series, just like the numerous other productions adapted from English literary works," says film critic Denis Ruzaev.
Paul Dano's Pierre Bezukhov mesmerized other critics, as well.
"Pierre is great, simply amazing. As well as Helene – we've all got used to seeing her as nothing but a marble statue, but here she's much more interesting. Prince Vassily is also convincing," says journalist Kirill Rogov.
The luxurious sets and the gorgeous costumes have also not escaped attention.
"This is a high quality, beautiful and interesting series made lovingly by Brits who appreciate Russian culture. It's the best British adaptation done involving Russians. The costumes and props are great – all the road carts, horse sleighs, carriages, the various utensils like furniture and dishes... The attention to detail is nothing short of striking!" writes film critic Roman Grigoriev.
Incidentally, the props and jewelry used in the series were created by Russian designer Axenoff Jewelry: war-and-peace.rbth.com.
Famous Russian writer Boris Akunin, who specializes in stylized detective stories set in the 19th century, praised the series: "Anyone who is still hesitating about whether to watch the British version of War and Peace – have no fear: I've checked. This is a sincere, and I would even say respectful adaptation, and surprisingly, it contains no squat-dancing noblemen wielding balalaikas."
Bondarchuk's act tough to follow
Many critics and bloggers have drawn comparisons between the series and the Academy Award-winning Soviet film adaptation by Sergei Bondarchuk – and not in favor of the new version.
"The new series looks more like a run-of-the-mill, not exactly high budget soap opera, rather than a meticulous attempt to adapt a classical Russian novel. And it is inferior to Sergei Bondarchuk's famous War and Peace, as it lacks the latter's reverent attitude to the text, great casting choices and empathy towards the protagonists," writes Alexander Alekseyev in Rossiskaya Gazeta.
Andrew Davies' screenplay has also drawn some criticism.
"...[the screenwriter] decided War and Peace needed some 'additions.' He thought the relationship between the sister and brother of the Kuragin family as it was presented in the novel was 'too understated and easily missed when reading for the first time.' That is why for greater effect, and one might even say to add more of a 'pulp' element, Davies boiled things down a bit: 'This relationship is very important to understanding those characters and it has to be shown on the screen,' the screenwriter wrote as quoted in Alekseyev's article.
Journalist Maria Stepanova also lamented the oversimplification of Tolstoy's novel made by the series' producers. She wrote on Facebook: "I watched BBC's War and Peace. I had some hopes, but I am sad now. It seems that to make the old world readable, you have to translate it into the language of malls and nightclubs... On the other hand, Sergei Bondarchuk is great, and it is only now that I understand the full extent of this greatness."
According to the Izvestia daily newspaper, "watching War and Peace 2016 is like reading a significantly abridged version of the novel."
Casting choices were also criticized by some. Journalist Alexander Timofeevsky writes: "Pierre is not Pierre, Andrei is not Andrei – this is not even worth discussing, really. Natasha Rostova looks a 30-ish spinster in her first scene, where she is supposed to be almost a child."
If you would like to compare the BBC's series with Bondarchuk's version, visit London's Pushkin House on Feb. 6 for a screening of the Soviet classic.
All rights reserved by Rossiyskaya Gazeta.