Armenian capital hosts 3rd MGIMO alumni forum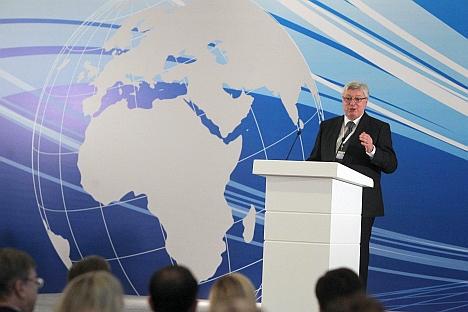 MGIMO's Rector Anatoly Torkunov taking the floor during its first international alumni reunion that was held on April 11-13 in Azerbaijan's capital of Baku. Source: Rossiyskaya Gazeta / Sergey Kuksin
Attendees at the three-day forum include Armenian President Serzh Sargsyan and MGIMO alumni from 60 countries.
The third MGIMO (Moscow State Institute of International Relations) alumni forum opened in Yerevan on October 22.
The main topics at the forum include Armenia's integration into the Eurasian Economic Union, conflicts in the Middle East, and China's role in the global economy.
MGIMO was founded in 1944 as part of the Moscow State University's International department. It was set up to train future diplomats for the USSR and its allies.
In 1954, the institute merged with the Moscow Institute of Oriental Studies, which was a part of the Lazorev Institute of Oriental Languages - one of the first centers for Oriental studies in Russia, founded in 1815 by Armenian investors.
MGIMO alumni include Russian Foreign Minister Sergey Lavrov, Azerbaijani President Ilham Aliyev, Slovakian Foreign Minister Miroslav Lajčák and Russian billionaire Alisher Usmanov.
All rights reserved by Rossiyskaya Gazeta.