RBTH's new Slovenian-language site gets off to a good start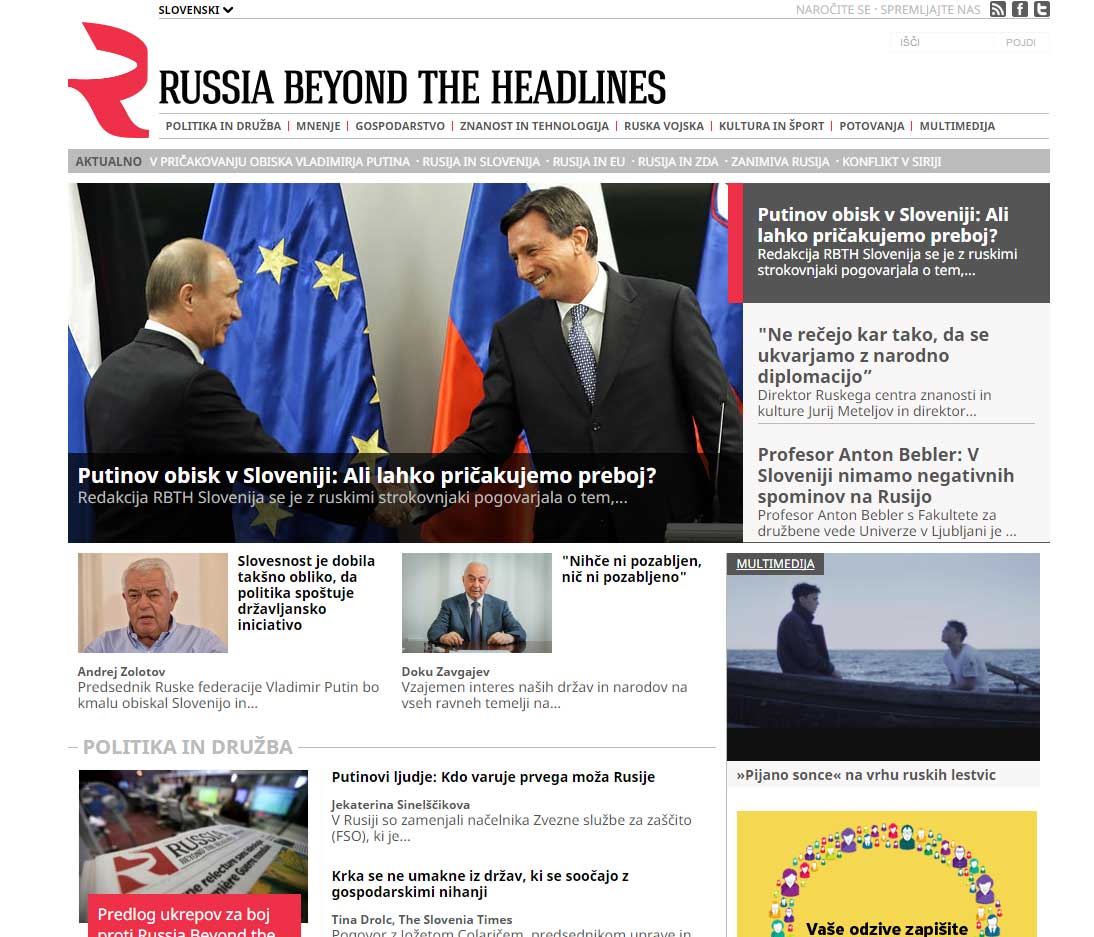 Slovenian-language version was officially launched on July 7.
RBTH
The Russia Beyond the Headlines project has added another string to its bow: a Slovenian-language version of its website, si.rbth.com, was officially launched on July 7. Now Slovenians can read articles and opinion pieces written by experts on Russia in their native language.
International news and information resource 'Russia Beyond the Headlines', sponsored by 'Rossiyskaya Gazeta', unveiled a Slovenian-language version of its site on July 7, 2016. Visitors to si.rbth.com can now read articles and expert commentary of a high journalistic standard on a variety of topics relating to Russia, including Russian politics, economy and business, science, culture, life and society, sport, and tourist destinations. Moreover, the site contains a multimedia section with videos, photos and infographics about Russia.
The si.rbth.com site has its own Facebook and Twitter accounts to share new material from the site. The Facebook account has already gained over 1,100 followers. You can also subscribe to a weekly mailing list to receive the editors' pick of the week's most interesting articles.
First fruits
The vast majority of the new site's readers (around 91 percent) access the site from Slovenia. In the few weeks that the site has been up and running it has attracted thousands of unique visitors a day, of whom 42 percent come back to the site. The average reader of si.rbth.com is male, aged between 35 and 64 and works in the world of business.
According to the first surveys conducted, users rate the website highly in terms of the topics treated, the quality of material published and the site's usability. 95% of those surveyed responded that they would share material from the site with friends, family or associates.
Material relating to Russian-Slovenian relations has so far proved the most popular on the Slovenian site, particularly pieces concerning the current state of political and economic / trade relations. Articles about the historical and cultural links connecting the two countries have also gone down particularly well. Additionally, many articles on si.rbth.com have been dedicated to President Putin's forthcoming visit to Ljubljana, which is to take place on July 30. The special rubric called "In anticipation of Vladimir Putin's visit" (V pričakovanju obiska Vladimirja Putina) has been set up to bring together current forecasts and commentaries on the theme.
How readers have reacted
"Super! I was pleasantly surprised when I saw that RBTH was releasing a Slovenian-language website. I hope to see articles written by independent journalists based on real facts, something that many news outlets are currently lacking," writes Rudi Stojs, a reader of si.rbth.com, on Facebook.
"The news about RBTH Slovenija's release is "očenj harašo!" (Russian for 'very good', written in Slovenian characters – ed.) Congratulations, and all the best for the project," wrote Twitter user Luck Forger.
Doku Zavgaev, the Russian ambassador to Slovenia, believes that there is a tangible need for more detailed and objective information about Russia in Slovenia today.
"The ways in which Russia approaches the most important global issues are frequently misrepresented or ignored entirely by Western news outlets. I am sure that the work of this Slovenian-language portal of information on Russia will do a great deal to fill this gap, and will contribute to further strengthening multidimensional and mutually beneficial cooperation between Russia and Slovenia," the ambassador stated to RBTH.
RBTH is open to cooperation
RBTH has operated online resources in Serbian, Macedonian and Croatian within the countries of the former Yugoslavia since 2012, and in this time has managed to accumulate a readership of over a million readers per month (taking into account networks of partner publications in regional parts of the Internet). As of 2016, material published by RBTH is regularly reproduced in special printed supplements of leading Serbian social and political magazine 'Nedeljnik' and daily Macedonian newspaper 'Нова Македониjа' ('New Macedonia'). Material is also reprinted in the form of separate publications and rubrics distributed with popular daily publications 'Kurir' (Serbia) and 'Večernji List' (Croatia), as well as in leading Croatian news magazine 'Nacional'.
"RBTH is currently particularly focused on developing its syndicated content – that means that we allow overseas media outlets to use the content in their own language. We already work according to this model with many printed and online publications throughout the world," says Vsevolod Pulya, editor-in-chief at RBTH. "We are looking to cooperate on similar terms with Slovenian media outlets too. Our Slovenian-language site is the basic platform for cooperation of this type, as well as being an information resource in its own right."
All rights reserved by Rossiyskaya Gazeta.