Global investors bet on Make in India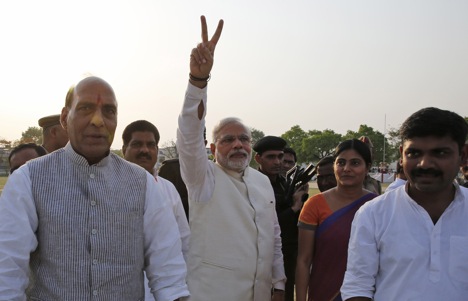 Prime Minister Narendra Modi's idea to focus on supporting manufacturing in India has caused serious excitement among investors. Source: AP
This year, the funds raised on Indian stock markets has already exceeded US$ 7 billion. The idea of focusing on manufacturing in India and Prime Minister Narendra Modi's Make in India campaign has generated much excitement among global investors, say Russian experts.
Investors are more frequently preferring India to other BRIC countries. This is the conclusion made by experts at the Bloomberg news agency. According to their information, this year the flow of funds to the Indian stock and bond markets has already exceeded $ 7 billion. Last year the figure was $ 42 billion. At the same time the Indian stock index in late January reached a record level. A great contribution to the improvement of the business climate in the country was made by the new prime minister, Narendra Modi, who took charge in May last year, said a member of the Russian Council on International Affairs Gleb Ivashentsov.
"There has been quite stable development in recent years. In recent months, the political situation has stabilised. The new prime minister's rise to power shows that he is an energetic leader. Furthermore, Indians have a good command of English. There's no language problems as, say, in China or Brazil. The Indian workforce is qualified enough. There's a high level of literacy, including computer literacy," Ivashentsov told Kommersant FM.
According to the International Monetary Fund predictions, the dynamics of India's GDP next year will be better than the other BRIC countries, for the first time since 1999. In recent years, Russian investors have been placing their stakes on India, said the president of Business Russia, Alexey Repik.
"Prime Minister Narendra Modi's idea to focus on supporting manufacturing in India, of course, has caused serious excitement among investors. The Indian market comprises more than a billion inhabitants. Accordingly, the internal market by itself is attractive. Maybe it's just time to move on from such large projects, for which we are have been known for a long time, particularly those in the defence industry, energy, to projects at the level of B2B, at the level of medium-sized businesses, non-commodity business, a business that generates high added value, that is, high-tech," said Repik.
At present it makes sense to pay attention only to certain sectors of the Indian economy, says chief researcher at the Institute of World Economy and International Relations, Russian Academy of Sciences Vasily Mikheev.
"When it comes to direct investment, then surely, China is more attractive, there is better economic infrastructure. The Indian economy is very segregated. They have sectors associated with outsourcing and financial services. Here Indians' knowledge of English plays a big role. In this sense, yes. But this segregation of the economy and rather backward communication mechanisms between actual production and the banking sector, in my eyes, does not make India strategically more attractive. In fact, China is and will long remain the center of attraction," said Mikheev.
Despite significant improvements in the economy, India's GDP is still lower than in the other BRIC countries. For example, in 2013 GDP per capita in the country amounted to $ 1,165, whereas in the case of China, this figure was $ 3,583.
First published in Russian by Kommersant.
All rights reserved by Rossiyskaya Gazeta.