Solyanka: The 'everything and the kitchen sink' soup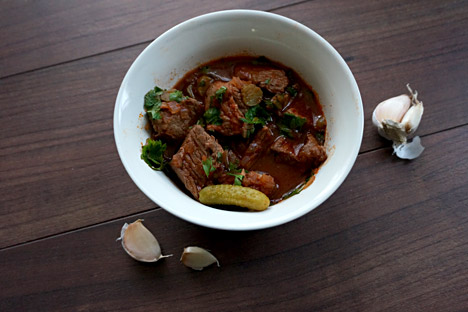 There are an untold number of regional variations on this traditional Russian soup.
This piece is part of the Soviet Diet Cookbook, a blog about a modern Russian girl cooking Soviet food. To read more of the series, click here.
One of the most popular places to spend a Sunday afternoon in Moscow in the Soviet times was VDNKh — the Exhibition of Achievements of the People's Economy. That just screams "fun," right? It had 15 pavilions each dedicated to a republic of the U.S.S.R, and there were other pavilions for "achievements" of various kinds.
Apparently it was more interesting than it sounds.
"Today VDNKH is filled with businesses and it's not great anymore, but after the war it was a very simple, but nice place. We used to go there a lot," Granny said. "We would visit pavilions of different republics and try their cuisine, as well as see what type of goods they produced. There were other pavilions, too – one was dedicated to electronics and there was even a picture of me working a huge computer in it. I found out because a student stole it and gave it to me!"
Stolen goods notwithstanding, VDNKh was a nod to all the republics of the Soviet Union and tried to promote the idea that all these diverse places were joining together to make one great country. The Book of Healthy and Tasty Food also had this purpose, and it features quite a few national dishes – although, as Granny noticed, they are not always attributed to their place of origin. For instance, a classic Jewish dish of stuffed fish is just called "stuffed fish." Other meals like bozbash, shurpa or chikhirtma kept their national names, but don't have their origin mentioned — and even keen cooks like my grandmother don't know where they come from.
This week I chose a dish called "Georgian solyanka" – stewed beef with pickled cucumbers, tomato paste and red wine. Some modest research among my Georgian friends showed that some never heard of the dish, while others say that solyanka is made of pickled cucumbers, tomatoes and maybe ham, but no meat or wine. Someone else said solyanka is a Russian dish of stewed cabbage with possibly some meat. That's the same way Granny described it – home and cafeteria-made solyanka was stewed cabbage, and granny made it with apples.
The way solyanka is known to me and what you will get if you order it in a restaurant is a different thing altogether – a rather thick soup with different types of meat, possibly salami, chicken, olives, pickled cucumbers, tomatoes and it seems just about anything else. I haven't ordered it in a restaurant possibly ever, so I don't remember exactly. It can also be made with fish.
The abundance of ingredients in the soup gave birth to a phrase "sbornaya solyanka", which means a real mix of just about anything. The Book features a recipe for sbornaya solyanka as well, but the Georgian recipe provided me with the perfect excuse of mentioning "traditional" solyanka without having to cook it, so I seized the opportunity.
Why did solyanka have 2 completely different meanings in Russia alone? What was "Georgian solyanka" really? Where did the olives for the traditional solanka come from?
As usual, I have more questions than answers, and I will continue my research into the curious case of solyanka. I'm happy that a few national dishes made it into the Soviet diet and have kept a firm place in the cafeteria menus, but I wish more recipes spread outside the People's achievements park and onto people's plates. A little variety couldn't hurt, and for what it's worth the "Georgian solyanka" was delicious!
Georgian Solyanka, pg 161
Wash and trim some meat. Cut into small pieces and fry with chopped onion in butter in a frying pan. Put the fried meat into a soup pot. Add tomato puree, peeled and sliced pickles, garlic cloves and salt. Add some wine and beef broth. Cover the pan with a lid and let simmer for 30-40 minutes.
All rights reserved by Rossiyskaya Gazeta.