3 unusual pancake recipes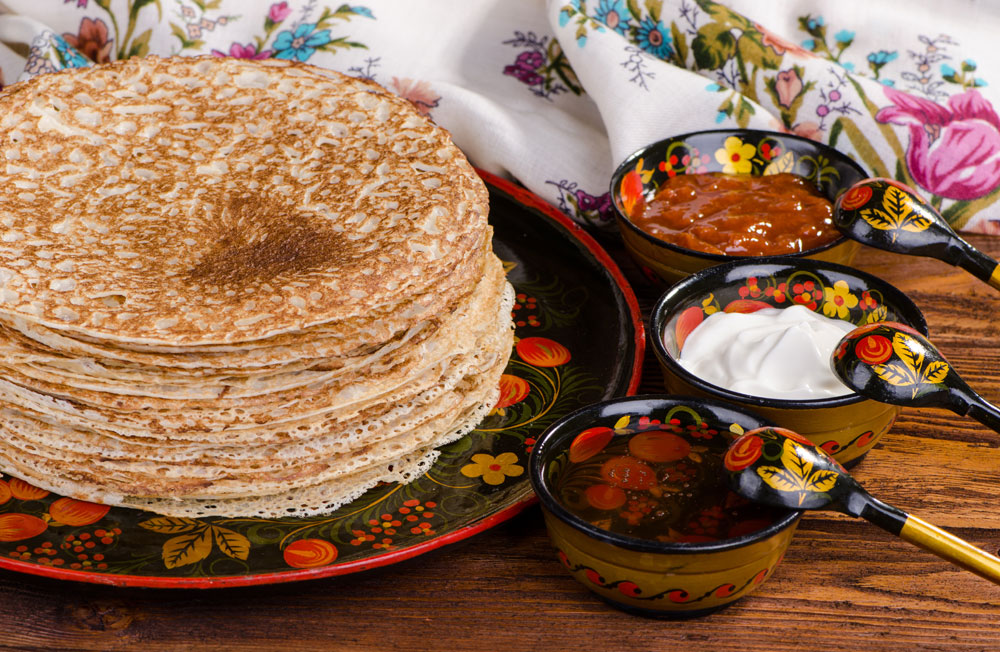 From beer, beet or kefir: choose your recipe.
Shutterstock / Legion-Media
Bring some Russian Maslenitsa to your kitchen.
Maslenitsa is an old Russian pagan tradition that was adapted by the church. This week-long festival, which celebrates the sun and the end of winter, is now also used to mark the week before the beginning of Great Lent - the 40 day period of self-denial and reflection that lasts until Easter. During the seven days of the festival, people eat pancakes (whose round shape represents the sun), participate in games and activities and drink alot. On the last day of the festival, Sunday, people ask forgiveness of one another and burn a large straw doll, also called Maslenitsa.
This year Maslenitsa is celebrated in Russia from March 7 to March 13. RBTH offers three unusual pancake recipes so you can make the most of the festival of Maslenitsa.
Beer pancakes
This is a good way to use up all your extra beer before starting the Lenten fast, even though some traditions hold that beer is ok to drink, even if you are fasting.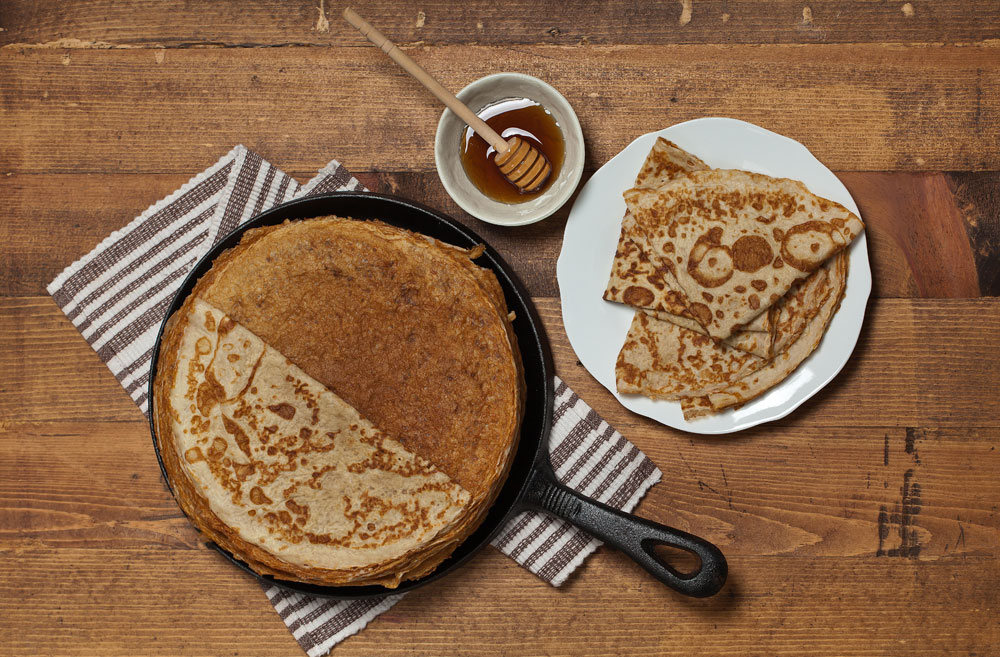 Use dark beer for sweeter taste. Alamy/Legion Media
Ingredients:
16 ounces milk
16 ounces beer (lager, or darker beer for sweeter taste)
2 cups sifted wheat flour, or 1.5 cups of wheat flour, or 1/2 cup rye flour
1-2 eggs
2 tablespoons vegetable oil or melted butter
1 tablespoon sugar or white honey
1 teaspoon salt
1/2 teaspoon baking soda
1/2 potato
How to make it:
1. Mix the milk, slightly warmed, together with the beer. Keep stirring and add flour.
2. Carefully mix the batter, adding the eggs, vegetable oil or melted butter, sugar or white honey, salt, and, just before you finish mixing, baking soda. The thinner the batter, the thinner the pancakes will be — experiment and find out how you like them.
3. The pancakes must be cooked in a cast-iron frying pan: do NOT wash it; instead, warm it and wipe it with a napkin before using it.
4. Traditionally, the frying pan is greased with half of a raw potato on the end of a fork. Cook the pancakes in a very small quantity of melted butter.
5. Put the finished product — they should be a beautiful dark red in color — into piles and pour melted butter over them. They can also be eaten with fillings.
Beet pancakes
Need something else to do with beets besides make borscht? Try this!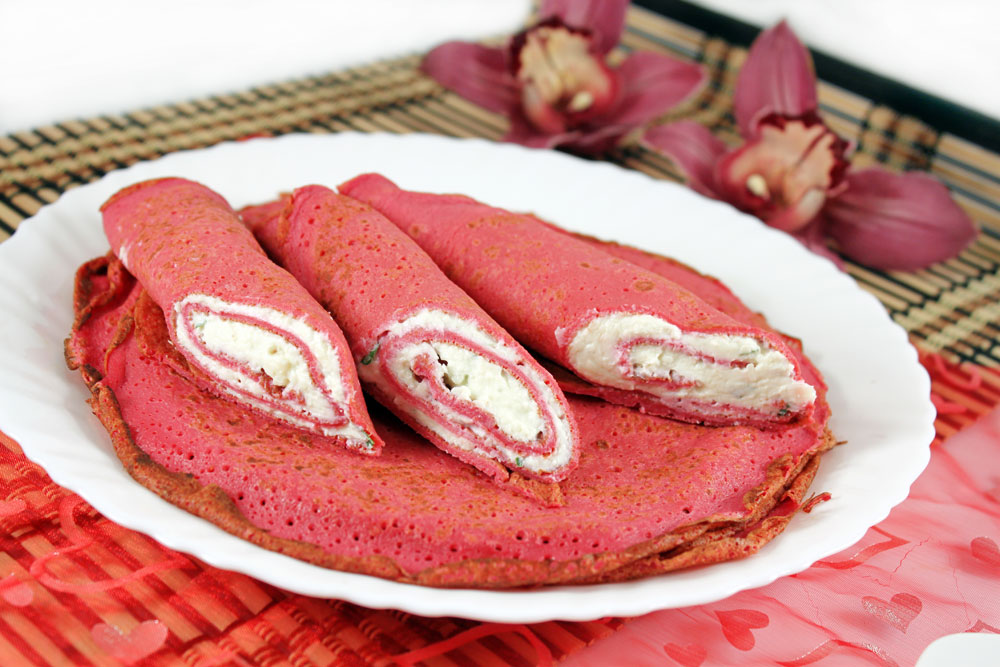 Serve them with herring, caviar or cheese. Source: Shutterstock / Legion-Media
Ingredients:
2 cups flour
2 tablespoons sugar
60 ml natural yogurt
1 teaspoon salt
1.5 glass milk
2 eggs
200 gr beet
3 tablespoons oil
How to make it:
1. Boil or bake beet, cut to pieces
2.Put beet into milk
3. Mix this up with blender
4. Add eggs and yogurt
5. Then add salt, sugar and flour
6. Mix this all and wait 30 minutes.
7. Then fry.
8. You can serve these bliny with cheese and verdure or herring.
Pancakes from Sofya Tolstaya, Leo's wife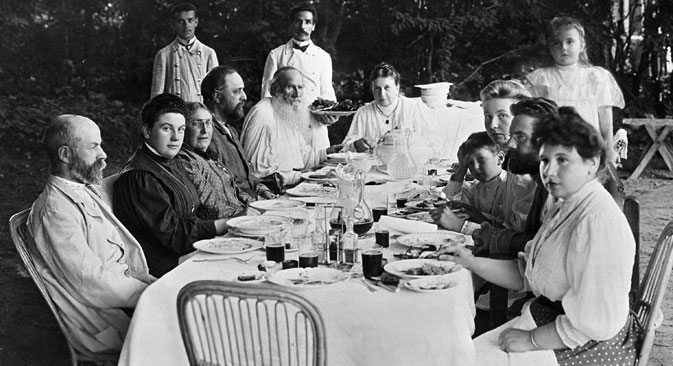 Leo Tolstoy and his family in the country estate in Yasnaya Polyana. Source: RIA Novosti
We're not saying that eating these pancakes will make you a great writer, but it couldn't hurt!
Sofya made her pancakes with kefir to keep them thin. Kefir is often available in eco-supermarkets, but if you can't find any, buttermilk is an acceptable substitute.
Ingredients:
2 cups kefir
2 cups flour
2 eggs
1/2 teaspoon baking soda
2 tablespoons oil
sugar and salt to taste
How to make it:
1. Mix kefir, flour, eggs, sugar and salt in a deep bowl.
2. Add soda into a cup of boiling water, mix well.
3. Pour the water with soda slowly into the batter. Mix until the batter is smooth.
4. Let the batter sit 5 minutes. Add oil.
5. Fry pancakes
All rights reserved by Rossiyskaya Gazeta.