Khvorost — the addictive Uzbek dessert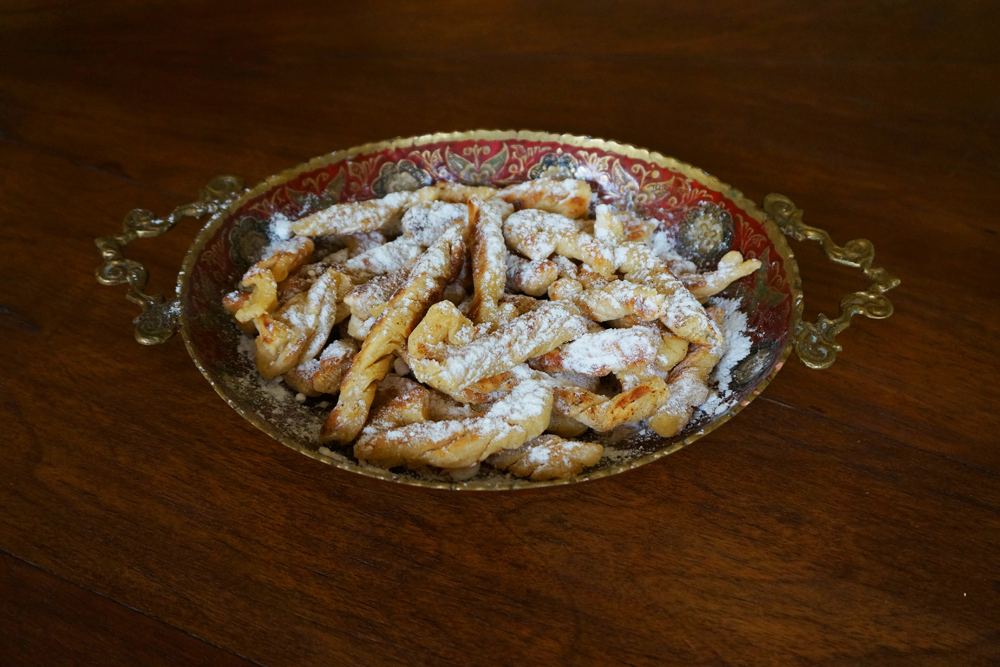 Khvorost is absolutely delicious and addictive!
Anna Kharzeeva
There's a reason this trendy Soviet treat appeared on every table, even if the Book's version doesn't match up to that of an Uzbek grandmother.
I had my first Uzbek meal long before I made any Uzbek friends. As I kid, my friends and I used to buy plastic containers packed with chak-chak — delicious fried pieces of pastry covered in honey and all stuck to each other — and eat the whole packet, picking one sticky strip from another, one by one, until the container was empty. I didn't know then that chak-chak is very much like khvorost, except that in khvorost, the fried dough is covered in icing sugar instead of honey.
Fortunately I now have some Uzbek friends who can introduce me to more of their delicious cuisine. I also recently found out that I have a little Uzbek blood — maybe that explains my chak-chak and khvorost addiction!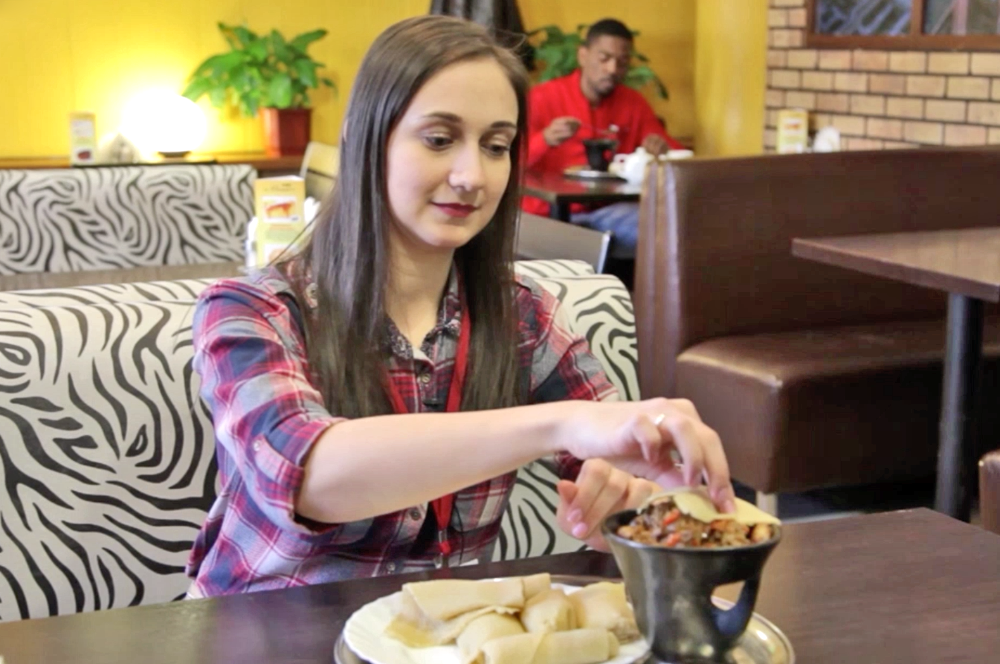 I made khvorost following the Book's recipe, although I couldn't quite figure out what shapes to make with the dough — so I just put three strips together, twisted them and connected them again at the other end. I made half a portion, and it was still enough to fill a plate. Yet it didn't take long to disappear — my husband agreed that khvorost is addictive!
Granny says that back in the day, khvorost was very much in vogue and all the women used to make it at home. They had special devices — one for liquid dough you could pour straight into the pan, and one you could cut firm dough with. Granny had one of those devices, too, and was among the fashionable housewives making the exotic meal.
I was curious to get an Uzbek babushka's opinion on the Book's version of khvorost. Luckily a friend's mother was visiting from Tashkent — it's only +33 here, compared to +45 in Tashkent — much better for frying dessert!
The babushka, Sonia Rashidovna, told me that in Uzbekistan, khvorost is made for bridal showers; for khait, the special dinner table marking the end of Lent; and engagement parties. However, it's also an everyday treat, since the ingredients are pretty basic. She says they made it a lot in the Soviet times, too, but was most surprised to hear the Book's recipe when I read it out to her. "It's not khvorost," Sonia Rashidovna said. "Uzbek khvorost is made in different ways, but here's my recipe: beat two eggs, add a pinch of salt and a tablespoon of vodka. Add enough flour to make dough that's not too soft and not too hard. Some people only use egg whites, and then it's more tender. You don't need to make any shapes with it, just roll it out and cut into thin strips. For chak-chak, make rolls out of the dough and cut with a knife.
We like khvorost with tea — black or green, but in Uzbekistan we especially love green tea!"
I left Sonia Rashidovna's place with a gift of Uzbek green tea — it smells like apricots, and has a slight apricot after-taste, too — it's absolutely delicious and as addictive as khvorost itself!
It's unfortunate that I had already finished the khvorost I made before getting the tea, but I will definitely make it again soon — this time following Sonia Rashidovna's recipe — and I will reminisce about my childhood with a batch of homemade chak-chak, too. Time to plan a trip to Uzbekistan!
Khvorost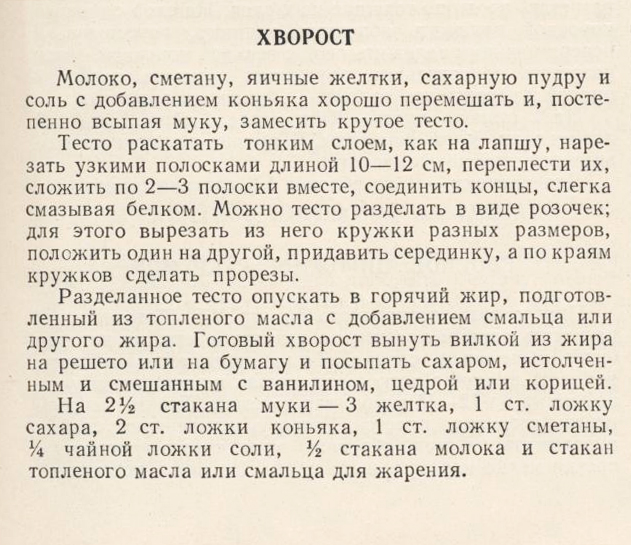 The recipe from the Soviet Cook Book, page 293
How to make it
Ingredients:
2u00bd cups flour
3 egg yolks
1 Tbsp powdered sugar
2 Tbsp brandy
1 Tbsp of sour cream
u00bc tsp salt
u00bd cup milk
1 cup melted butter, oil or lard for frying
1. Mix together the milk, sour cream, egg yolks, powdered sugar, salt and brandy and mix well. Add the flour gradually. Knead the dough.
2. Roll out the dough as thin as noodles and cut into narrow strips 10-12 cm long. Twist the strips, fold 2-3 strips together and connect the ends. It's possible to form the dough in the shape of roses. To do this, cut the dough in different sized circles, put one on top of the other, put a pin through the center and cut slits in the edges.
3. Prepare a deep pan with melted butter mixed with lard or other fat. Drop the pieces of khvorost dough into the pan and fry.
4. Remove from the fat to a plate covered with paper and sprinkle with powdered sugar mixed with vanilla, lemon zest or cinnamon.
All rights reserved by Rossiyskaya Gazeta.