Four Russian dishes to amaze your children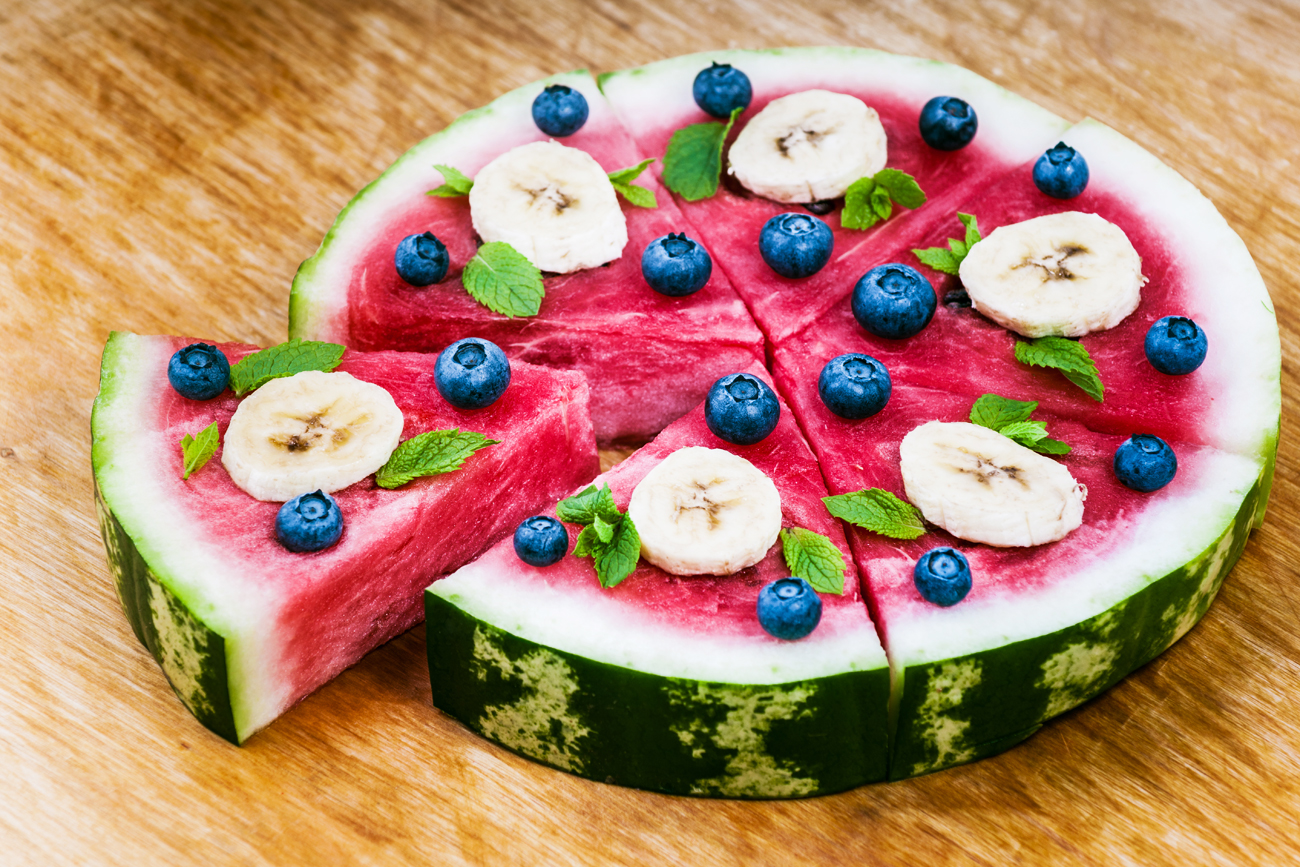 Healthy and delicious — and definitely appealing "pizza".
Vostock-Photo
Russian cuisine is a delicious treasury of wonderful dishes that can easily become hits of your child's menu. To start exposing your child to Russian food, try these creative, child-friendly takes on traditional recipes.
Watermelon "pizza"
Nothing says summer like watermelon, and while nature has already made it pretty appealing — with its bright red center and striped green skin — try this update for an extra-special treat.
How to make it:
Ingredients:
Large watermelon
Your kidu2019s favorite fruits and berries (kiwi, currant, nectarines)
Nuts
Whipped cream, mint, coconut or chocolate chips for decoration
1. Cut a watermelon into wedges. Decorate it with whipped cream and top with beautifully cut fruit (make sure and use contrasting colors and shapes!).
2. Sprinkle the pizza with walnut crumbs, white and dark chocolate, mint or coconut chips.
Threaded Spaghetti
Italian children aren't the only ones who enjoy pasta. Spaghetti with sausage has traditionally been one of the most popular dishes for Russian students — from the Soviet era until today. There are a number crazy varieties of this dish, and you can be sure to get a good laugh from your kids if you serve them these "hairy" sausages.
How to make it:
Ingredients:
200 grams thin spaghetti, broken in half
8 hot dogs, each cut into 6 even pieces
2 Tbsp butter
1. Set a large pot of water to boil. Carefully thread 5-7 spaghetti strands through each hot dog piece.
2. Cook until pasta is al dente, about 6 minutes.
3. Drain and mix with butter. You can also sprinkle it with cheese or use black spaghetti to make the dish look even more creative.
Hedgehog kartoshka cake
Source: Lori / Legion-Media
Surprise your kids with an unusual and delicious dessert with Soviet era roots: "kartoshka" cakes in the shape of hedgehogs. Although the cake's name is derived from the word for potato, this dense chocolate treat was the delight of every kid in the U.S.S.R. Its shape and color make it easy to transform into a cute forest friend.
How to make it:
Ingredients:
700 grams cookies
2 cans condensed milk
150 grams powdered sugar
3-4 Tbsp cocoa powder
250 grams butter
4 Tbsp poppy seeds
100 grams sunflower seeds (peeled)
A few dried berries (such as barberries)
1. Crush the cookies and put the crumbs in a bowl.
2. Stir in the powdered sugar and cocoa powder.
3. Pour in the condensed milk and the softened butter. Mix well with your hands.
4. Roll mixture into small balls, shape each into a "hedgehog" (snub nose, make the eyebrows).
5. Roll the "hedgehogs" in poppy seeds, leaving clean "faces". Use dried berries to make eyes and noses, and then put "needles" of sunflower seeds on their backs.
6. Refrigerate for 2-3 hours before serving.
Honey eggnog
This cocktail was invented as a kind of medicine, but soon became not only a "balm" for the throat, but also a great dessert. Dr. Aybolit, whose name is Russian for "Oh, it hurts!" and is kind of the Russian version of Dr. Doolittle, believed that eggnog was a panacea for all diseases. The kind old man, whose story is familiar to all Russian children thanks to the work of renowned author Korney Chukovsky, once was sent to Africa, where he treated sick animals with chocolate and eggnog!
How to make it:
Ingredients:
1 egg
1 cup warm milk
2-3 Tbsp honey
1.5-2 Tbsp powdered sugar
2 Tbsp lemon juice (at room temperature)
1. Accurately separate the egg white from the yolk.
2. Add honey to the yolk, mix well.
3. Add the milk, whip again.
4. Add lemon juice.
5. Shake the white with sugar.
6. Pour the milk-yolk mixture into cups, filling them three-quarters' full.
7. Cover with egg-white foam.
All rights reserved by Rossiyskaya Gazeta.