Food for the body and the soul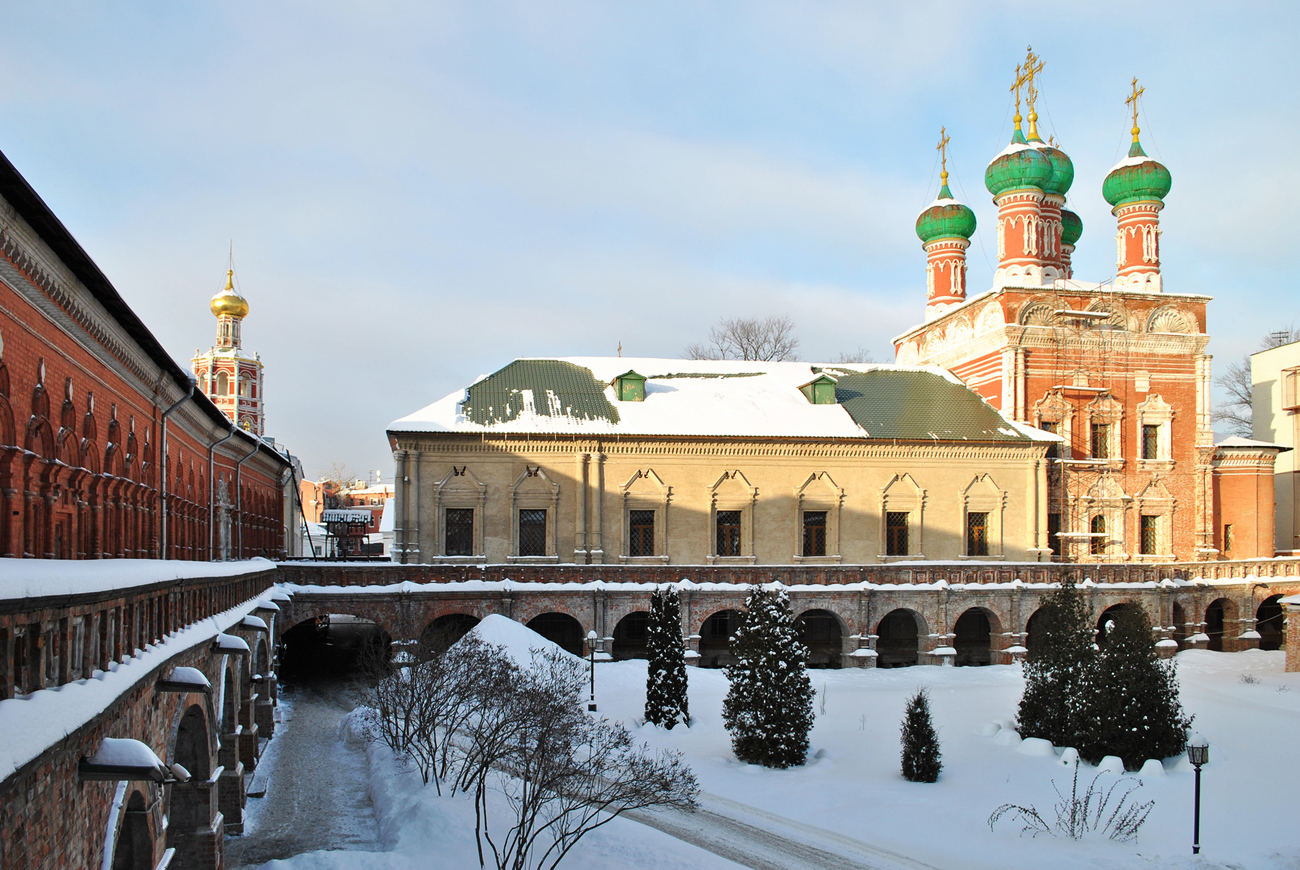 These Moscow religious sites offer delicious meals.
Lori / Legion-Media
Today pilgrims to monasteries, temples and churches expect sustenance after spending a day in contemplative thought. Moscow's religious sites have taken up this trend, with many offering visitors the tasty dishes that reflect their religious beliefs.
Refectory, Vysoko-Petrovsky Monastery
This ancient monastery, first mentioned in 14th century, lies in the very heart of Moscow. It is one of the Russian capital's most picturesque monasteries: even the semi-basement floor of the Trinity church, where the renowned refectory is located, is decorated with breathtaking frescoes depicting Orthodox saints and scenes from their lives.
The menu is made up of traditional Russian dishes and includes a wide array of salads, traditional soups, main courses and fresh baked goods. The monastery's specialties are homestyle mushroom schi, beet and apricot salad and baked fish. Visitors should be aware that the monastery observes Orthodox fasting days and does not serve any meat or other dishes that violate the fast during those periods.
Working hours: 12 p.m.-6 p.m., lunch: 1 p.m.-4 p.m.
Average bill: 250 rubles
Jerusalem Restaurant, Synagogue at Bolshaya Bronnaya
The Jerusalem restaurant is located on the roof of this synagogue, the first to open in Moscow. In the summer, visitors can soak up the sun and admire the view over the Patriarch's Ponds neighborhood.
Service is not super fast, which allows guests to enjoy the scenic view.
Working hours: Monday-Thursday - 11 a.m.-midnight, Friday - 11 a.m.-sunset, Saturday - 7 p.m.-midnight (winter only), Sunday - 11 a.m.-midnight
Average bill: 1500 rubles
Cafe, Old Mosque
Because this cafe is located on the territory of a mosque, women must dress modestly and cover their arms and legs. To be perfectly honest, few women eat here.
The interior of the cafe is rather austere. Long wood tables and minimalist seats fill the room. One wall is decorated with an oil painting of Hagia Sofia, the Mosque of the Holy Wisdom in Istanbul.
Working hours: 12 p.m.- 7 p.m.
Average bill: 250 rubles
Satva Cafe, Moscow Society for Krishna Consciousness
In keeping with the beliefs of Hare Krishnas, the menu at the Satva cafe is completely vegetarian. It is also organized according to the Ayurvedic principles: A full meal should therefore consist of the six flavors humans can taste: sweet, salty, sharp, bitter, sour and umami. These flavors are directly linked to human emotions.
Among the items on the menu worth special mention are the palak-panir (spinach with cream sauce and fresh cheese), potato casserole with vegetables and kichri (rice with dal and vegetables). Those who just can't eat a meal without something resembling meat can try marinated tofu schnitzel. Satva's menu also features a wide selection of desserts.
Working hours: 9 a.m.- 9 p.m.
Average bill: 400 rubles
All rights reserved by Rossiyskaya Gazeta.