Discover RBTH's latest culinary publication: Taste of Russia!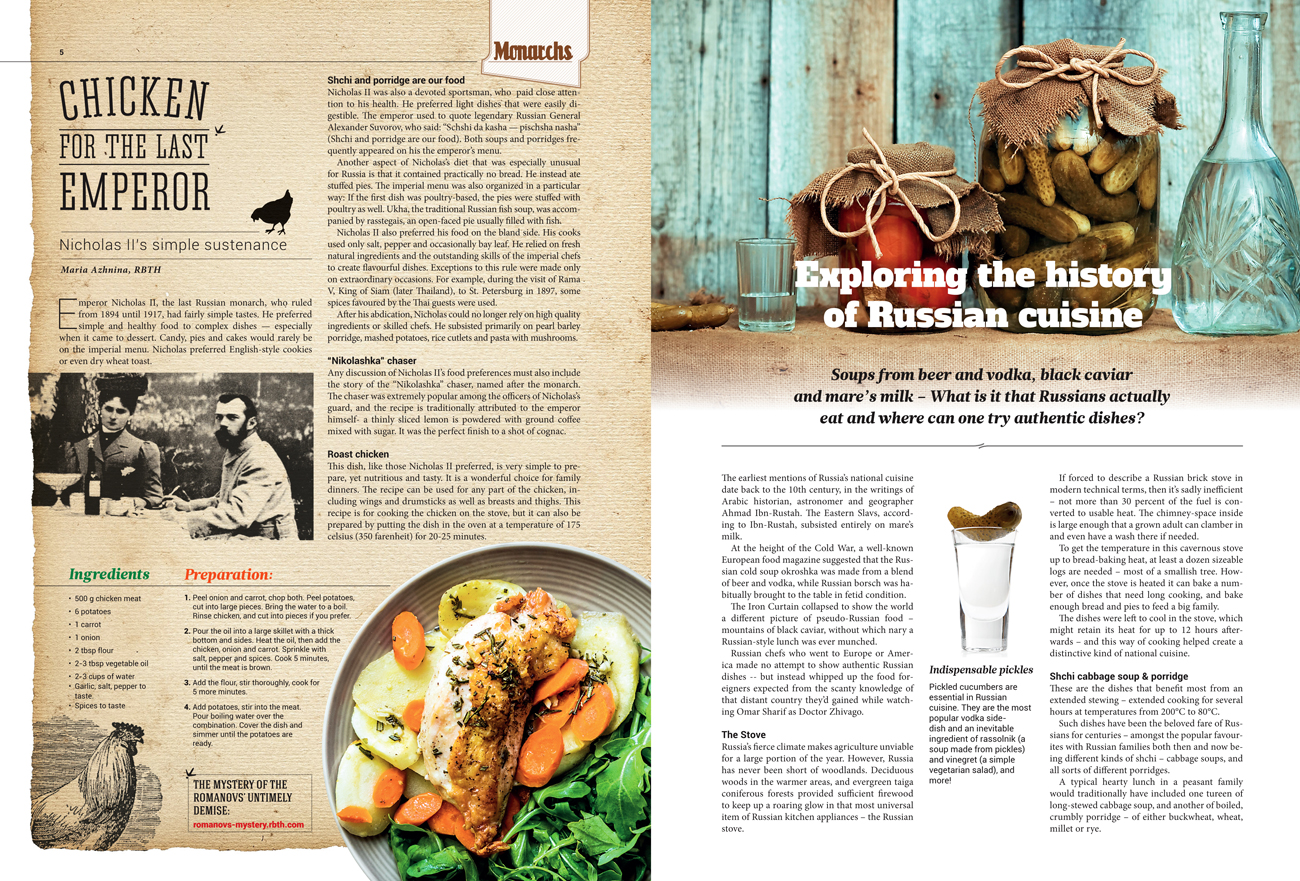 Download the e-version of this deluxe edition for free
This premium issue, published in partnership with Thai Sturgeon Farm and Caviar House of Bangkok, combines three unique topics: the history of Russian cuisine, an overview of 120 years of Russo-Thai diplomatic relations and details about sturgeon farming and caviar production in Thailand.
The publication's 30 full-color pages invite readers on a culinary journey through the world of Russian gastronomic tradition and luxury delicacies. Readers can discover more about the mysterious Russian soul by following in the footsteps of King Chulalongkorn (Rama V) of Siam, who visited Russia in the 19th century.
The publication also features unique details about the dietary habits of Russia's rulers — from tsars and emperors to top communist officials — along with delicious recipes accessible to every level of home cook.
Thai Sturgeon Farm and Caviar House of Bangkok have provided exclusive information about the farming of Russian sturgeon in Thailand and the production of luxury sturgeon caviar. They have also included a diverse range of mouth-watering recipes involving this king of fish. There is something to appeal to every palette.
RBTH
A printed version of Taste of Russia will be distributed with The Nation newspaper on Dec. 20, but readers around the world can download the free e-version here.
It will also be distributed at a number of high-profile events, including a reception on Dec. 20 at the Amara Hotel Bangkok sponsored by the Russian Embassy in Thailand dedicated to the 120th Anniversary of diplomatic relations between Russia and Thailand and celebrating three years of cooperation between The Nation and RBTH.
Russia's Ambassador to Thailand, Kirill Barsky, will open the event. The menu will feature whole baked sturgeon, provided by Thai Sturgeon Farm and Caviar House of Bangkok, accompanied by Siberian pel'meni, homemade salted vegetables, black bread and popular Soviet-style honey cakes from The Best Frozen Food Company and Aram Bakery — two Pattaya-based that produce Russian food.
All rights reserved by Rossiyskaya Gazeta.