Russian combat drones to be fitted with glide bombs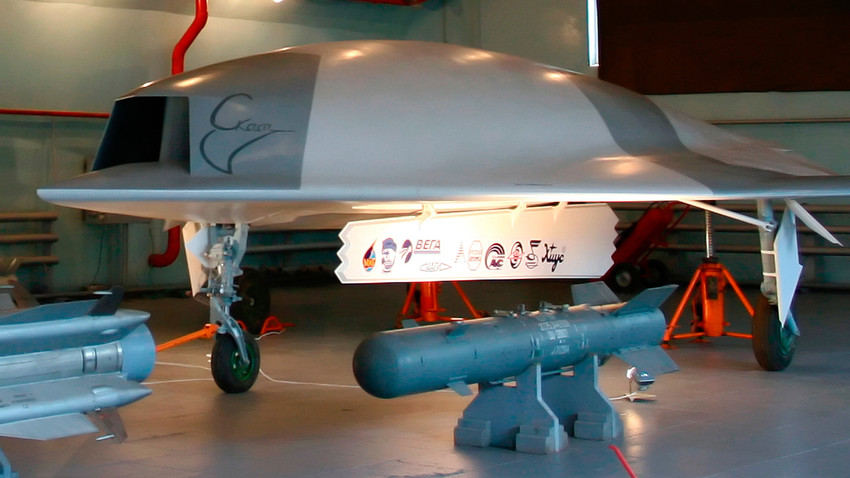 A full-sized model of the unmanned aerial vehicle Skat (background) and corrected air bombs KAB-500 (foreground) in a hangar of the Russian Aircraft Corporation MiG, the 8th MAKS-2007 air show in Zhukovsky.
Anton Denisov/RIA Novosti
Russia's first munitions for front line drones weigh around 50 kilos and can destroy targets at a distance of 12-20 kilometers. However, since the Russian military does not seek to be a global force such as the U.S., the demand for drones will not so great.
The development of aviation combat drones has been a trend throughout the world for the past decade, and the current number of such aerial vehicles in the Russian military stands at more than several thousand. Every military exercise, for example, utilizes hovering reconnaissance drones.
In addition, all footage of Islamic State sites and installations destroyed by aircraft and cruise missiles in Syria is taken from drones. At the same time, however, Moscow still doesn't have a single pilotless strike complex capable of detecting a target and mounting a missile or bomb strike in an operational-tactical zone, let alone a strategic one - for instance, along the lines of the American MQ-1 Predator.
New developments
At the ARMY-2017 military-technical forum in the Moscow Region on Aug. 22-27 Russian weapons manufacturers unveiled the country's first gliding smart bombs for strike drones. Weighing up to 50 kilos, these bombs can be delivered by a drone over a distance of 12-20 kilometers in glide mode and 100 kilometers on engine power.
"These weapons could go well with certain Sukhoi Design Bureau projects, for instance, the BAS-62 pilotless aircraft whose external appearance is very similar to the American MQ-1 Predator. In addition, the new bombs could be paired with the MiG Aircraft Corporation's Skat unmanned strike drone, which like the former is externally a copy of an American equivalent - in this case, Northrop Grumman's X-47," according to Dmitry Safonov, a military analyst at the newspaper, Izvestia.
The expert adds, however, that despite the fuss over these new projects, series production of the new Russian drones is not planned.
"The Defense Ministry's explanation is that the BAS-62 and Skat systems are more suitable for global warfare in which the command needs to know what is happening on another continent. The Russian army does not have such requirements at present. That's why strike missions are performed by manned aviation," Safonov noted.
The drawbacks of unmanned bombers
The Achilles' heel of all drones is that they cannot make adjustments to their flight program during a mission in accordance with the situation.
"It takes several months to prepare the MQ-1 Predator for a sortie and, if something goes wrong during the combat mission, it will be returned to base. As a result, months of work by hundreds of people who planned and prepared the combat mission is in vain," Vadim Kozyulin, a professor from Russia's Academy of Military Science, told RBTH.
At the same time, if a drone is already in the strike zone, it could destroy the wrong targets.
"For instance, viewers around the world regularly see news reports about yet another wedding or funeral procession coming under fire in Pakistan or Afghanistan because the American military, using data that has become outdated, have mistaken peaceful processions for caravans of terrorists," the expert said.
Russia's first attack UAV
According to Kozyulin, as of today the most realistic design of an attack UAV in Russia could be developed on the basis of the Irkut Corporation's Yak-130 trainer aircraft.
"The 'flying school desk,' as it is known in the Air Force, is a robot that can be reprogrammed when already in flight in various weather and flying conditions. If needed, the 'school desk' can easily be converted into a lightweight fighter," he said.
At the same time, the aircraft can carry up to three tons of precision-guided missiles and smart bombs. Also, using the Yak-130 for local missions (destroying terrorists, protecting borders and combating drug dealers) is much cheaper that scrambling MiG or Su aircraft.
"In the future, the Yak-130 could be reconfigured to automatic and unmanned mode," Kozyulin concluded.
If using any of Russia Beyond's content, partly or in full, always provide an active hyperlink to the original material.