Got no money, but need to defend from missiles? Get a budget version of S-400 Triumph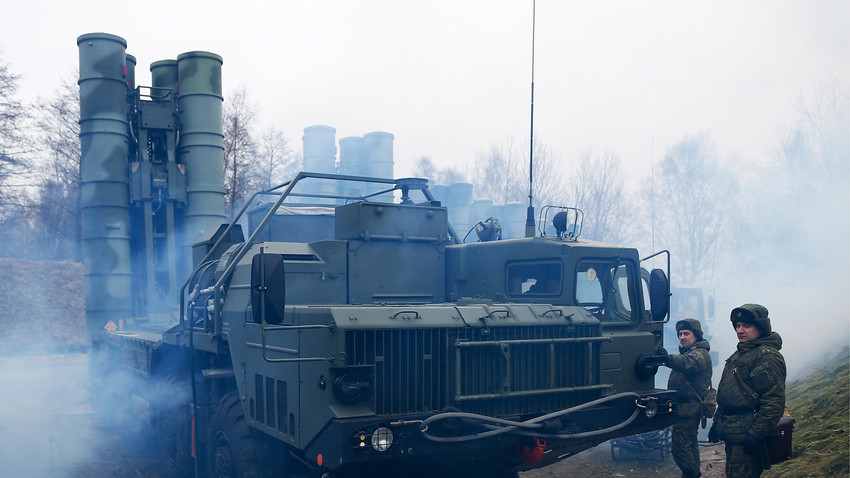 A training exercise by the Russian Baltic Fleet's air defense units involving S-400 Triumph air defense missile systems.
Vitaly Nevar/TASS
This new ABM version S-350 Vityaz is still able to shoot down a fifth-generation fighter, but only at ranges of up to 60 km. 
Russia and South Korea have created a budget version of the notorious anti-ballistic missile system S-400 Triumph —- a system that today is considered one of the best in its class, as it gives armies the possibility to down fifth-generation fighter jets and even hypersonic missiles that are being developed by militaries around the globe.
The budget version was presented to the world at the Army-2017 expo in suburban Moscow, designated the S-350 Vityaz (Knight).
There are several major differences between the new system and its older brother.
First of all, the classic S-400 in the Russian military can shoot down all aerial targets at distances of up to 250 km, including all modern jets, strategic bombers, missiles, etc.
But its budget version will be able to do so at a shorter range of 60 km.
Besides that, the cheaper version will be shipped to the customer without the two ABM support systems Pantsir and Tor-M2. So if an enemy missile somehow slips through the first echelon of the S-350 aerial defense, other domestic ABM systems will have to join in to neutralize the aerial threat.
As we speak, the new S-350 Vityaz system is going through a number of combat tests set to finish by the end of 2017.
"The company is gathering statistics on how the system works while shooting down real targets in different weather conditions. At the same time, we're testing three different missiles for the S-350 system," said Vyacheslav Dzirkaln, deputy director for foreign economic activity at Almaz-Antey Corporation, which is developing the system.
According to the company, some scientific groundwork on developing the S-350 was adopted from the South Korean medium-range surface-to-air missile launcher KM-SAM, which was created with the help of Almaz-Antey. So the Vityaz's architecture is similar to that of the Korean missile and uses the same radar to find targets in the sky. But the S-350 is equipped with different rockets and missile launchers.
What's the S-350 for
It was developed to defend critical infrastructure: cities, military bases, factories, etc. It can destroy targets at a 60 km range as well as at an altitude of 10-30 km.
The S-350 base kit includes a missile launcher, combat control center and multifunctional radar. It is compact and supplied with 12 missiles. And every S-350 unit is composed of eight rocket launchers, each packed with 12 ABM missiles.
If using any of Russia Beyond's content, partly or in full, always provide an active hyperlink to the original material.